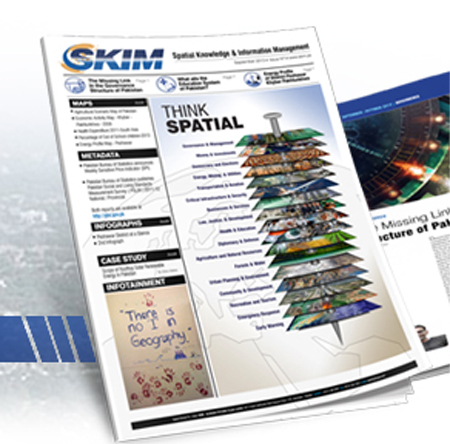 "SKIM Magazine is a Canadian publication and the printed version of the magazine will be distributed to government offices, local and international NGOs, UN agencies, donor organizations, and other private sector the Gulf Corporation Council (GCC) countries and Pakistan. We would like to invite you to read our past issues of SKIM Magazine at
http://alhasan.com/skim-magazine. In today's fast paced world, society is faced with numerous challenges that could be aptly handled through technology. Spatial Knowledge & Information Management [SKIM] magazine's framework consists of many cross cutting themes, including: Education, Health. Economy, Policy, Governance, Energy, Environment, Agriculture, and Natural Resources. This monthly magazine attempts to cover the most pressing issues from these sectors, and evoke how latest technologies can be used to find the most optimal solutions. The intent of the magazine is to showcase the knowledge and applied technologies, which could bring about a
fundamental change in achieving societal growth and development." 100% freelance. Welcomes new writers. Monthly. Pays on publication. Publishes ms 2-3 months after acceptance. Buys all rights. No reprints. Responds 2-3 days. Sample copy available online. Pays $40 for 1500-2000 words.