We compete directly with Draft2Digital. When we reject a manuscript, we do not refer those authors to Draft2Digital.
Draft2Digital purchased Smashwords. It's been a few months since we checked on Draft2Digital so we thought we'd take another peek. Boy oh boy, have they made some authors mad. Below are a few snippets from complaints posted about Draft2Digital / Draft2Digital.com just this year. These are not, by any means, all of the complaints posted about them.
BBB.ORG
Three customer reviews: All giving Draft2Digital one out of five stars.

" I got a proof copy of my book and the cover was terrible. So dark, I couldn't even see the people's faces. So, I didn't approve the proof. Didn't publish (I asked if there was anything else I could do and they told me that they 1 – didn't have any other options / upgrades to make it better; 2 – that they couldn't guarantee print quality since they use contract printers around the country). So, I didn't publish with them…"
-J. B.
"Sorry, I was told the order could not be canceled. I said I was going to take my title off their site and close my account. I was told I COULD NOT DO THAT UNTIL I GOT THE ****** I said so you are not only refusing to cancel the order but holding MY title hostage until the books showed up."
and
"Oh, I did not know (but it's in all their fine print) they do not do books with less than 64 pages, so children's books are out, and they do not do color interiors. My goal is to be refunded the money I spent."
– David L
"Then they said what we sent wasn't good enough and they requested more things.We were struggling to rummage through file folders, make photocopies and screenshots, and attach stuff to emails, all while battling a life-threatening medical crisis.When it seemed like there was no end in site, we finally told them to just send us the $309 they owed us and then close our account. Their response was 'We can't send you your money until you send us all the other stuff.; So they're keeping the money we earned."
– Michele W
There are more complaints about Draft2Digital.com on BBB.org RIGHT HERE. The company responded to some of those complaints and you can read those at the link above as well.
It took me four months before they processed one of my novels from 'Preparing Manuscript' status to 'Published.' The email response was, 'they are still processing it.' Very shady and the TrustPilot reviews are packed with poor reviews. Same on this site. Massive poor reviews.
-Mark B
"Avoid if you're a publisher. Draft2Digital randomly shuts down publisher accounts without warning. They did this to me, and when I emailed asking why, on multiple attempts, they wouldn't answer…"
Shane M.
"I was flabbergasted by their high handed, disgusting, and nasty manner in which they responded to me…"
– Barry N.
"Refused to disburse my money! D2D refused to pay me after making sales via their platform."
Jeffery M.
"I've had the experience of working with many people, but I've never been treated the way Draft2Digital has treated me."
Niang S.
"Worst company I have ever had dealings with. I have never encountered such an unprofessional, rude and lazy company before in my life."
Tarryn V.
"Report D2D, and move on with your life. Like many before me, I got the same unreasonable treatment from D2D. They said the KYC info was never sent or was incorrect, and thus my account was closed. End of discussion. They kept royalties."
-Bea B.
"They delete your account telling you that your books are of low quality. They took away my three months' royalties ($489)."
– A.C.
"Smashwords owes me over $1000 in royalties but never responded to emails, basically kept the money, and these 'new owners' are even worse. The customer service attitude is horrible, they make mistakes in their responses, and the only answer I got regarding my royalties is: 'Thanks for writing in again. As our systems are not yet integrated, any accrued balance on Smashwords will remain until integration is complete later this year.'"
– Julie G.
"D2D is mindful about tax info. I get that. But I recently provided not just my tax info, but every additional document they asked, on time. Still, without warning, my books were delisted, and my account deleted, and D2D now says I did not send them any documents. It is all so surreal. Also, they get to keep all the royalties, they said, unless I provide the info (which I did already). Their emails are aggressive and impolite and I am very sorry to have trusted this company."
– Tim B.
"They are absolutely terrible and will gaslight you till Kingdom come. I ordered a bulk of 200 books and only five of them were the right color."
– Anna R.
"After all this nonsense, I am withdrawing all my books."
– S.A.
"These are the WORST PEOPLE in the publishing industry. I had to get my lawyer to sue them before they removed the books from the internet."
– Dan
"I called my lawyer, and they blocked me access to my account so that I could not use the information in court. I still took the case to court and threatened them with legal action, and they lost!"
and
"This is the worst company in the book industry! I recommend all authors and all book distributors to stay away from this company and read what many other people are saying, because it is a lot worse than what they did to me. They are very disgusting people!"
– Dan (a second review)
The most mediocre platform I've ever known on the net, and I really regret the fact that I know it, no need to waste your time and energy in it, I wonder if they even have a so called support team, it should be called bull***sh**it team instead
– D.V.
NOTE: WritersWeekly could not find a link to this individual's lawsuit information online.
"if 0 star exists , i would give it to this mediocre plateform , 2 months waiting just validate my account and after all these period they block my account without even knowing what the hell is going on even if i gave all the required documents and i even ask them to do a live chat but no respond , i even wonder if they have a so called support team , such a waste of time and energy."
– Harvest
RELATED
HAVE A QUESTION ABOUT SELF-PUBLISHING A BOOK?
Angela is not only the publisher of WritersWeekly.com. She is President & CEO of BookLocker.com,
a self-publishing services company that has been in business since 1998. Ask her anything.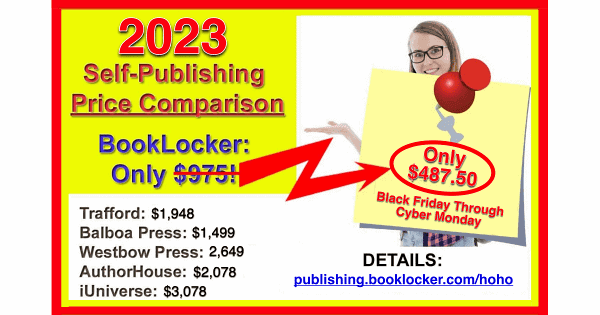 Got questions
about Print On Demand and Self-publishing?
Ask Angela Hoy
.
About The Author
Angela Hoy is the publisher of WritersWeekly.com, the author of 19 books, and the co-owner of BookLocker.com (one of the original POD publishers that still gets books to market in less than a month), PubPreppers.com (print and ebook design for authors who truly want to self-publish), and Abuzz Press (the publishing co-op that charges no setup fees).
Angela has lived and traveled across the U.S. with her kids in an RV, settled in a river-side home in Bradenton, FL, and lived on a 52 ft Irwin sailboat. Angela now resides on a mountaintop in Northwest Georgia, where she plans to spend the rest of her days bird watching, gardening, hiking, and taking in all of the amazing sunrises.
WritersWeekly.com - the free marketing ezine for writers, which features new paying markets and freelance job listings every Wednesday.
BookLocker.com - According to attorney Mark Levine, author of The Fine Print, BookLocker is: "As close to perfection as you're going to find in the world of ebook and POD publishing. The ebook royalties are the highest I've ever seen, and the print royalties are better than average. BookLocker understands what new authors experience, and have put together a package that is the best in the business. You can't go wrong here. Plus, they're selective and won't publish any manuscript just because it's accompanied by a check. Also, the web site is well trafficked. If you can find a POD or epublisher with as much integrity and dedication to selling authors' books, but with lower POD publishing fees, please let me know."
Abuzz Press offers FAST and FREE book publication, but only accepts a small percentage of submissions, and only works with U.S. authors.
PubPreppers.com - "We Prep, You Publish!" Print and ebook design for authors who truly want to self-publish. Offers formatting and design services only, and then provides simple instructions for authors on where to sign up to have the print and ebook editions printed/listed/sold. Cut out the middle man. Keep 100% of what bookstores pay for your book!
Angela's POD Secrets Revealed Series can be found HERE.
Have a POD Book with another publisher? See if BookLocker can give you a better deal. (BookLocker offers "disgruntled author discounts" to those who want to move from other POD services.)
See BookLocker's publishing packages HERE.
ANGELA ON TWITTER https://twitter.com/AngelaHoy
BOOKLOCKER ON FACEBOOK - Provides links to free excerpts!
https://www.facebook.com/booklockerbooks
ANGELA ON FACEBOOK
https://www.facebook.com/angela.hoy.750
ANGELA ON LINKEDIN
https://www.linkedin.com/pub/angela-hoy/78/719/390
Angela is the creator of the Original 24-Hour Short Story Contest!
https://24hourshortstorycontest.com/
Read More Of Angela's Articles HERE