We compete directly with Friesen Press. And, while we reject many manuscripts each year, we would never refer an author to Friesen Press. 
---
Q –
Angela. Thought I'd share … and see what you think of these guys (Friesen Press). Their ad just showed up on my FB page but I thought you might like to know what one of the other guys are doing.
Cheers and thanks for all your hard work.
Linda
---
A –
I only did a few minutes of research, and found PLENTY of complaints about Friesen Press / FriesenPress.com online.
QUOTES FROM COMPLAINTS ABOUT FRIESEN PRESS ON COMPLAINTSBOARD.COM:
"I honestly wish I had found these complaints before I gave my heart and soul to this company last year to publish my children's book."
"I have recently had the same issues with Friesen as outlined in the complaints above. I am seriously considering legal action through the US Federal Court system and would appreciate hearing from anyone who found their practices deceptive and/or totally dishonest."
"Had the worst experience as well with this company…"
"Shame on Freisenpress."
"Four thumbs down."
"My experience with Friesen Press was almost identical to what is being described in this article."
"A couple of years ago I hired Friesen to assist me with the finishing end and distribution of my book. It was a huge mistake."
"Friesen Press has the worst editing team…not in a level of grade 6."
" I would definitely not recommend this publisher."
"Throughout their whole process they were totally incompetent especially the professional editor (who introduced so many errors that it took me 3 months to correct) and the professional designers who made a mess of the job."
QUOTES FROM COMPLAINTS ABOUT FRIESEN PRESS ON DEFAULTERS.COM:
"I met my physician yesterday, because I was thinking to take legal action against FriesenPress, but the doctor suggested as I have high blood pressure, this type of action will not be good for me."
"The same sort of unbelievable events happened over and over again."
"Stay away from them and share this info."
"After my experience of 3 months, checking online reviews, I found a host
of complaints that were totally believable and wish I had read those before putting my money down."
THIS AUTHOR PAID WAAAAAY TOO MUCH MONEY!
"Their base fee was $3000, and a edit I needed costed another $1000. These fees, on top of insurance for the book and other charges rounded up to a total bill of about $7000."
AND
"I have only received one of the two royalty checks I was supposed to get. The first check got to me late and the second one hasn't appeared at all. I call and email the company and do not get responses. They claim to have reissued these checks to me several times, but they have no tracking number for them, and they have yet to reach me."
The Alliance of Independent Authors gives Friesen Press a "MIXED" rating, saying, "their pricing and customer service still generate sporadic complaints."
From Reddit: "I ordered $600 of my books for a conference. Purolator never delivered them to my residence as I never received confirmation of an attempt. My books were damaged in transit according to Purolator. Friesen Press authorized the books destruction. Now Friesen Press will not send me new books or refund me my $600. I have two more books to publish …. Not using Friesen Press again."
RELATED
Read More "Ask The Expert" Articles
90+ DAYS OF PROMOTING YOUR BOOK ONLINE: Your Book's Daily Marketing Plan by Angela Hoy and Richard Hoy
Promoting your book online should be considered at least a part-time job. Highly successful authors spend more time promoting a book than they do writing it - a lot more.
We know what you're thinking. You're an author, not a marketer. Not to worry! We have more than a decade of successful online book selling experience under our belts and we're going to teach you how to promote your book effectively online...and almost all of our techniques are FREE!
Online book promotion is not only simple but, if you have a step-by-step, day-to-day marketing plan (this book!), it can also be a very artistic endeavor, which makes it fun for creative folks like you!
Yes, online book promoting can be EASY and FUN! Let us show you how, from Day 1 through Day 90...and beyond!
HAVE A QUESTION ABOUT SELF-PUBLISHING A BOOK?
Angela is not only the publisher of WritersWeekly.com. She is President & CEO of BookLocker.com,
a self-publishing services company that has been in business since 1998. Ask her anything.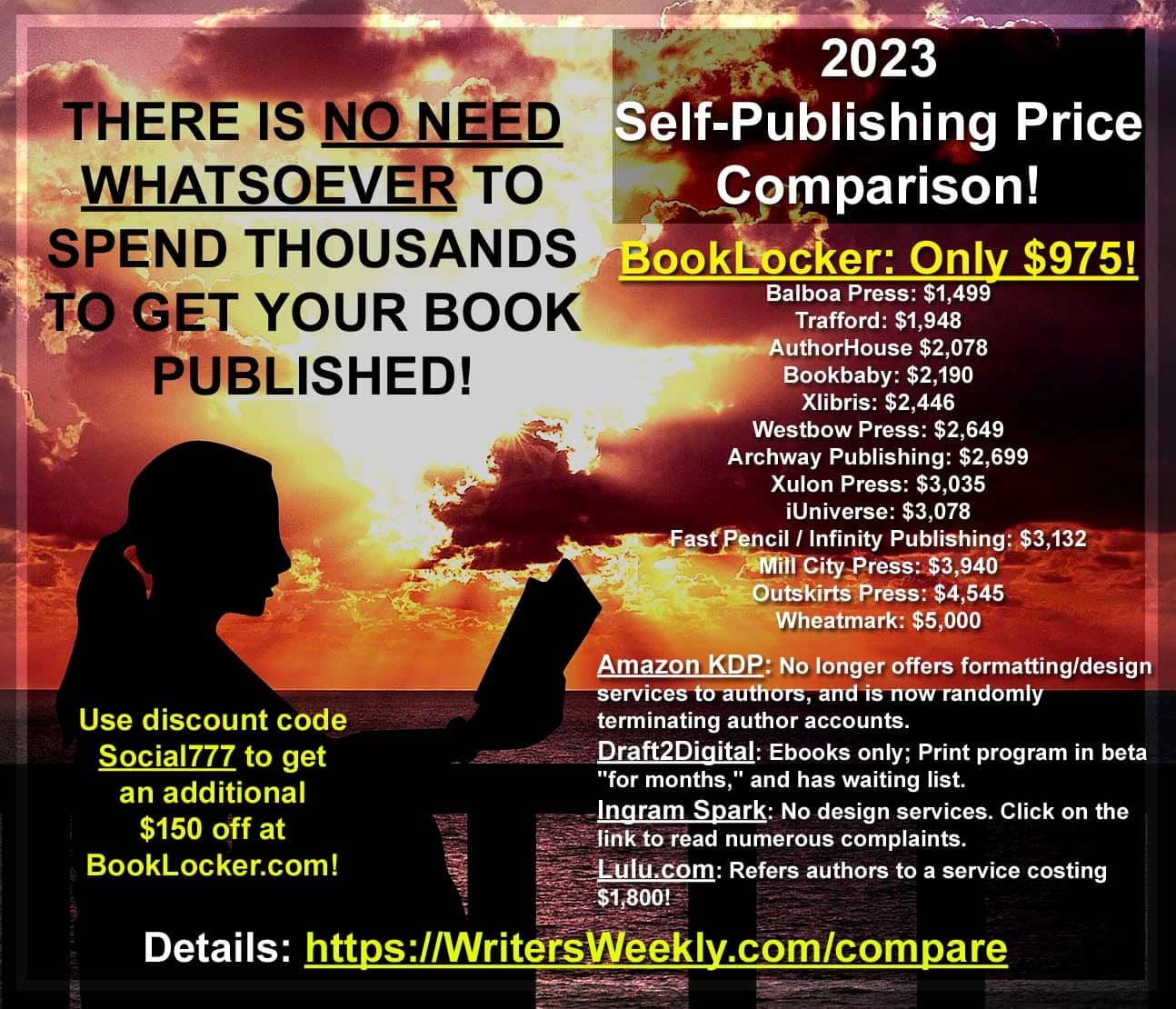 Make Sure Your Marketing is Targeted at the Right Audience