February 20, 2013
Paying Markets And Jobs For February 20th | printable version

PAYING MARKETS
These markets are NOT recycled guidelines. WritersWeekly.com only features original market listings, received from and approved by the editors at each publication.
Journal Magazine, 4610 200th St SW, Suite J, Lynnwood, WA 98036. Email: Elizabeth-at-myjournalmagazine.com. Website: http://www.myjournalmagazine.com. Elizabeth Griffin, Editor. "A monthly lifestyle magazine focused on North King and South Snohomish counties." Welcomes new writers. 15%-20% freelance. Circ. 150K. Monthly. Pays on acceptance. Publishes ms one month after acceptance. Buys first rights. No reprints. Response time varies. Sample copy online. Subscription $20, $50 foreign. Guidelines available by email.
CURRENT NEEDS: "Feature articles on issues and people in our coverage areas, nothing political or religious." Pays $100 for 500-800 words. Submit query by email.
PHOTOS/ART: "Professional quality photos appreciated - 300dpi, large. Payment included with article."
HINTS: "Common mistakes include not reading our publication to see what we write about and who our audience is prior to sending a query."
Just Labs, 2779 Aero Park Drive, Traverse City, Michigan 49686. Website: http://www.justlabsmagazine.com. Jason Smith, Editor; Jillian LaCross, Managing Editor & Website Editor. "Welcome to the world of the family Labrador retriever - the black, yellow, or chocolate dog who sleeps on the good furniture when you aren't looking; who greets you at the door each evening after work with a soggy tennis ball; and who follows you from room to room, always close, in case you need a friendly ear to scratch. Labs are our pets, partners, and protectors, and no 'quality family time' is complete without them. Let Just Labs join you in the celebration, the training, the humor, the health, the tributes, the essays and photos and fun and learning...there is more to life with a Lab than just filling the food bowl. And we show you - in every issue." Welcomes new writers. 60% freelance. Circ. 13K. Bimonthly. Pays on publication. Publishes ms within six months of acceptance. Buys first NA serial rights. Responds 1-3 months. Sample copy available online. Subscription $23.95, $35.95 Canada, $42.95 other. Guidelines available by email to jillianlacross-at-villagepress.com.
CURRENT NEEDS: "Feature stories should focus on these major topics: breeding/ genetics; puppy issues; Labs as service dogs; caring, feeding, and health; history; legal issues; training. Features $200-$450 for package of text and photos upon publication; Gratis to $75 on shorts and fillers depending on reputation of the author, subject, and supporting illustration; $0.10/word for online features. Max 500 words for shorts and fillers, max 1000 for online articles, and 1200-1600 for feature articles." Submit query by email.
PHOTOS/ART: "Prefer digital photos. 300 dpi and correspond to a physical size of 3" x 5". Most of our authors provide their own photos when they submit their article. We do, however, pay $400 for covers and $75 to stock photographers for inside usage."
HINTS: "Look through our article index at www.justlabsmagazine.com to see if and when your idea has been previously published. It also helps to read an issue or two of the magazine to familiarize yourself with the layout, preferred subject matter, and columnists. Your article will more marketable if you stay away from the lyrical 'my dog' stories."
Kung Fu Tai Chi, 40748 Encyclopedia Circle, Fremont, CA 94538. P(510)656-5100. F(510)656-8844. Email: Gene-at-KungFuMagazine.com. Website: http://www.KungFuMagazine.com. Gene Ching, Associate Publisher. "Kung Fu Tai Chi is exclusively focused on Chinese martial arts and their derivations." 70% freelance. Welcomes new writers. Circ. 15K. Bi-monthly. Pays upon publication. Publishes ms 2-6 months after acceptance. Buys First North American publication rights. No reprints. Responds 1 week. For a sample visit the website. Subscription $15; $30 outside the U.S. Guidelines online here.
CURRENT NEEDS: "Technical or training pieces for Chinese martial arts." Pays $125 for 2000+ words; $85 for 1000-1999 words. Articles should be around 1500-2500 words. Submit query or complete ms by email.
PHOTOS/ART: "300 dpi minimum, 8 photos minimum per submission"
HINTS: "The martial arts magazine field is very niche so please be familiar with what has been published recently in our magazine, as well as in other magazines."
Nevada Magazine, 401 N Carson St., Carson City, NV 89701. P(775)687-5416. Email: editor-at-nevadamagazine.com. Website: http://www.nevadamagazine.com. Matthew B. Brown, Editor. "Nevada's official tourism publication." 25% Freelance. Welcomes new writers. Circ. 20K. Bimonthly. Pays on publication. Publishes ms 3-6 months after acceptance. Buys first NA rights. Rarely accepts reprints. Responds 1-4 weeks. Sample copy available at http://issuu.com/nevadamagazine. Subscription $19.95, $29.95 foreign. Guidelines online here.
CURRENT NEEDS: "Exceptional travel stories that go beyond the journalism norm." Pays $250 flat rate, or $0.25-$0.35/word for 500-1500 words. Submit query by email.
PHOTOS/ART: "Submit low-res initially via email to tony-at-nevadamagazine.com." Pays $ 250/cover, $250/full spread, $175/full page.
HINTS: "Nevada topics only, and please be familiar with the publication before making your pitch."
FREELANCE JOBS
DO YOU PAY WRITERS?
Post your ad here for free:
http://forums.writersweekly.com/viewforum.php?f=4
Freelance Writers - Pays $30
Plum Deluxe
Freelance Erotica Writers - Pays $10-$25
wellheeleddominatrix.com
Freelance Online Marketing Manager
blind ad
Freelance Editors - near Palo Alto, CA
wikiHow
Freelance Children's Writer - Pays $10/hour.
start-up
Freelance Business Plan Writer
commercial real estate investment company
Freelance Website Copywriter - Pays $400
cosmetology and massage therapy school
Freelance Lead Technical Writer and Content Curator
toptal, LLC
Freelance Researcher
author
Freelance "Chief of Bloggers" - Pays $600/week
blind ad
Freelance Researcher - who is also a Philosophy or Neuroscience major. Pays $10/hour.
author
Freelance Spanish (Latin America) and French (France) Quality Assurance Testers - to test speech recognition software. Pays $18/hour.
blind ad
Freelance Editor / Proofreader
security consulting company
Freelance Transcriptionists
blind ad
Freelance Researcher
market intelligence and remote relationship management firm
Freelance Blogger - Pays $30/post
positivity pastor
Freelance Blogger - Pays $150/week
women's solopreneur network
Freelance Columnist
luxury lifestyle magazine
Freelance Biz Writer/Marcom Consultant
financial firm
Freelance Coordinator, Web Content
blind ad
Freelance Researcher
blind ad
Freelance Administrative Position - respond to emails; schedule calls. Pays $10-$15/hour.
The Helm Society / helmsociety.com
Freelance Technology Transactions Attorney
legal services provider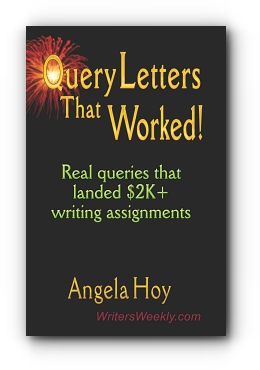 QUERY LETTERS THAT WORKED! Real Queries That Landed $2K+ Writing Assignments
Copies of real query letters that resulted in writing assignments worth $2K and much more!








Get articles on writing, freelance job listings
and markets for writers every Wednesday by email!
Follow Angela Hoy on Facebook and Twitter