Get articles on writing, freelance job listings
and markets for writers every Wednesday by email!
Follow Angela Hoy on Facebook and Twitter
January 30, 2013
Paying Markets And Jobs For January 30th | printable version

PAYING MARKETS
These markets are NOT recycled guidelines. WritersWeekly.com only features original market listings, received from and approved by the editors at each publication.
Apex Magazine, Apex Publications, P.O. Box 24323, Lexington KY 40524. Email: jason-at-apexbookcompany.com. Website: http://www.apex-magazine.com. Lynne M. Thomas, Editor-in-Chief; Jason Sizemore, Publisher; Damian Taylor, Managing Editor. 100% freelance. "We want science fiction, fantasy, horror, and mash-ups of all three - the dark, weird stuff down at the bottom of your little literary heart. This magazine is not a publication credit, it is a place to put your secret places and dreams on display. Short fiction." Unsolicited poetry not accepted. Welcomes new writers. Circulation: 12K views per month. Monthly. Pays 30 days after publication. Publishes ms 3-6 months after acceptance. Buys first rights and non-exclusive anthology rights. Responds 30-60 days. Guidelines online here.
CURRENT NEEDS: See guidelines. Fiction: Pays $0.05/word. Stories no longer than 5000 words. Submit manuscript to apex.submission-at-gmail.com ONLY.
Authorship, National Writers Association, 10940 S. Parker R., #508, Parker, CO 80134. P(303)841-0246. Email: natlwritersassn-at-hotmail.com. Website: http://www.nationalwriters.com. Sandra Whelchel, Executive Director. "3,000 members and is cover-to-cover about writing. Estab. 1950s. Association magazine targeted to beginning and professional writers. Covers how-to, humor, marketing issues. Disk and e-mail submissions preferred. Quarterly magazine covering writing articles only." Welcomes new writers. Circ. 4K. Quarterly. Pays on acceptance. Publishes ms three months after acceptance. Buys first NA serial rights. No reprints. Responds within two months. Sample copy available online. Guidelines available by email.
CURRENT NEEDS: Queries. "Pays $10, or discount on memberships and copies." Up to 1200 words. Submit query by email.
PHOTOS/ART: "Identification of subjects, model releases required. Reviews 5x7 prints.
Offers no additional payment for photos accepted with ms. Buys one-time rights.
Art/Graphic Design Cartoonists: Samples are returned. Responds in 4 months. Buys first North American serial and reprint rights. Pays on acceptance. Illustrators: Accepts disk submissions. Send TIFF or JPEG files. Payment amount(s) for photos: Pays cartoonists $25 minimum for b&w."
HINTS: "If sending hard copy of articles, please send a self-addressed stamped envelope."
Cadet Quest, P.O. Box 7259, Grand Rapids, MI 49510. Email: submissions-at-CalvinistCadets.org. Website: http://www.calvinistcadets.org. G. Richard Broene, Editor. 40% freelance. "Cadet Quest is a 24-page magazine for boys ages 9 - 14. It is a Christian-oriented magazine for members of a Christian youth organization known as the Calvinist Cadet Corps. Boys from many Protestant denominations make up the Cadet Quest's audience. Our purpose is to show how God is at work in the lives of boys and in the world around them. We have worked with new writers in the past and would do so in the future if their work fits our themes." Circ: 7K. 7 issues/year. Pays on acceptance. Publishes ms within 1 year of acceptance. Buys first rights or reprints. Responds 6 to 8 weeks. Sample on request by mail with SASE. Subscription $15.75 US; $19.95 Canada. Guidelines online here.
CURRENT NEEDS: Pays $0.05-0.08/word for 900-1300 words (fiction) and 700-1200 words (articles). Submit complete ms with cover letter by mail with SASE or by email (copy manuscript into body of email - attachments will not be opened). No queries.
HINTS: "Active adventure combined with humor. Please don't send the same old, same old... river rescues, boys lost, boy saving his family during a crisis, etc. Have a Christian basis for what is being done, not just that the kid is being a good kid. Please make your stories fun to read, but not unrealistic. Fiction should fit our current themes. We are always looking for articles on Christians making a mark in this world -- sports, music, and volunteer work. Things that make a difference to people around them."
Church Libraries, 9118 W. Elmwood Dr., Ste. 1G, Niles, IL 60714-5820. F(847)296-0754. Email: linjohnson-at-eclalibraries.org. Website: http://eclalibraries.org. Lin Johnson, Managing Editor. "Our purpose is to assist church and Christian school librarians in setting up, maintaining, and promoting libraries and media centers. Two-thirds of the journal is devoted to reviews of books and other media to help librarians make wise choices with their budgets. (I'm not looking for reviewers.) Although the audience is theologically conservative, almost any kind of how-to article related to church libraries will fit it." 25-30% freelance. Welcomes new writers. Circ. 200 . Quarterly. Pays upon acceptance. Publishes ms 6-24 months after acceptance. Buys first rights. Accepts reprints. Responds 4-12 weeks. Sample copy available here. Subscription $40. Guidelines online here.
CURRENT NEEDS: "How-to articles on running a church library and special promotional events, profiles of church libraries with photographs (high resolution electronic, some vertical)." Pays $0.05/word for 500-1500 words. "Send query or complete ms. via email only. Include a one-sentence bio, identifying who you are (i.e., librarian at xyz church in x city, freelance writer + any connection you have with church or school libraries)."
PHOTOS/ART: See above.
FREELANCE JOBS
DO YOU PAY WRITERS?
Post your ad here for free:
http://forums.writersweekly.com/viewforum.php?f=4
Freelance Social Community Manager - Pays $12.50/hour.
Blue Kangaroo
Freelance Tech Reporter
digital marketing blog
Freelance Blog Editor
beauty retailer
Freelance Editors - for scholarly manuscript editing. Must be doctors or dentists.
American Journal Experts
Freelance Tech PR Consultant - Pays $75/hour+
marketing communications firm
Freelance Production Editor, Medical - to lead the production of journals
content services publisher
Freelance Production Editor
content services publisher
Freelance Android Enthusiast - near Santa Monica, CA to help solve common problems for Android-based smartphones and tablets. Pays $12/hour.
WonderHowTo
Freelance BC Jr Lacrosse Writer - Pays $40/article.
The BC Junior Lacrosse League (BCJLL)
Freelance Assessment Reviewer - Spanish
blind ad
Freelance Writer
Toasting The Town, LLC / toastingthetown.com
Freelance Persuasive Copywriter - for a very short micro documentary
blind ad
Freelance Social Media/PR Specialist - Pays $20/hour.
social media community
Freelance Seattle Writer
blind ad
Freelance Business Plan Writer
"social enterprise"
Freelance Copywriter
Manaview
Freelance Marketing Communications Writer - Pays $15/hour.
startup
Freelance Bloggers - Pays $30/post.
real estate blog in Philadelphia
Freelance Professional Resume Writer
blind ad

ADVERTISEMENT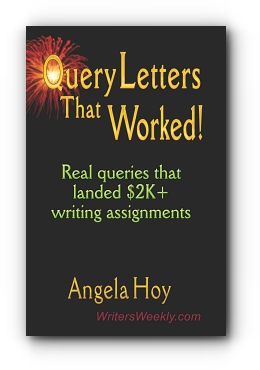 QUERY LETTERS THAT WORKED! Real Queries That Landed $2K+ Writing Assignments
Copies of real query letters that resulted in writing assignments worth $2K and much more!








Get articles on writing, freelance job listings
and markets for writers every Wednesday by email!
Follow Angela Hoy on Facebook and Twitter