One of our BookLocker authors received an unsolicited and very odd email from this person:
Alice E. Gray
Senior Manager & Ingram Royalty Account Specialist, */AUTHORUNIT/*
Their website is pretty spiffy. It says: Authorunit – You Write, We Publish, and We Market
And, her title: "Ingram Royalty Account Specialist"
Wow! That looks pretty official, right? Ingram is the largest book distributor. But, something started to stink right away. They were trying to get authors to let them (AuthorUnit.com) get their royalties to them faster from Ingram. Being in the business, I know that's not possible. Something was very, very wrong.
So, I did some digging and you won't believe (maybe you will) what I found:
1. They claim they're in Riverside, California. I checked it out. It's a Fedex store.
2. I looked up the domain on whois and it's registered anonymously. Don't worry! I don't give up that easy!!
3. I looked up the IP address from the emails they sent. It was registered to gmail (except the "from" in the emails had the employee's name and authorunit.com after it). That was another red flag.
4. BUT, when I looked up the phone number in Google, DING DING DING!! I found this:
Notice it's the AuthorUnit.com website but the URL has PrimeChamber in front of it. Also, notice the PrimeChamber.com email address. So, I looked that up in WhoIs. And, BINGO!
See Lagos on there? Where's that? IN NIGERIA!!!
5. I was talking to BoostABook.com while digging around and they noticed this. The pictures on their website are not of their employees, NOR THEIR CUSTOMERS! They are pulled from other sources on the Internet.
Check out this guy:
And, here is the same model. You can purchase his picture from Unsplash.com.
This attractive woman is on their "what our clients say" part of the site:
And, of course she's attractive because SHE'S A MODEL. Here she is on unsplash.com as well:
And, this guy. He's supposedly one of their authors…
Nope! He is ALSO on unsplash.com, and many other sites!
6. So, why did they change their name from PrimeChamber.com to AuthorUnit.com? Well, I think I figured that out as well.
Now, let's get into the juicy part, shall we?
Here's their email pitch. Try not to let the extreme overuse of asterisks make your eyeballs bleed.
---
If you can still remember, we are helping Ingram *(Printer & Distributor*) with their *Sales & Royalty Tracker *to enable authors:
* become the *Sole Publisher*;
* to easily track their book *sales & royalties* anytime, anywhere;
and
* and set up their account to send all *royalties* straight to their bank account for a *Lifetime*.
*Why?*
Because Ingram *(Printer & Distributor*) received a lot of complaints from *Authors' concerns* about *NOT* being able to track their *Book* *Sales* & *NOT* getting their *Royalties* from their Publisher (Vendor).
---
Their claims about Ingram are B.S.
Having worked with Ingram through our publishing company, BookLocker, for 24 years now, I know they can't get payments any faster from retailers than they already do. And, while there is a delay in paying publishers because of that, Ingram ALWAYS pays on time, and like clockwork. For the past 24 years, they have paid us the very first week of every month.
Next, I did what any normal human would do. I contacted Ingram, and forwarded the string of emails the author had received from AuthorUnit.com. And, I was right.
INGRAM HAS NEVER HEARD OF THIS OUTFIT!
So, because you know how much I like a good debate (okay, okay, a good fight!!), I contacted the company myself. Here's the exchange. (I was actually shocked that they were dumb enough to respond!) Of course, it became pretty clear that English was not her (if she's really even a female) primary language.
---
I was forwarded your email by one of our authors. In your email, you wrote:
"If you can still remember, we are helping Ingram *(Printer & Distributor*) with their *Sales & Royalty Tracker *to enable authors…"
I forwarded your email to Ingram and they confirmed your email is fraudulent. They have no relationship with your company.
We will be exposing your fraud on the Internet.
Angela Hoy
President & CEO
BookLocker.com, Inc.
---
Hi Angela,
Good day!
Just do as you please if that would stop your author to do better next time.
You can check the attached file from our numerous happy authors that we provide the platform to them.
I send a copy to your author.
Alice
---
Alice,
All I see on your attachment is:
1. A screenshot of a publisher's page in Ingram's system. That shows no proof that authors are getting royalties faster.
2. Disturbing screenshots proving you're collecting people's bank account info. However, nothing shows they've been paid any royalties.
Please explain.
Please also explain why you are claiming to be working with Ingram, yet Ingram claims they are NOT working with you.
Angela Hoy
President & CEO
BookLocker.com, Inc.
---
Angela,
Like what I said "Just do as you please".
You don't have to contact me anymore.
You actions are the thing that we can't control.
We can guarantee that we can assist our authors on how to navigate the system and how to become retailers like amazon once they have the platform on how.
Alice
---
So, as she said, I have done as I please. I have exposed all of this information here so that other authors, when googling them, might not fall victim to this outfit.
WHAT'S THE MOST DISTURBING PART OF THIS?
Remember above where she wrote: "You can check the attached file from our numerous happy authors…"
In the attachment she/he sent, there were actually screenshots of four (not numerous!) conversations with authors where the authors were giving AuthorUnit.com their:
Full name
Bank name
Routing number
Bank Account number
Date of birth
Social security number
They weren't "happy authors." They were simply sending AuthorUnit.com enough information to steal their identities and all of their money.
UNBELIEVABLE!!!
Worse, in the screenshots, AuthorUnit.com didn't even cover up all of the authors' information!!!
I think what might be going on here is a very creative form of the Nigerian Prince scam that's been going on for years.
AUTHOR BEWARE!!!
My next step is to contact the authors who gave their personal information to AuthorUnit.com. I'm willing to bet NONE of them knows their information is being shared via email.
RELATED
HAVE A QUESTION ABOUT SELF-PUBLISHING A BOOK?
Angela is not only the publisher of WritersWeekly.com. She is President & CEO of BookLocker.com,
a self-publishing services company that has been in business since 1998. Ask her anything.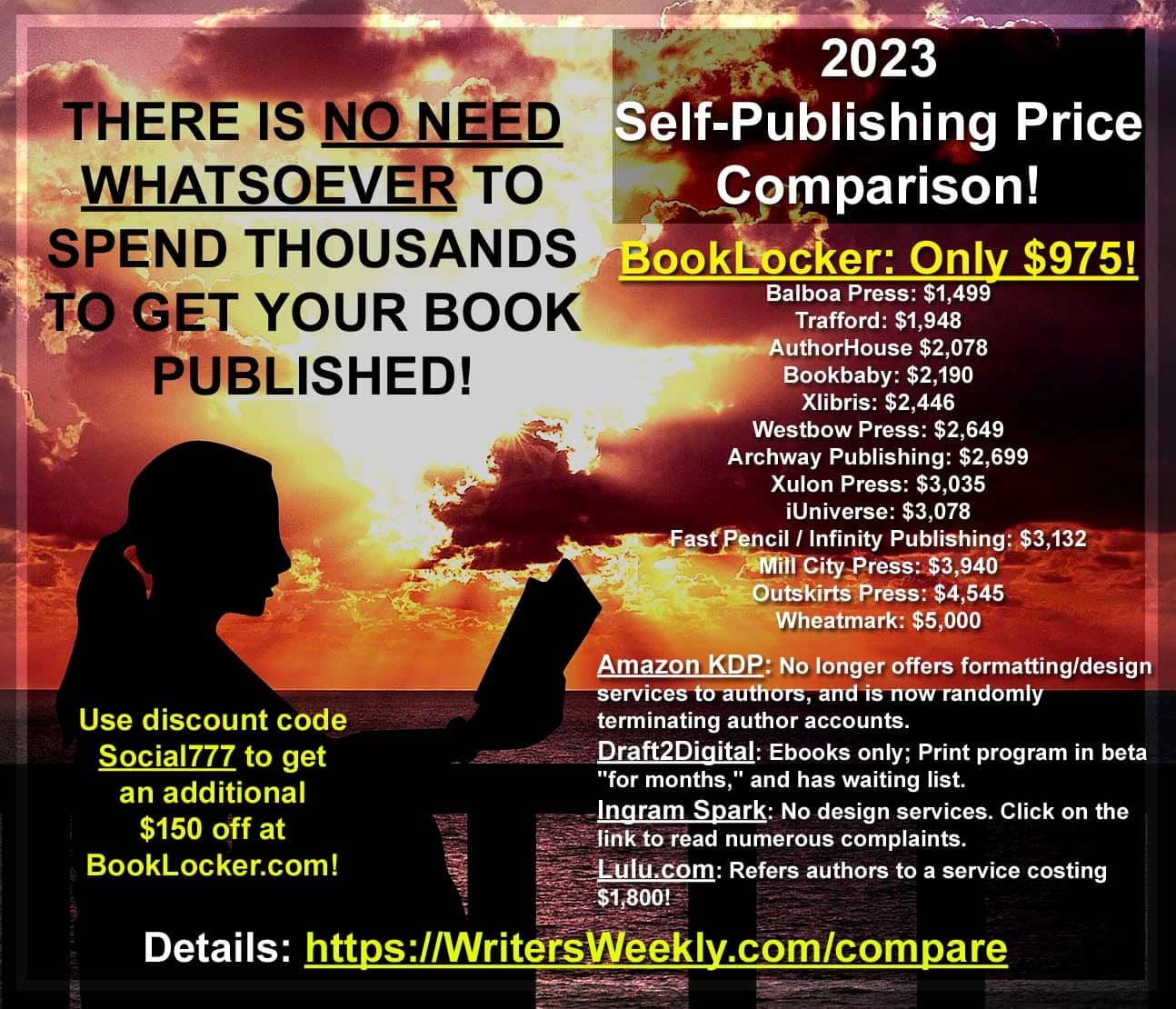 Got questions
about Print On Demand and Self-publishing?
Ask Angela Hoy
.
About The Author
Angela Hoy is the publisher of WritersWeekly.com, the author of 19 books, and the co-owner of BookLocker.com (one of the original POD publishers that still gets books to market in less than a month), PubPreppers.com (print and ebook design for authors who truly want to self-publish), and Abuzz Press (the publishing co-op that charges no setup fees).
Angela has lived and traveled across the U.S. with her kids in an RV, settled in a river-side home in Bradenton, FL, and lived on a 52 ft Irwin sailboat. Angela now resides on a mountaintop in Northwest Georgia, where she plans to spend the rest of her days bird watching, gardening, hiking, and taking in all of the amazing sunrises.
WritersWeekly.com - the free marketing ezine for writers, which features new paying markets and freelance job listings every Wednesday.
BookLocker.com - According to attorney Mark Levine, author of The Fine Print, BookLocker is: "As close to perfection as you're going to find in the world of ebook and POD publishing. The ebook royalties are the highest I've ever seen, and the print royalties are better than average. BookLocker understands what new authors experience, and have put together a package that is the best in the business. You can't go wrong here. Plus, they're selective and won't publish any manuscript just because it's accompanied by a check. Also, the web site is well trafficked. If you can find a POD or epublisher with as much integrity and dedication to selling authors' books, but with lower POD publishing fees, please let me know."
Abuzz Press offers FAST and FREE book publication, but only accepts a small percentage of submissions, and only works with U.S. authors.
PubPreppers.com - "We Prep, You Publish!" Print and ebook design for authors who truly want to self-publish. Offers formatting and design services only, and then provides simple instructions for authors on where to sign up to have the print and ebook editions printed/listed/sold. Cut out the middle man. Keep 100% of what bookstores pay for your book!
Angela's POD Secrets Revealed Series can be found HERE.
Have a POD Book with another publisher? See if BookLocker can give you a better deal. (BookLocker offers "disgruntled author discounts" to those who want to move from other POD services.)
See BookLocker's publishing packages HERE.
ANGELA ON TWITTER https://twitter.com/AngelaHoy
BOOKLOCKER ON FACEBOOK - Provides links to free excerpts!
https://www.facebook.com/booklockerbooks
ANGELA ON FACEBOOK
https://www.facebook.com/angela.hoy.750
ANGELA ON LINKEDIN
https://www.linkedin.com/pub/angela-hoy/78/719/390
Angela is the creator of the Original 24-Hour Short Story Contest!
https://24hourshortstorycontest.com/
Read More Of Angela's Articles HERE
Make Sure Your Marketing is Targeted at the Right Audience