Eleven authors sued Authors' Place Press (Authors' Place, LLC) and its owner, Tony Ferraro, last month, alleging non-payment of royalties, incorrect reporting of royalties, and more. Also named in the suit as defendants were the company's predecessor, Motivational Press, and its CEO, Justin Sachs. Ferraro acquired Motivational Press in 2019.
With the assistance of the Author's Guild, a settlement has already been reached.
Authors' Place Press agreed to release the authors from their contracts, provide them with copies of their files (so they can have their books published elsewhere), and to provide a "token monetary payment" to the lead plaintiff in the case. No word on the royalties still owed to authors so I assume they're all out of luck in that area.
The best news is that Authors' Place Press is now out of business so no other authors can be hoodwinked by their shady practices.
Congrats to the Author's Guild for helping put another bad publisher out of business!
However, what about the payments the company will continue to receive from distributors and retailers for books sold over the past couple of months? Was that addressed in the settlement? I am not finding any books on Amazon under the publisher name Authors' Place Press but I found several still for sale under the publisher name Motivational Press.
So, who is getting the money for books still being sold on Amazon under the name Motivational Press?
Underneath this article, responding to a strongly worded complaint about Motivational Press, Tony Ferraro wrote, "we just bought the assets of MP. I am sorry that you had this experience. we sent you an email."
Tony Ferraro's name in that comment is linked to a website that offers motivational services and life coaching, among other things. The blog on the site hasn't been updated for over a year.
When you try to view the Motivational Press website, this pops ups:
You can read the legal complaint RIGHT HERE.
It states, in part: "Still other times, they threatened authors with the destruction of their works or the discontinuation of purported efforts to market the authors' works. Ferraro and Authors' Place also demanded arbitrary payments from the authors to maintain the status quo. When authors demanded a reversion of the publishing rights in their books, Ferraro and Authors' Place often demanded payment—even where they owed royalties to the authors. These amounts were arbitrary (and inconsistent) too…"
And, here's an interesting tidbit from page 4:
"Per Section 13 of Schoenbart's Publishing Agreement, Schoenbart requested an audit of Authors' Place. Specifically, Schoenbart requested that an independent accountant conduct the audit as Schoenbart's designate. Ferraro and Authors' Place refused Schoenbart's request and said that Schoenbart would have to conduct the audit herself, but that Schoenbart's accountant would not be permitted to participate in the audit, even though it is standard industry practice for professional accountants and auditors to do so. Ferraro further informed Schoenbart that if she were to perform an audit, Authors' Place would not revert Schoenbart's publishing rights back to her at all."
Wow.
This is just another reason why authors should do their due diligence before signing with any publisher. While there are a lot of bad actors in the industry, there are also good, honest publishers who have fair contracts, and who always pay their royalties on time.
RELATED
HAVE A QUESTION ABOUT SELF-PUBLISHING A BOOK?
Angela is not only the publisher of WritersWeekly.com. She is President & CEO of BookLocker.com,
a self-publishing services company that has been in business since 1998. Ask her anything.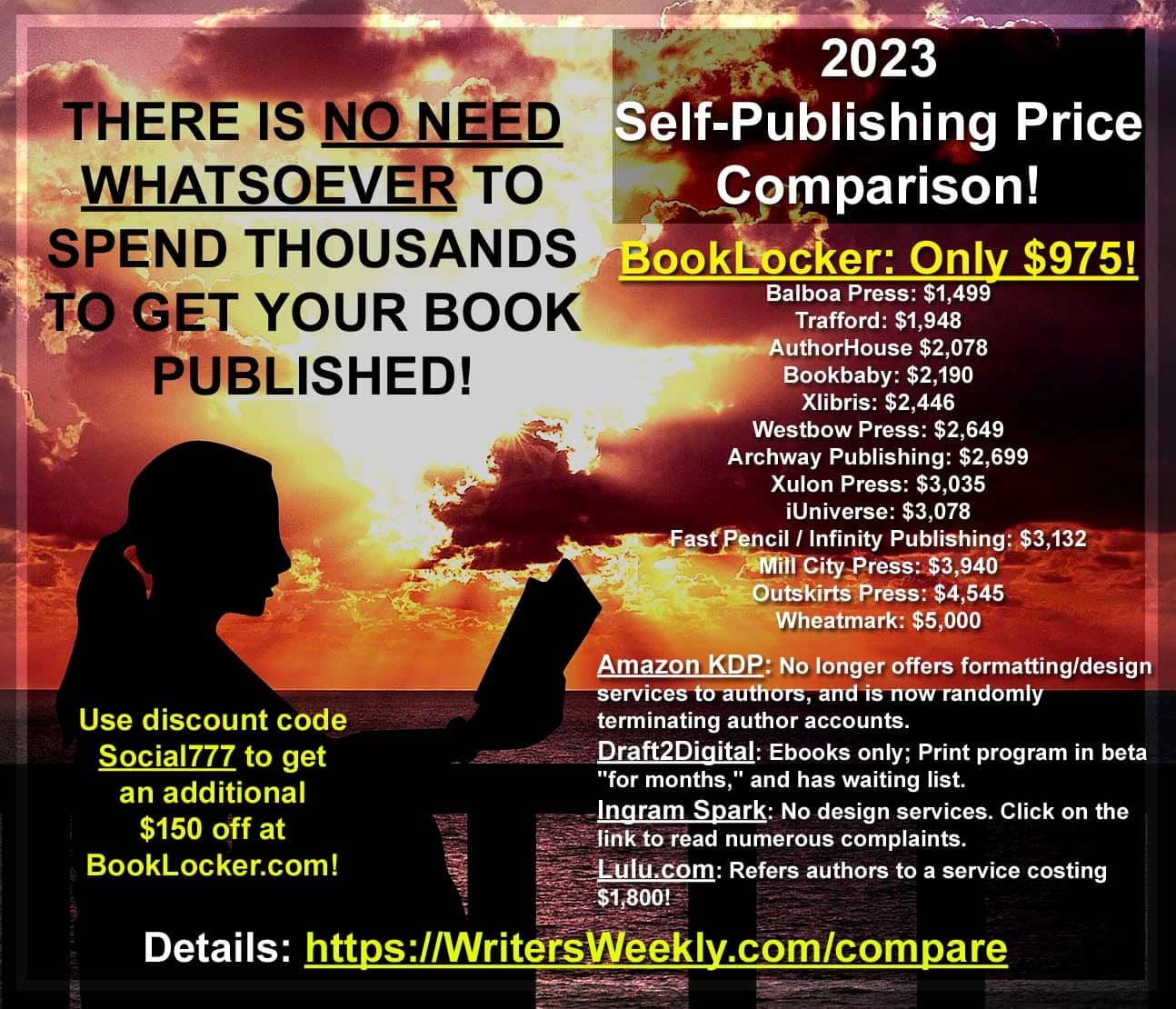 90+ DAYS OF PROMOTING YOUR BOOK ONLINE: Your Book's Daily Marketing Plan by Angela Hoy and Richard Hoy
Promoting your book online should be considered at least a part-time job. Highly successful authors spend more time promoting a book than they do writing it - a lot more.
We know what you're thinking. You're an author, not a marketer. Not to worry! We have more than a decade of successful online book selling experience under our belts and we're going to teach you how to promote your book effectively online...and almost all of our techniques are FREE!
Online book promotion is not only simple but, if you have a step-by-step, day-to-day marketing plan (this book!), it can also be a very artistic endeavor, which makes it fun for creative folks like you!
Yes, online book promoting can be EASY and FUN! Let us show you how, from Day 1 through Day 90...and beyond!
BOOK PROPOSALS THAT WORKED! Real Book Proposals That Landed $10K - $100K Publishing Contracts - by Angela Hoy

Peek over the shoulders of highly successful, published authors to see how they landed publishing contracts worth $10,000 to $100,000! An enticing yet professional book proposal is the key!

BONUS! Successful ghostwriter, Anton Marco, shares his secret for landing ghostwriting clients. Don't miss Anton's real ghostwriting contract at the end of this book! It provides an example of what he charges and the payment terms he requires from each client.








The Best of Boyd's Blogs: 87 Solutions to a Life of Better Speaking and Listening
Ever wish you could have your favorite blog in book form? There's nothing like flipping through the pages and reading helpful snippets here and there.

In this book, Steve Boyd gives you that very opportunity. He has intrigued his readers and clients for years with his insightful newsletters and blog posts. This book includes some of his most interesting stories and communication tips, from listening to speaking. As he quotes this Chinese proverb, "From listening comes wisdom and from speaking repentance."

You won't need to repent from your next speech if you use these articles to guide both your preparation and delivery. As an avid reader of his blog said, "These articles are priceless! People need what you have to say."
Steve Boyd's articles on motivation and communication-related topics have appeared
in various publications. His books on public speaking have sold over 30,000 copies.
He is a popular after-dinner speaker and conducts workshops for businesses and associations
whose members want to speak and listen effectively to improve personally and professionally.
Read more here:
https://booklocker.com/books/7171.html