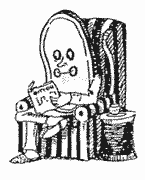 BUTTON, New England's Tiniest Magazine of Poetry
P.O. Box 77
Westminster MA 01473
Phone:
Fax:
Website: http://www.moonsigns.net/Button-frame.htm
Guidelines:
Editor:
Email address: sally-at-moonsigns.net
About The Publication:
"Button comes out once a year or so, and Button contributors have also published in venues like the New Yorker, the Atlantic Monthly, Paris Review, The New York Times, Washington Post, and Harpers, as well as publishing plenty of books. Writers include David Barber, Sven Birkerts, Mary Campbell, Romayne Dawnay, Rodney Dennis, Diana Der-Hovanessian, Brendan Galvin (National Book Award finalist!), Andrew Lear, Ralph Lombreglia, Stephen McCauley, Lawrence Millman, John Hanson Mitchell, Jean Monahan, Amanda Powell, Stephen Sandy and Wayne Wilson. Button publishes sheet music (inspired by the example of Godey's Ladies Book around the mid-19th century). Major label, and smaller label musicians whose compositions have appeared include: They Might Be Giants, Combustible Edison, Roger Miller (of Mission of Burma), Birdsongs of the Mesozoic, Jen Trynin, Malcolm Travis (who played with Bob Mould of Husker Du)." 20-40% freelance. Annual (to the best of our ability, and the quality of work we receive). Pays on publication. Period between acceptance and publication varies. Buys first N.A. Serial rights. No reprints. Responds 1-5 months.
Pays small honorarium.
Current Needs:
"Knowledgeable and confident writing." Pays small honorarium. Submit query by mail with SASE. Overseas contributors may email.
Pays small honorarium.
Photos/Art:
Hints:
Welcomes New Writers: Yes