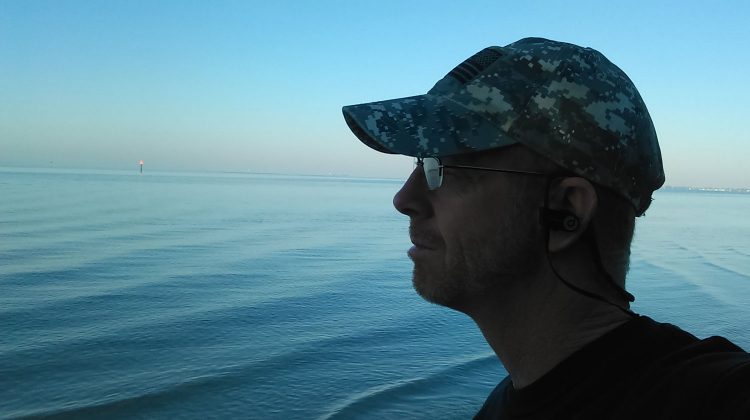 Where we left off last week:
Cruising alongside the long strip of beach, I noticed a beautiful bald eagle standing on the shore. My camera was down in the cabin and I struggled with the strong desire to run below and grab it to get a few shots for the WritersWeekly readers. However, after calculating the math between what running aground would cost me versus missing a good photograph, I decided to stay at the helm and finish getting through the pass in one piece. The eagle, not the least bit frightened by the sight of my sailboat gliding past him, just sat and watched me go by. (Had I run below and gotten the camera, he probably would have flown away.)
In another 10 minutes I was safely at Marker 74 and motoring north into the wind toward Uncle Henry's Marina in Boca Grande…
---
It was still early in the morning and the winds were light enough for me to maintain a 3-kt pace. At that speed, I expected to arrive at the marina around noontime. Passing by the Boca Grande Yacht Club, I noticed four sailboats leaving its channel, and heading toward the big pass. Each was in the 40 – 45 foot size range – considerably larger than my boat. I saw that no boats my size or smaller were leaving the pass, and heading into the gulf. The swells were already huge. Someday, I'll take an offshore sailing course that includes rough weather sailing. Then, I may be one of those boats out there crashing through waves and gale force winds with my boat leaning over enough that its decks are getting periodically flooded with passing swells.
But, that's not me now. I far prefer sailing gradually and smooth without having to stand on the sides of my cockpit to sail my vessel.
I was getting enough of a thrill from each of the large yachts and sport-fishing boats that passed me by in the Intracoastal Waterway (ICW). Most of these did not slow down, causing up to four foot wakes for the 'Molly, which bobbed and rocked heavily over, before coming back to rest upright, and continuing on her journey. Other than that, the morning's trip was uneventful, as I had little to do but keep my boat motoring slowly between the channel markers. I spent my time mostly kicked back in the cockpit, relaxing, and watching the watery world go by.
The turnoff into the private channel leading to the marina was positioned just on the other side of an old, dilapidated concrete railroad bridge.The span has long since been removed and the bridge-tender's control room was all overgrown and black with mold. A couple of ospreys screeched at me from their nests that were built on the roof of the control room as I motored by. I can never go by old structures like this without wondering what the history was that led to them being left to corrode and rot. I think back to the Skyway Bridge in St. Pete, which has two "piers" running parallel along it from either side of the bay. These two structures are are currently thriving fishing piers that hundreds of people use each day. But, unless they know local history, visiting fishermen and women wouldn't know that these two piers were actually part of the original Skyway bridge whose northbound span was knocked down in 1980 by the 580-foot freighter, Summit Venture, killing 35 people. Going between what was left of the concrete structure, I wondered what made this old bridge become obsolete. Was there no more need for the railroad? Was there a tragedy like on the Skyway, or was it just progress and modernization?
I turned to port, and headed toward the first of some 40+ markers bordering the channel that would take me to Uncle Henry's. The channel is narrow and winding, with one- and zero-foot shoals often appearing just on the outside of the markers … and it was high tide. No room for mistakes or lapses in attention. Putting along at a very safe two knots, I noticed that there were lots of people fishing from the old railroad tresses, as well as playing in the shallows and sandbars. There were small boats beached on the sand with their occupants enjoying various activities on the treeless little islands created by these piles of sand that were obviously the dumping areas for the material dredged to make the channel. A little further down, condominiums bordered the waterway, each one with its own row of docks and boat lifts containing their residents' various fishing and water-skiing vessels. I noticed that there were no sailboats. I began to wonder if this was an ominous sign that I should have picked another marina.
Staying as centered between the markers as I could, I watched my depth sounder draw a nerve racking moonscape on its screen as the channel floor would go deep, then quickly go shallow, then drop deep again. Every so often, the numbers would creep smaller and smaller – almost to my keel depth, and I'd have to adjust my position a little to the right or left to find the deeper side of the channel. I made mental notes of various landmarks denoting where the shallows were and what side of the channel I found the deeper water on. After about 40 minutes of this monitoring and adjusting, I finally arrived at the last markers, and radioed in to the marina office. They directed me to a slip and I slowly motored over, and got nestled in with a little help from the dock-master and some guys hanging out near a Chris Craft yacht.
Uncle Henry's is a small, quiet, and very clean little marina. It has one long main dock with several finger docks extending from it to make up the slips. When I got in, the sun was high, the winds had died (probably because of all the condos surrounding the channel) and the temperature had climbed into the high 80s. The bleach-white concrete of the main dock combined with the bright afternoon sun and the white, glossy gel-coat of the boats in the slips almost blinded me as I walked up to the office. For the rest of my time at Uncle Henry's, I would carry both my regular glasses and a pair of sunglasses to switch over to the minute I got on the dock. Sure, everything was blurry, but at least I could look forward without my eyes burning.
I got to work tidying the boat, and prepping for a nice, calm evening tied up at dock. The sound of a blow-hole alerted me to the presence of a dolphin nearby. I abandoned my chores to go up and take a look. It was a medium-sided dolphin hunting for fish around the dock pilings. I noticed as he surfaced that he had a triangular chip of flesh missing from his dorsal fin. He was there alone. I'm used to seeing dolphins work in small groups when hunting in marinas. Somehow, this one managed to be doing okay as a lone agent. I found out from some of the marina residents that the same dolphin comes every afternoon to hunt there, and they call him "Chipper."
The next day, it was time to catch up on my laundry and BookLocker work. The winds picked up to 30 mph and the marina came alive with boats rocking and swaying in their slips. I took some time to hang out in the office, get some local knowledge, and compare weather updates. I was hoping for some good news that may differ from what my phone app was telling me. Unfortunately, all the forecasts were the same – winds from 20 – 30 mph out of the North at least for the next five days with small craft advisories in effect all over the area. I went back to the boat and continued working away, not sure what I was going to do.
Uncle Henry's is located in a fairly remote part of Boca Grande. Not "middle of nowhere" remote – but remote in that it was residential and there weren't many businesses or entertainment venues within easy walking distance. However, right next door was the Boca Grande Resort, containing a quaint little restaurant called "The Casual Clam." The food was good and the prices reasonable, and it gave me a break from having to cook on my propane camping stove in the cabin. (My boat stove had stopped working just prior to the trip and I didn't have time to fix it.)
On day three, neither the immediate weather nor the forecasts had changed. It was costing a pretty penny for each day I spent in the marina – the daily rate being close to many hotels, and my sense of frustration in just sitting still was getting the best of me. I had contemplated leaving that day but the winds were so strong that I'd have been blown into one of the boats directly next to me as soon as I untied my lines. I decided that I needed to leave at first light when the winds were at their calmest to have any chance of avoiding disaster when I attempted to pull out of the slip. However, this would present me with another problem. First light came just as the tide was hitting its lowest point. I would have to contend with the winding channel from Hell with a foot less water than I had when I came in a few days prior. I weighed out my options and decided that leaving at first light would offer the least chance of causing damage to someone else's boat, and that's a pretty important factor to consider.
The next morning at 5 a.m., I got up and began getting ready to depart. I'd already spent the day prior checking the engine, stowing unneeded items, and tying down items on deck. Because the winds would be strong and coming directly onto my bow, I attempted to reduce wind drag potential as much as possible. I even folded up my bimini top and lashed it tight to avoid extra windage. I got a shower and made a quick cup of coffee. Breakfast was a bowl of cereal and a granola bar. The wind was already starting to pick up a little more than I liked. While it was still dark, I fired up the engine to start warming, disconnected my shore power cable, and began untying lines that were not essential. I went to the end of the main dock with my spotlight, and took one last look at the channel markers to familiarize myself with the way out. As the sun was just starting to light up the eastern sky, I only had my port side lines attached because the wind was coming from port and blowing the boat away from the dock. One last rundown of the written checklist I made the night before and I was ready to go. I untied the bow line, then scrambled back to the cockpit to release the stern line. Once free, I threw the transmission into reverse and started backing out of the slip. Inch by inch, the 'Molly glided backward out of the pilings and once the bow was clear, I put her into a little starboard turn to face her North. PERFECT! She was out of the slip, glitch free.
Now, I started into the channel. At only the third or fourth marker, it suddenly seemed like I was in a small creek in the middle of a desert. What had been water at high tide days before was now high and dry mud on all sides of me! With the exception of some pools and pockets, and the farther off deep areas, the channel was the only water anywhere. I motored slowly and cautiously with the wind constantly working to blow me off course. Using the hand held spotlight to illuminate markers ahead, and recognize the reds from the greens, I kept nervously checking the depth sounder. The "shallow depth" alarm had started going off as soon as I left the marina harbor and I had to simply turn off the noise – because it was ALL shallow water. Staying in the middle of the channel, I kept creeping along. About ten minutes in, as I rounded the first bend in the channel near some condos, I felt the first violent "BUMP!' and the whole boat jerked. My heart stopped as I immediately realized I'd hit bottom! There was no warning and the depth sounder was only now reacting, and showing a little hump on the bottom that came up to about 4 foot 8 inches. (That's because the transducer is mounted BEHIND my keel – but that's another story.) My pulse came back as I realized that I was still moving forward. So my keel had scuffed a little rise on the bottom, but cleared it. But, now my grip on the helm was white-knuckle tight.
Further down, I approached a section of the channel that spanned a wide area of water. I no longer had just the channel surrounded by dry mud. But, I DID have a channel with shallow areas that I couldn't see. What was worse, this area had no markers. As I entered the wide span, I passed a pair of red and green markers. The next pair of markers were about 1200 feet away. It was up to me to motor a straight course to them with no errors.
As I headed into the no-man's land, and pointed my bow at the distant markers, a well known saying in the sailing world came to mind: "There are two kinds of sailors – those who have run aground … and those who will."
I eagerly watched the distant markers slowly become closer and closer. However, a couple of hundred feet into it – "BUMP!!" – and my boat came to a dead stop! I immediately pulled back on the throttle, threw the transmission into reverse, and throttled up hard. Dark smoke billowed out of my exhaust as my engine chugged, fighting to pull the hull (or keel) off the bottom. Yet the landscape around me was not moving, which meant my boat wasn't moving. I was hard aground – "Arrrgh!!"
What made me angrier was that only 50 feet away, a Florida Wildlife Commission officer was slowly cruising around in his marked inflatable patrol boat. I saw him looking directly at my boat smoking from the stern, me looking over the side and working the engine – clear indicators of a boater who has run aground. He simply kept going, and left me sitting there, still trying to come loose. Now, I know he wasn't permitted to throw me a rope, and pull me off that sandbar. But hey … how about a little drive-by to ask if I'm okay and maybe point out where the deep areas are? I'd seen that patrol boat stored at uncle Henry's so I know full well that these were the officer's home waters and he'd be familiar with the channel.
As I sat, continuing to try to reverse my way off the bottom, I reviewed my options. It was still another six hours before the tide came up. I didn't know how long I'd be waiting if I called Tow Boat US. Once in the past, I "kedged" myself off a sandbar. Kedging means to row an anchor out with your dinghy, then run the line to a winch on the boat, and use the winch to pull the boat off the ground. However, that places me in a dinghy AWAY from my main boat if it does manage to come loose. Not a good option.
The longer she sat here, the more things could go wrong. Although the wind was blowing from in front of me, if it changed any, it could push me further onto whatever was holding me. It was still early and there were no other boats out (besides the FWC officer who ignored me). As time moved on, the more boats that came by and creating a wake, the harder aground I could be pushed. Oh, did I mention that there was a low, mast-crunching bridge just off to port about 50 feet away? Yeah, there was that weighing on my mind as well. At this point, I was hard aground but only mildly (as I made sure to be going slow through the channel). But I've seen "mildly" turn into catastrophically aground with other boats when winds and waves come into play. I forced the idea of my Molly lying on her side with her mast being pummeled into scrap metal by the bridge girders. (Not to mention the thousands of dollars in fines and recovery costs I could face in such a situation.) I kept up on the throttle, trying to free my home from the mud while avoiding overheating my engine at the same time. Half an hour ticked by and I was feeling sick…
Then, the miraculous happened! The wind that I'd been cursing all this time started blowing the "Molly" sideways. I realized that she was doing what she does naturally – she turns beam-to-the-wind when she's not underway. So I quickly throttled back down and put her in neutral as the stiff breeze blew me around to port. As more and more of the boat was exposed to the wind, the harder she got pushed sideways and, in another 30 seconds, she was free!!
I popped the transmission into forward, rolled on the throttle, and performed a circle to port back through the deeper water I came from. Then, I was able to make another approach a little further toward the middle of the water. In another 15 minutes, I was overjoyed to see the old railroad bridge marking the end of the channel and the opening to the main ICW. After a radio call to the the active bridge just upstream from the old bridge span, I was granted an opening and was on my way North.
Despite the worsening weather conditions, I relaxed a little and looked forward to making my way to Venice, hoping to find a safe place to anchor for the night…
Read More News From The Home Office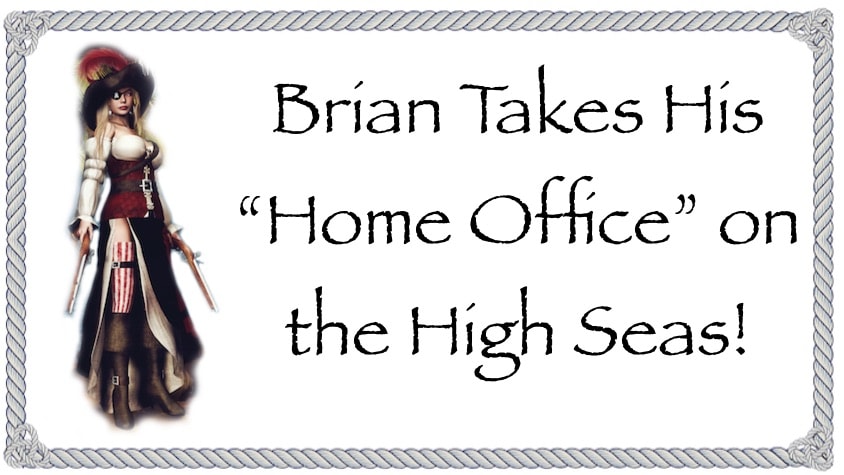 PART I: An emergency U-turn just in time to avoid running aground!
PART II: Hair raising anchor antics and the journey south!
PART III: "Four Miles Out," Cayo Costa, and DOLPHINS, DOLPHINS, DOLPHINS!!
PART IV: "Depth-Defying" Pelican Pass!
PART V: "A day in the mangroves."
Brian Whiddon is the Managing Editor of WritersWeekly.com and the Operations Manager at BookLocker.com. Brian is an Army vet and former police officer, and spent several years chained to a desk, commuting Tampa's congested roadways, working in corporate management and training, while writing in his spare time. He is now an author, an avid sailor, and NRA-certified firearms instructor. Brian lived and worked aboard his 36-foot sailboat, the "Floggin' Molly" for 9 years in St. Petersburg, Florida. He calls her his "rescue boat" that he found abandoned in a boat yard and rebuilt himself - fulfilling a dream he had to one day live aboard. Now, in northern Georgia, when not working on WritersWeekly and BookLocker, he divides his off-time between hiking, hunting, and farming.