Q –
A woman wants me to ghostwrite a book about her abusive childhood? This makes me nervous. Could I be sued?
– G.A.
---
A –
I am not an attorney and this is not legal advice. Please consult with an attorney for your specific legal needs.
That said…
While it's unlikely the people featured in the book would sue you, they could. Anybody can sue anybody for anything. Even if you won, the legal fees alone could bankrupt you. Furthermore, if your communications with the author were all via phone calls, and with no written contract or "acceptance" of your work or, God forbid, you had a hard drive crash and you lost all written communications with the author, she herself could also sue you if she was threatened with a lawsuit, claiming they were your words, not hers.
Many new freelancers who assist authors with their books don't understand the legal implications of publishing books of this nature. While I agree that victims should have the right to share their stories, many are so angry about their past that they don't care about potential libel or invasion of privacy. They have an ax to grind and, gosh darn it, they're going to grind that ax no matter what the future legal liability may be. Some authors have no money at all and know that, even if they are sued, there will never be any money to collect. But, they are happy to pass the liability on to someone else if they can.
I've said it before and I'll say it again. There's no shortage of slimy lawyers willing to file frivolous lawsuits, hoping for a quick settlement in the end. Some new freelancers who work with authors don't even use contracts! Yes, it's true!
If all of your communications this author were by phone, she could simply say that you wrote that material. She could also claim, absent any written agreement or approval, that she never saw it before it went to print.
This is why it's imperative to:
1. Always have a binding contract (written by an attorney) with the author, which states the author is legally liable for all content in the book.
2. Always obtain legal releases (also written by an attorney!) from living persons appearing in the book (even if their names aren't used). A sample general release appears in THIS ARTICLE.
Even if you do all of this, you could still find yourself party to a lawsuit.
An author recently contacted us, wanting to publish a book about her abusive childhood. There was one very prominent figure in the story that the author claimed knew about the book. She said the person was even "very proud" of her for writing the book. However, that person was NOT portrayed in a positive light. I asked her to have that person signed a notarized release.
The author became downright belligerent, and even accused me of running scam (Huh??), and threatened to post negative reviews about us online. It became instantly obvious that the author was lying about that person agreeing to be featured in book. If I had a nickel for every time someone pulled the "scam" card, and threatened to post false negative reviews about us online when trying to get their way, I'd be a very wealthy woman.
RELATED
Read More "Ask The Expert" Articles
Ask Angela About Self-Publishing
Angela Hoy is not only publisher of WritersWeekly.com, she's also co-owner of self-publishing services firm BookLocker.com and works directly with each author.

That's right, you work directly with the owner of BookLocker. No revolving customer service reps, no layers of bureaucracy to navigate, and absolutely no outsourcing to low-paying overseas call centers. We don't use call centers or telemarketing at all. You will never be shuffled from one "customer service rep" to another because we don't have any of those.
You will communicate directly with Angela about any needs you have at all, as well as Richard (book marketing advice), Brian (ebooks and technical issues), Ali (print formatting), Gwen (color-interior books) and Todd or Nancy (our awesome cover designers).

Since we are selective about which books we publish, we are able to work with every author one-on-one. In the past 18 years, BookLocker has published more than 9,000 titles.
Angela's been in the print-on-demand and self-publishing business for nearly two decades. She's seen it all, and is a great source of information. To ask her anything click here.
90+ DAYS OF PROMOTING YOUR BOOK ONLINE: Your Book's Daily Marketing Plan by Angela Hoy and Richard Hoy
Promoting your book online should be considered at least a part-time job. Highly successful authors spend more time promoting a book than they do writing it - a lot more.
We know what you're thinking. You're an author, not a marketer. Not to worry! We have more than a decade of successful online book selling experience under our belts and we're going to teach you how to promote your book effectively online...and almost all of our techniques are FREE!
Online book promotion is not only simple but, if you have a step-by-step, day-to-day marketing plan (this book!), it can also be a very artistic endeavor, which makes it fun for creative folks like you!
Yes, online book promoting can be EASY and FUN! Let us show you how, from Day 1 through Day 90...and beyond!
HOW TO REMEMBER, WRITE AND PUBLISH YOUR LIFE STORY
Angela Hoy's popular online class is now available in book format!
Remember Your Past
Write It and Publish It
in as little as 12 weeks!
Angela Hoy's book will get you started!
Using Angela's MEMORY TRIGGERS, recall memories that have been dormant for years
Record those memories in chronological order in your memory notebook
Using the memory notebook as your outline, write your autobiography!
Also works for biographies and memoirs!
Read more here:
https://booklocker.com/books/4764.html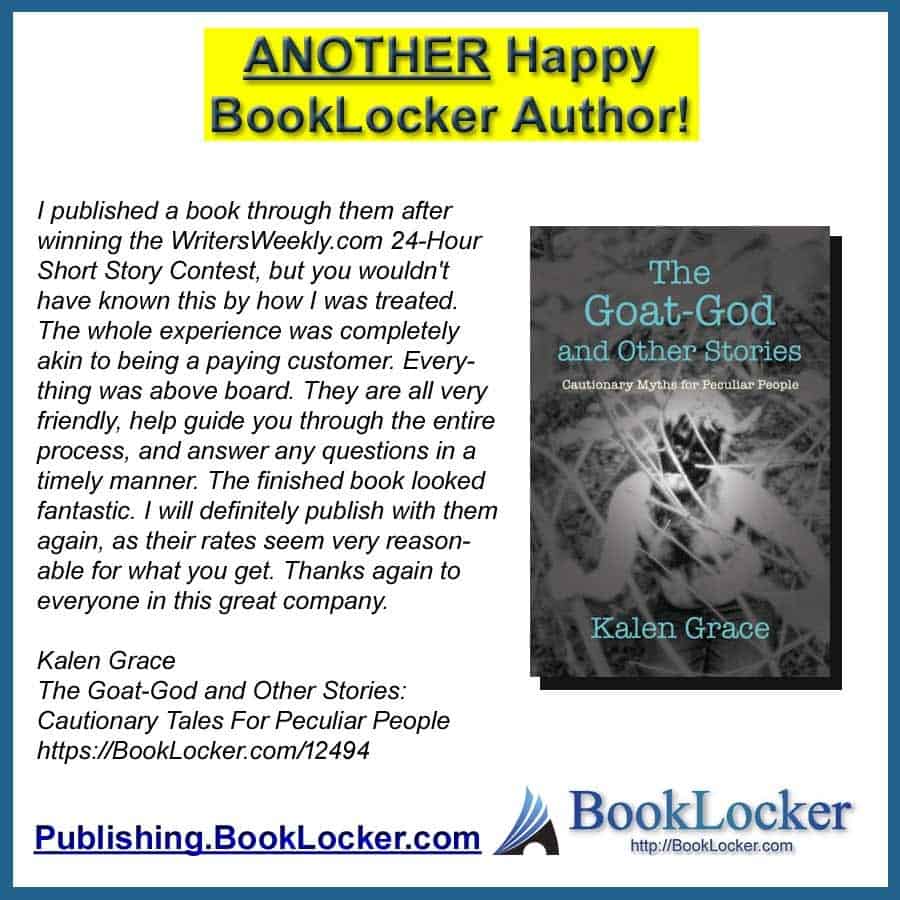 The Art and Craft of Writing and Editing
Writing is a constant dialogue between author and reader.



The craft of writing involves an interchange of emotions between an author and a reader. An author creates a story line, conflict, and characters, gives his characters words to speak, and then hands off these materials to a reader. This process results in a constant dialogue between the mental imagery produced by a reader and that proposed by the author.
Read more here:
https://writersweekly.com/books/6712.html