---
I received an email this week from a mom of two who published several books through Amazon.
She was wondering if there was a lawsuit pending against Amazon because of the many reports of Amazon KDP terminating authors' accounts without warning, and with vague excuses about the author violating their policies (though not telling them what violation occurred).
She added, "To get an email from Amazon KDP that they were suspending my account for 'violation of their terms of service' was shocking to say the least. I am literally fighting back tears because I was working so hard on these books…"
I asked her to send me a screenshot of the message that Amazon sent to her. Here it is:
Notice the part about Amazon getting to keep her royalties! And, notice how they don't tell her what terms she violated. It's clearly just a form response from Amazon. Typical…
She contacted them again, and received a slightly different but similarly vague response:
This should serve as a warning to ALL authors considering using Amazon KDP to publish their books (and existing Amazon KDP authors). Amazon can giveth, and Amazon can instantly taketh away. They literally put this author out of business with the push of a button. And, she's not the only one!
Amazon is continuing to randomly terminate author accounts, not give specific reasons why, AND keeping those authors' royalties.
Amazon recently laid off 18,000 workers, closed 21 warehouses, cancelled opening 21 others, and has delayed opening an additional 27.  AND, Amazon recently took out an $8 BILLION term loan when they are already billions in debt. They even said they're going to use some of that money to pay off other debts.
"Amazon had about $35 billion in cash and cash equivalents and long-term debt of about $59 billion at the end of the third quarter ended Sept. 30." – Reuters
I just can't get past the part where Amazon gets to keep the terminated authors' unpaid royalties. The author is considering contacting a class action law firm.
If this author had used a publishing services provider, her books would likely still be on the market. I haven't heard of Amazon terminating any publishers, nor specific books by some publishers. It looks like they're only going after individual authors who have signed up to publish their books directly through Amazon KDP.
RELATED
HAVE A QUESTION ABOUT SELF-PUBLISHING A BOOK?
Angela is not only the publisher of WritersWeekly.com. She is President & CEO of BookLocker.com,
a self-publishing services company that has been in business since 1998. Ask her anything.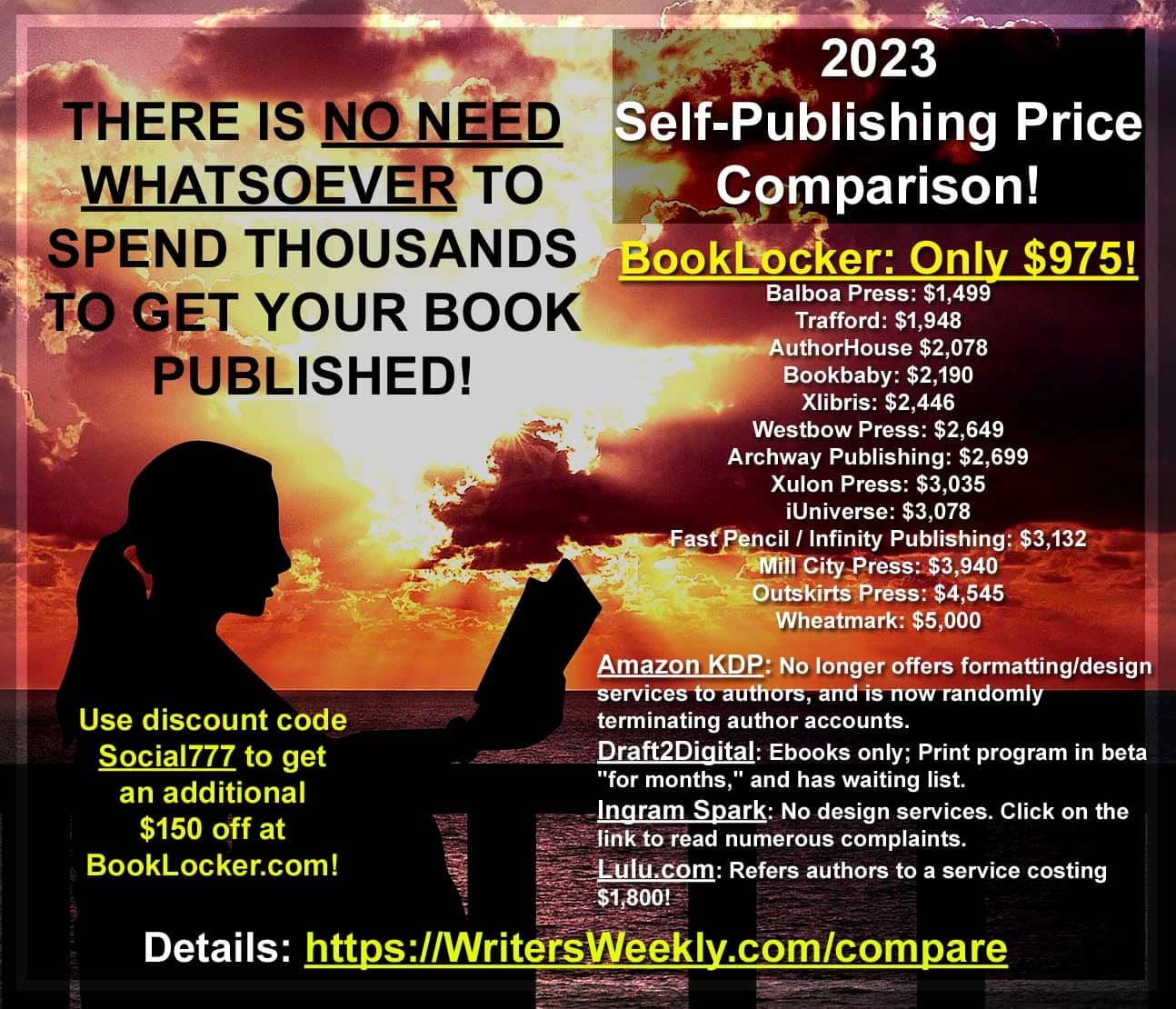 90+ DAYS OF PROMOTING YOUR BOOK ONLINE: Your Book's Daily Marketing Plan by Angela Hoy and Richard Hoy
Promoting your book online should be considered at least a part-time job. Highly successful authors spend more time promoting a book than they do writing it - a lot more.
We know what you're thinking. You're an author, not a marketer. Not to worry! We have more than a decade of successful online book selling experience under our belts and we're going to teach you how to promote your book effectively online...and almost all of our techniques are FREE!
Online book promotion is not only simple but, if you have a step-by-step, day-to-day marketing plan (this book!), it can also be a very artistic endeavor, which makes it fun for creative folks like you!
Yes, online book promoting can be EASY and FUN! Let us show you how, from Day 1 through Day 90...and beyond!
Make Sure Your Marketing is Targeted at the Right Audience