Q –
New author on verge of publishing first memoir. I would desire exposure through Amazon, B&N, etc. etc. in addition to brick and mortar book stores. How serious should I consider book return insurance and what's a reasonable estimate to budget for?
Thank you in advance for your opinions and thoughts.
-P.L.
---
A –
I do not recommend book returns insurance (nor any derivative of those words – lots of publishers call it all sorts of things). If making a book returnable really resulted in more net book sales, all publishers would be offering that service for free.
1. Making a book returnable isn't likely to result in increased net sales (meaning total sales less returns). In fact, you might find yourself in the red because the returns process can cost you even more money in the long run.
2. Bookstores should be responsible for their own ordering practices. Publishers and authors shouldn't have to foot the bill for a bookstore that over-orders.
3. Most people are going to buy your book from Amazon anyway because just about everybody has an account there.
4. Even if your book is returnable, is is HIGHLY unlikely it will get stocked in stores. With more than a million books being published now, in addition to the best sellers, mid-list titles, and classics, there simply isn't enough shelf space.
RELATED
HAVE A QUESTION ABOUT SELF-PUBLISHING A BOOK?
Angela is not only the publisher of WritersWeekly.com. She is President & CEO of BookLocker.com,
a self-publishing services company that has been in business since 1998. Ask her anything.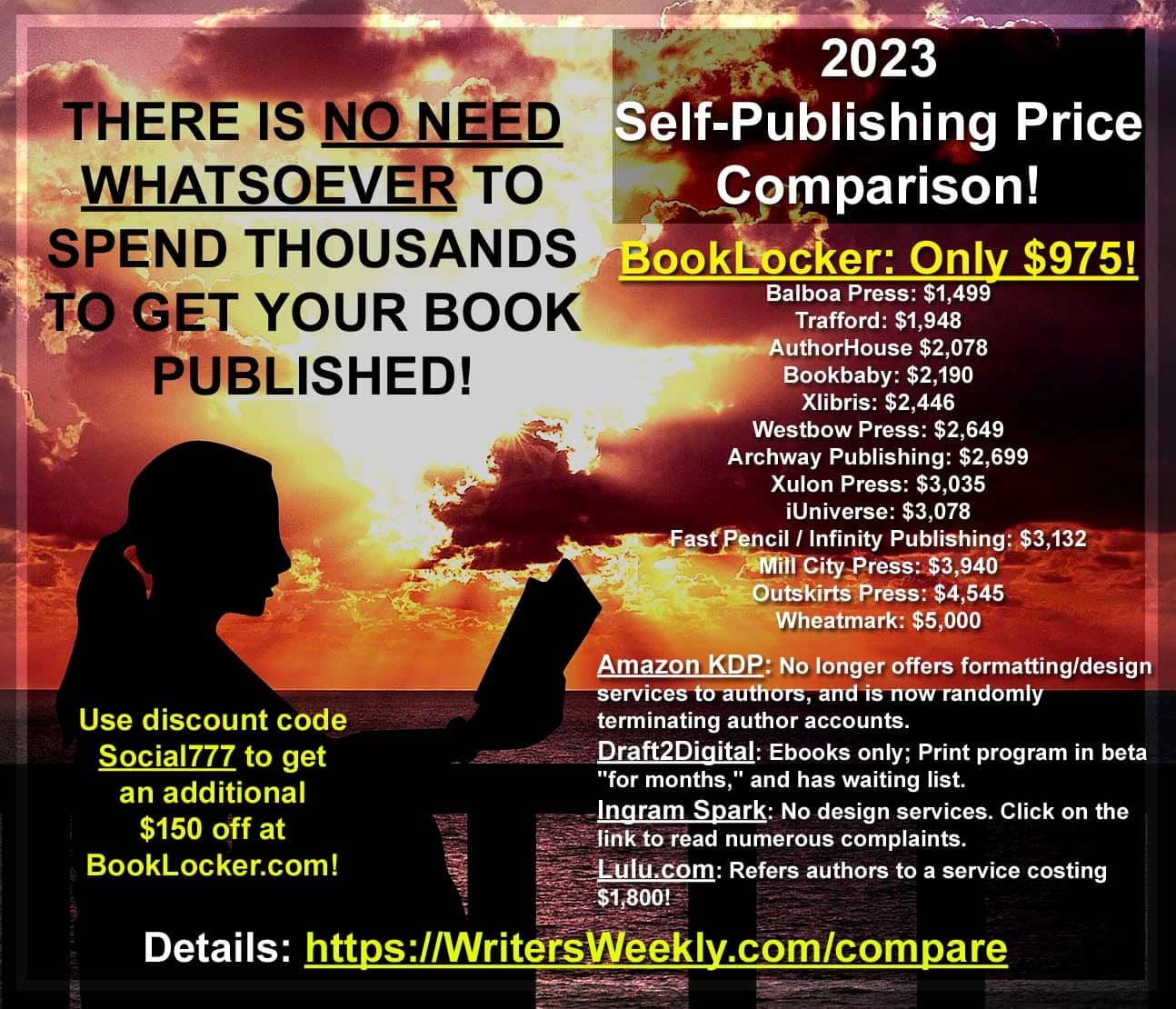 Read More "Ask The Expert" Articles
90+ DAYS OF PROMOTING YOUR BOOK ONLINE: Your Book's Daily Marketing Plan by Angela Hoy and Richard Hoy
Promoting your book online should be considered at least a part-time job. Highly successful authors spend more time promoting a book than they do writing it - a lot more.
We know what you're thinking. You're an author, not a marketer. Not to worry! We have more than a decade of successful online book selling experience under our belts and we're going to teach you how to promote your book effectively online...and almost all of our techniques are FREE!
Online book promotion is not only simple but, if you have a step-by-step, day-to-day marketing plan (this book!), it can also be a very artistic endeavor, which makes it fun for creative folks like you!
Yes, online book promoting can be EASY and FUN! Let us show you how, from Day 1 through Day 90...and beyond!