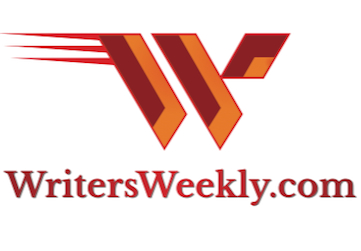 MAY 12, 2022
GET $150 OFF AT BOOKLOCKER USING THE DISCOUNT CODE BELOW!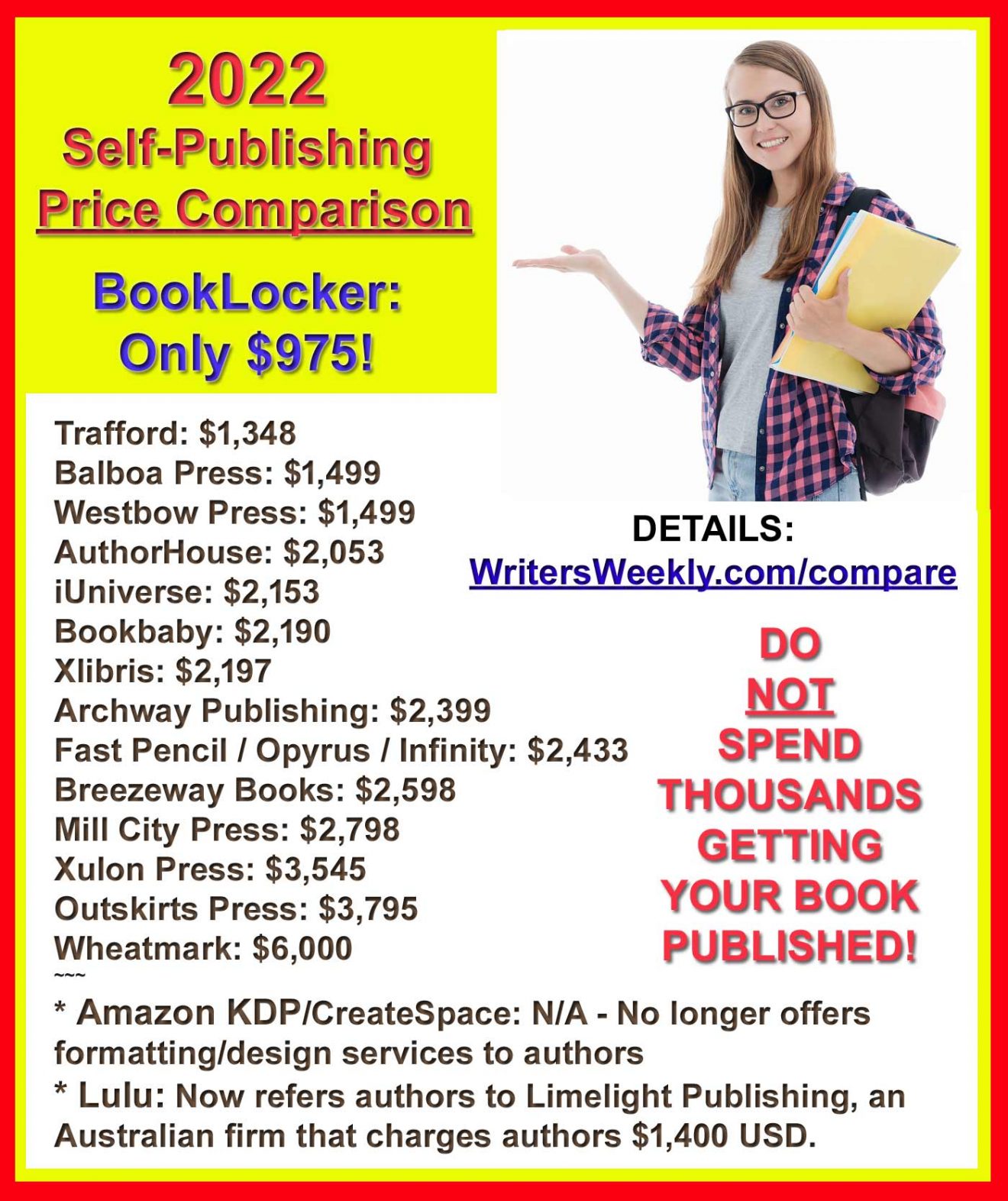 ONLY 500 PARTICIPANTS PERMITTED SO DON'T
DELAY IF YOU WANT TO PLAY!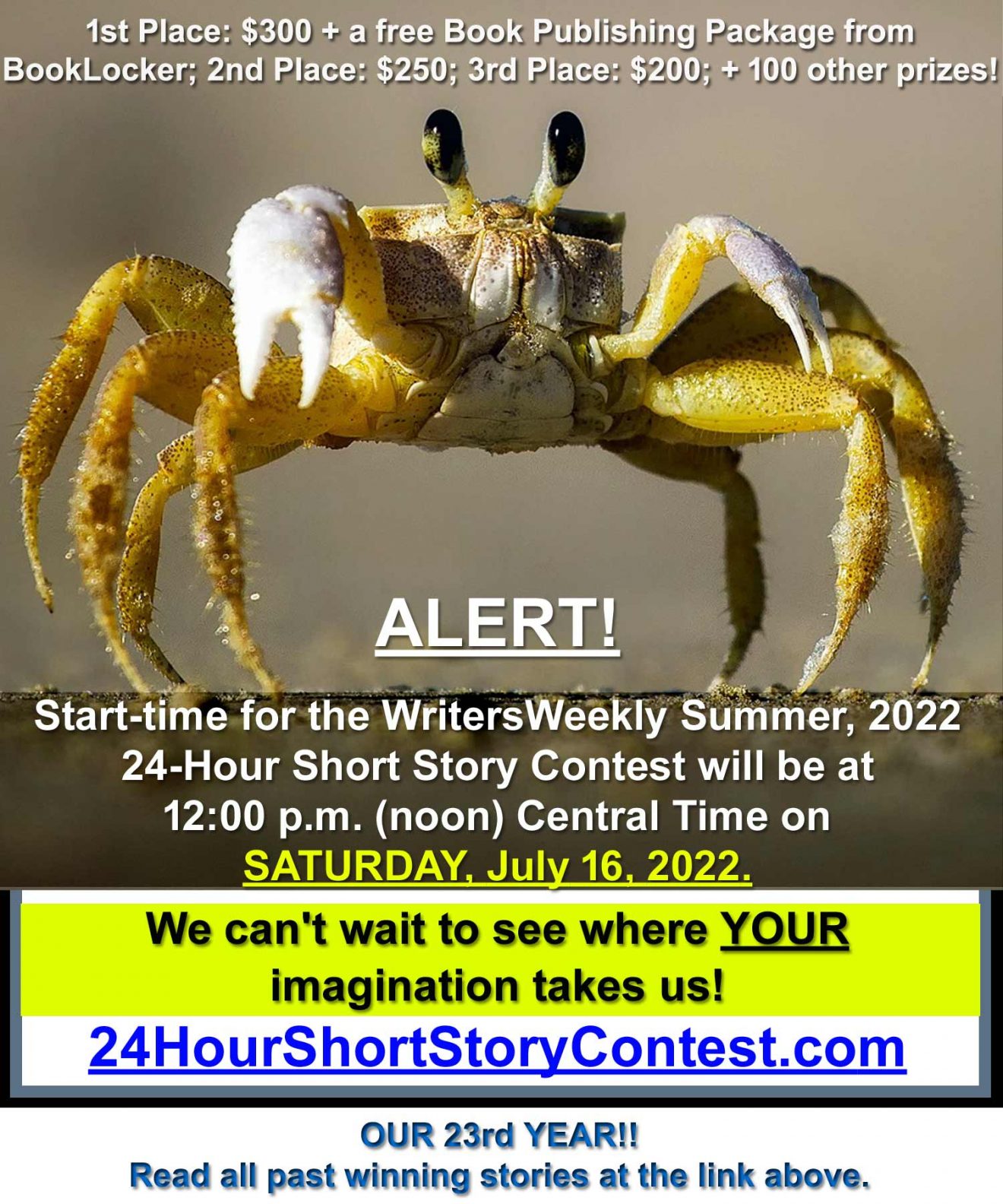 Contents
Paying Markets for Writers

From the Publisher's Desk
I often hear from authors who want to alert me that their publisher is "ripping them off." The emails usually go something like this...


GET $150 OFF AT BOOKLOCKER USING THE DISCOUNT CODE BELOW!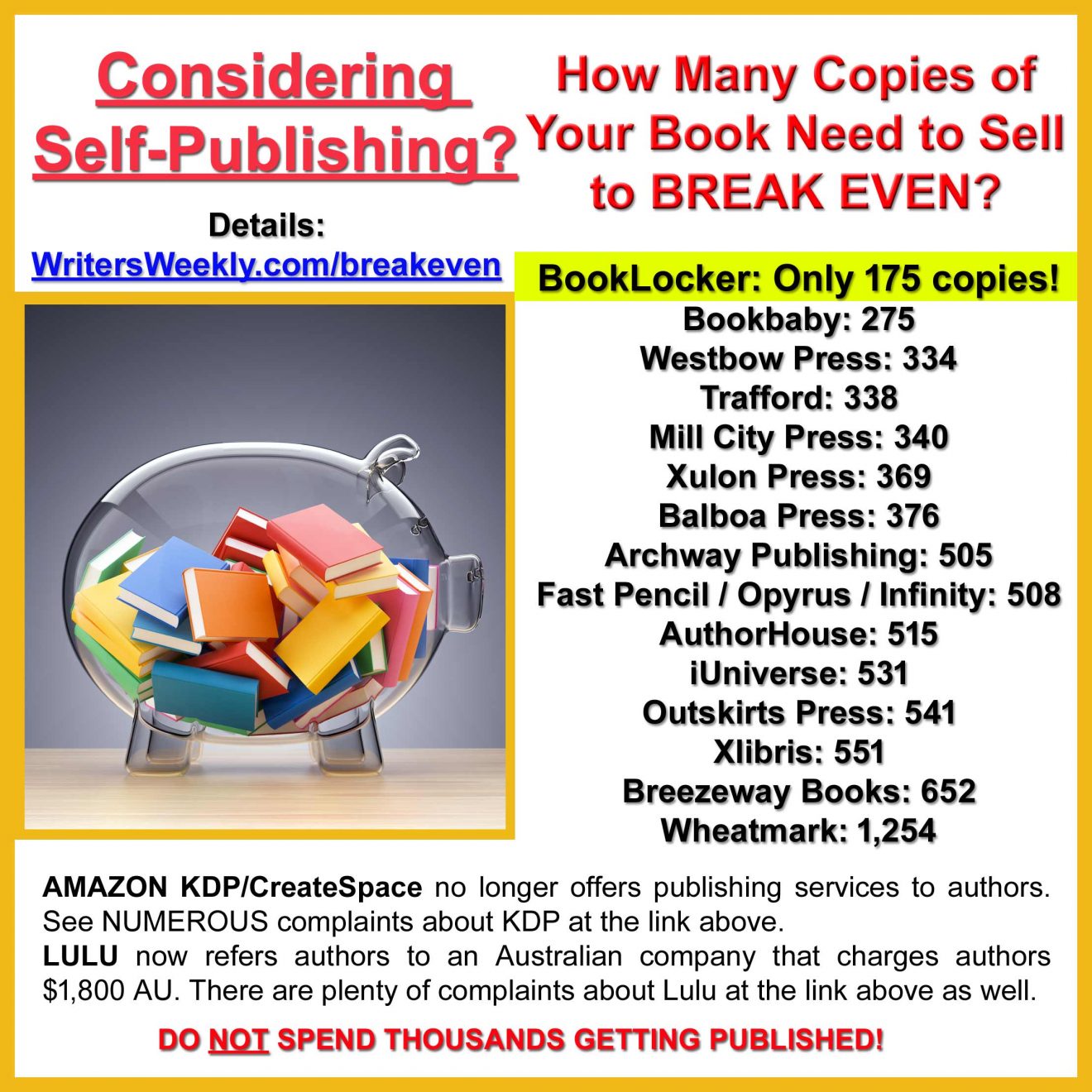 News From the Home Office
After she missed that first dose, she developed hives all over her body, and started itching so badly that she was crying in the shower, and clawing her skin...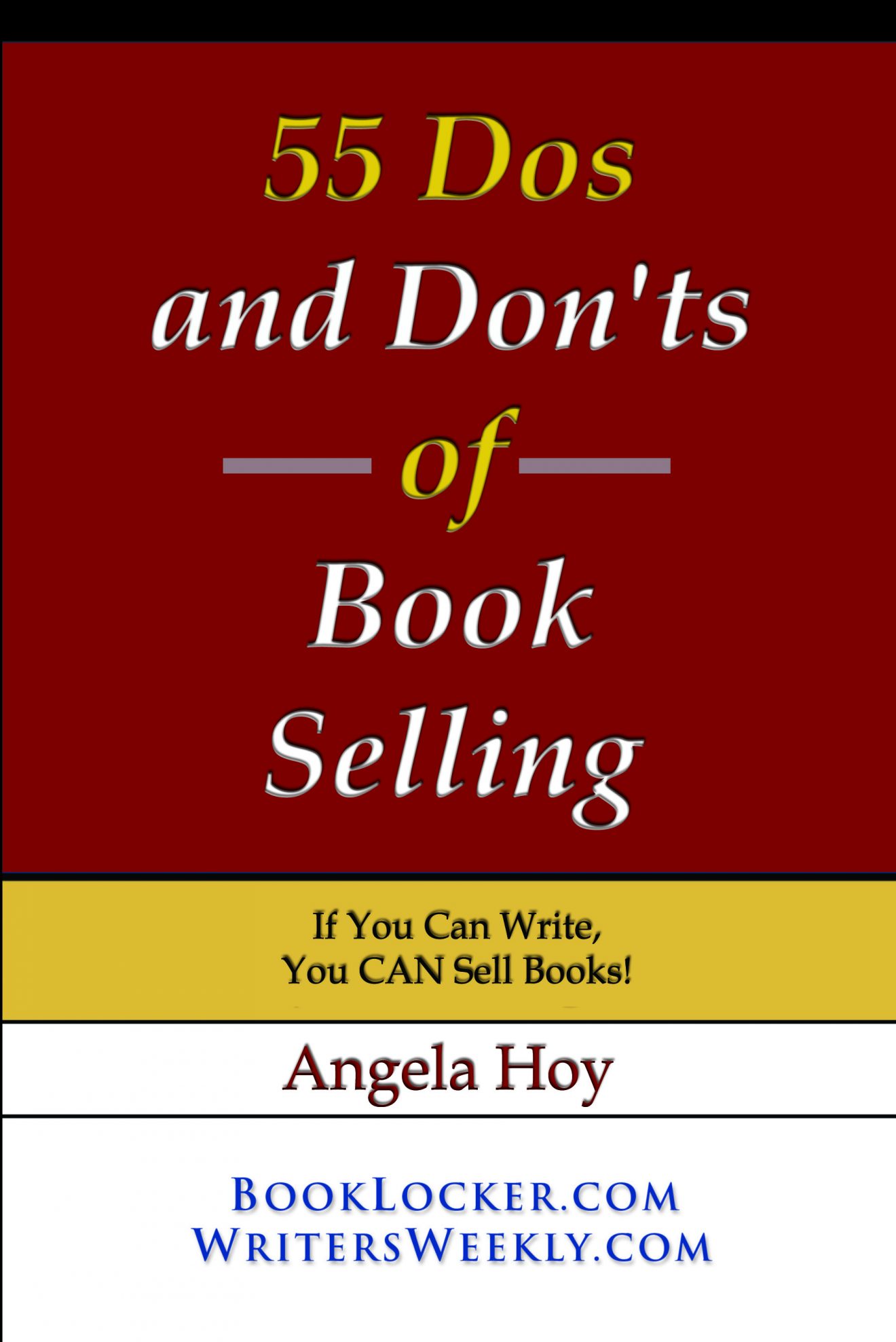 Feature Article
I was immediately terminated from the project and, in the two days that followed, I was served with a lawsuit...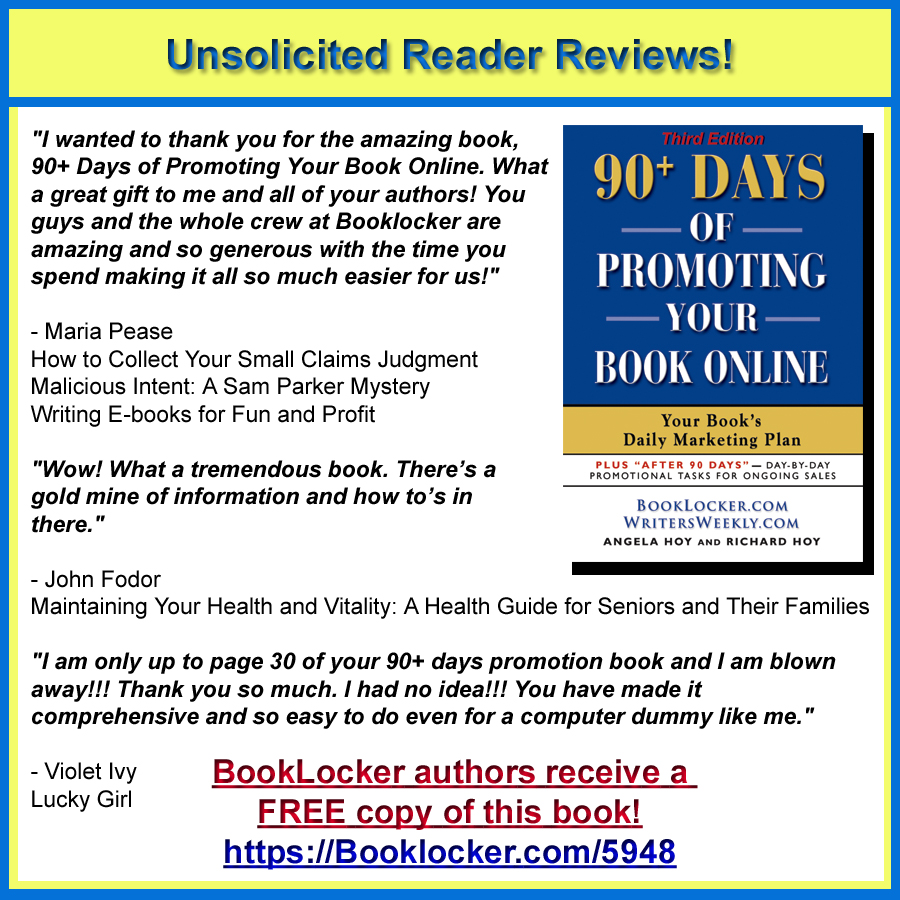 In The News!
MORE: US Navy Chief takes woke books off the reading list; Novelist (allegedly) accidentally confessed to killing husband; Kanye West used sound recordings of sermons, and got sued for copyright infringement; Rhode Island school board removes honors classes for "equity" reasons; Can rapper's lyrics be used against him in criminal case?; Irish government accused of paying newspaper to publish puff piece; Writer pays off $48K in student debt in just 14 months; Disney targeted with copyright legislation; US obtained subpoena to access reporter's phone; Member of Hollywood Foreign Press Association has sued the organization alleging sexual harassment, discrimination, and breach of contract.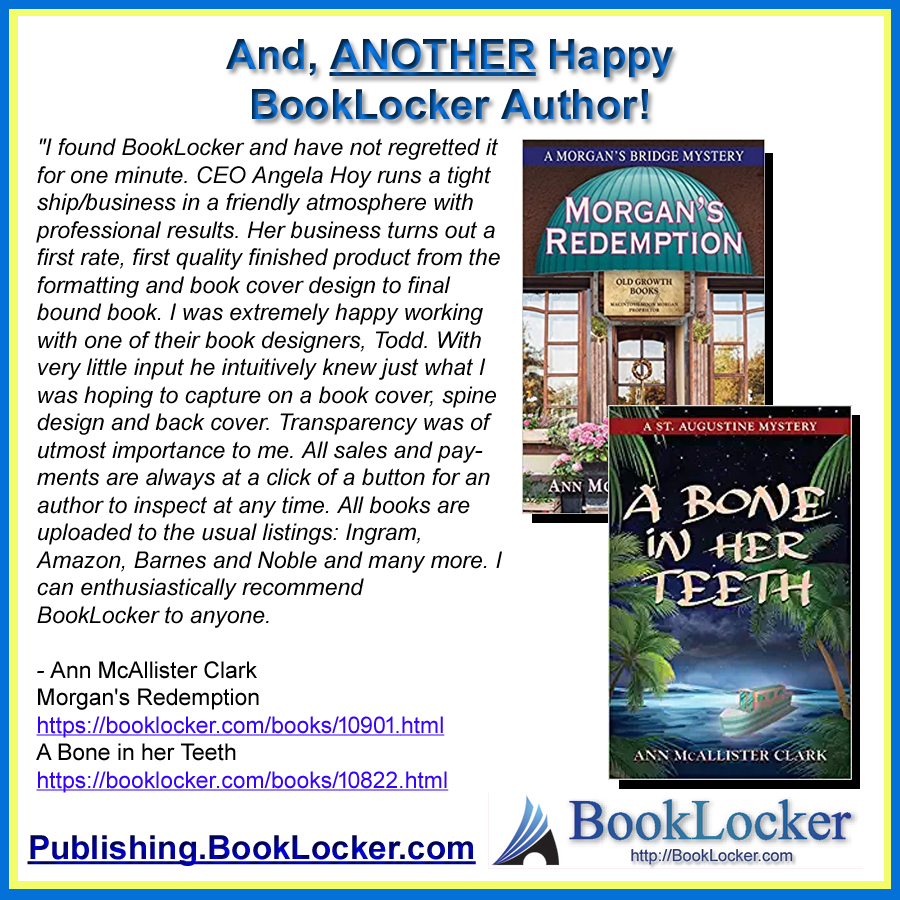 Ask The Expert!
THREE THINGS TO KNOW ABOUT PAYPAL: Tax reporting, "holding funds," and PayPal's fees


Paying Markets for Writers
"The Magazine of Fantasy & Science Fiction has been one of the genre's leading publications since 1949." Buys first N.A. serial rights and select world rights. Occasionally accepts reprints.


"Jack and Jill is an award-winning magazine for children ages 6-12. It promotes the healthy educational and creative growth of children through interactive activities and articles. The pages are designed to spark a child's curiosity in a wide range of topics through articles, games, and activities." Welcomes new writers. Pays on publication. Publishes ms several months after acceptance. Buys all rights. No reprints. Responds in 3 months.


jackandjill@saturdayeveningpost.org.


"We work only with journalists whose work reflects original interviews, research, quotes and attribution. We have zero tolerance for plagiarism, including taking material/facts/info/text from websites without attribution. We need published clips and expressions of interest in order to see if a freelancer is a fit for our publication. We report on business, research, trends, integrative health care, self-care and more, both in print and online." Pays $0.20/word for 1000-2000 words. "Send your expression of interest via email with the words "Freelance Writer" in the subject line. We choose topics here based on audience need and SEO research, and then assign them to dependable freelancers."


"Leading Edge magazine publishes short stories, poetry, and essays that relate to science fiction, fantasy, and horror. We also contract for short-term blogs and art. The magazine was started in 1981 by a team of students from Brigham Young University and continues to be run by a team of dedicated volunteers. Leading Edge is a great place for both first-time and well-established authors." Biannual. Pays on publication. Publishes ms 4-5 months after acceptance. Buys First N.A. rights, for six months. No reprints. Responds within one week.


NEED WRITERS, BLOGGERS, EDITORS, AUTHORS, OR OTHER CREATIVE FOLKS?? We'll post your ad on WritersWeekly FOR FREE. Please complete THIS FORM.
30 freelance writing jobs!
Freelance Entertainment, Science, and History News Writer - Pays $21/hour
Grunge


Freelance Email Writer
YSERP


Freelance Writers
Sun SEO co


Freelance Content Specialist
moveBuddha.com


Freelance Motorsport Writer
AUGMENTED SUPPLY


Freelance Content Editor - Pays $15/hour
AUGMENTED SUPPLY


Freelance Mental Health Writer
TherapieSEO


Content Manager
Tuft + Paw


Freelance Content Writers
The HOTH


Freelance SaaS Content Writers
Codeless


Freelance Content Writers
iWriter: Content Writing Service


Freelance SaaS Writer
Smashing Copy


Freelance Blog Writer
Search Media Singapore


Freelance Food Writers
Info Publishing Impact


Freelance SEO-Focused Copywriter
The Jolly Ginger


Freelance Writer
Outdoor Activities Content


Freelance Copy Editor - Pays $16-$20/hour
Panda Copy


Staff Writer - Pays $55K-$75K/year
Wallethub


Freelance Content Writers - Pays $8-$24/hour
Actionable


Freelance Book Editor - Pays $28-$33/hour
Aviation Supplies & Academics, Inc.


Freelance Content Writer - Pays $18-$30/hour
ShoutVox


Freelance Proofreader/Copy Editor - Pays $15-$25/hour
The Tiny Life


Freelance Technology Content Writer
Techzillo ltd


Freelance Technical Writer - Pays $20-$40/hour
Mometrix Test Preparation


Freelance Copywriter - Pays $25-$35/hour
S2B Inc.


Freelance Blog Content Writer - Pays $15/hour
Landzie Industries LLC


Freelance Editorial Content Writer
Pinterest


Freelance Content Writer for Restaurant Tech
MustHaveMenus


Freelance Editor - Pays $45K-$50K/year
The Freedonia Group


Content Writer - Pays $50K-$75K/year
Webstaurant Store, Inc.


NEED WRITERS, BLOGGERS, EDITORS, AUTHORS, OR OTHER CREATIVE FOLKS?? We'll post your ad on WritersWeekly FOR FREE. Please complete

THIS FORM

.