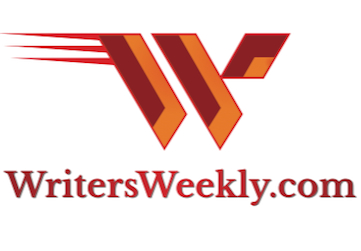 September 07, 2023
LAST CHANCE! START-TIME IS *THIS SATURDAY!*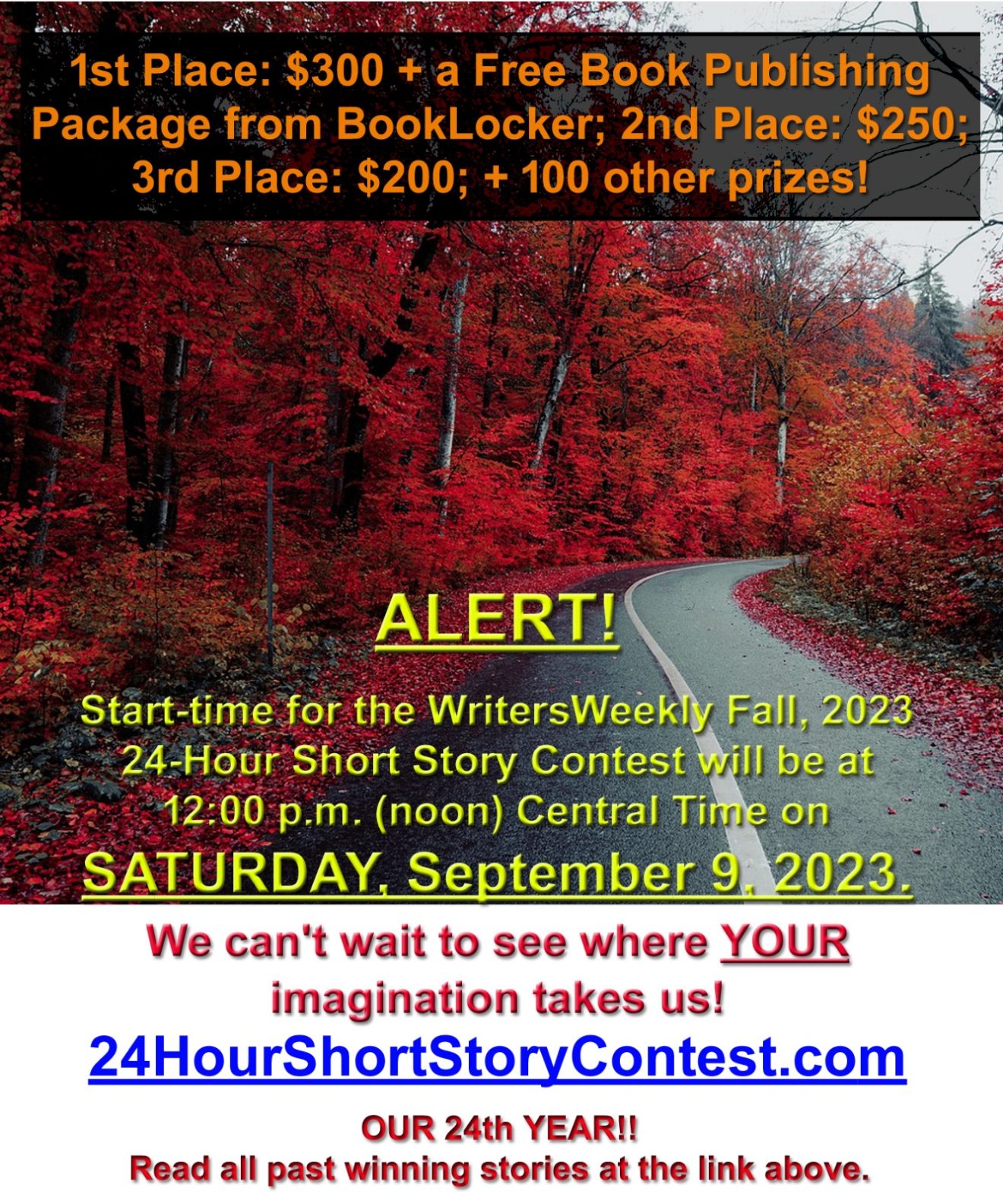 Contents
~
~
~
Paying Markets for Writers
~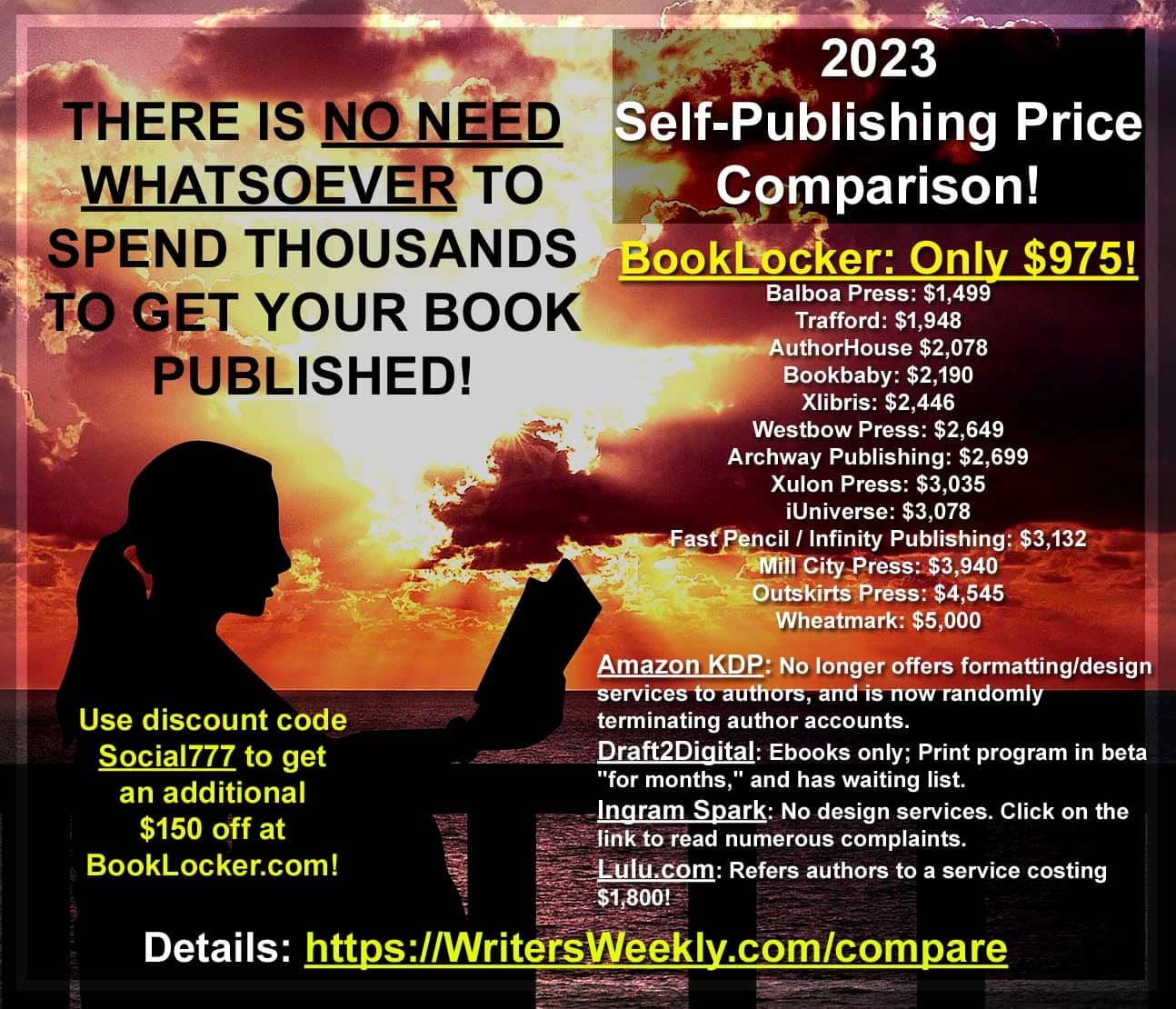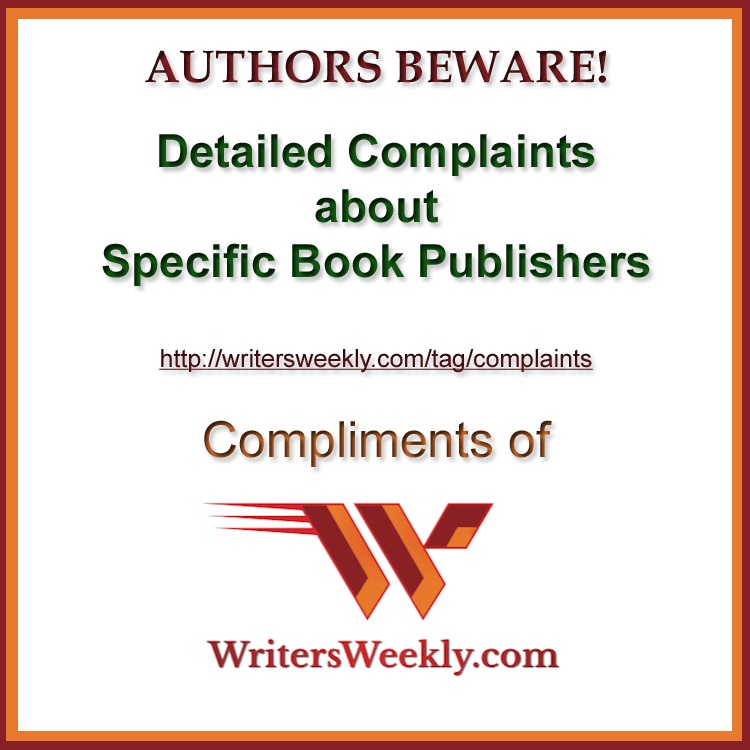 From the Publisher's Desk
Snapped cornstalks, a fortune teller's wagon, fiery red braids flying through a cold autumn wind, a pumpkin contest at the county fair, and so much more! Read 24 years of our Fall contest topics, and join us this weekend!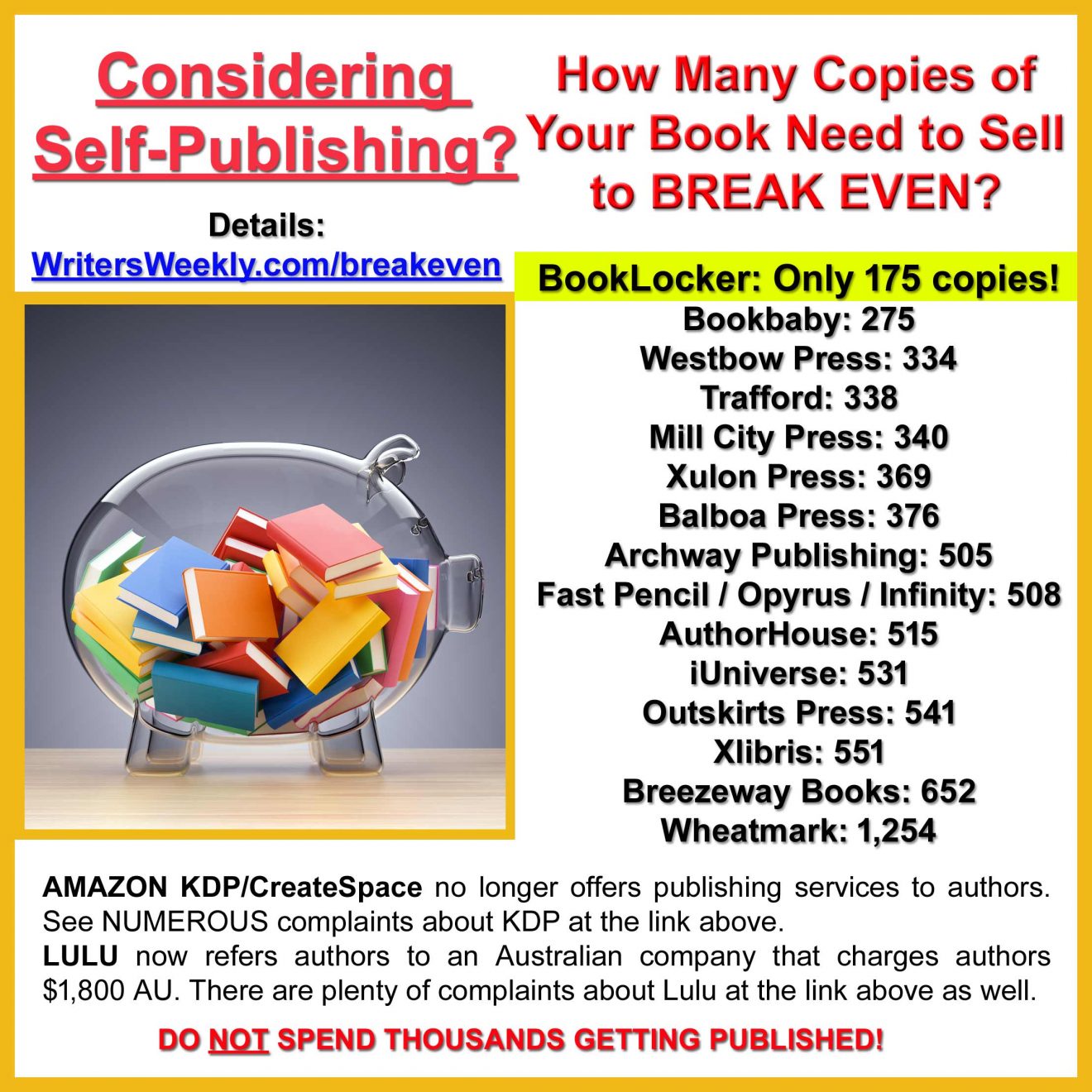 News From the Home Office
Picture a 35-lane bowling alley, inside a place similar to Chuck-E-Cheese, with a hundred different "sit inside" video games stationed in the middle of the place, and music blaring above all the other noise. It was pure chaos....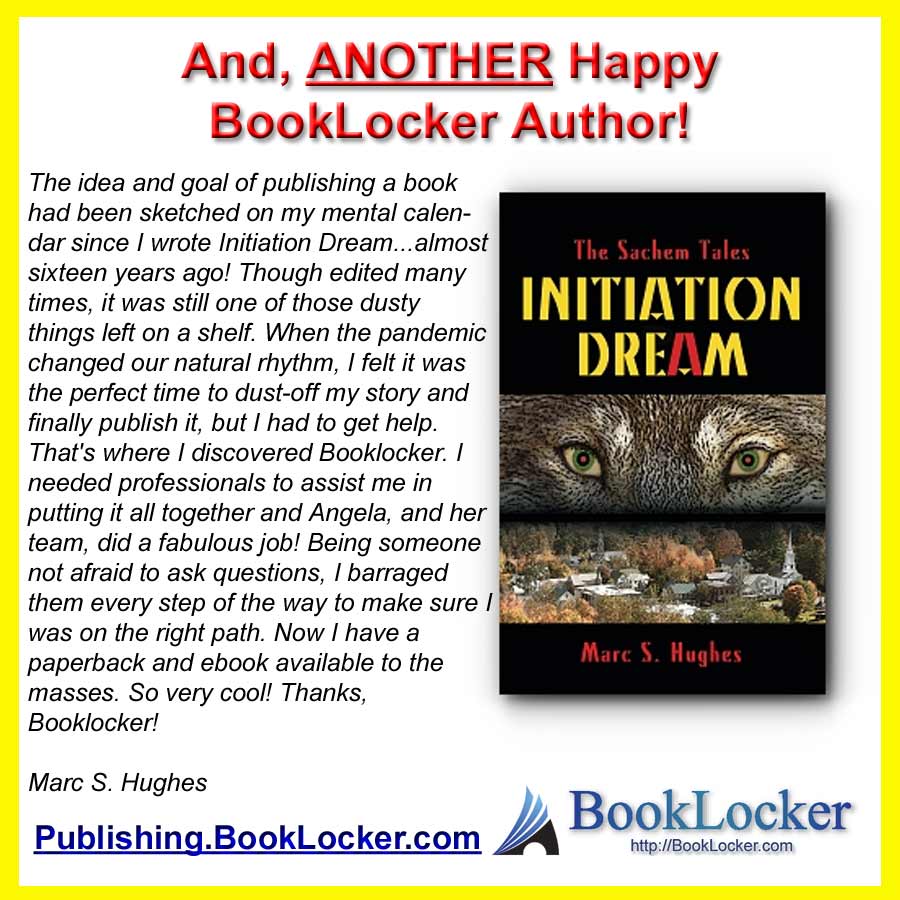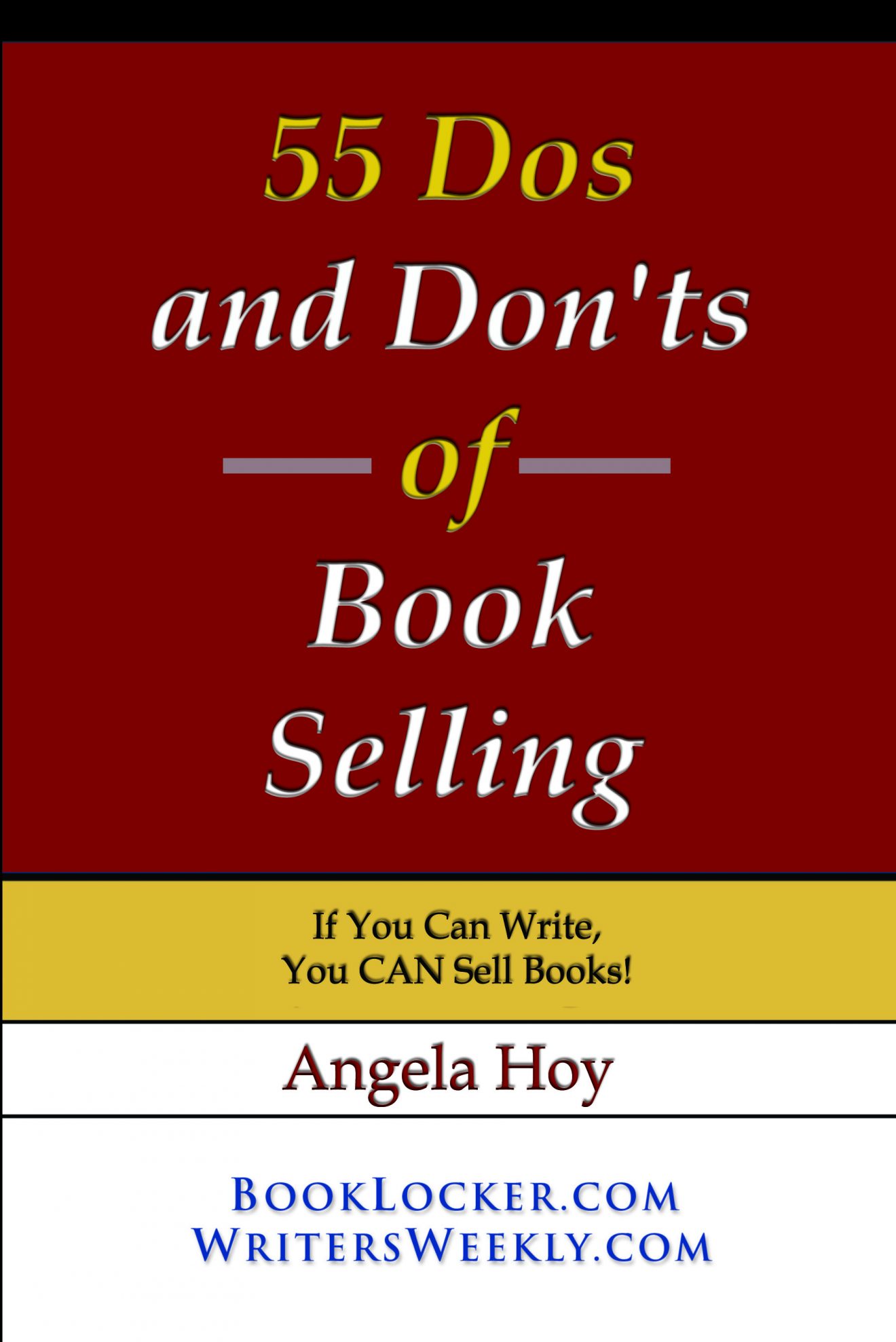 Feature Article
Check it OUT! I almost landed a movie deal for only $25,000!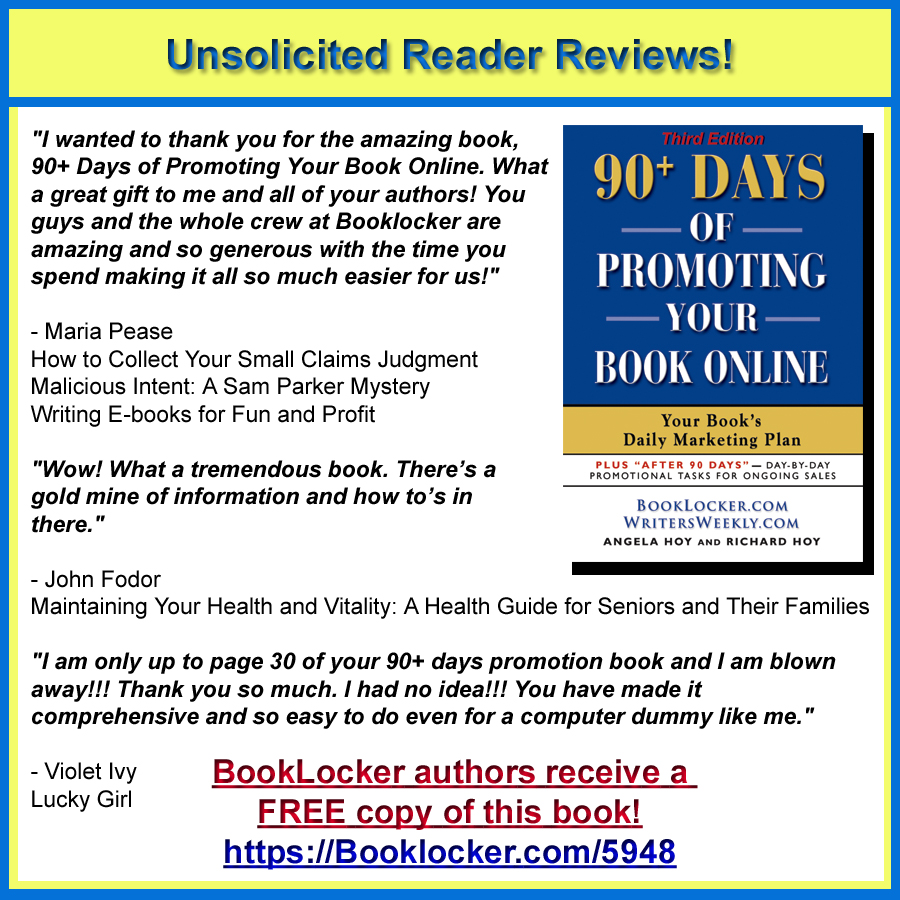 In The News!
MORE: Did court clerk in Alex Murdaugh case overstep her role to land a book deal?; Coach who got job back after Supreme Court ruled he could pray on field quits, claims retaliation; Startling revelation about Biden's in a new book; Mexican parents gather to burn textbooks; Can a foreign country order U.S. tech companies to censor U.S. citizens?; Two men arrested for reading Bible verses in public; ChatGPT making up fake Bible verses; and FTC to sue Amazon later this month.


Paying Markets for Writers
10-15% freelance. "SNIPS covers ductwork manufacturing, installation and maintenance, as well as building standards." Welcomes new writers. Bimonthly. Pays on acceptance. Publishes ms within two months of acceptance. Buys one-time rights. No reprints. Responds in one week. Guidelines available by emailed request.


"A weekly agricultural paper, started in 1940, published in Billings, MT. Not politically correct. Offers to our large and close readership not only the news that affects production agriculture but also a healthy dose of Western history, a weekly cooking column, plenty of patriotic material, and plenty of Western humor." Welcomes new writers. Circ. 15K. Weekly. Pays end of the month. Period between acceptance and publication varies. "Depends on whether their material needs to be printed immediately to be of any use to my readership or whether it can be printed any time ... Depends how large the paper is, and that varies by season -- longest in the spring and fall -- size related DIRECTLY to advertising quantity." Buys first rights. Accepts reprints. Responds one week. Sample copy free for two months by mail with SASE. Subscription $55/year. "No guidelines other than have something interesting to say that my ag readership would be interested in reading. About 800 words work well. Will work with longer material if the material is good enough."


Pays $50 for up to 800 words.
"Wyoming Wildlife is the publication of the Wyoming Game and Fish Department." Pays on acceptance after edits. Publishes ms 3 months to a year after acceptance. Buys first rights with 60 day waiting period after publication. Accepts reprints based on subject, where it was published and whether it is Wyoming specific in nature. Responds within 6-8 weeks.


Pays base rate of $0.40/word. Flat rates are also available.
. "A series of themed anthologies of women's creative nonfiction writing. Our first theme is Toxic Workplaces." Welcomes new writers. Annual. Pays on acceptance. First anthology will be published by the end of 2023. Buys "first (or second, if previously published) English-language publication rights for the specified anthology. Limited, exclusive rights for 12 months after publication. Continuing, non-exclusive rights for the specified anthology thereafter." Accepts reprints. Responds within a year. Guidelines online.


NEED WRITERS, BLOGGERS, EDITORS, AUTHORS, OR OTHER CREATIVE FOLKS?? We'll post your ad on WritersWeekly FOR FREE. Please complete THIS FORM.
30 freelance and full-time remote writing jobs!
Full-time Remote Associate Editor
The American Independent


Full-time Remote UX Research Analyst & Writer
Baymard Institute


Full-time Remote Night Editor
Boston.com


Freelance Copy Editor
ThinkAdvisor


Freelance Reporter – Multilateral Development Banks
Devex


Full-time Remote Editor/Reporter
Habitat Magazine


Full-time Remote Online Community Coordinator – Pays $50K + benefits
Poets & Writers, Inc.


Freelance Features Writer
Pocket-lint.com


Freelance Gardening Commerce Writer
Backyard Boss


Freelance Copywriter – Fintech
blind ad


Freelance Barbecue Writer
SmokedBBQSource.com


Freelance Video Scriptwriter – Social Media Content
Unicode Media


Freelance B2C Content Writer – legal immigration
ProSePro


Full-time Remote Gameplay Writer – Pays $70K-$108K/year.
Squanch Games


Freelance Literature Study Guide Writer – Pays $200-$900/week.
SuperSummary


Full-time Remote Intel Assessment Coordinator/Writer – Pays $165K-$275K/year.
ManTech International Corporation


Freelance Content Writer
Digitive LLC


Freelance Editor/Writer
Vanderbilt University


Freelance Grant Writer Assistant – Pays $30/hour.
Blue Haven Grant Consultants, LLC


Freelance Proposal Writer
Philips


Full-time Remote Speechwriter
The Garrett Group


Full-time Remote SRO/RO Operating Procedure Writer
WECTEC Staffing Svcs LLC


Full-time Remote Night News Writer – Pays $14-$20/hour.
HotNewHipHop.com


Full-time Remote Loyalty Industry Content Writer and Editor – Pays $48K/year.
Loyalty360


Full-time Remote Technical Writer – Pays $60K-$70K/year.
Infoservices LLc


Full-time Remote IT Technical Writer
OneDigital


Full-time Remote Proposal Writer
Seventh Dimension


Full-time Remote Electrical Engineering Writer – PCB Design and Manufacturing. Pays $65K-$68K/year.
First Page Sage, LLC


Full-time Remote Database Report Writer II
University of Wisconsin System


Full-time Remote Technical BA/Technical Writer – Pays $66K-$119K/year.
Leidos


NEED WRITERS, BLOGGERS, EDITORS, AUTHORS, OR OTHER CREATIVE FOLKS?? We'll post your ad on WritersWeekly FOR FREE. Please complete

THIS FORM

.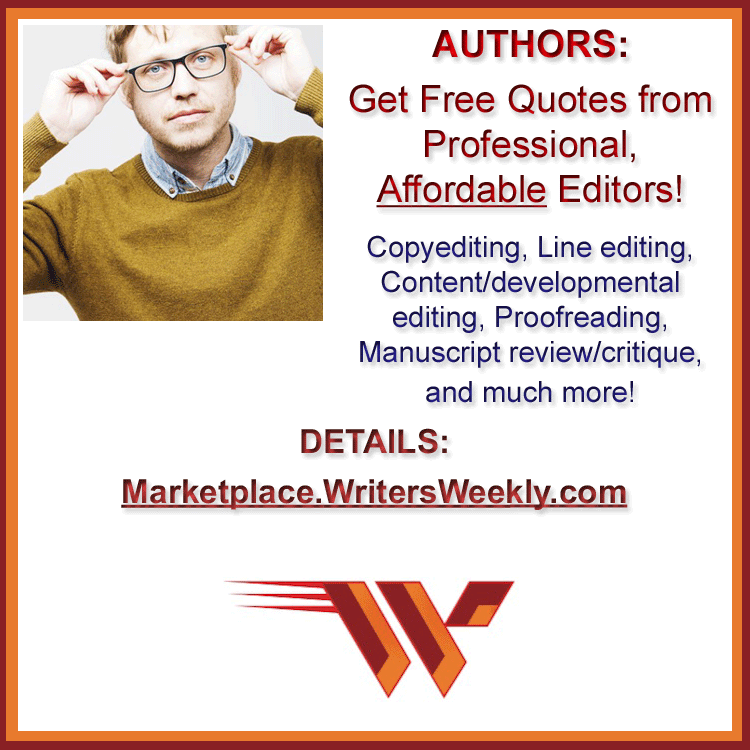 Marketing Secrets
Glassdoor reports that the estimated total pay for an Obituary Writer with 0-1 year of experience is $83,616 per year!