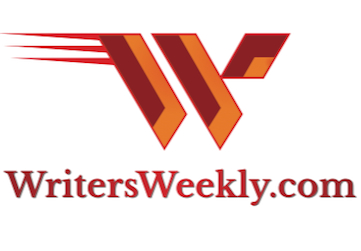 JANUARY 27, 2023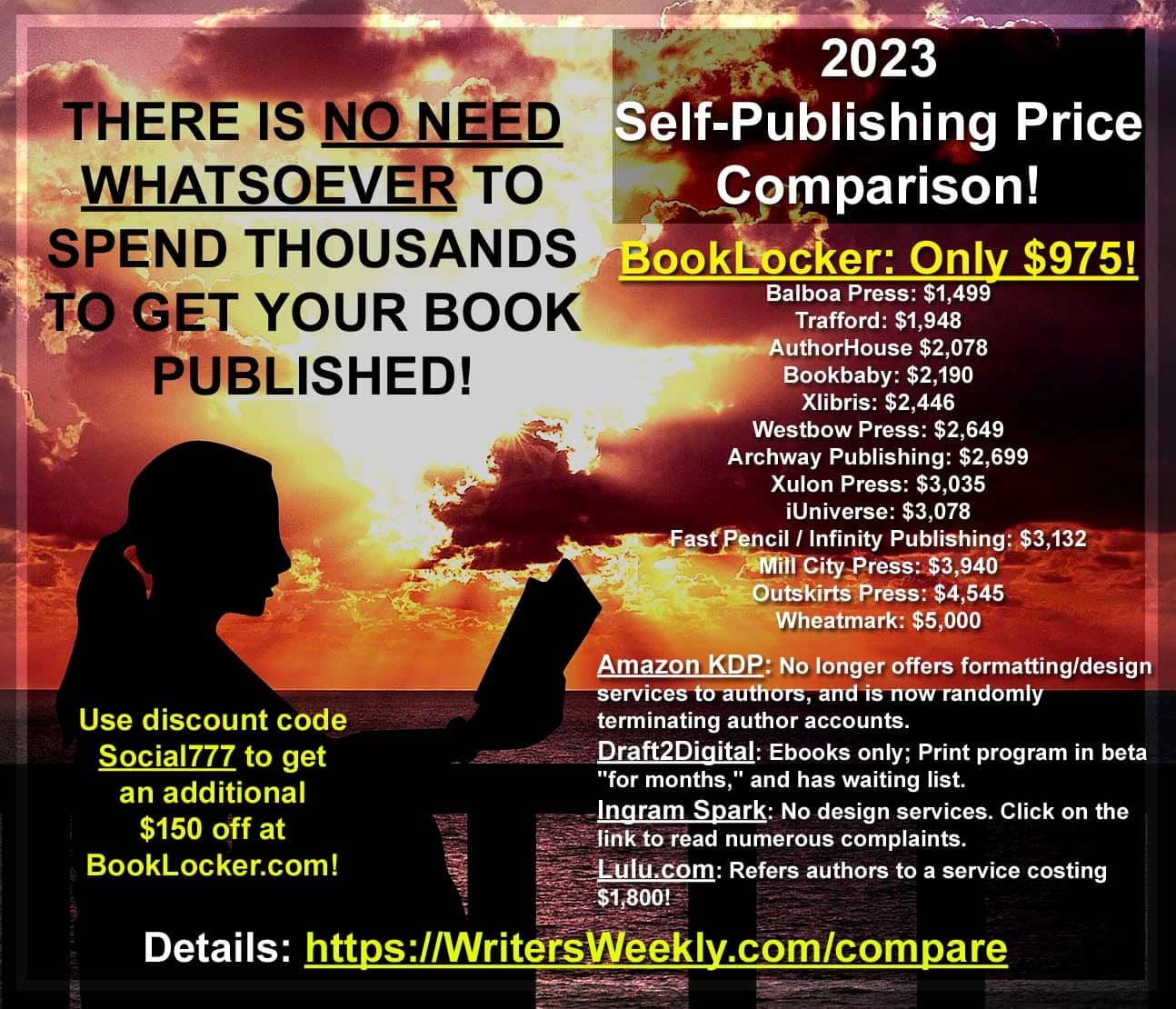 Contents
~
Paying Markets for Writers
~
~
~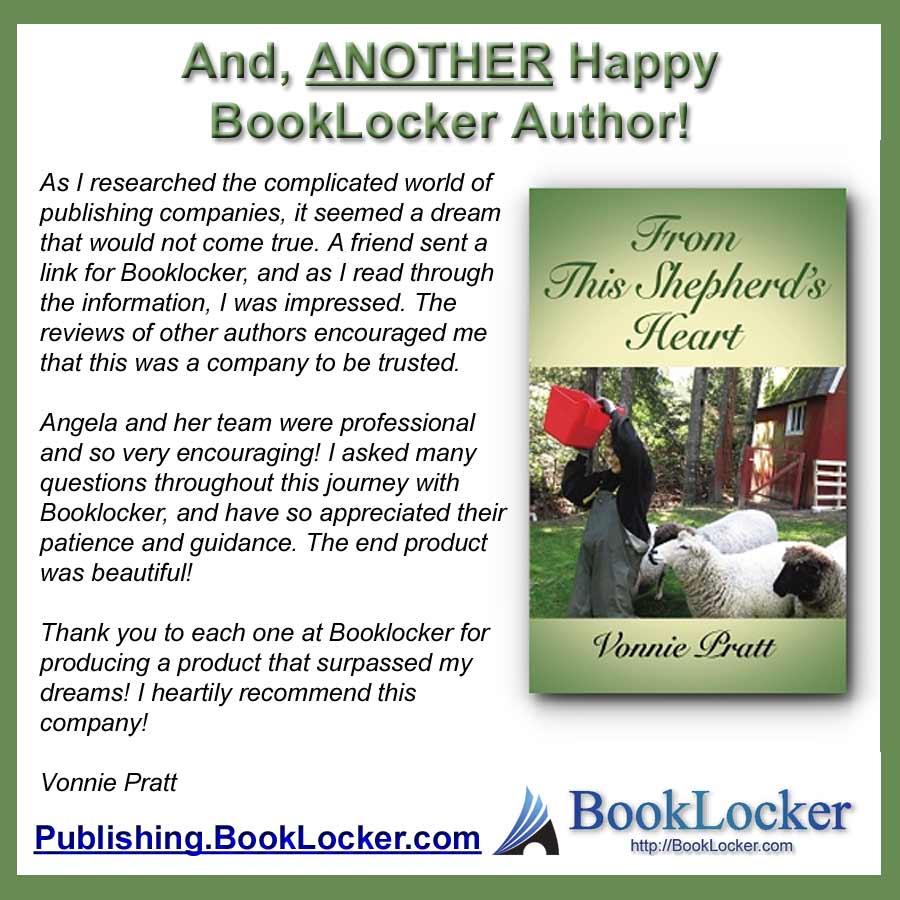 From the Publisher's Desk
We've been saving these for a few weeks now so there are a LOT to entertain you! As always, we've saved the best for last!


MORE: Amazon's Jeff Bezos was in meeting as Washington Post shaped coverage of...Amazon; AI continues to threaten creative individuals' jobs; Rabbi gives sermon written by AI; Did billionaire investors destroy honest news reporting?; EU threatens to fine websites that allow posting of "disinformation"; TikTok can make anything go viral with the click of a button; Another day, another anti-trust lawsuit against Google; and UK Amazon workers go on strike, say robots are treated better.


Paying Markets for Writers
"Faith Today is the leading national magazine for Canada's estimated four million evangelical Christians. It connects, informs and profiles Evangelicals, equipping them with expert research and insight into Canadian culture, Christian life and ministry. Since 1983, Faith Today has informed readers on a wide range of key issues, providing profiles, analysis, opinions, book and music reviews, and practical how-to articles. Faith Today is published by The Evangelical Fellowship of Canada, the national association of Evangelicals in Canada and the Canadian regional member of the World Evangelical Alliance."


Pays $0.25 CAD/word for most features; $0.15CAD/word for essay features and guest opinion columns; $0.20CAD/word for Kingdom Matters; and $0.15CAD/word for reprints.
"Jack and Jill is an award-winning magazine for children ages 6-12. It promotes the healthy educational and creative growth of children through interactive activities and articles. The pages are designed to spark a child's curiosity in a wide range of topics through articles, games, and activities." Welcomes new writers. Pays on publication. Publishes ms several months after acceptance. Buys all rights. No reprints. Responds in 3 months.


"Field Engineer is an online marketplace that connects companies with telecommunications work with the global field engineers who have the skills and availability to complete them. With more than 15,000 skilled field engineers in 147 countries, Field Engineer has already helped 45 service providers get jobs done." Pays on acceptance.


Pays Rs.10 per word and Rs.1000 per 2000 words.
"The Iowa Review's mission is to provide an expertly curated, carefully edited, and beautifully designed print and online space for the voices of writers of every kind of diversity to move and enlighten us; to use the experience gained from fifty-plus years of continuous publication and our connection to the University of Iowa as a home for creative writing to validate, amplify, and encourage those voices; and to serve the reading public by presenting the best contemporary writing in short fiction, poetry, and creative nonfiction." Welcomes new writers. Triannual. Pays on publication. Publishes ms within a year of acceptance. Buys First N.A. rights. No reprints. Responds in 3-6 months. Guidelines online


Pays $1.50 per line for poetry and $0.08 per word for prose.
NEED WRITERS, BLOGGERS, EDITORS, AUTHORS, OR OTHER CREATIVE FOLKS?? We'll post your ad on WritersWeekly FOR FREE. Please complete THIS FORM.
30 freelance and full-time remote writing jobs!
Part-time Remote Digital Editor – Pays $40-$75/hour
Fluent Knowledge


Freelance Journalist / Staff Writer
American Faith


Freelance Writers – Pays $75-$350/article
Northeast Editing, Inc.


Part-time Remote Bilingual Content Coordinator – Pays $26-$32/hour.
Good Fruit Grower


Full-time Remote Editorial Manager
Association for Talent Development


Full-time Remote (temporary) State Legislative Researcher – Pays $85K/year
More Perfect Union Action


Freelance Content Writer – for college admissions and test prep guides
PrepScholar


Full-time Remote Associate Editor/Content Manager
WeAreTeachers


Full-time Remote Prescription Drug Pricing Policy Reporter
340B Report


Full-time Remote Editor in Chief
340B Report


Full-time Remote Staff Editor
WDW Magazine (Walt Disney World) /DLR Magazine/DCL Magazine


Freelance AP English Editor
ThinkCERCA


Full-time Remote Senior Content and Marketing Officer – Pays £35,000-£38,000/year.
NFP PEOPLE


Freelance Content Writer
No Good


Freelance Self-Improvement Writers
DelveWithin


Freelance Managing Editor – Pays $25-$30/hour.
Craft Coffee Spot


Full-time Remote Senior Video Game Writer
ReflectorMedia


Part-time Remote Managing Editor
Store Growers


Freelance Blogger
Anita's Housekeeping Referral Agency


Freelance Automotive Writer – must be Expert Auto Technician
Mechanic's Diary


Freelance Travel Writer – Yucatan, Mexico
Tomplanmytrip


Freelance Traditional Art Content Writer
Art Ignition


Freelance Freshwater Fishing Writer
Anglers.com


Full-time Remote Associate Copywriter II – Pays $65K-$70K/year.
Rescue


Full-time Remote Technical Writer – Pays $50K-$75K/year.
SAIC


Full-time Remote News Editor
TheWrap.com


Full-time Remote Deputy Editor, Business News
TheWrap.com


Full-time Remote Senior Audience Writer
TheWrap.com


Freelance Gaming Writer
Comicbook.com


Full-time Remote Associate Content Marketing Writer and Manager
Perficient


NEED WRITERS, BLOGGERS, EDITORS, AUTHORS, OR OTHER CREATIVE FOLKS?? We'll post your ad on WritersWeekly FOR FREE. Please complete

THIS FORM

.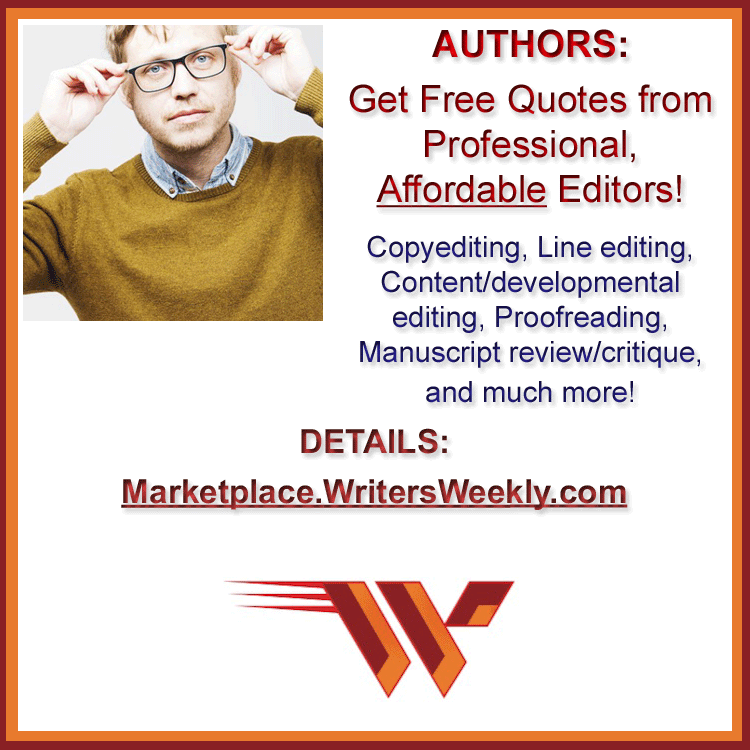 Marketing Secrets
Whether you like to write reported pieces, essays, informational pieces, or a combination thereof, if your topic relates to mental health, we've got something on this list for you.