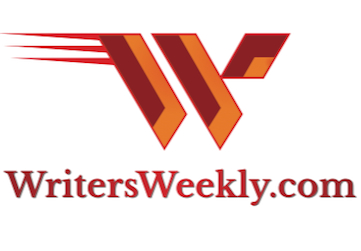 NOVEMBER 19, 2021
ONLY 500 PARTICIPANTS PERMITTED SO DON'T
DELAY IF YOU WANT TO PLAY!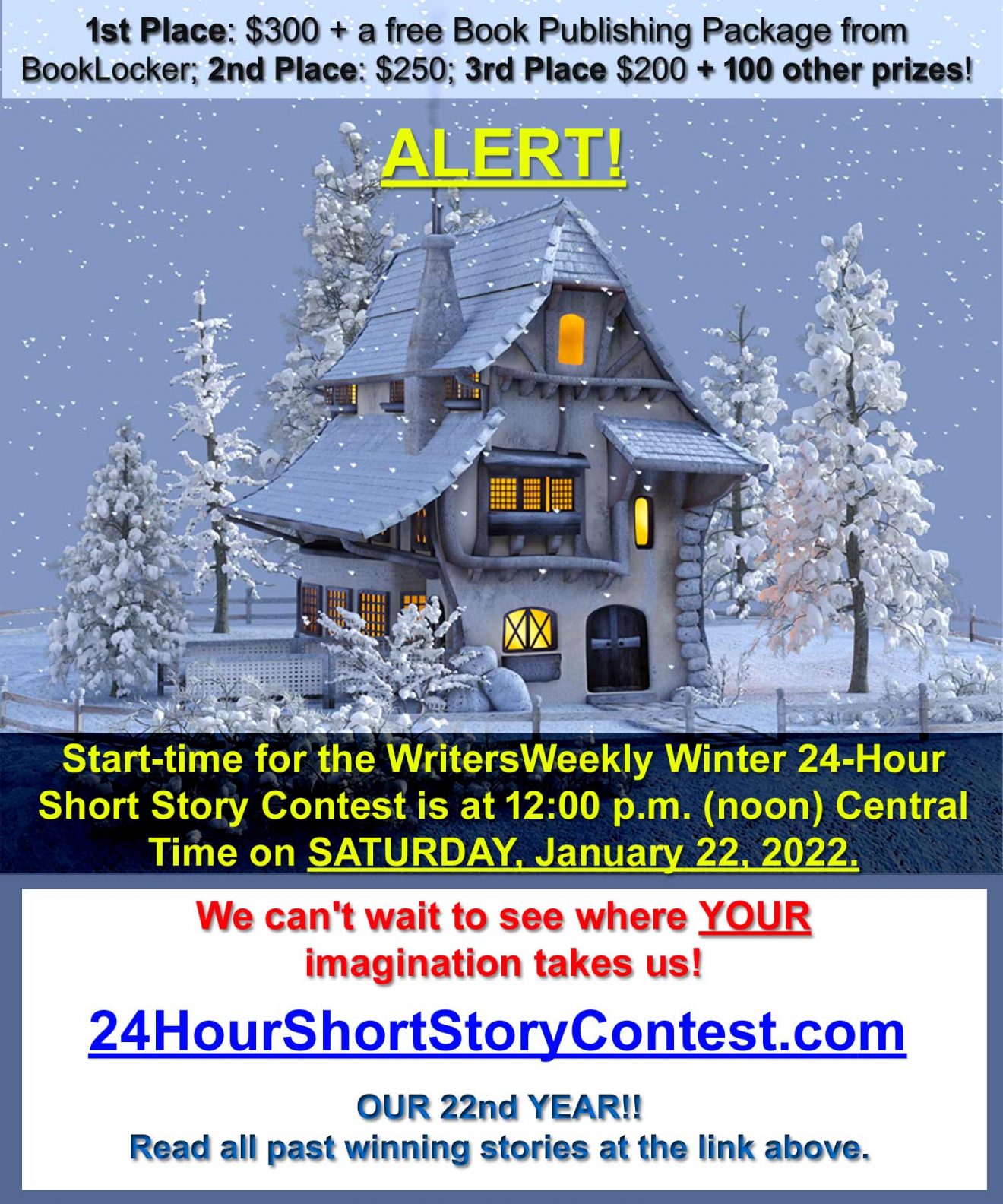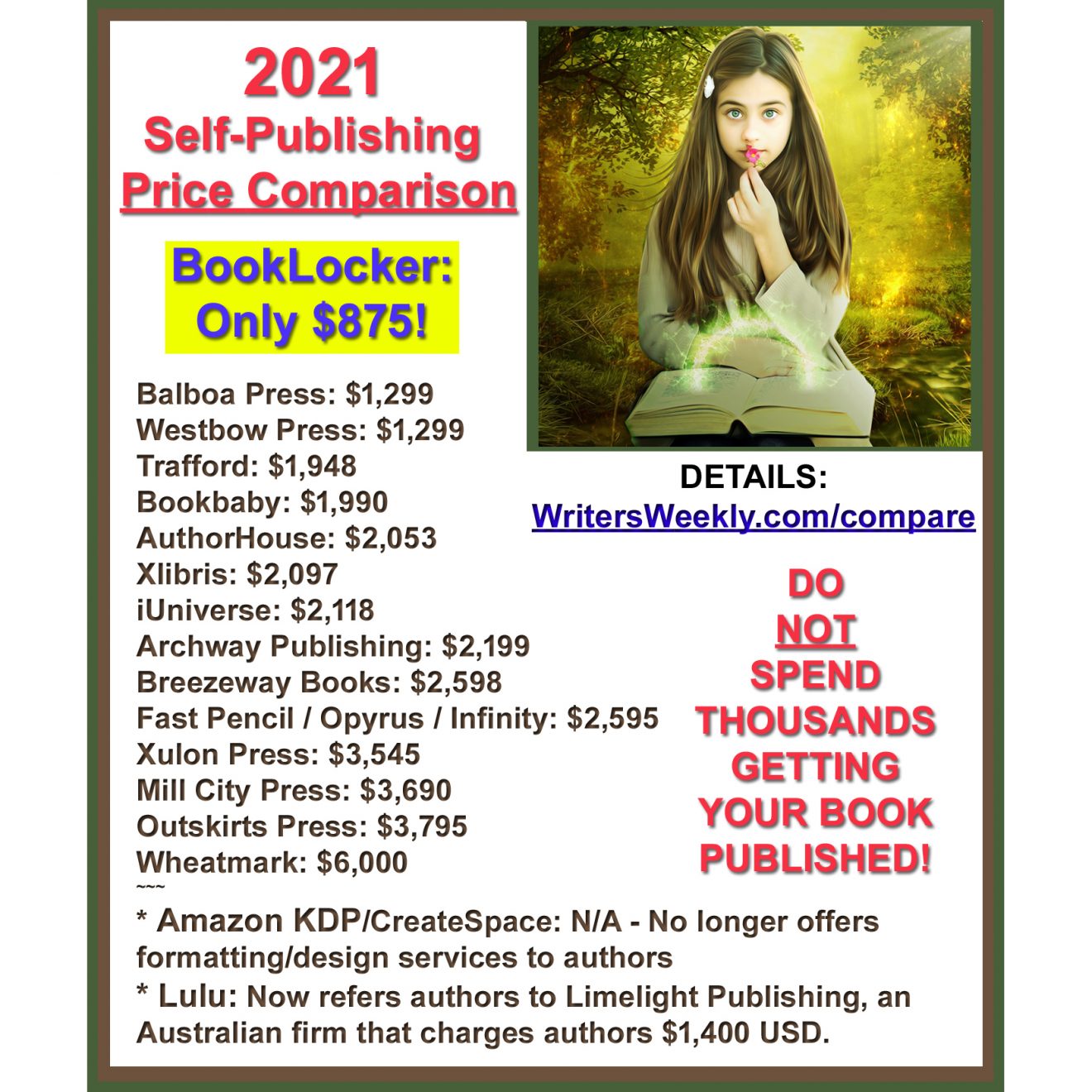 Contents
Paying Markets for Writers
From the Publisher's Desk
Our full-service book publishing packages will only be $437.50!!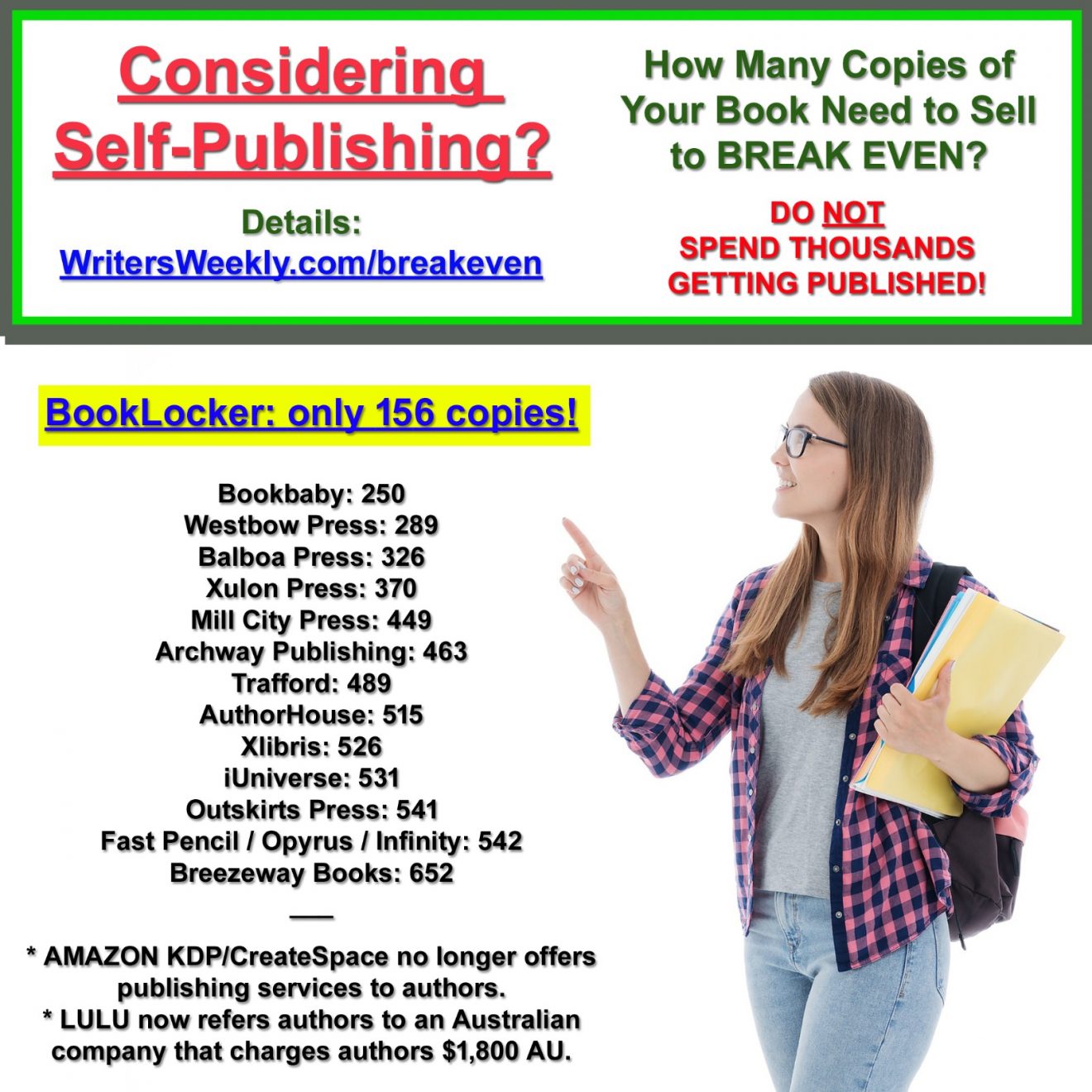 News From the Home Office
Don't miss this year's offensive Thanksgiving yard decoration!!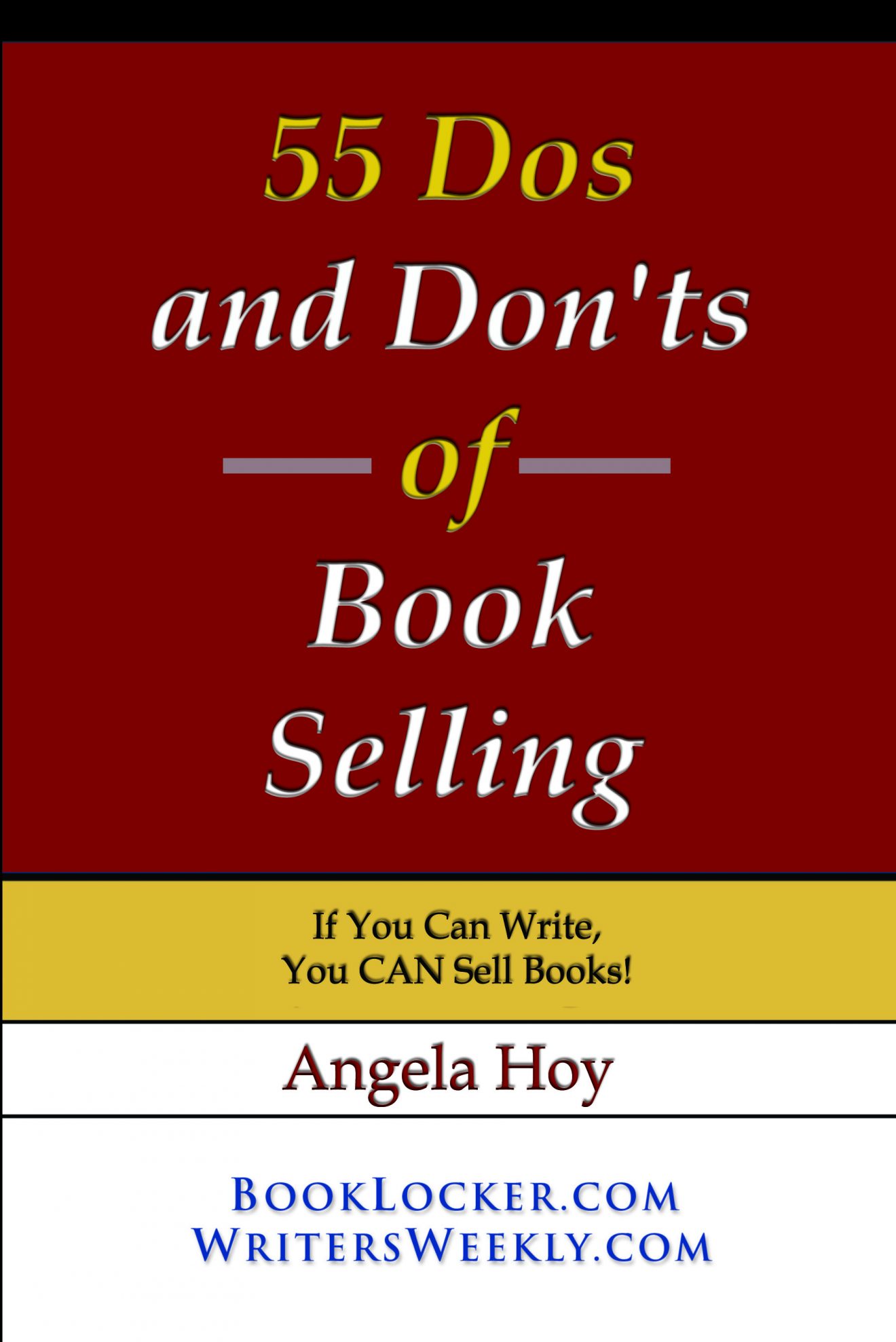 Feature Article
When I was audited by the IRS several years ago, my organized records were deemed adequate proof that I operated a bonafide business...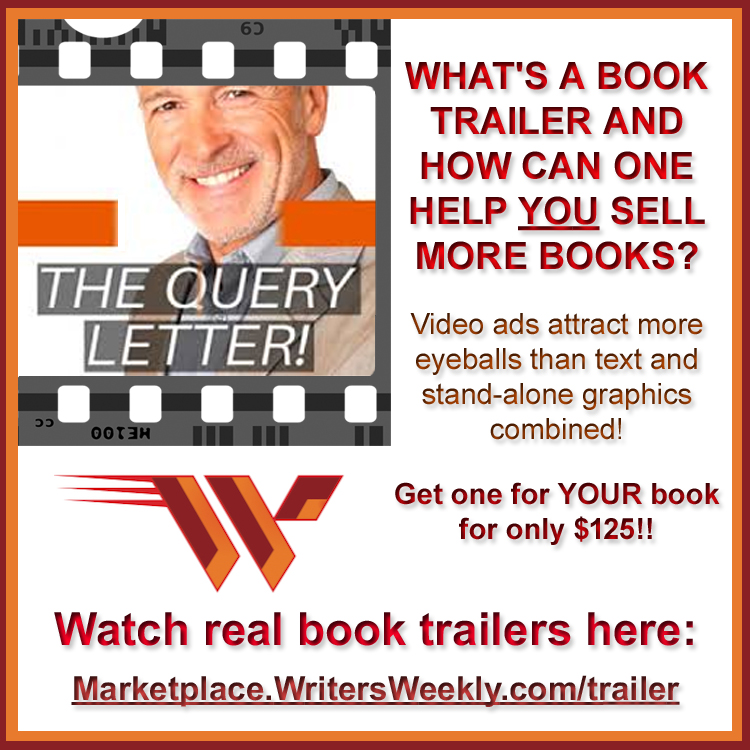 In The News!
Alex Jones is a MORON
$100K social media defamation judgement
Cops to sue city councilwoman
We are now expecting an exodus of Facebook users
FBI acting like the KGB to recover Biden's daughter's diary
Amazon uses the "contractor" excuse in an attempt to avoid liability
Nigeria jailing reporters for "cyber-stalking"
Finland prosecutes bishop-elect for book he published
FDA tells scientists to wait 55 YEARS of a freedom of information request regarding Covid-19
More biased reporting by the NYT
American journalist freed from Burma
Feds give BILLIONS of YOUR money to big media companies
Fauci maskless at a book party
Paying Markets for Writers
"Healthline is the fastest-growing digital consumer health publication. We create expert content to support, guide, and inspire readers toward the best possible health outcomes." Pays Within 30 days of acceptance. Publishes ms approx. 3-5 weeks after acceptance. Buys all rights. No reprints. Responds within 1 week.


"We specialize in providing legal information online through vetted lawyers and paralegals across the globe. Pays every other week, after article submission. Buys all rights. No reprints. Responds 1-3 business days. "Each writer will have a guidelines document and each topic we're looking to write about has a proposed structure/summary/useful links."


"INSPIRED 55+ LIfestyle Magazine is a monthly publication that provides articles about people in BC Canada who are living life to its fullest. It also contains lifestyle articles that are positive and uplifting, relating to housing, health, travel, leisure, relationships, etc."
Pays freelancers quarterly. Publishes ms within 3-6 months after acceptance. Buys first rights. Sometimes accepts reprints depending on market and how recently the article ran. Responds in 1-2 weeks. Guidelines available by email.


"The mission of the Kenyon Review is to identify exceptionally talented emerging writers, especially from diverse communities, and publish their work (fiction, poetry, essays, interviews, reviews, etc.) alongside the many distinguished, established writers featured in its pages. Kenyon Review is also committed to the advancement of literary writing through education, seeking to improve the skills of young people and adults through intensive, high quality workshops." Welcomes new writers. Pays on publication. Publishes ms within 6-18 months after acceptance. Buys first rights, asks authors to credit Kenyon Review as first publication with reprints in other publications. No reprints. Responds within 6 months.


Pays flat rate of $50 for Online book reviews; $0.08 per published word for prose ($80-$450); $0.16 per published word for poetry ($40-$200).
NEED WRITERS, BLOGGERS, EDITORS, AUTHORS, OR OTHER CREATIVE FOLKS?? We'll post your ad on WritersWeekly FOR FREE. Please complete THIS FORM.
30 freelance writing jobs!
Freelance Editor – Pays $17-$20/hour
Observer Media Group


Freelance Finance Writer
Future/SmartBrief


Freelance Digital and Social Media Editor – Pays $40K-$45K/year
Culture Media


Freelance Food and Grocery Hourly Feature Writer – Pays $20/hour
Mashed


Freelance Celebrity Entertainment News Writer – Pays $20/hour
Nicki Swift


Freelance Tech, Gadget, and Automotive Feature Writer
SlashGear


Freelance Writer
Networks Hardware


Freelance Content Writer
Centra Staffing


Freelance SEO Content Writer – Pays $0.10-$0.15/word
Smemark


Freelance Content Writer
Reaktion.com Aps


Freelance Writer – Pays $0.10/word
IMG Publications


Freelance Marketing Copywriter
Awareness Business Group


Freelance Editor
Coffee Brewing Pro


Freelance Writers
We Write Blog Posts LLC


Freelance Content Writer for Aquarium Niche
Optimum Marketing LLC


Freelance Technical Writer – Pays $25-$30/hour
Piper Companies


Freelance Copywriter
Nordstrom


Freelance Editor
Publicize


Freelance English Content Writer
Appfire


Freelance News Writers – Pays $0.14/word
Eleven Writing


Senior Copywriter
Thrive Causemetics


Freelance Gaming Features Editor
CBR.com


Freelance Web Content Writer
Monster Worldwide


Freelance SEO Writers – Pays $18-$25/hour
Matador Solutions


Freelance Resume Reviewer/Writer – Pays $30/hour
Resume Services by Indeed


Freelance Copywriter
AfterShip


NEED WRITERS, BLOGGERS, EDITORS, AUTHORS, OR OTHER CREATIVE FOLKS?? We'll post your ad on WritersWeekly FOR FREE. Please complete

THIS FORM

.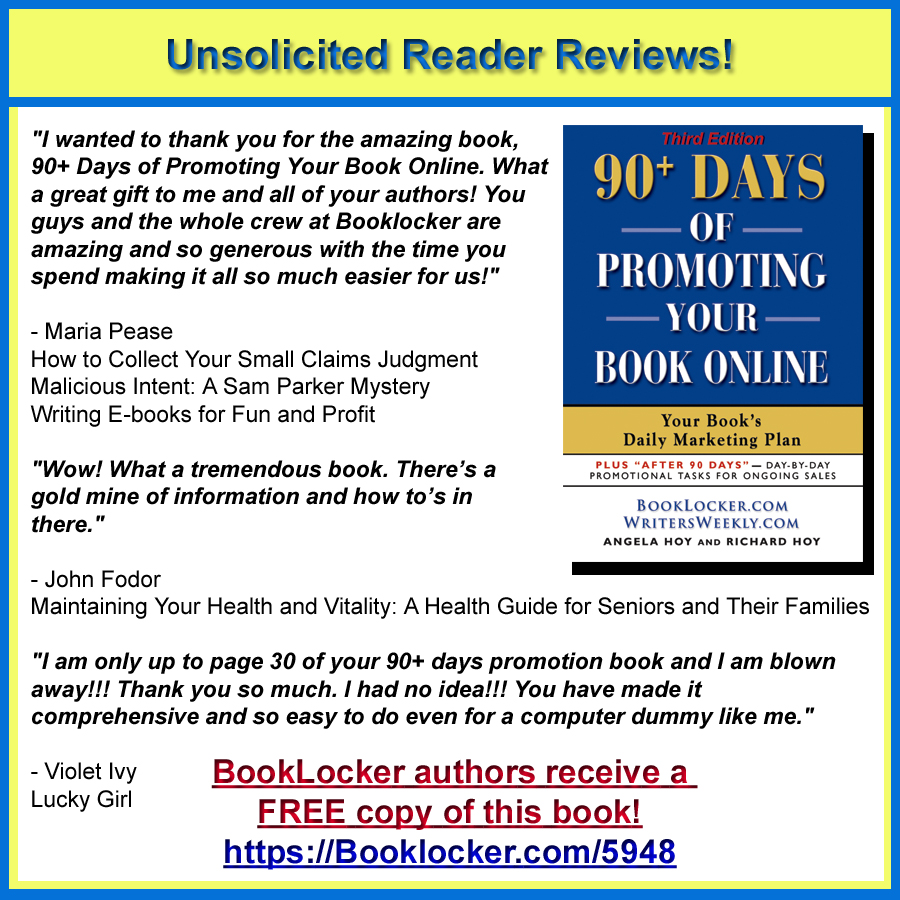 Marketing Secrets
Visions of sugarplums dance in the heads of novice writers. Hollywood has left them with the fantasy picture of authors being sent on lavish press tours where adoring fans line up at the signing table and where the writer is hounded by eager reporters...