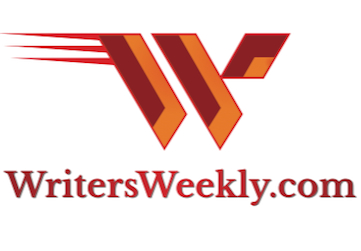 OCTOBER 30, 2023
Contents
~
~
~
~
Paying Markets for Writers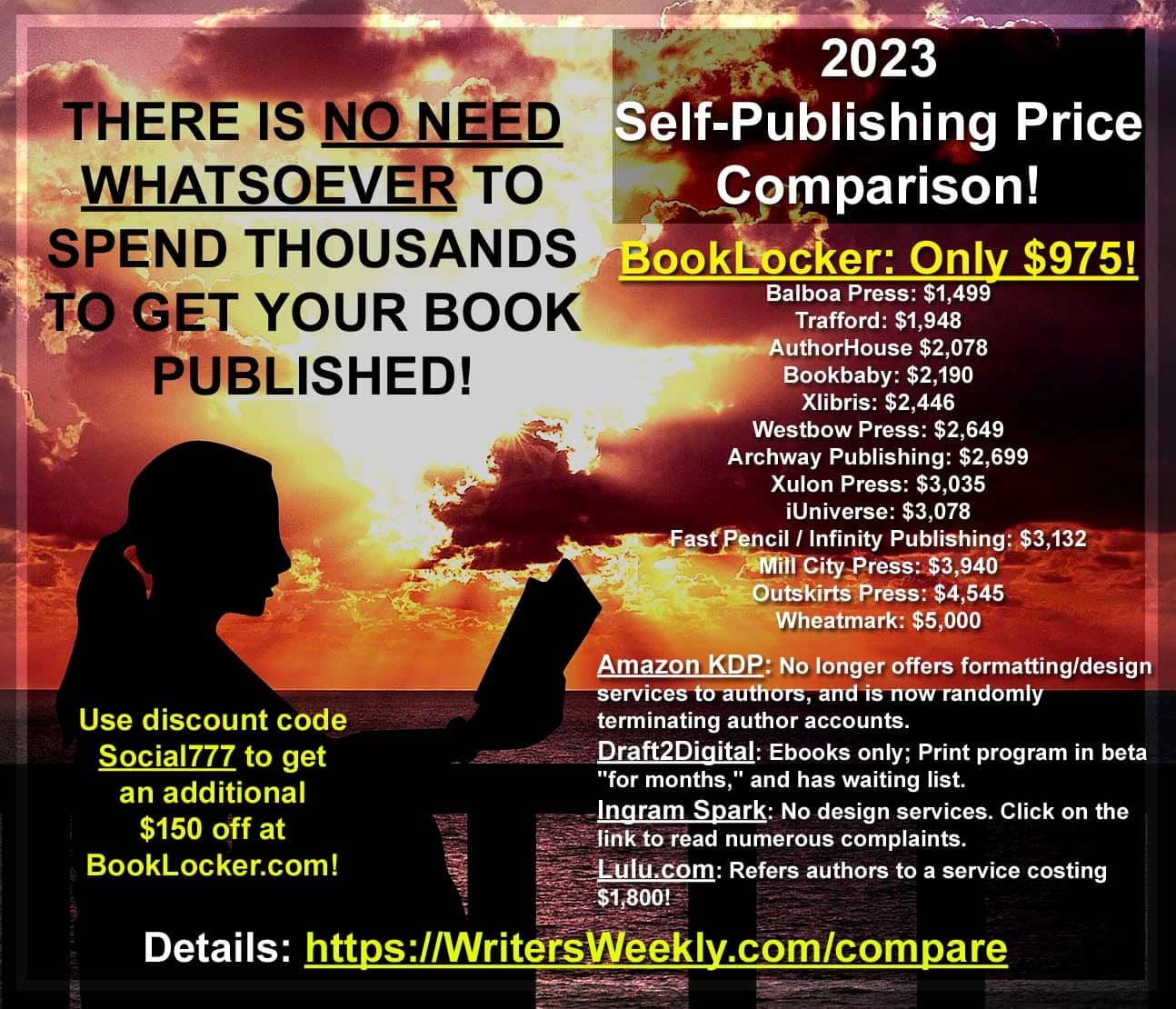 ONLY 500 PARTICIPANTS PERMITTED SO DON'T
DELAY IF YOU WANT TO PLAY!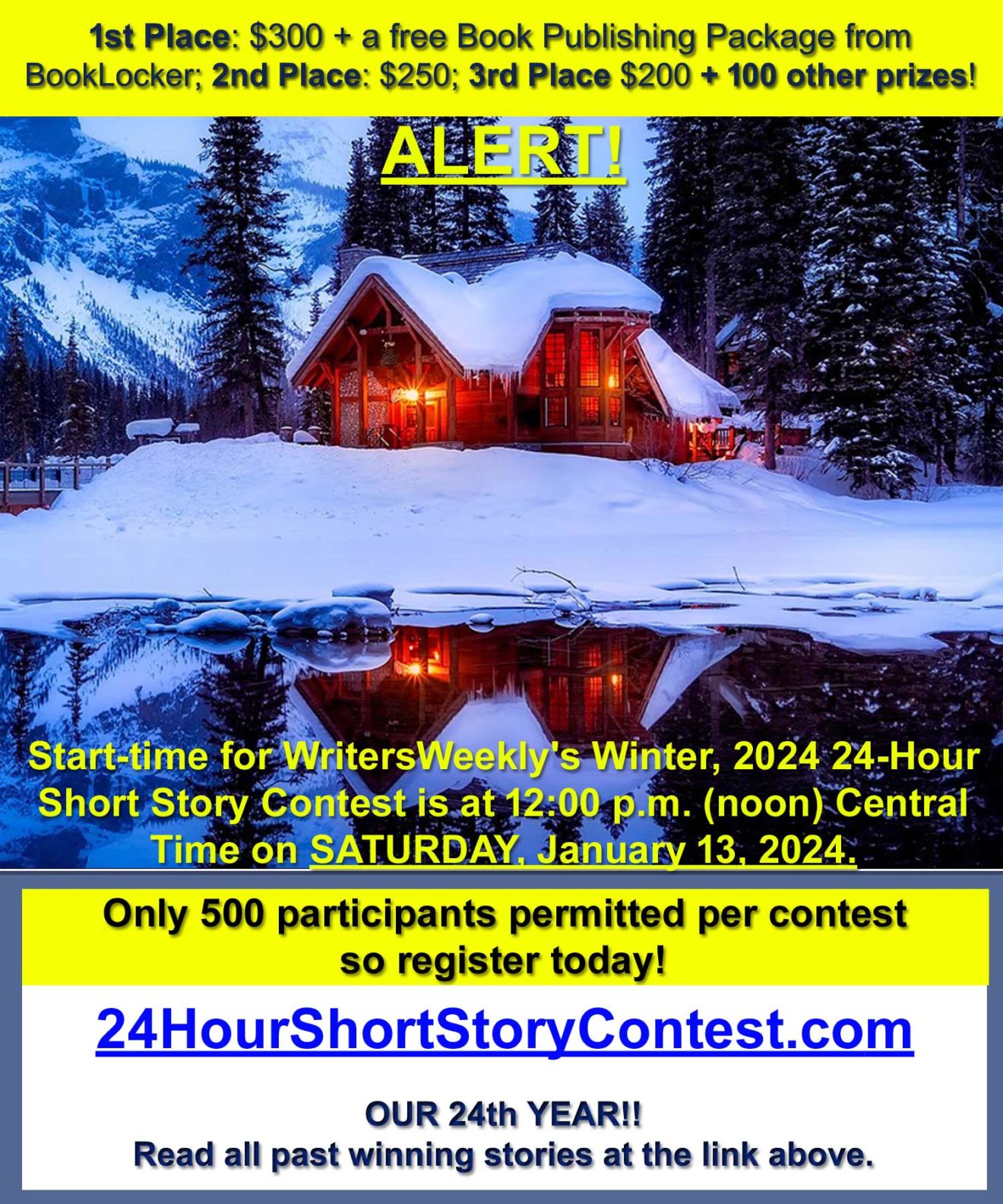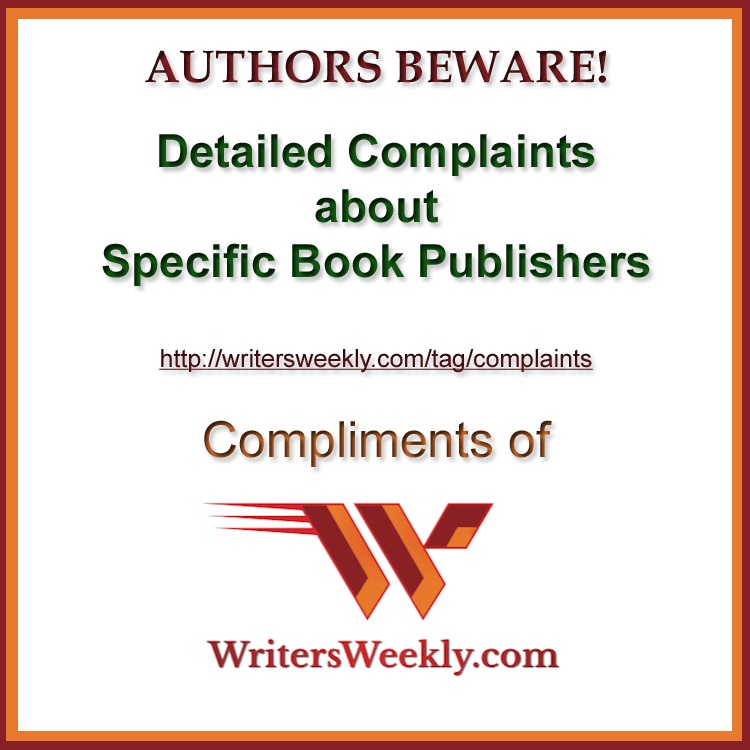 From the Publisher's Desk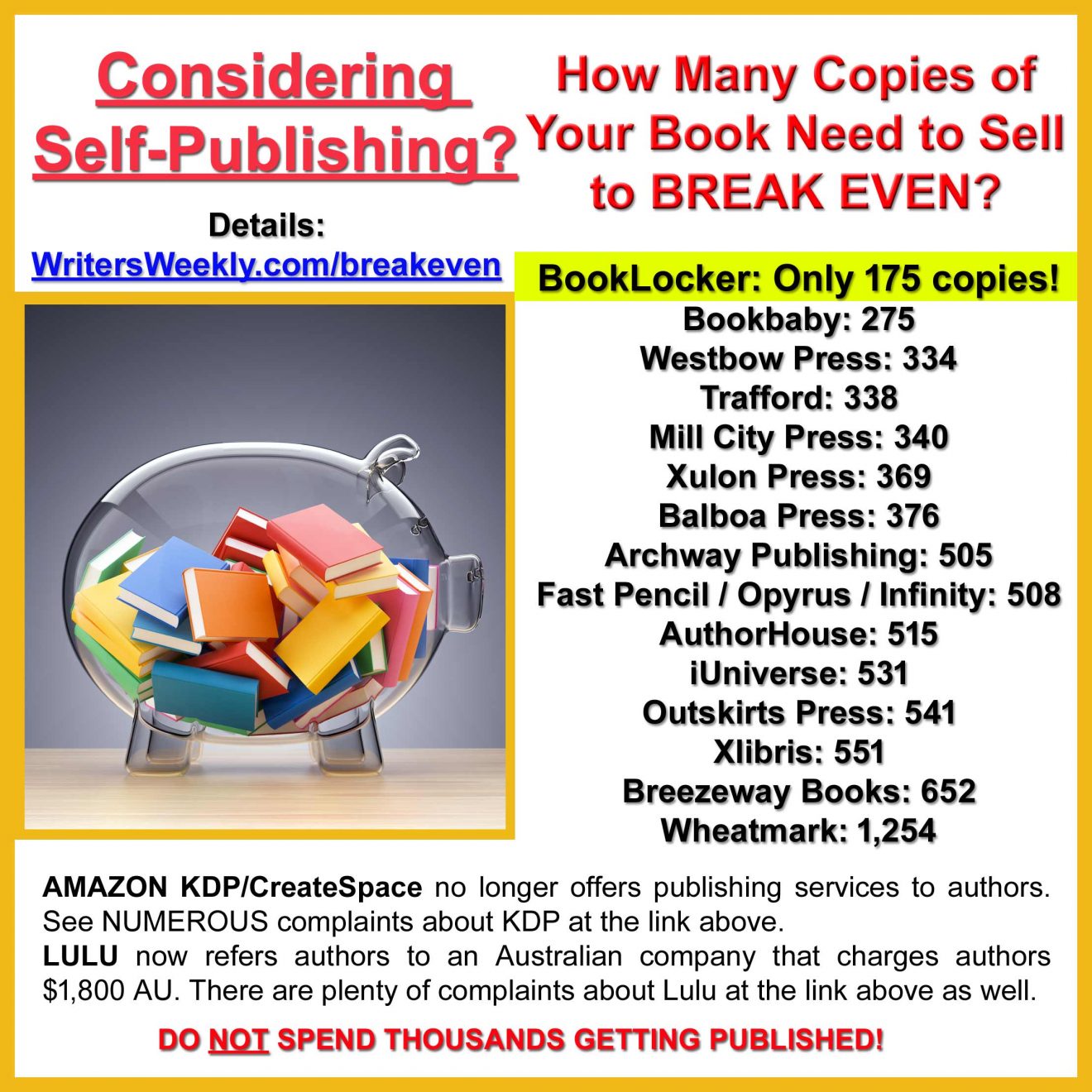 News From the Home Office
The second one was so close that it looked like it was coming from the woods behind our house. Brian was on his ATV. I started screaming his name...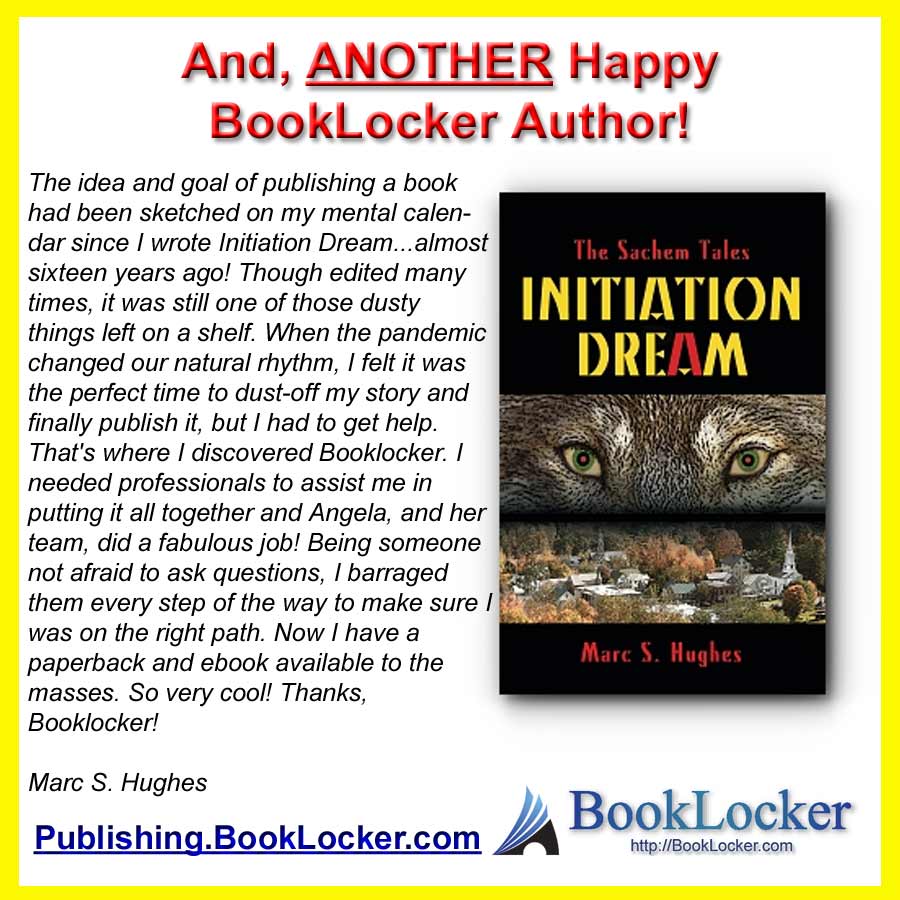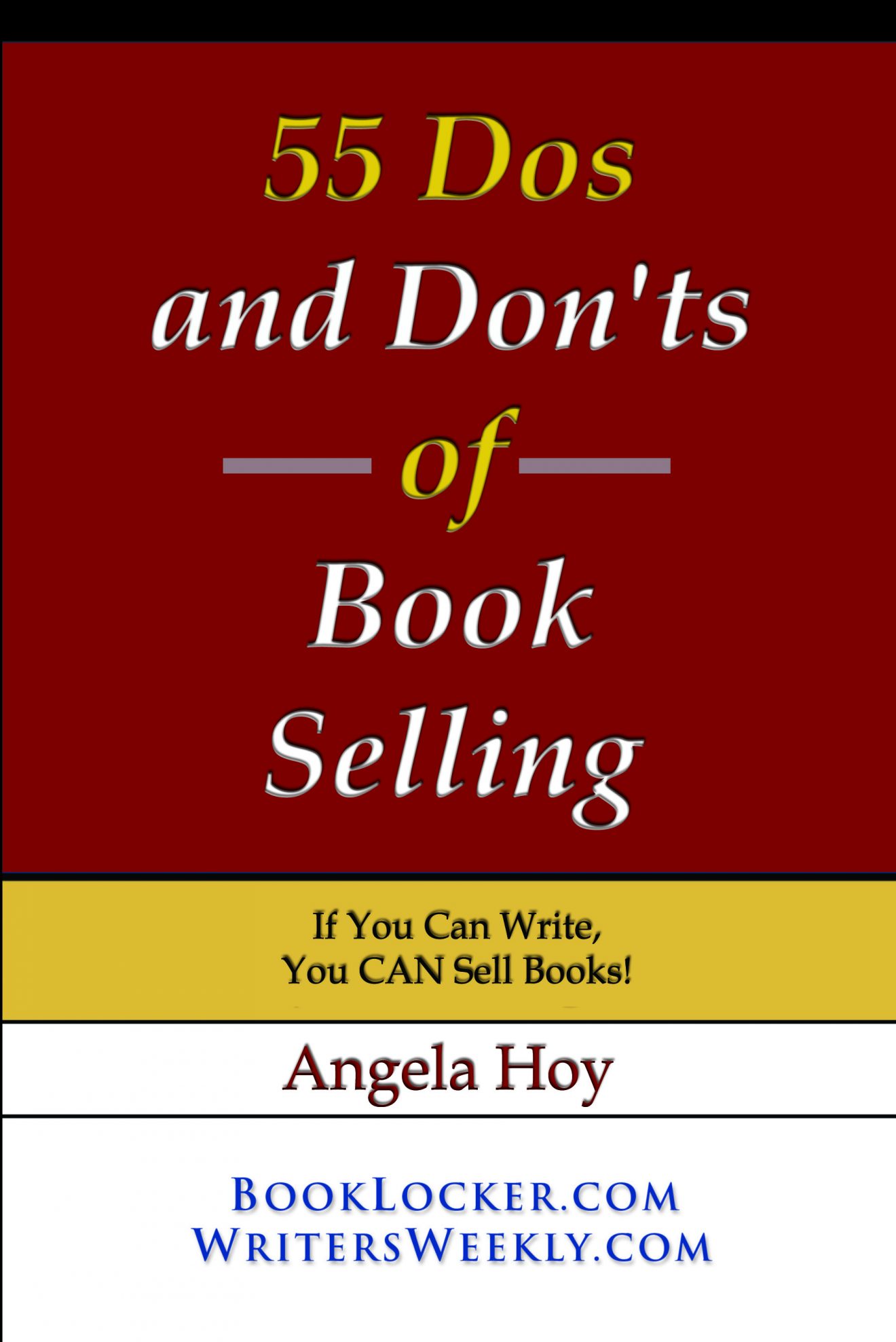 Feature Article
These publishing markets cover various topics, from politics and business, to culture and entertainment. Also, they offer competitive rates!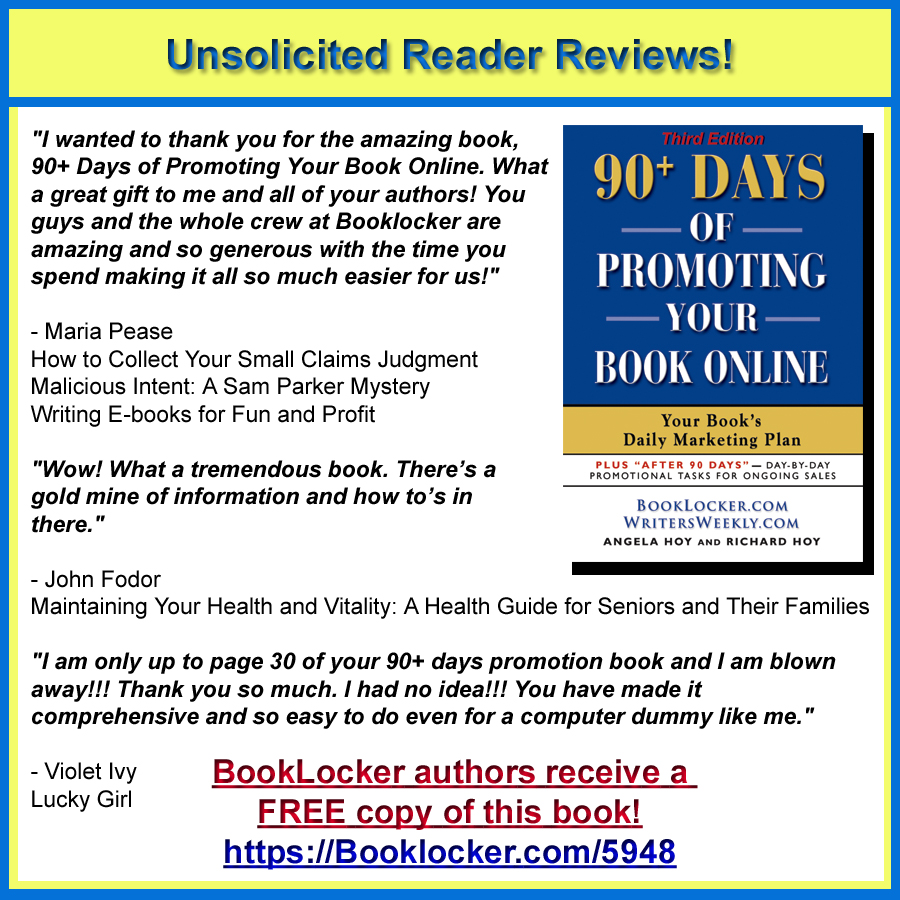 In The News!
MORE: Christian homeschooling parents sue California over alleged religious discrimination; Largest Christian university in the nation alleges it's being unjustly targeted by federal agencies; Aaron Sorkin drops agent over posts ripping Israel's Gaza strikes; Oregon Moms Union slams removal of standardized test from high school graduation requirement; and Cooper Union barricades Jewish students inside library as pro-Palestinian protesters bang on doors.


Paying Markets for Writers
A hybrid publisher charging no setup/design fees to authors. "Abuzz Press pays the design and publication fees, which include: interior formatting assistance, professional cover design (no boring templates), ISBN and barcode, printer setup, and print proof (the first printed/bound copy of your book, which will ship directly to you for approval). Also includes ebook formatting/conversion. Distribution - Print Edition – We will list the book with Ingram, the world's largest book distributor. Our print books are listed in Amazon.com, BarnesandNoble.com, BooksAMillion.com, Chapters.ca and many other online bookstores, both domestic and foreign. Any bookstore with an Ingram account can pick up Ingram's feed so you'll find your book listed in stores you've never heard of. Most bookstores use Ingram's database to find and order books so readers can ask their neighborhood bookstore to order your book as well. Your readers can also walk into their neighborhood bookstores and ask them to order a copy. Ebook Edition – Our ebooks are listed on Amazon.com (for the Kindle), BarnesandNoble.com (for the Nook), Apple (for iPads, iPods and iPhones), and Kobo (Canada's popular ebook retailer)." Welcomes new writers. Publishes up to 30 titles/year. Pays royalties. Three-year exclusive contract required.


"Unlocked is a devotional with daily readings for teens that challenge readers to live out their faith in today's world." Quarterly. Pays on acceptance. Publishes 6-9 months after acceptance. Buys all rights. No reprints. Responds within 12 weeks.


Pays $30 for 300-350 words plus discussion questions.
"Founded in 1975, Trapper & Predator Caller is the leading source of practical, comprehensive information for North American fur harvesters. Each issue is packed with feature articles by North America's most knowledgeable trappers and predator callers. T&PC provides the most thorough wild fur market report in North America and informs readers about vital industry trends. Published 10 times each year — January, February, March, April-May, June-July, August, September, October, November and December — T&PC provides current, practical information for fur trappers, animal-control workers and predator callers. Each issue also contains up-to-date reports from state trapping association partners across the country." 75% Freelance. Welcomes new writers. Pays 45 days after publication. Publishes ms one year after acceptance. Buys all rights. Responds 2-5 weeks.


Pays $250 for feature story and photos up to 2500 words.
"This Magazine is Canada's source for progressive politics, ideas, and culture. It provides award-winning investigative journalism, provocative commentary, and great writing from emerging journalists, artists, and writers. Most of our work in contributed by freelancers." Welcomes new writers. Bi-monthly. Buys first rights. Accepts reprints. Responds in 1-2 months. Guidelines online.


Pays $0.10/word. "There are exceptions where we will pay more."
NEED WRITERS, BLOGGERS, EDITORS, AUTHORS, OR OTHER CREATIVE FOLKS?? We'll post your ad on WritersWeekly FOR FREE. Please complete THIS FORM.
30 freelance and full-time remote writing jobs!
Freelance Content Writer – Pays $30-$35/hour
Centerfield


Remote Full-Time Food and Drink Editor – Pays $55K-$65K/year
ARLnow


Freelance NFL Contributor
Heavy Inc.


Freelance Medical Editor – Pays $38-$45/hour
Cella


Freelance Principal Oncology Writer
Cella


Freelance Technical Writer – Pays $45/hour
Bartech Staffing


Freelance Ghostwriter
Prudent Reviews LLC


Freelance Crypto Writer
Libertas Bella


Freelance Project Management Writers
Codeless Interactive, LLC


Freelance Health Editors
Codeless Interactive, LLC


Freelance News Writer
MacObserver.com


Remote Full-Time Staff Writer – Pays $80K/year
Stone Press


Freelance Cloud-Based Software Writer/Reviewer – Pays $0.06/word
Cloudwards


Freelance True Crime Writer
WatchMojo


Freelance Book Writer/Editor – Pays $10-$20/hour
Day One Company


Remote Full-Time Content Writer
Newsletter Pro


Freelance Analyst/Consultant/Writer
MG Consulting


Freelance Deals Writer
Android Police


Freelance Editor
Vox Media, LLC


Freelance Anime Features Writer
Comic Book Resources (CBR)


Freelance Bilingual Editor/Writer
BlackDoctor.org / DailyVitamina.com


Freelance Mental Health/Healthcare Writer
Klarity Health


Freelance Technical Writer
JohnsonRauhoff


Remote Full-Time Editor
The Penny Hoarder


Freelance Science Editor
The Planetary Society


Freelance Feature Writer
Collectors


Freelance Computing News Writer
Freelance Content Marketing Writer
FreightWaves, Inc.


NEED WRITERS, BLOGGERS, EDITORS, AUTHORS, OR OTHER CREATIVE FOLKS?? We'll post your ad on WritersWeekly FOR FREE. Please complete

THIS FORM

.