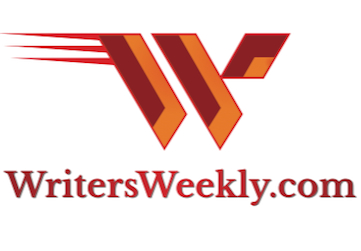 SEPTEMBER 30, 2023
Contents
~
~
~
Paying Markets for Writers
~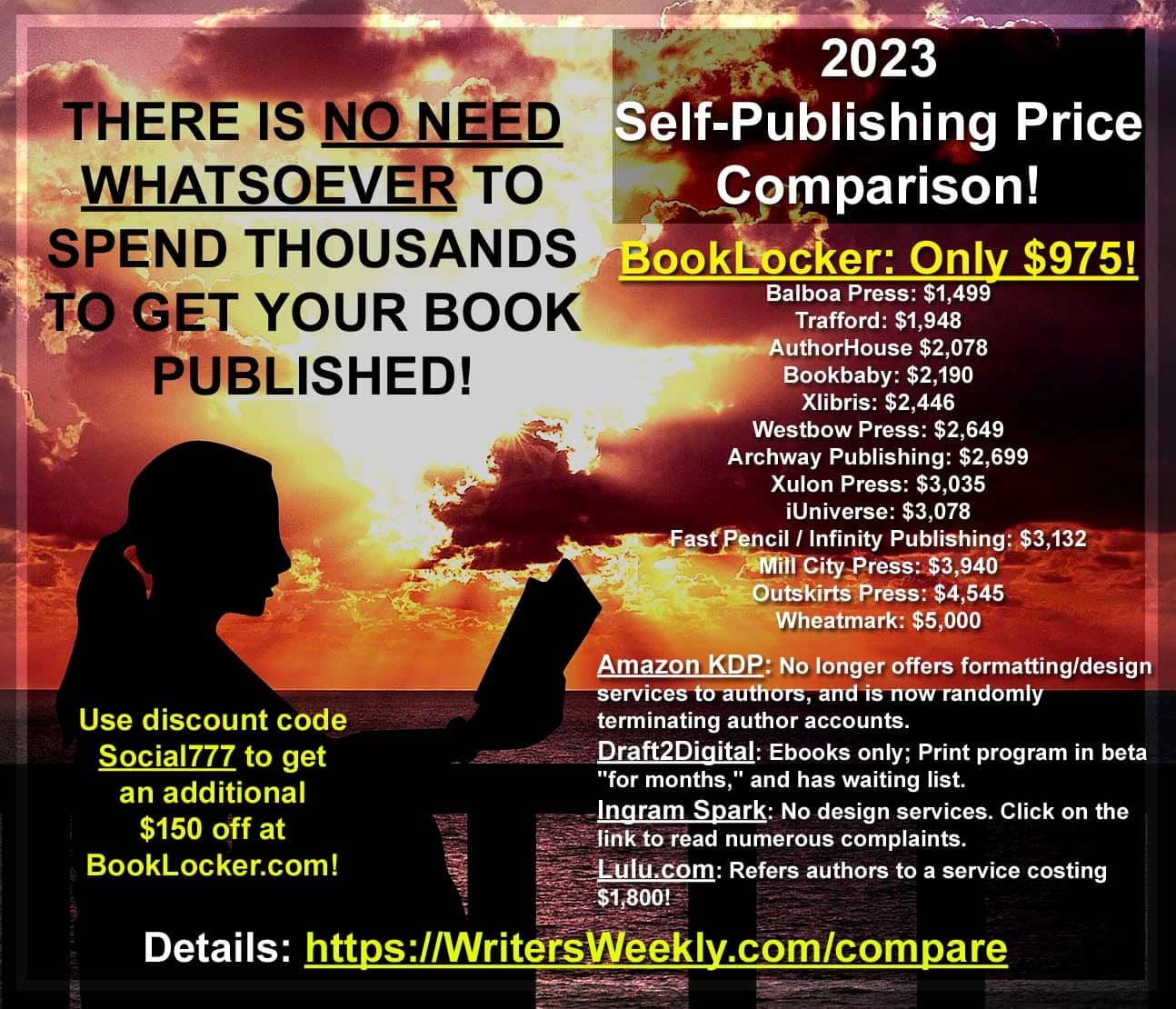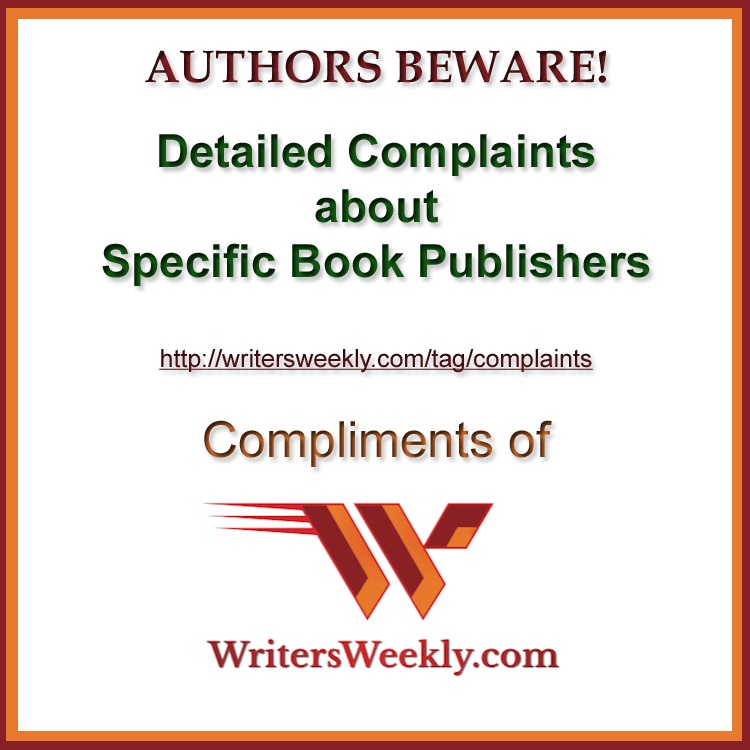 From the Publisher's Desk
Read this article to see a worst case scenario. Some of our competitors asked me not to share this publicly...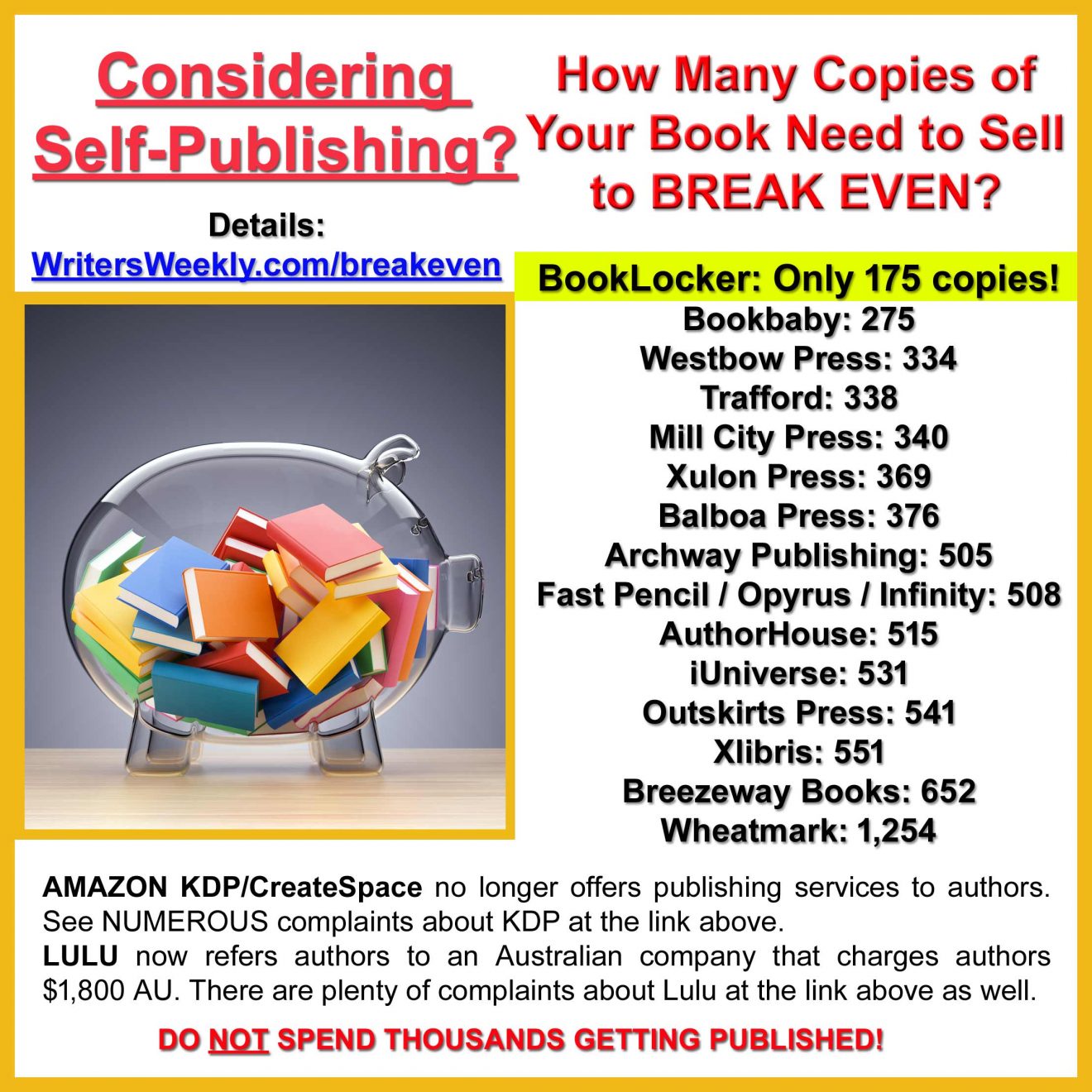 News From the Home Office
As soon as I opened the lid to the main box, a cloud of bees erupted from it. They weren't happy. One let me know it immediately by...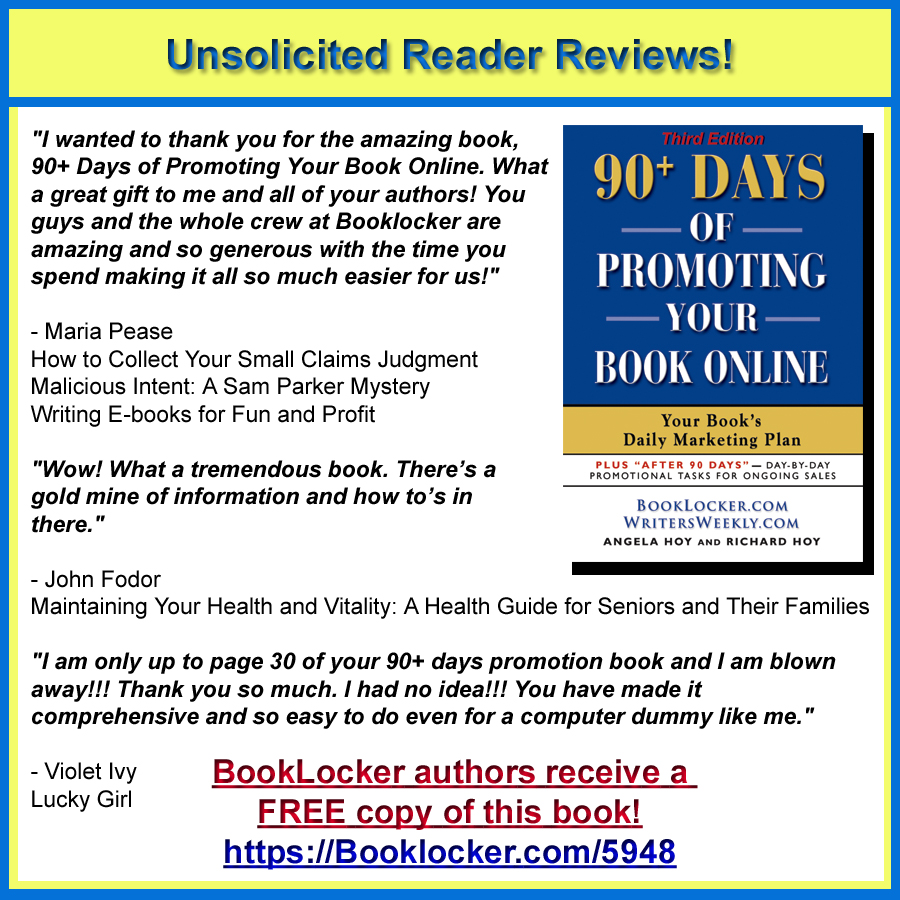 In The News!
MORE: Education Secretary Cardona rips 'misbehaving' parents; Supreme Court could alter the way Americans interact on the Internet; University hires professor who once threatened NY Post reporter with machete; Lost Truman Capote story found and published; The one book your child needs to read; Google Search caught publicly indexing users' conversations with Bard AI; Newspaper runs robot-written op-ed opposing AI in journalism; Amazon sued by FTC for "warping prices" and more!; and German govt. gave pro-pr*stitution book to children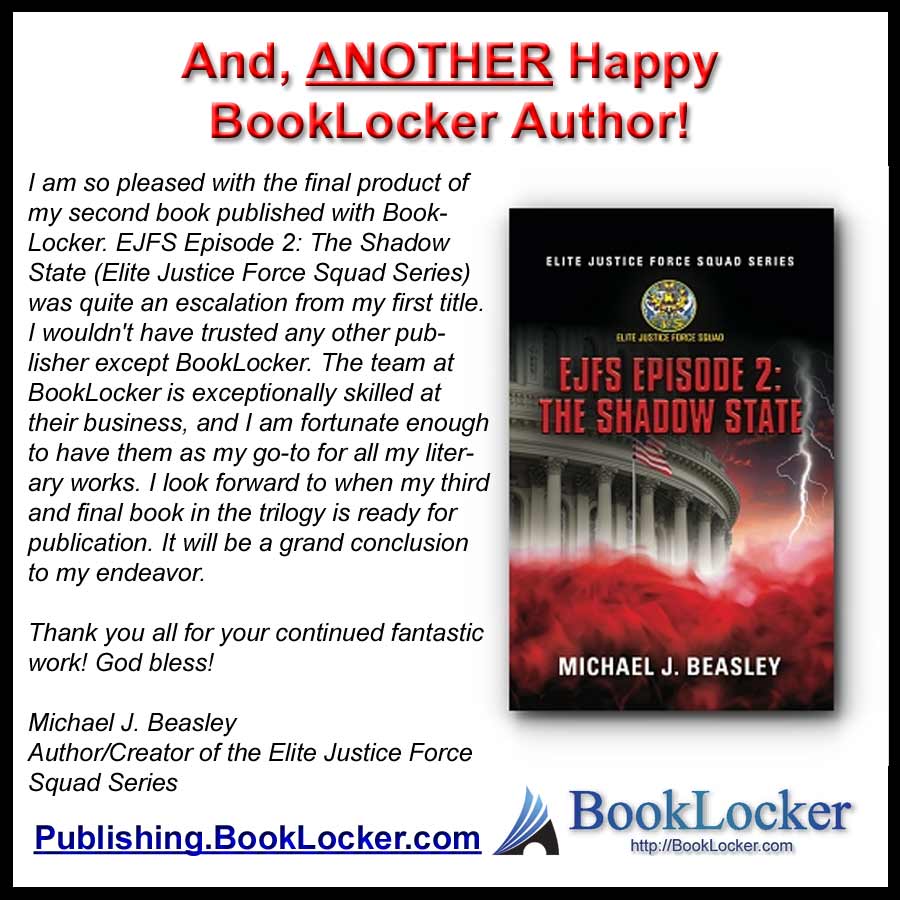 Ask The Expert
"The Online Book Club is giving me a strong sales pitch that they can do wonders for me..."


Paying Markets for Writers
America's premier pro-life publication.




Pays $0.15-$0.25/word for 1,000-1,800 words
"We're a regional bicycling magazine, with a focus on bike tourism, general interest news relating to bicycling, and bicycle events." Publishes 11 issues a year. Pays on publication. Publishes ms 3-4 months after acceptance. Buys First N.A. rights. Accepts reprints. Responds in 1-2 weeks. Guidelines available on request by email or SASE.


"As world economies converge, CFI.co reports from the fault lines of integration. CFI.co features original writing on financial, economic, and political topics that have a global impact." Welcomes new writers. 25% freelance. Circ. 120K. Quarterly moving to bimonthly. Pays on acceptance. Publishes ms in next quarterly issue. Buys all rights. No reprints. Responds within 1-2 days. Sample copy available in PDF form. Subscription $59.95. Guidelines available by email.


Pays $0.10-$0.15/word for 700-2500 words.
"Contrary® was founded in 2003 at the University of Chicago by alumni of Chicago's Master of Arts Program in the Humanities. It was quickly embraced and has been abundantly nourished by graduates of the Vermont College of Fine Arts MFA in Writing program. It now operates independently and without a thought of profit on the South Side of Chicago and publishes writers from throughout the world. It publishes poetry, fiction, lyrical commentary, creative non-fiction, and especially works that blur the edges of those categories."


Pays $20 per author, per issue.
NEED WRITERS, BLOGGERS, EDITORS, AUTHORS, OR OTHER CREATIVE FOLKS?? We'll post your ad on WritersWeekly FOR FREE. Please complete THIS FORM.
30 freelance and full-time remote writing jobs!
Full-time Remote Editor/News Writer
Key Media & Research


Full-time Remote Experienced News Writer – in Hawaii
Pacific Media Group


Full-time Remote Senior Writer & Editor
Milling & Baking News


Freelance Beat Writers – Inglewood, Los Angeles, or LA County. Pays $50-$100.
Westside Voice (L.A.)


Freelance Writers – for ecommerce blog posts – Pays $0.06/word.
Page One Publishing


Freelance Content Writer
Forge A Legacy


Freelance Scriptwriter – for celebrity YouTube Channel
Anna Oop / Crealon Media


Freelance Scriptwriter – for Celebrity-Related YouTube Channel
Petty-A / Crealon Media


Freelance Writer – for a B2B SaaS content about customer service & business productivity
Freelance Coffee-Obsessed Content Creator
Cain Brands


Freelance Native Speaking English Writers
MSN / Wealthy Media Limited


Freelance Assessment writer – ELA, K-12, Grade 9-12
Hurix Digital


Full-time Remote Editor
TechTimes / Pleroma Media


Full-time Remote IVD Medical Writer – Project Manager. Pays $133K-$183K/year.
Siemens Healthineers


Freelance Quality Improvement Editor
PulseLearning


Full-time Remote Executive Editor
EPS Operations LLC


Full-time Remote Proposal Technical Writer Sr. – Pays $99K-$120K/year.
LIBERTY Dental Plan


Full-time Remote Marketing Copywriter
Imagination Station Inc


Full-time Remote Assistant Editor – Adobe Premiere Pro. Pays $19.50-$20.75/hour.
PocketWatch, Inc.


Full-time Remote Provider Communications Writer – Pays $56K-$101K/year.
Elevance Health


Full-time Remote Technical Writer
Sonatus


Part-time Remote Copywriter – Pays $1500/month.
Runaways LLC


Full-time Remote SaaS Content Writer
WhatConverts


Full-time Remote Associate Editor
Cahaba Media Group


Full-time Remote Deputy Editor in Chief – Pays $119K-$284K/year.
USA TODAY


Full-time Remote Food Writer
Taste of Home


Full-time Remote Senior Editor – Integrated Marketing, Bankrate. Pays $75K-$144K/year.
Freelance Market Research Writer
Full-time Remote Grant Writer – Pays $61K-$70K/year.
Jeremiah Program


Full-time Remote Tech Staff Writer – Pays $60K-$70K/year.
TechnologyAdvice


NEED WRITERS, BLOGGERS, EDITORS, AUTHORS, OR OTHER CREATIVE FOLKS?? We'll post your ad on WritersWeekly FOR FREE. Please complete

THIS FORM

.