PERSONAL NOTE FROM ANGELA: I was hospitalized this week. I will provide more details next week but I wanted to let you know why our regular issue of WritersWeekly won't be going out this week. Everybody was doing my job while I was in there. I am home now, and doing MUCH better. And, since I'm in bed with pretty bad anemia, I'm looking forward to relaxing and reading entries for the short story contest this weekend! Please participate! You'll LOVE it!!!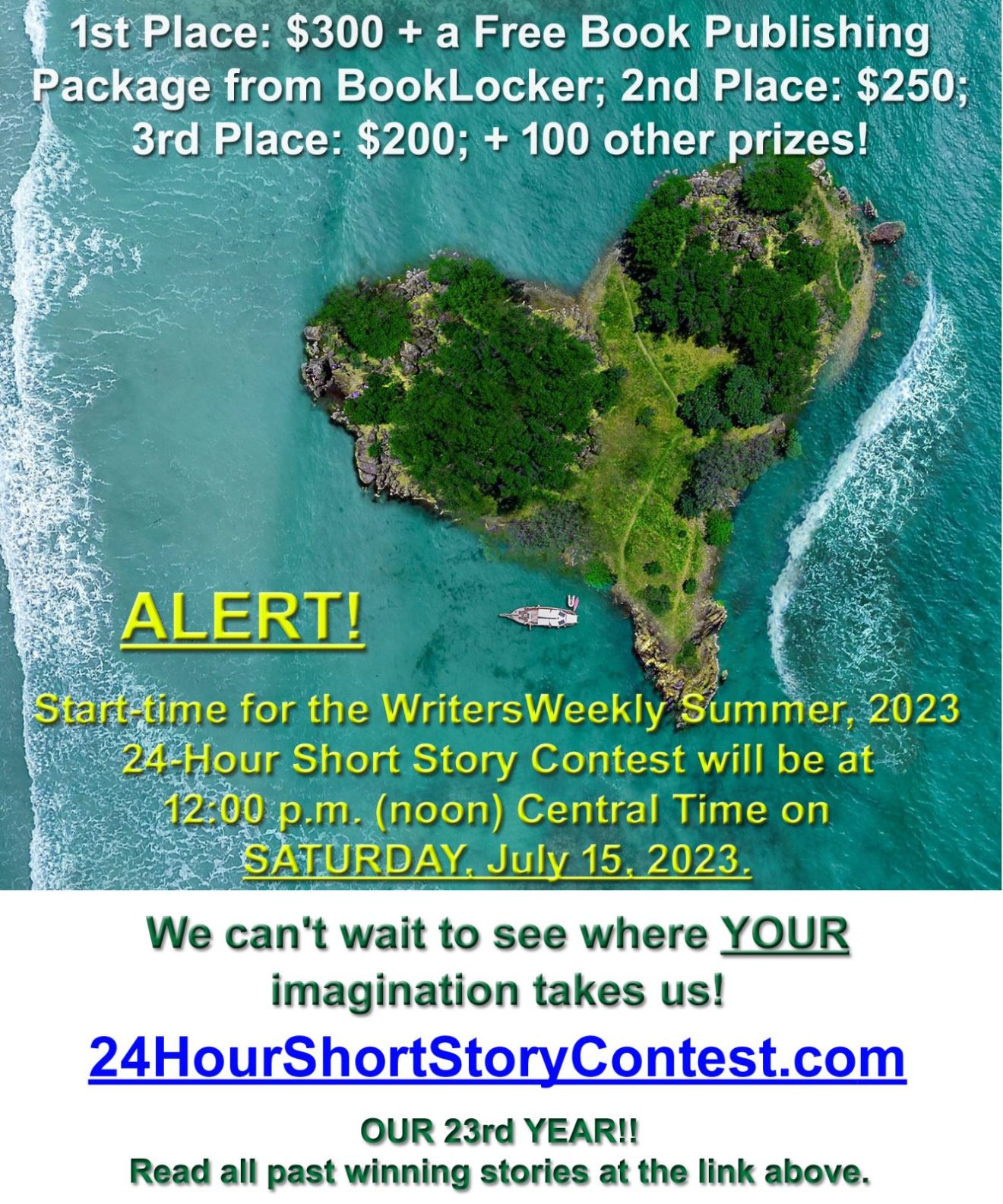 Sign up today! It's TONS of FUN!!! :)
Howdy everybody, and HAPPY SUMMER!!! It is HOT on the mountain right now! But our garden vegetables continue to grow to massive proportions!!! 😄


What better way to entertain yourself this coming weekend than by entertaining US with a fantastic story?! Please do!


As with every Summer contest, you can expect some warm weather, sunshine, a sandy beach, a little bit of romance, or suspense, or action...or maybe none of those things! You'll soon find out! Ha ha ha!! 😉


We'll be sending the contest topic out at 12:00 p.m. (noon) Central Time THIS SATURDAY, 07/15/23.


We'd LOVE to have you join us! Only 500 entrants permitted so don't delay if you want to play!


The WritersWeekly.com Quarterly 24-Hour Short Story Contest is now in its 24th YEAR!


1st Place: $300 + a book publishing package from BookLocker.com valued at $975!
2nd Place: $250
3rd Place: $200
We're so excited! Reading the short stories for each contest is the absolute FAVORITE part of my job!


Big hugs to everybody!
Angela
12441 N. Main Street, #38