I set this issue to go out last Friday and...it did not! I'm sending it out now. I apologize for the tech burp! :) - Angela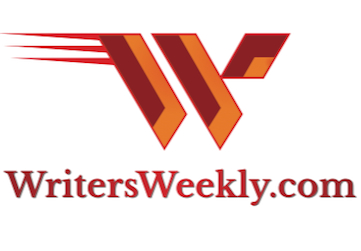 FEBRUARY 10, 2023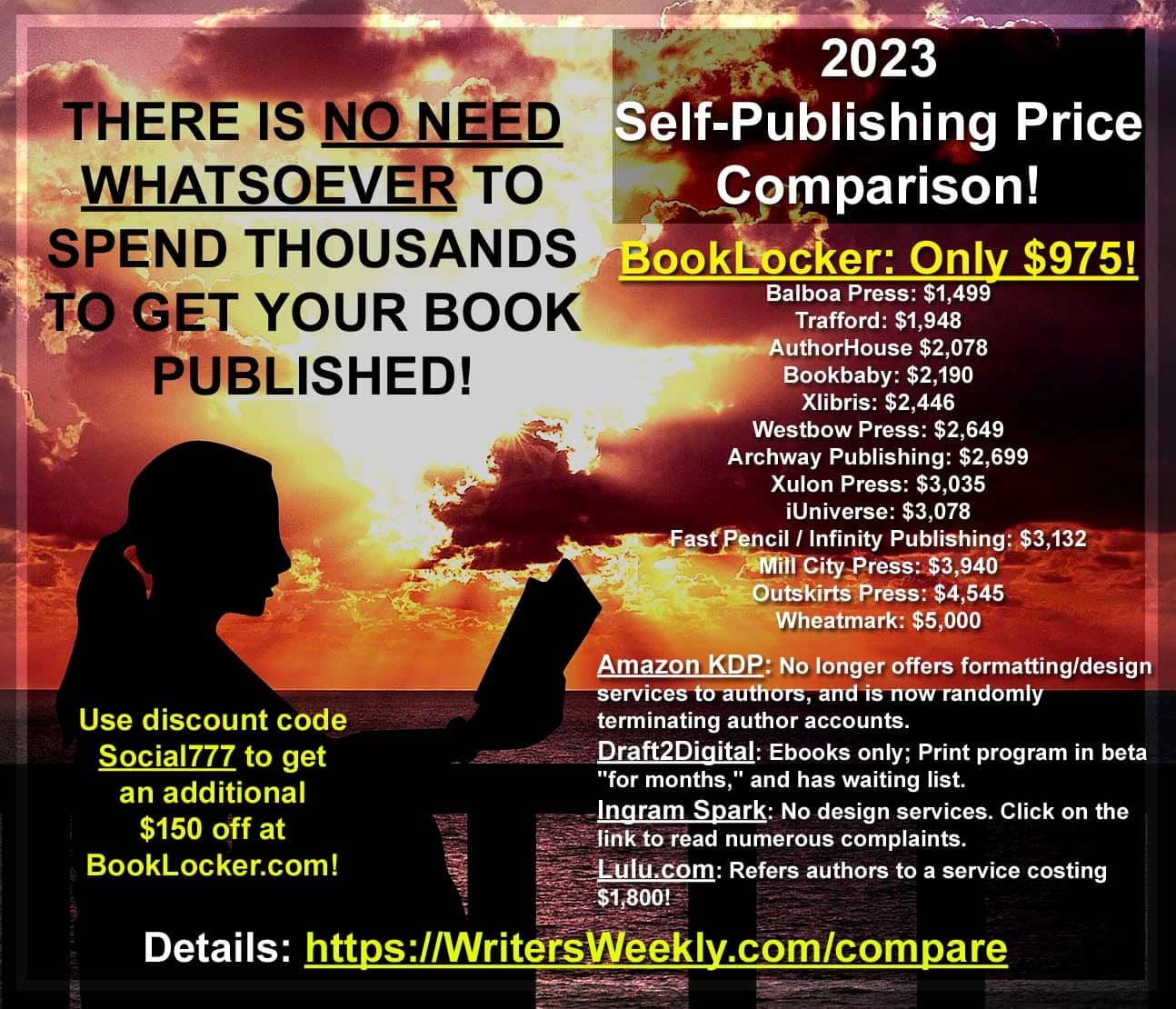 ONLY 500 PARTICIPANTS PERMITTED SO DON'T
DELAY IF YOU WANT TO PLAY!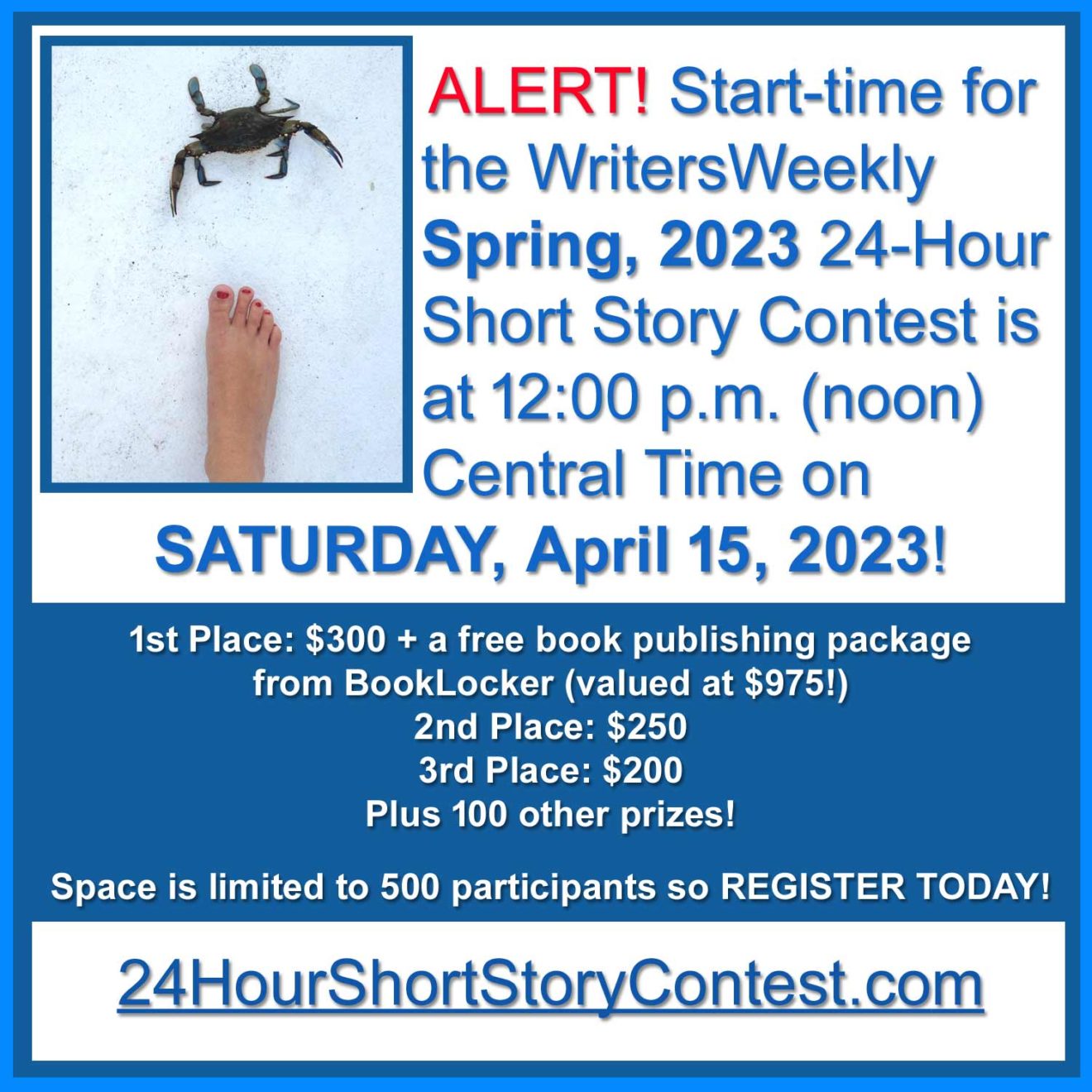 Contents
Paying Markets for Writers
~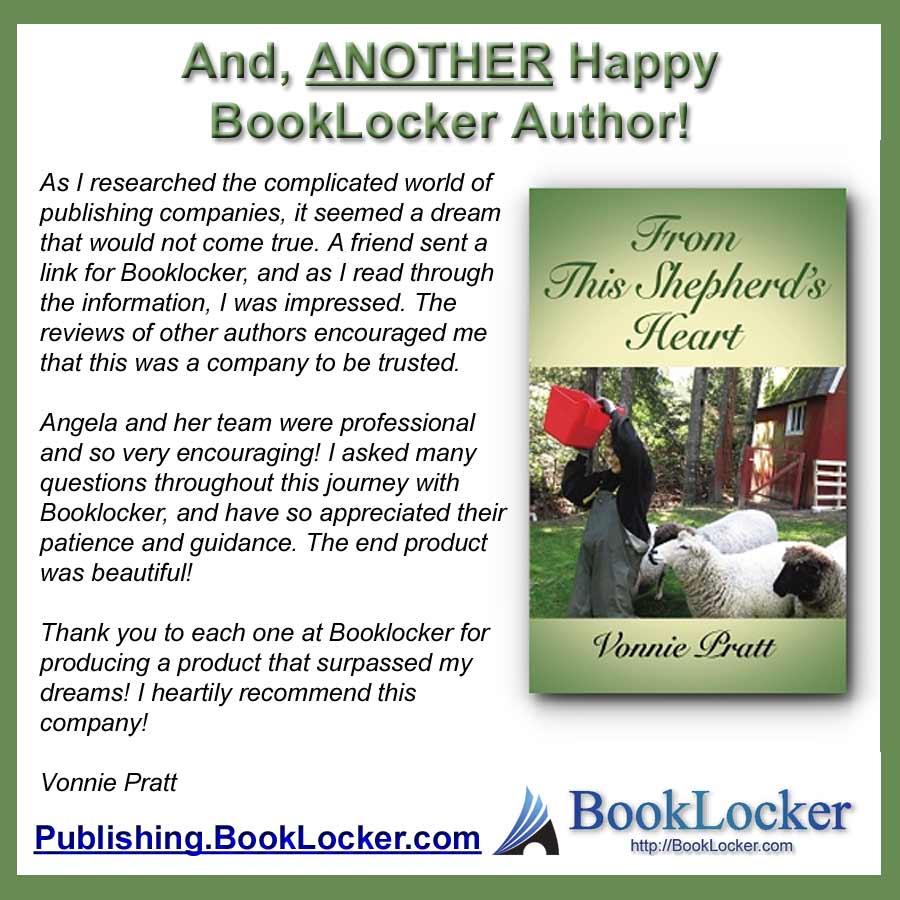 From the Publisher's Desk
As a writer or author, should YOU be worried? Are your knowledge and skills about to become irrelevant?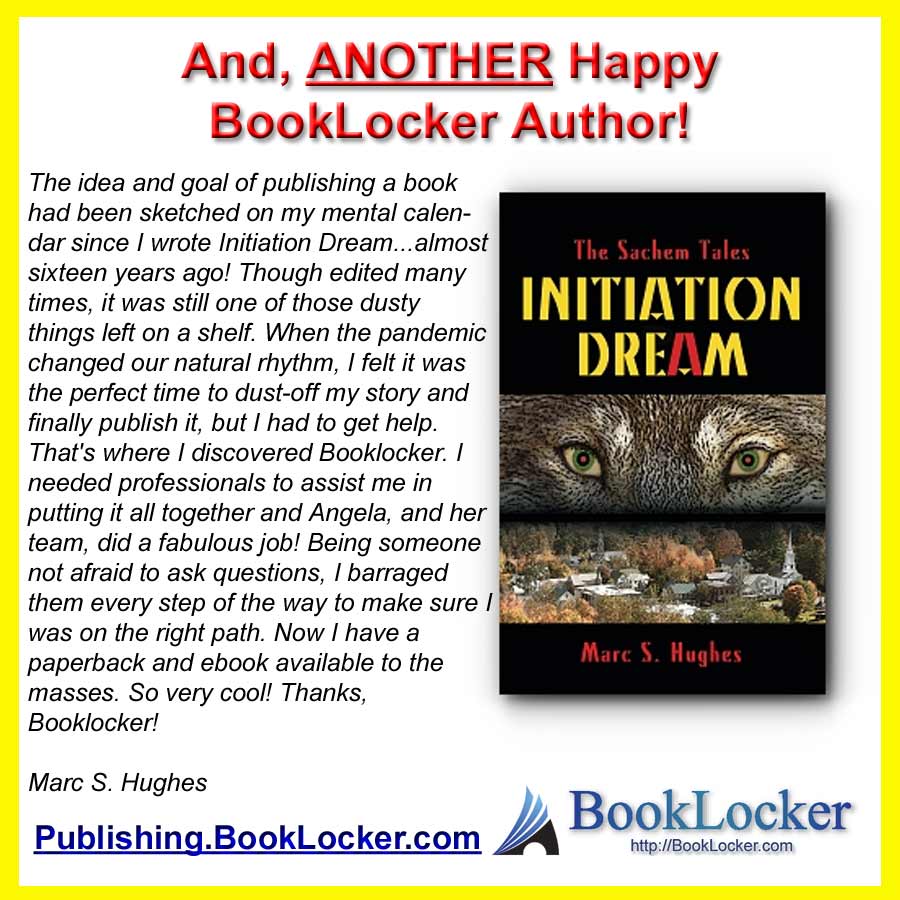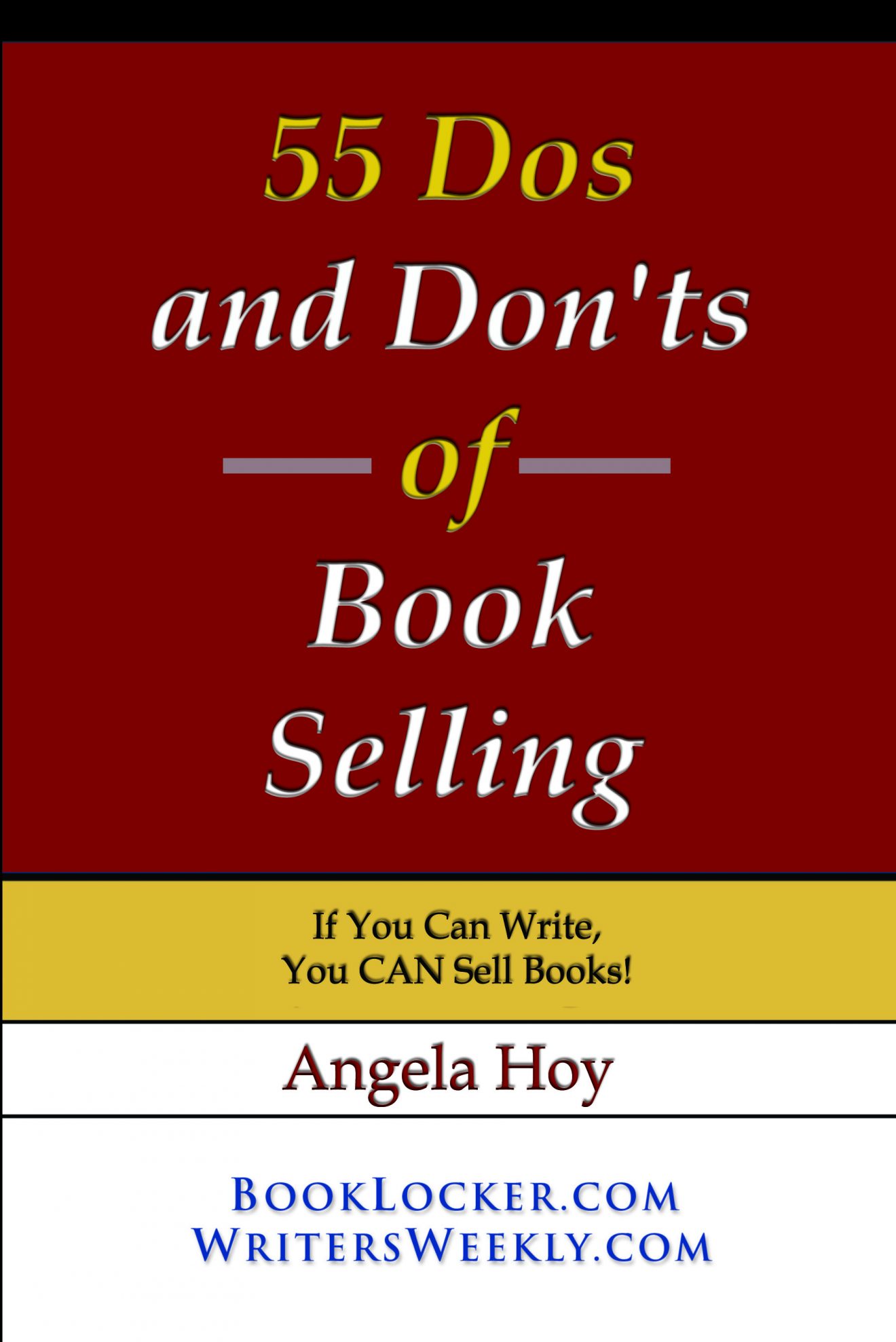 Feature Article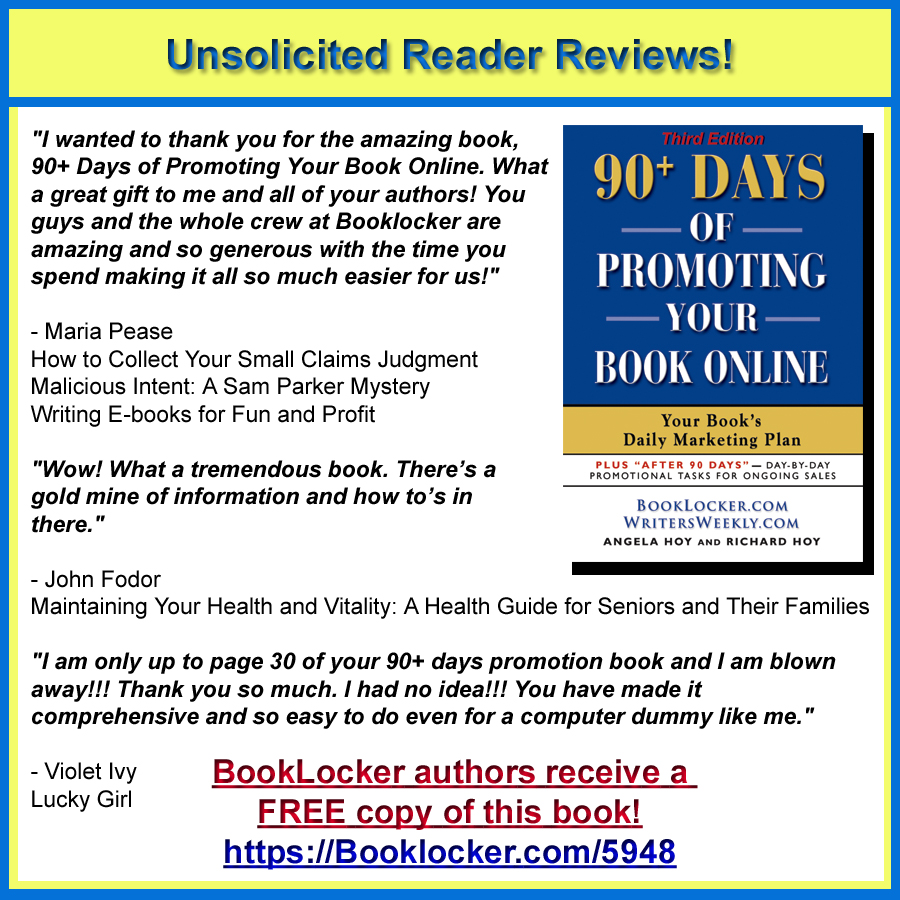 In The News!
MORE: Disney video creates firestorm online; Barbara Streisand's memoir is more than a thousand pages long!; NBC, MSNBC employees to walk off jobs; Zoom's CEO takes big pay-cut, lays off 1,300 folks; China jumps into the AI race; Some laid-off Amazon employees can't access info. about their terms of severance; Organized crime members with ties to Iran targeted US journalist in murder-for-hire plot; and Salman Rushdie surfaces after attack.


Paying Markets for Writers
"Military History is the nation's oldest and most popular war magazine devoted to the history of warfare." 75% freelance. Welcomes new writers. Pays on publication. Buys all rights. No reprints. Response time varies. Guidelines available by email.


Pays $250-$500 for departments; $1500 and upward for features.
"The Old Schoolhouse(R) Magazine is the #1 trade magazine for homeschool families. It is a quarterly print (125 page) publication, but is also accessible via online browser and via free apps at www.tosmagazine.com, and www.tosapps.com. It is available by subscription or in stores like WalMart, Walgreens, Target, Barnes & Noble, Kroger, and many Christian book outlets." 30-50% freelance. Quarterly. Pays within 90 days of publication. Publishes 3 months to over a year after acceptance, based on needs. Buys First rights for 180 days. No reprints. Responds in 4-6 weeks.Sample copies available online or by email. Guidelines online.


"We sell cutting edge, humorous greeting cards in many styles: humorous photo ideas, many cartoon styles, and more traditional word-play styles of humor. See our website." 100% freelance. Welcomes new writers. Pays on acceptance. Publishes card 6 months to 2 years after acceptance. "We request exclusive purchase and use of any idea we buy. We respond within a few days to emails and we hold copy for between 3-10 weeks for review (depending on when it comes during our current review cycle). We tell writers what dates they can plan on final decisions." Samples available online. Guidelines online.


"Founded by Kim Winternheimer in 2011, the Masters Review is an online and in print publication celebrating new and emerging writers. We are on the lookout for the best new talent with hopes of publishing stories from writers who will continue to produce great work. We offer critical essays, book reviews by debut authors, contest deadlines, submissions info, and interviews with established authors, all with the hopes of bridging the gap between new and established writers. The Masters Review has several ways to submit. New Voices is open year round and is available to any emerging writer. This category is always free to enter and pays up to $200 for selected stories. Additionally, we are (almost always) open to contest submissions, with prizes up to $3,000. There is a $20 submission fee for contest entries. The full contest calendar is available on our website." Weekly. Buys first rights. No reprints. Responds within three months. Guidelines online.


Pays $200 for short stories and narrative essays, $100 for flash-length work
NEED WRITERS, BLOGGERS, EDITORS, AUTHORS, OR OTHER CREATIVE FOLKS?? We'll post your ad on WritersWeekly FOR FREE. Please complete THIS FORM.
30 freelance and full-time remote writing jobs!
Remote Full-Time Managing Editor
BioSpace, Inc.


Remote Full-Time Investigative Reporter
Raw Story


Remote Full-Time Editor – Pays $95K-$110K/year
EdSource


Freelance Food and Beverage Writer – Pays $21/hour
Daily Meal


Freelance Writer
Good Signals


Freelance Tech and Cyber Security Content Writers
StationX


Freelance Writers/Editors
Online Media Company


Freelance Tech News Blogger
MyNextTablet


Freelance Technical Writer
Home Security Heroes


Freelance Fashion/Style Writers
Peacoat Media LLC


Freelance Content Writers
Growth Leads Ltd


Freelance Writers
WordAgents.com


Freelance Content Writer
WordAgents.com


Freelance Language Learning Blog Writer – Pays $0.06/word
FluentU


Freelance Blog Editor
FluentU


Remote Full-Time Workers Compensation Med-Legal Report Editor – Pays $30-$60/hour
Confidential Priviately-Held Company


Freelance Women's Lifestyle Commerce Writer – Pays $20-$25/hour
Remote Full-Time SEO Writer
Fractl


Remote Full-Time Writer – Pays $60K-$75K/year
Think Medium


Remote Full-Time Managing Editor – Pays $25-$29/hour
Stefanini Group


Freelance Photographer/Social Media Content Creator
Deer Stags


Freelance Technical Writer/Proposal Writer/Marketing Manager – Pays $20-$45/hour
Global Tunnels


Freelance Social Media Writer
BlackDoctor.org


Freelance Writer – Pays $25-$30/hour
Words by a Pro


Freelance Content Writing Coach
TaskHuman


Freelance R&D Technical Writer – Pays $40/hour
AR Val services


Freelance Blog Post Writer
blind ad


NEED WRITERS, BLOGGERS, EDITORS, AUTHORS, OR OTHER CREATIVE FOLKS?? We'll post your ad on WritersWeekly FOR FREE. Please complete

THIS FORM

.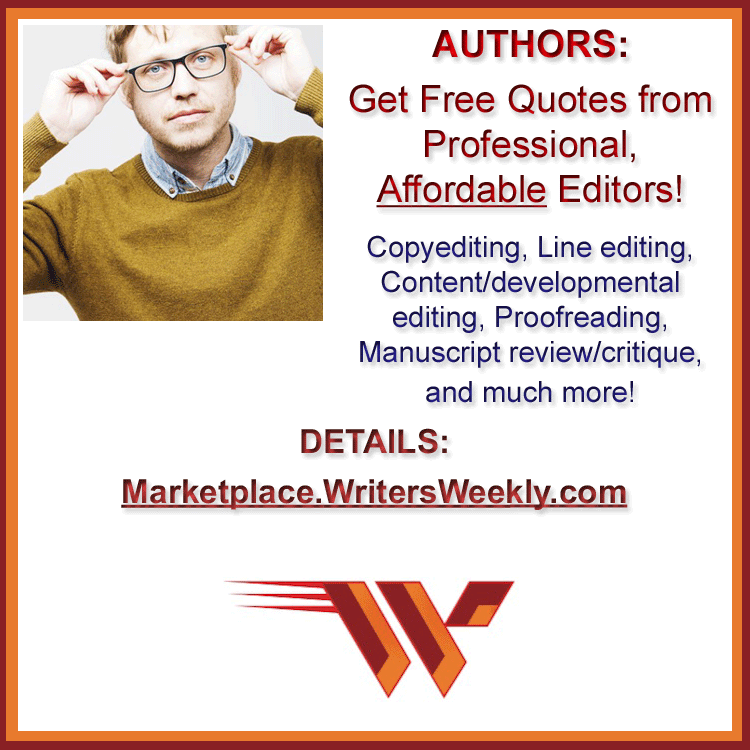 Marketing Secrets
If you've been sending query letters, and have yet to get a reply, you're doing it wrong...