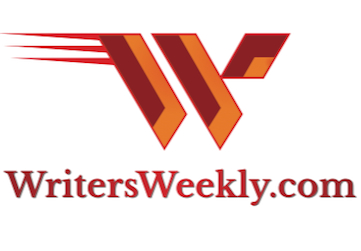 OCTOBER 21, 2021
ONLY 500 PARTICIPANTS PERMITTED SO DON'T
DELAY IF YOU WANT TO PLAY!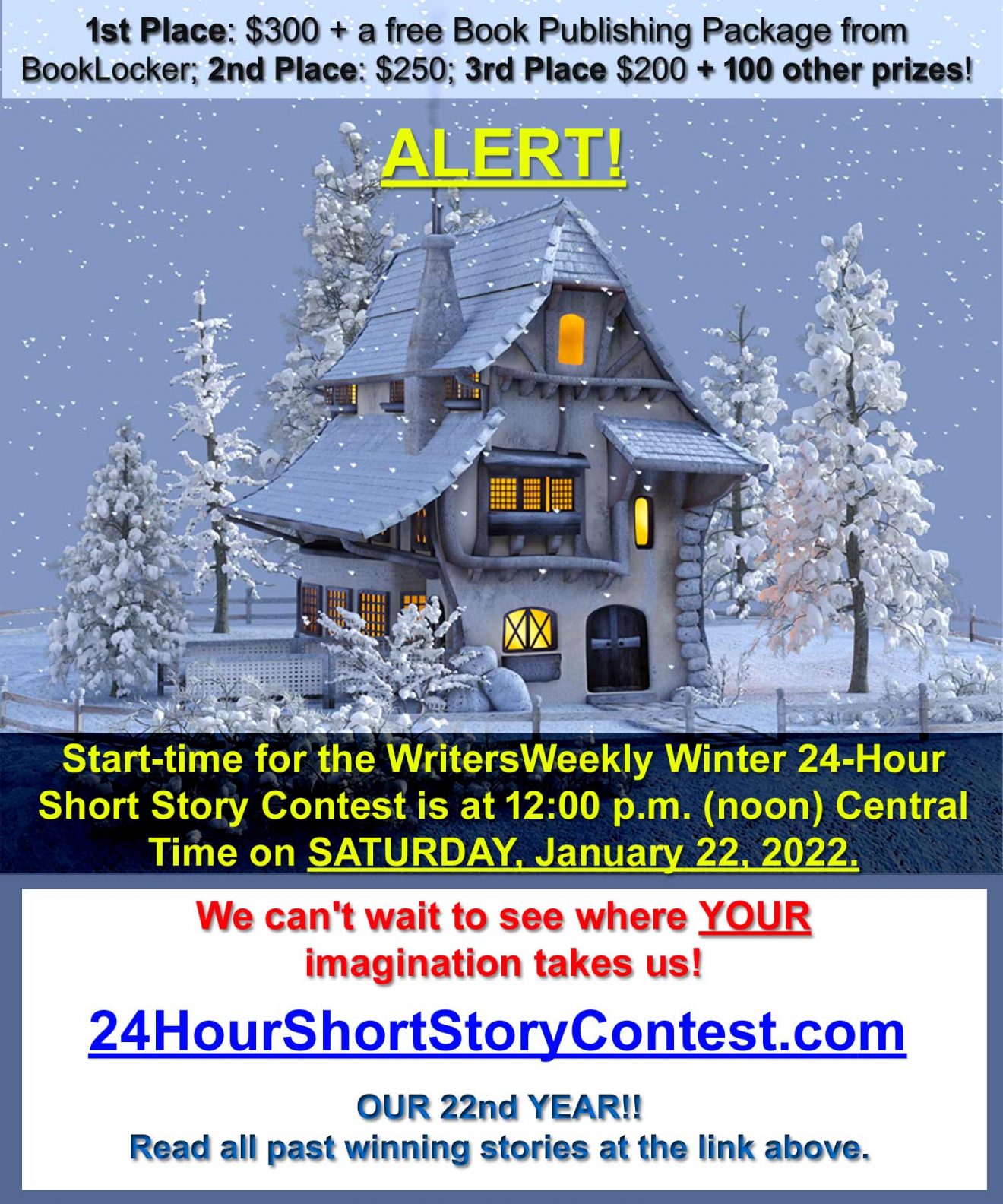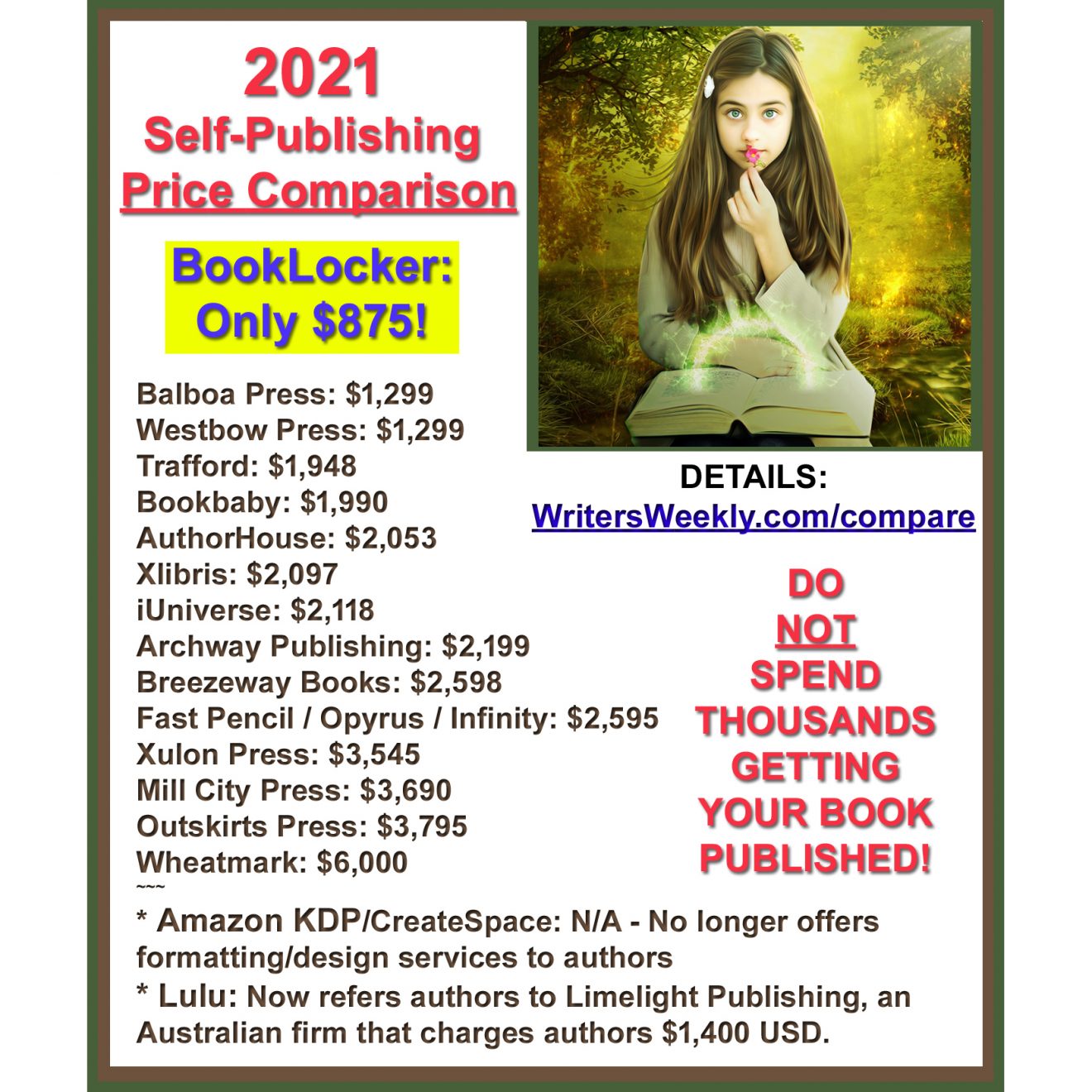 Contents
Paying Markets for Writers

From the Publisher's Desk
My email was (horrors!) insulting and the dastardly diva sure showed me! She wrote back, saying she was...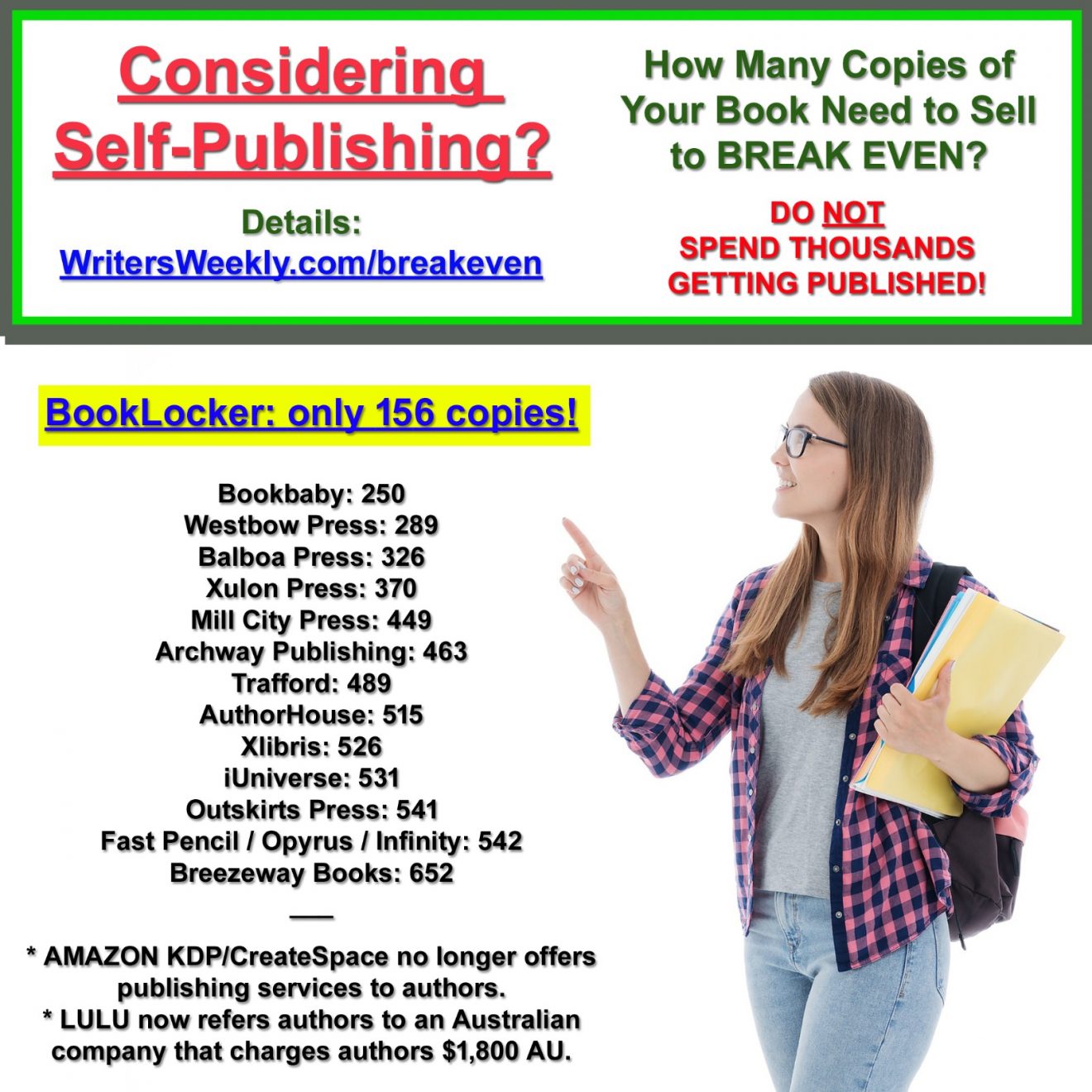 News From the Home Office
A couple of weeks ago, I told Brian, "I've seen so many little white shooting stars in my life but I'd REALLY like to see one of those big fireball meteors before I die!"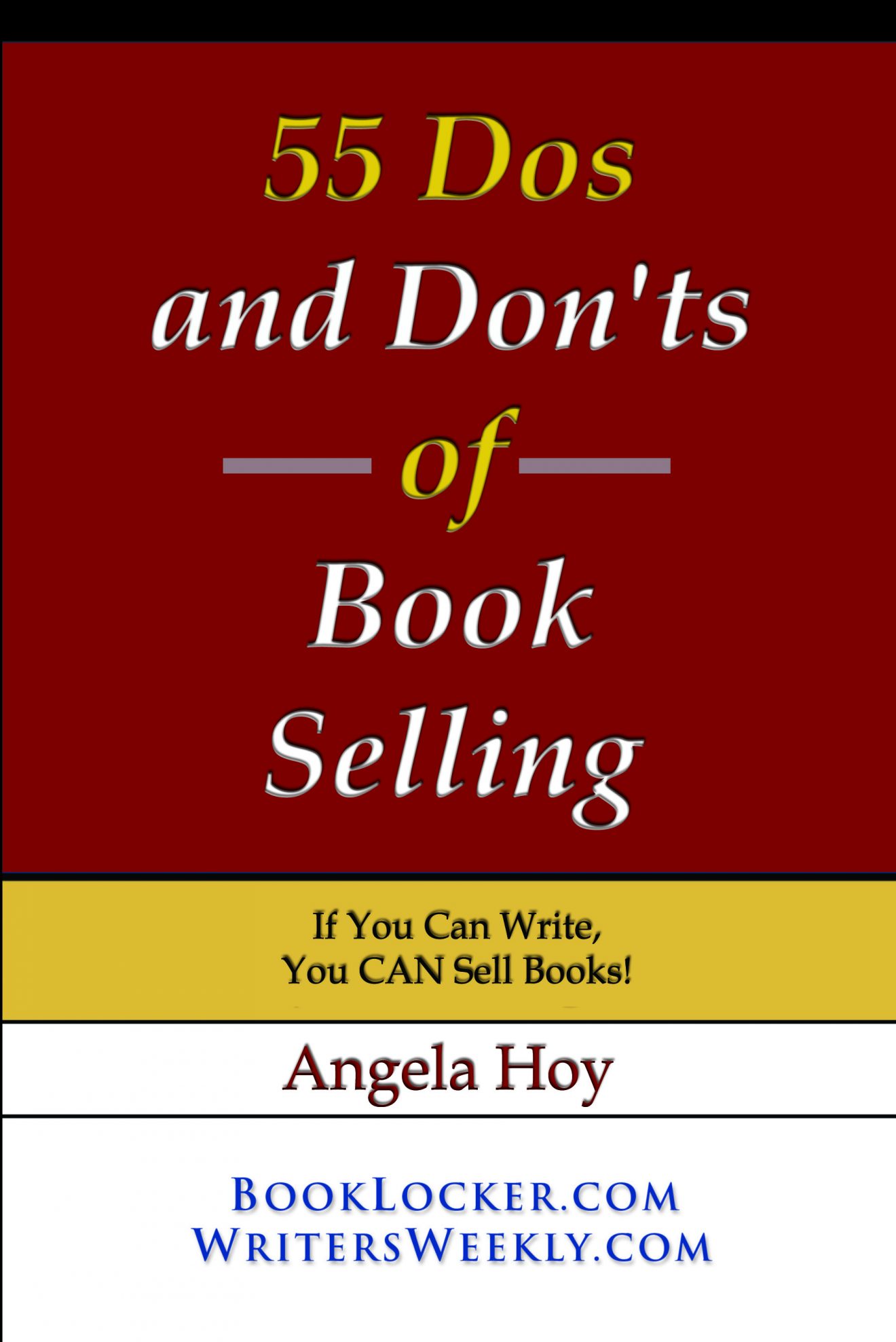 Feature Article
Your workspace directly and tangibly affects your productivity, output, and mood...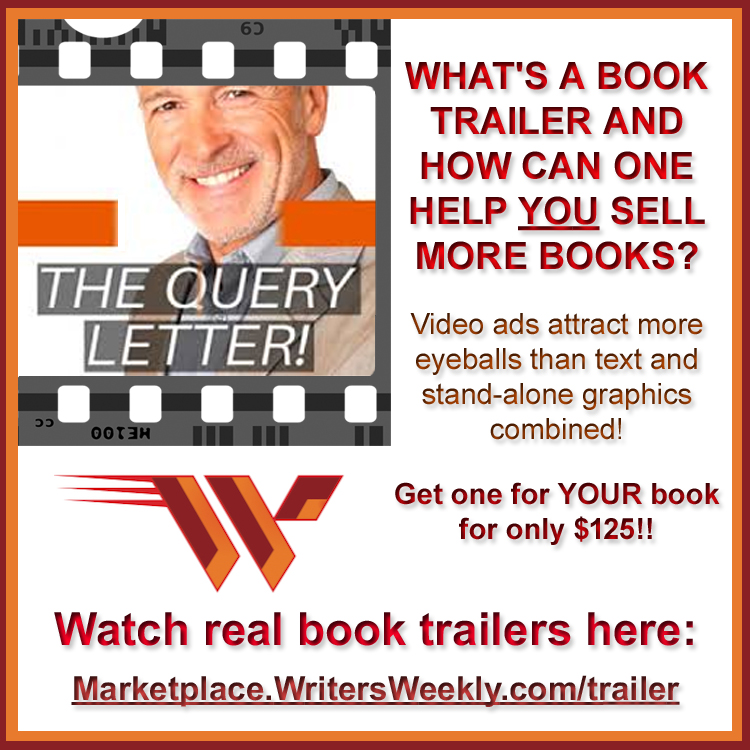 In The News!
MORE: Politicians are rewriting headlines for articles they DID NOT WRITE!; Media is kind to terrorists in obituaries?!; Woman used obituaries to target homes for burglary; Lawmakers say Amazon misled or lied to them; Pastor refuses judge's order to say specific words to his congregation; Apple is helping to kill religious freedoms; and Firefighter releases book about losing his job and his battle for religious freedom


Paying Markets for Writers
100% freelance. "A speculative fiction webzine with a global perspective." Welcomes new writers. Weekly. Pays on Fridays following management receipt of contract. Publishes ms around 6 months after acceptance. Buys first rights for six months. Only accepts reprints for nonfiction articles. Responds in 50-80 days. Guidelines online.


Pays $0.10/word, up to $90.
"Established in 1990 as a not-for-profit 501(c)(3) educational organization, The Tricycle Foundation is dedicated to making Buddhist teachings and practices broadly available. In 1991, the Foundation launched Tricycle: The Buddhist Review, the first magazine intended to present Buddhist perspectives to a Western readership. Tricycle soon became the leading independent journal of Buddhism in the West, where it continues to be the most inclusive and widely read vehicle for the dissemination of Buddhist views and values. Our readership includes longtime practitioners, those who are curious about Buddhism or meditation, and those who do not identify as Buddhist but value the teachings of wisdom and compassion that Buddhism has to offer."


PAY: Magazine columns $350; Magazine features varies, generally $0.30/word; Magazine feature interviews $500; Magazine reviews $400."
"On the leading edge of New Thought, Unity Magazine provides people of all faiths with a deeper understanding of Unity principles, and how to experience a greater oneness with Spirit. Within our pages, you'll find thought-provoking features, books, affirmations, and interviews with renowned spiritual teachers." Welcomes new writers. Bimonthly. Pays on acceptance. Publishes ms within 6 months of acceptance. Buys first rights. No reprints. Responds in eight weeks. Sample copies available on request. Guidelines online


"SteadyContent creates content using strategic automation and skilled talent. We hire only U.S. citizens who have English as their first language. Our specialty is creating ongoing content for WordPress...weekly blog posting! We require only 2-5 minutes of the client's time, then we handle it from there. SteadyContent does the keyword research, creates the titles, writes the content, schedules the posts, shares to social media and measures the engagement. No other company offers quite the same solution." Pays within 7 business days of content submission. Buys all rights. No reprints. Responds within 24 hours. Guidelines available after hiring.


NEED WRITERS, BLOGGERS, EDITORS, AUTHORS, OR OTHER CREATIVE FOLKS?? We'll post your ad on WritersWeekly FOR FREE. Please complete THIS FORM.
30 freelance writing jobs!
Freelance Writer
Timken Company


Freelance Writer

– Pays $1-$2/word
nDash


Freelance Pharma Staff Writer
Fierce Pharma


Freelance Biotech Staff Writer
Fierce Biotech


Freelance Women's Lifestyle News Writer

– Pays $20/hour
The List


Freelance Health and Wellness Writer
The Paleo Diet


SEO Writer

– Pays $50K-$55K/year
18Doors


Freelance Editor
Mommy Poppins


Freelance Copywriter
Maritz Motivation Solutions


Freelance Comics Editor
Screen Rant


Freelance TV Features Editor
CBR


Freelance Copywriter
Upwave


Freelance Trending Editor
BuzzFeed


Freelance Social Media Manager/Copywriter
PLTW


Freelance Investing & Crypto Content Writers
Pulsing Media Corp


Freelance Writers
Blue Thistle Content


Freelance Writer
Waconsult


Freelance Content Writer
Centra Staffing


Freelance Health Writer
blind ad


Freelance Content Writer
All American Management Groupc/ Exponement Marketing


Freelance Writers
Paradise Media


Freelance Writer and Editor
Search Media


Freelance Blog Writers
Writeinteractive, Inc.


Freelance Content Writer
Scandalous!


Freelance Content Creator for Social Media

– Pays $400/week
ForeverWick Candle Co


Freelance Resume Writer

– Pays $11-$20/hour
The Modern Millennial Consulting Resumes


Freelance All Sports Blogger

– Pays $10/hour
Ultimate Sports Network


Freelance Student Marketing Copywriter

– Pays $18/hour
LittleBird


Freelance Writer
Yoga Well Institute


NEED WRITERS, BLOGGERS, EDITORS, AUTHORS, OR OTHER CREATIVE FOLKS?? We'll post your ad on WritersWeekly FOR FREE. Please complete

THIS FORM

.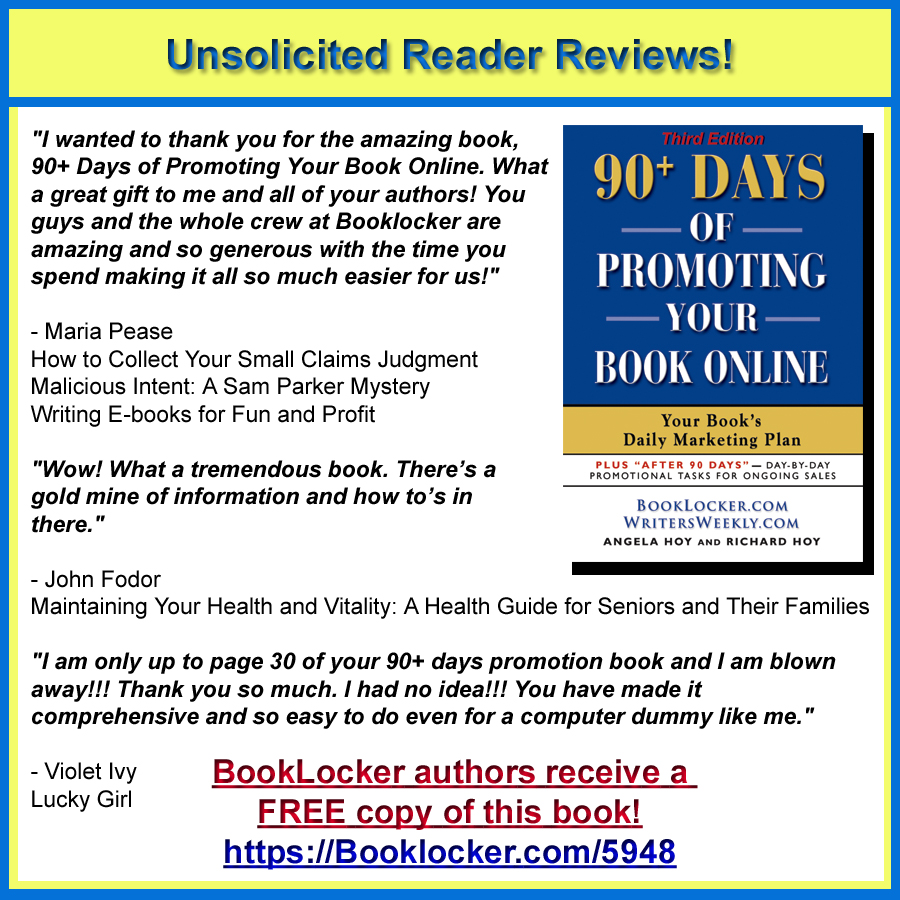 Marketing Secrets
One of the niche areas within speculative fiction that has exploded in popularity is alternate history...