With all the "sky is falling" news right now, aren't you freelancers glad you work from home? I KNOW I AM! :)
February 27, 2020
Contents
This Week's Backstories! How did these authors get the ideas for their books?
Angela's Desk
This torturous task wasn't for the fairer sex but what choice did she have? On that particular day, as clouds and a north wind rolled in from the mountains, she noticed two little boys at the edge of the lake, shouting and pointing...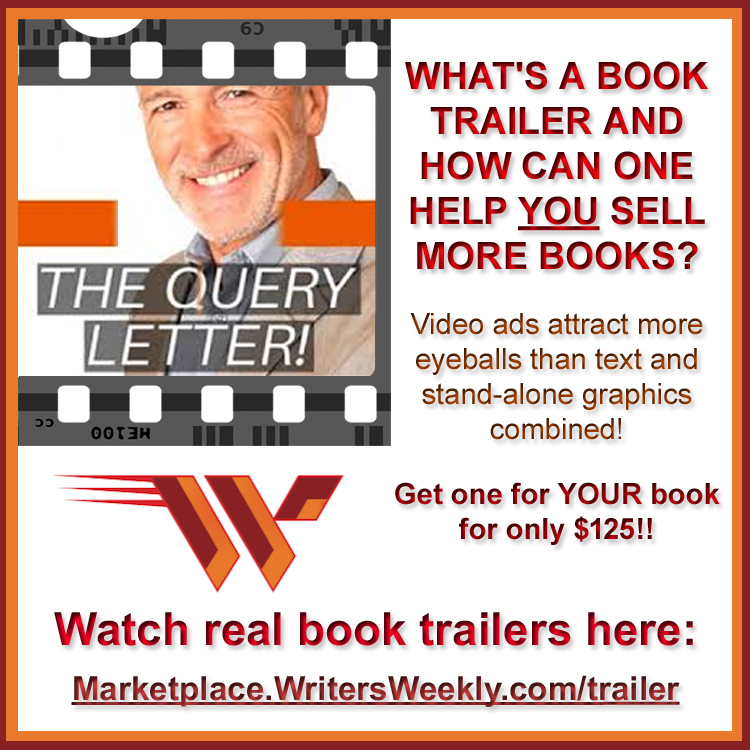 News From the Floating Home Office
I expect to receive a few snickers about me being an alarmist but, in my opinion, this is a smart thing for all of us to be thinking about. I'm sure many of you have wondered about what you'll do if your city is ever put on lockdown. Just this week, Italy did just that…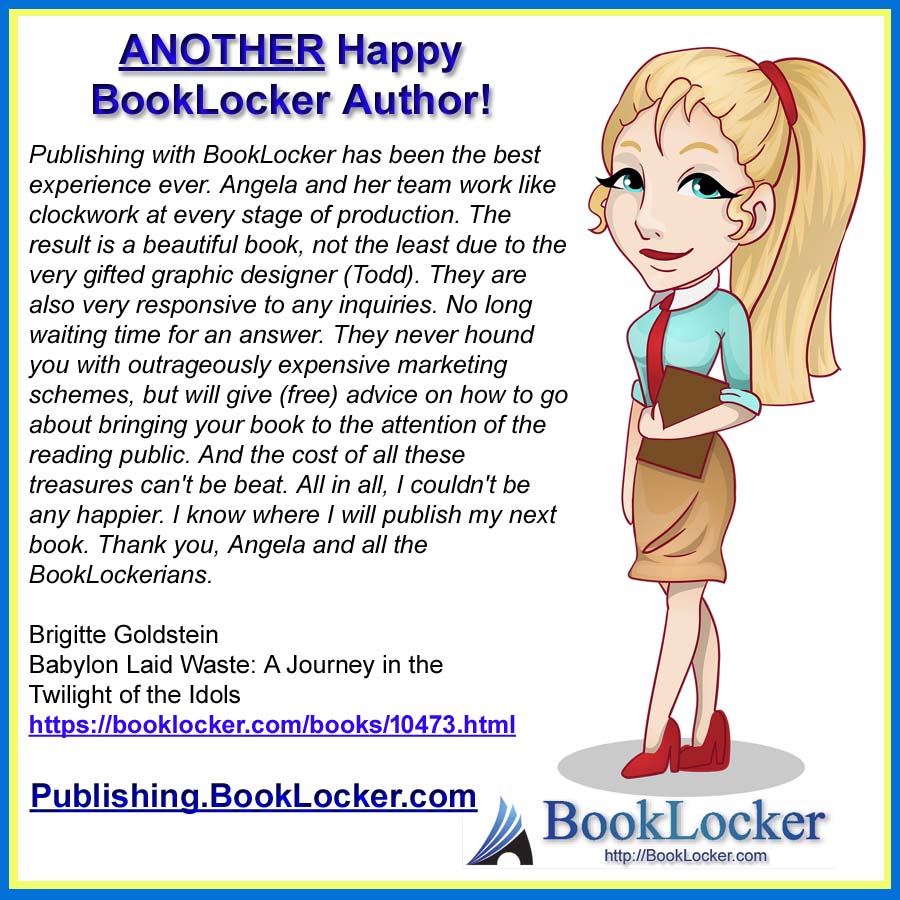 This Week's Backstories
Every year, I look forward to my publisher's reveal of their annual Christmas novella themes. They publish at least two collections every December, one historical romance and one contemporary. I've made a career out of writing historical fiction so my challenge each year is to brainstorm until I come up with a historical setting and story that fits the theme. …
The novel even appears on a list of banned books, along with some very famous titles in American literature...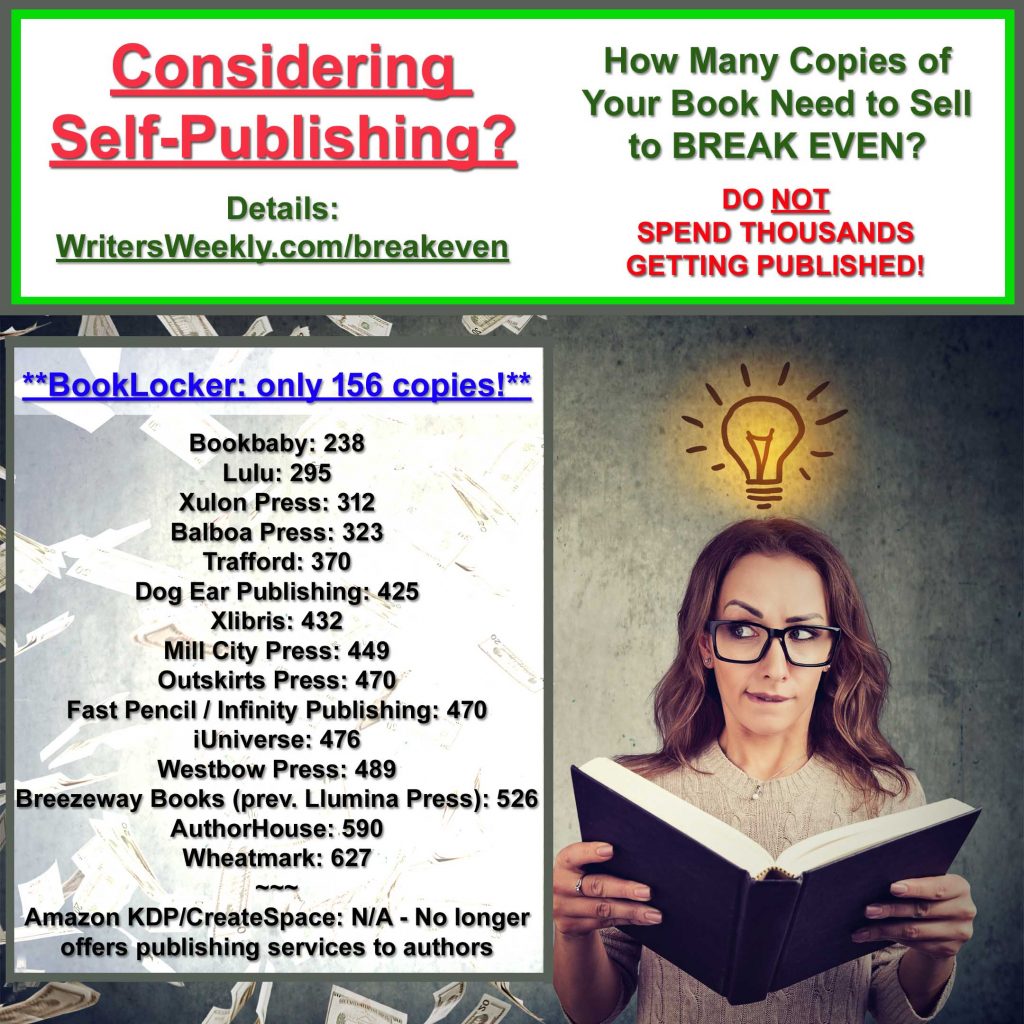 Feature Article
From books, to magazines, to conferences, and even a writing coach? Which investments for writers are sensible - and more likely to generate a future profit?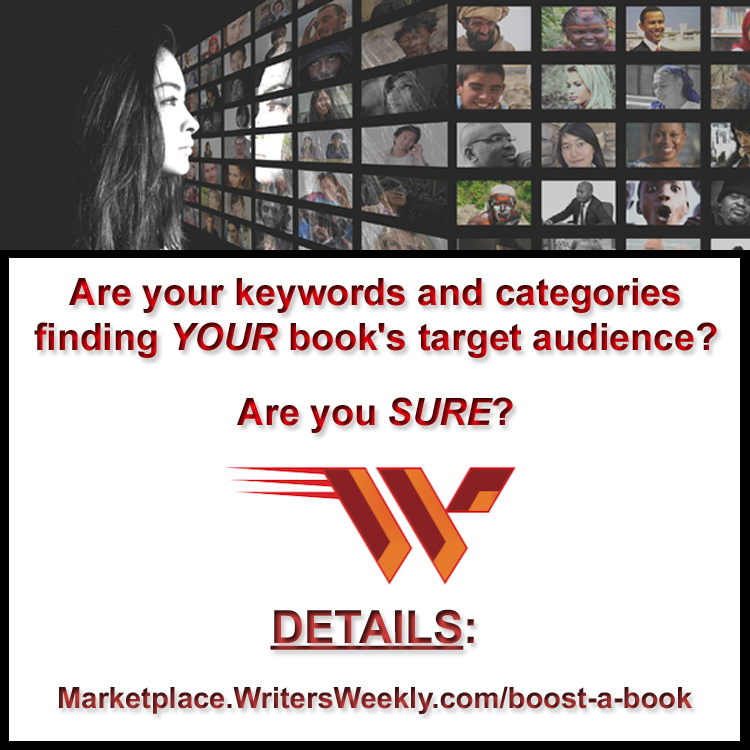 Ask the Expert
Q - Hi Angela, Each time I start trying to write, ideas and thoughts start to fly around in my head. So, then I start taking separate notes because those ideas don't fit in the part of the book I'm writing, or aren't part of writing my book at all. Now, I find I have done far more note-taking than…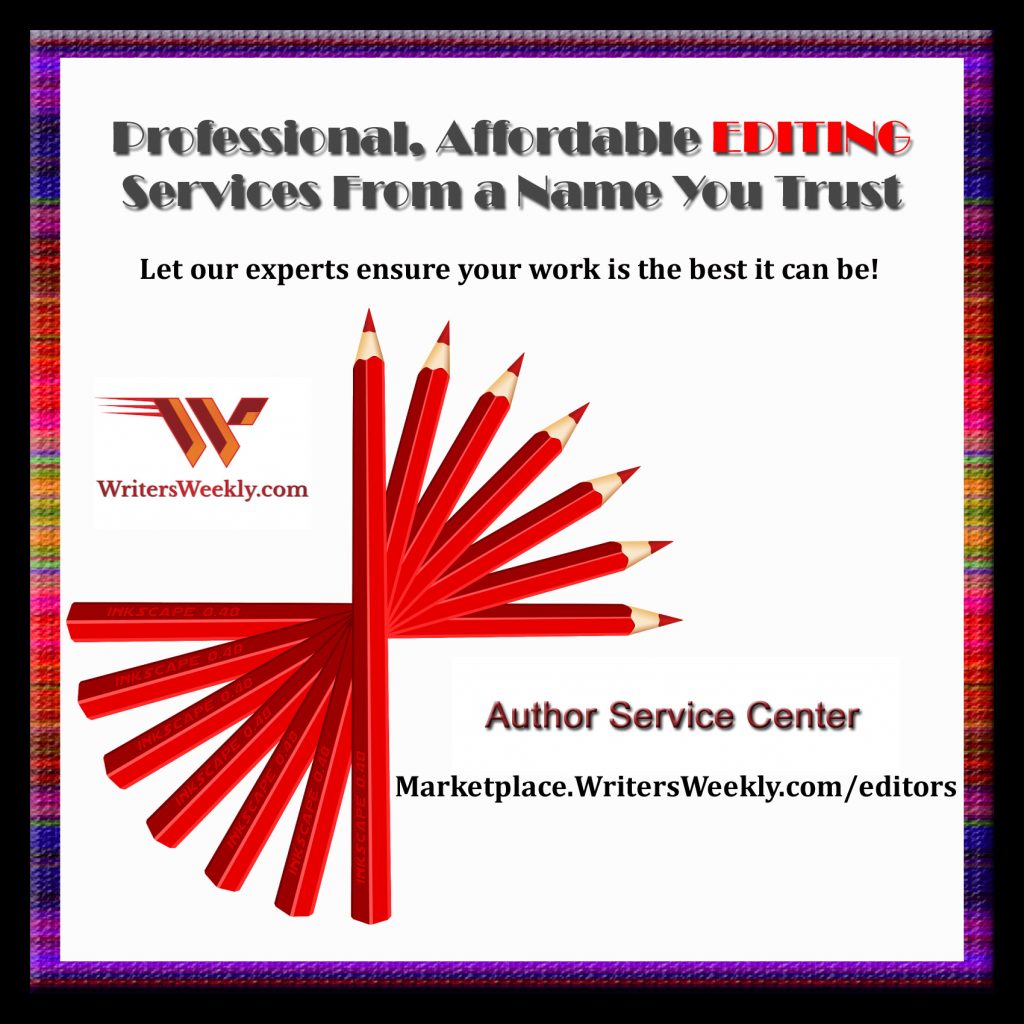 In The News ...
Star Wars to publish novels and comic books! Can you land that lucrative gig?; Can you defame someone with one text, sent to one individual?; Brits losing free speech?; Nicaragua paper can get paper and ink after criticizing government; Trump sues NYT, ABC suspends employee involved in expose' about ABC.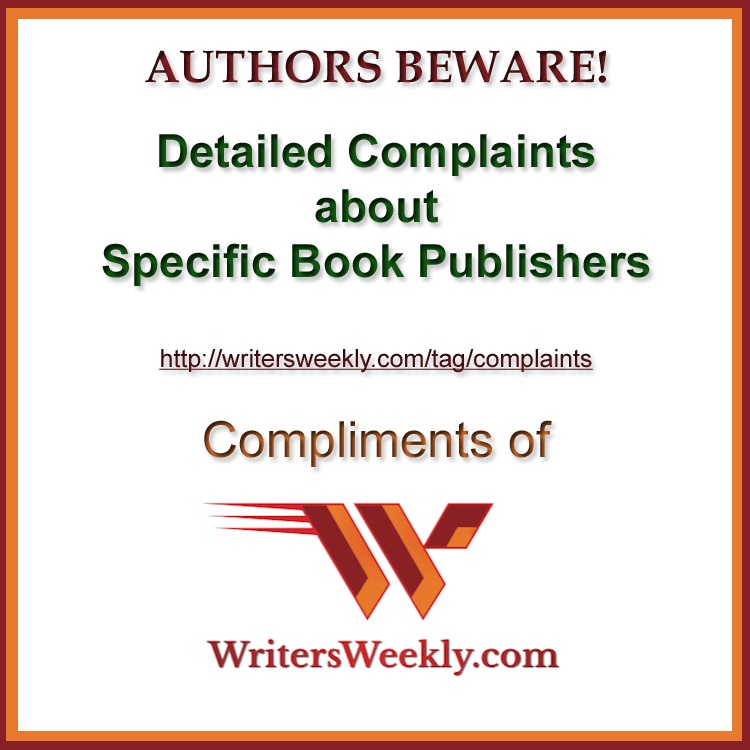 Paying Markets for Writers
"Weekly business journal serving Ventura, Santa Barbara, San Luis Obispo Counties in California." 10% freelance. Circ. 4K. Weekly. Pays 30 days after publication. Buys all rights. No reprints. Response time varies.


"My Gift Stop is an online shop offering luxury goods that's dedicated to giving back to society, donating 5% of every sale to the global medical relief nonprofit, Direct Relief. In a time where our schedules seem to become denser by the day, it is most common for things to slip our mind here and there - forgetting a gift is no different! This is where we come in! We made it our mission to offer you "present peace of mind!" last minute shopping on some of the world's most popular brands at heavily discounted prices. That's right, our online shop is the perfect shopping solution. Hence, we are looking for reputable contributors, like yourself, that can write great reviews, blog articles, gift guides, share contests, social media posts and more on your own websites, blogs and social media pages." Pays 7-10 days after publication. Usually publishes ms within 24 hours of acceptance. Guidelines by email.


"Monadnock Table is a guide to local food, farms and community of the Monadnock Region and the Connecticut River Valley of New Hampshire." Bi-monthly. Pays on publication. Publishes ms 3 months after acceptance. Buys first N.A. rights. Occasionally accepts reprints, depending on where the article first appeared. Responds in 1 week. Guidelines available by email.


Pays flat fee of $125 for features (1200 words); $75 for columns (600 words).
"Twice-monthly magazine in tabloid newspaper format that reports on issues of interest to workers, small businesses and family farmers and ranchers." 10% freelance. Welcomes new writers. Twice monthly. Pays at the end of the quarter in which the article was published. Publishes ms 2 weeks after acceptance. Buys one-time rights. Accepts reprints. Responds "right away." For a sample call 1-800-205-7067 or email populist@usa.net. Guidelines by email or by mail with SASE.


Ádám Gerencsér and Mariano Martín Rodríguez, co-editors. 80% freelance. "Sci Phi Journal explores the intersection of speculative philosophy, cosmological, anthropological and theological SFF through conceptual (idea- rather than character-driven) fiction and FNF (fictional non-fiction)." Welcomes new writers. Quarterly. Pays on publication. Publishes ms within 2 months of acceptance. Buys first digital publication rights. No reprints. Responds in 1-2 weeks.


Pays £0.03/word for fiction, £0.01/word for translations for up to 2K words.
"Neon Books is a UK-based independent publisher, producing a small-number of carefully-selected chapbooks, pamphlets and other ephemera each year. We lean towards literary and slipstream writing, with a preference for the magical realist and the extremely odd. Everything we publish is about something. We think that most art should be. We work with authors from anywhere in the world. Our most recent publication, Fears For the Near Future, is a highly-academic index of imagined future anxieties. Our catalogue also includes the award-winning novella The Mesmerist's Daughter by Heidi James, The Naming Of Cancer (a fourteen-poem chapbook by Scottish Book Trust Award-winning poet Tracey S Rosenberg), and A Week With Beijing by prolific author and academic Meg Eden. We also produce a number of free pamphlets."


Pays £8 - £12 per creator per issue.
NEED WRITERS, BLOGGERS, EDITORS, AUTHORS, OR OTHER CREATIVE FOLKS?? We'll post your ad on WritersWeekly FOR FREE. Please complete THIS FORM.
31 freelance jobs!
Freelance Digital Marketing Writers
Freelance U.S. Politics Staff Writer
The National Interest


Freelance Technology Staff Writer
The National Interest


Freelance Multimedia Copy Editor
Gannett Newspapers


Freelance Writer – Pays $60K-$80K/year
Freethink


Freelance Social Media Journalist/Creator
RT.com


Freelance SAT/ACT Math & Science Writers
PrepScholar


Freelance Legal Marketing Writer
BluShark Digital LLC


Freelance Academic Writer – Pays $12-$16/page
SimpleTense Education


Freelance Blog Writers
MLRP Media Group Inc.


Freelance Writer for Tattoo Design Ideas
NextLuxury


Freelance Network Intelligence, Maintenance Management, and Literature Writers
Point Visible


Freelance Fishkeeping/Aquarium Writer
Found First Marketing Inc.


Freelance Content Writer
One Firefly


Freelance UX Content Writer
Rational


Freelance Cannabis Writers
GrowMyHerbs


Freelance Evergreen Editor
Digital Trends


Freelance Web Content Editor
StudySync/BookheadEd Learning, LLC


Freelance Writer/Editor – Pays $18-$22/hour
Owner Rep Consulting


Freelance Writer
Setting Mind


Freelance Entertainment Writer – includes benefits
Freelance Data Literacy Writer
Complexly, LLC


Freelance Chemistry Writer
Complexly, LLC


Freelance Copywriter
Michael Saunders & Company


Freelance RFP Response Writer
Agiloft


Freelance Writer – Pays $20/hour
The Vacationeer


Freelance Music Production Blogger/Writer Contributor – Pays $50/article
Immersa Learning Networks


Freelance Contract Writer – Pays $60K/year
ClydeBank Media LLC


Freelance Content Creator – Pays $1,500/month
blind ad


Freelance Dog-Loving Writer
This Dog's Life


NEED WRITERS, BLOGGERS, EDITORS, AUTHORS, OR OTHER CREATIVE FOLKS?? We'll post your ad on WritersWeekly FOR FREE. Please complete

THIS FORM

.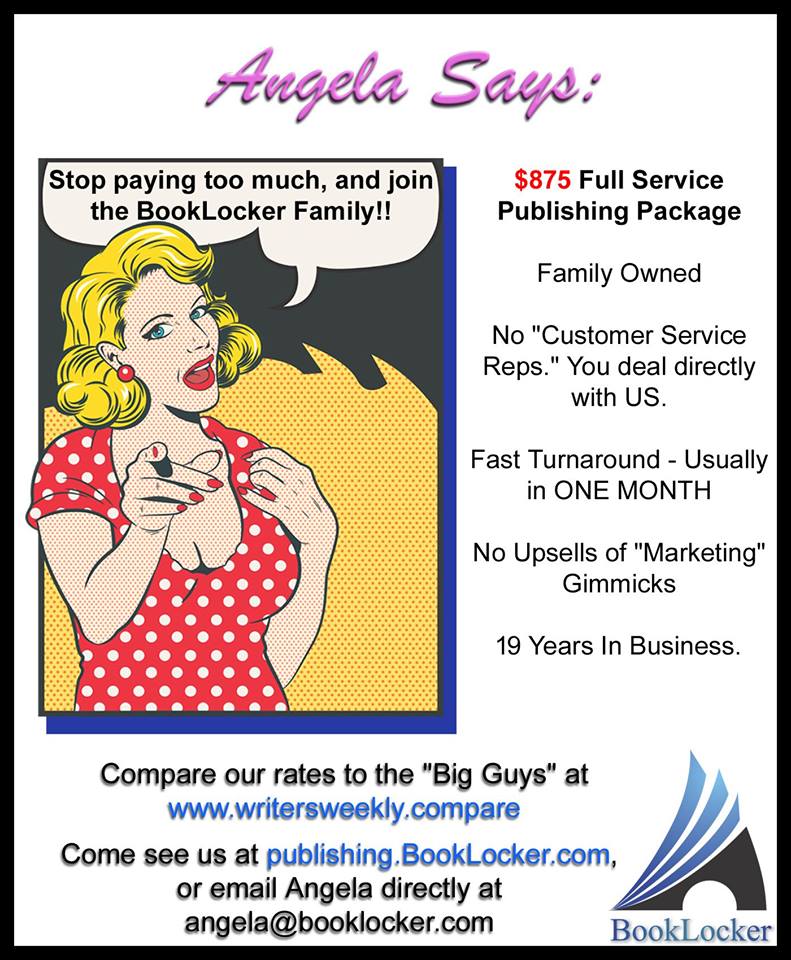 Marketing Secrets
While it is great to be able to write for magazines and websites, there is another category ALL freelancers should pursue: Private Clients