January 09, 2020
Contents
This Week's Backstories! How did these authors get the ideas for their books?
Paying Markets for Writers and Photographers for 01/09/20
1st Place: $300 + a book publishing package from BookLocker!
Only 500 entrants allowed so sign up today if you want to play!
Angela's Desk
CELEBRATING OUR 21st YEAR OF 24-HOUR SHORT STORY CONTESTS! THIS SATURDAY, January 11, 2020 at 12:00 p.m. (noon) Central Time, is start-time for the WritersWeekly.com Winter, 2020 24-Hour Short Story Contest! It's your last chance to sign up. What will the topic be??? See the link below for all past topics and winning stories. Only 500 participants are allowed per …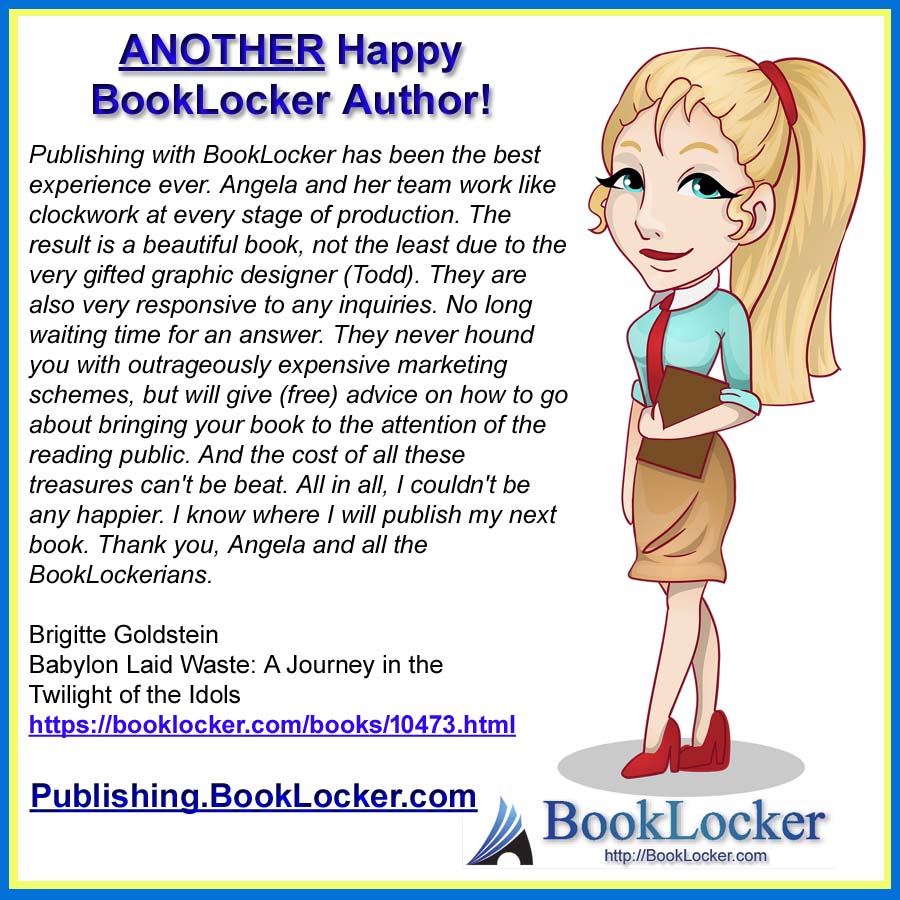 News From the Floating Home Office
A BookLocker author and I got into an interesting discussion about cars with sentimental value the other day. He said I reminded him of Chapter 69 in his book (that made me blink a couple of times). He went on to say that one character was promising to take good care of the vintage Cadillac he was buying from the …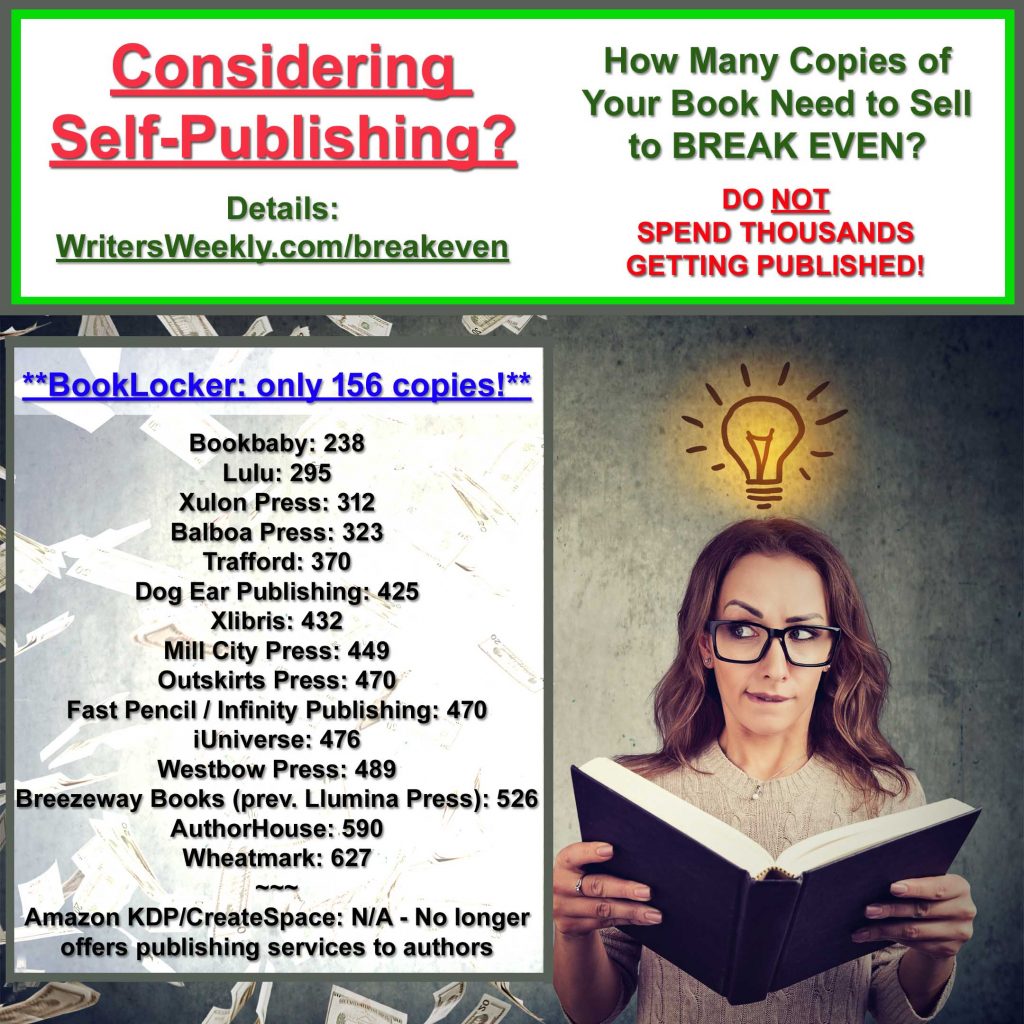 This Week's Backstories
I never had any intention of becoming an author or speaker. But somehow, the words and stories found me. It all started when I had some thoughts about giving that began bubbling up in me. With sheer terror coursing through my body, I presented my brief message to our church congregation and...
Twice in my life, anxiety caused by insomnia has become so bad that I could not cope without pharmaceutical help, and that was a truly frightening place to be. I wrote this book in the hope that it gives people lifestyle tools to use before it gets to that point where they can no longer handle it on their own...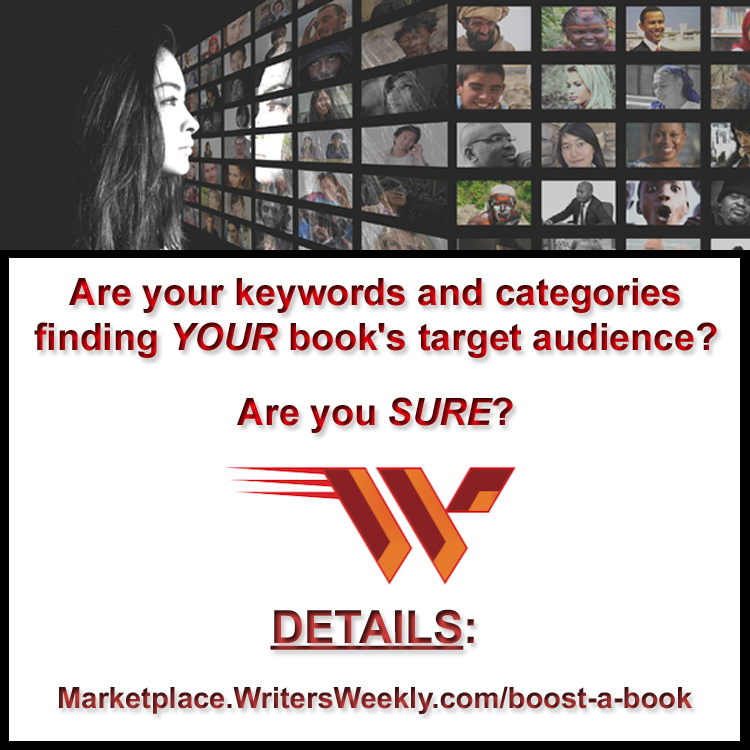 Feature Article
With the explosion of the Internet, and subsequent globalization of the market, writers have an overwhelming quantity of markets to approach!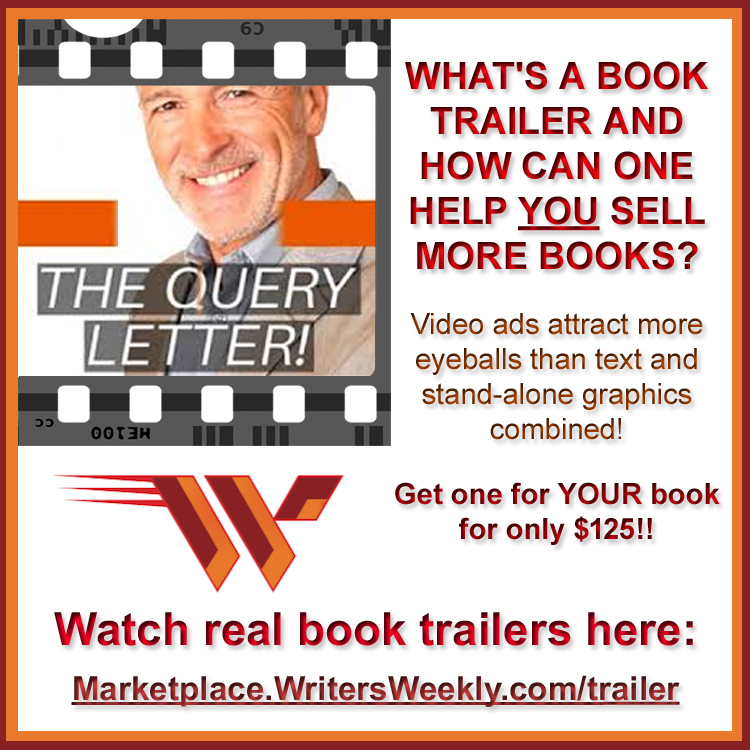 Ask the Expert
"I have scheduled a blog tour to promote my newest book. What's the best thing I can offer to people who haven't yet decided to buy my book..."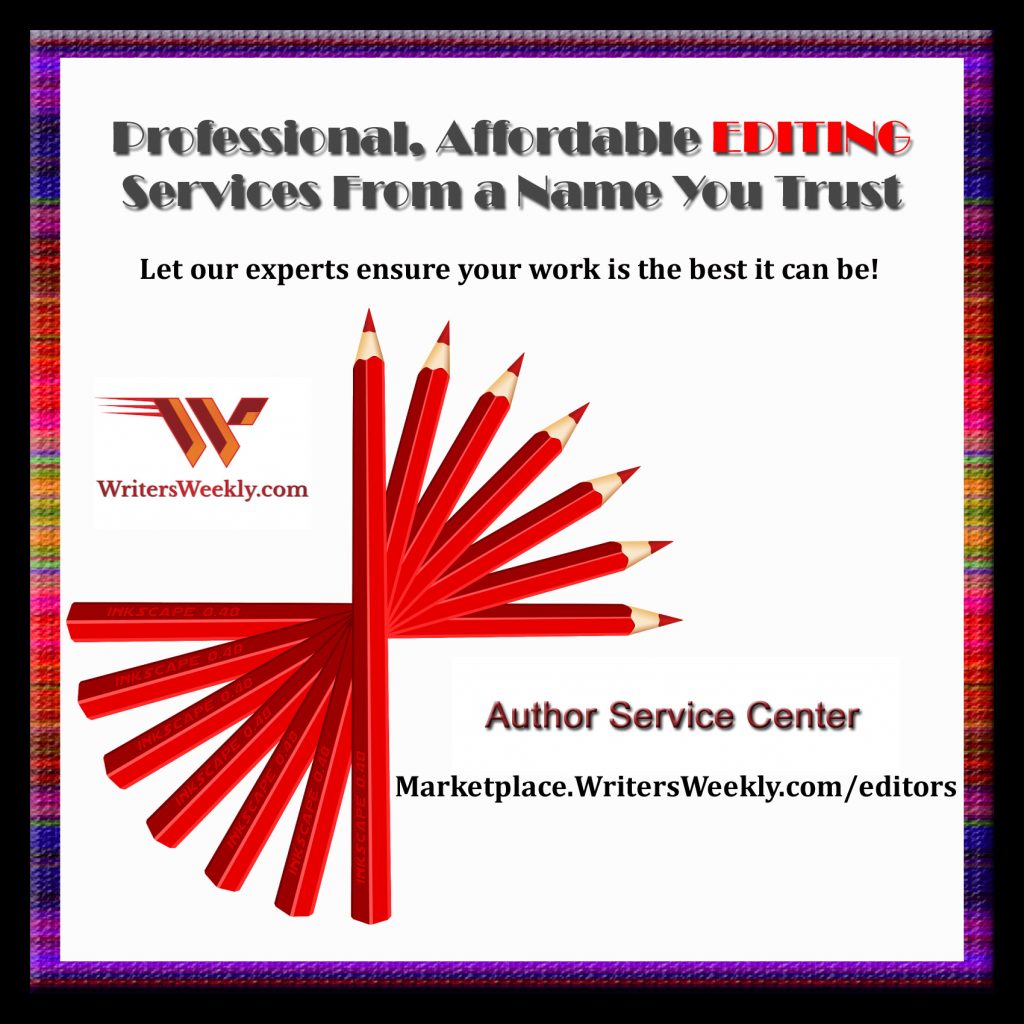 In The News ...
MORE: CNN settles with juvenile they harassed online; Employee fired after tweeting about bad holiday gift from employer, and Russia retracts more than 800 papers in "academic journals."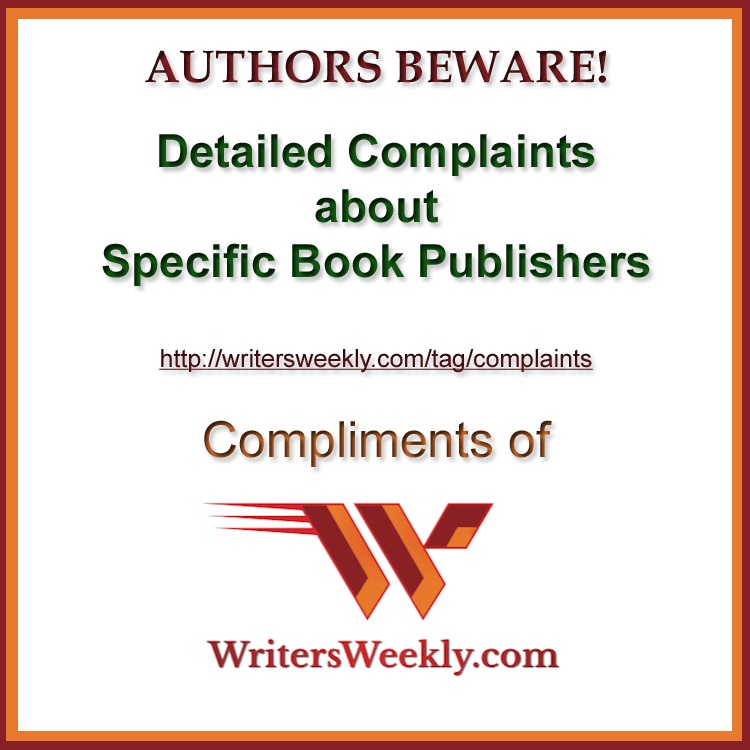 Paying Markets for Writers
"A regional lifestyle monthly publication located in lower-Westchester County covering education, wellness, parties and benefits, food and dining, real estate, theater, music, cultural events, style and beauty, area celebs, and more." Welcomes new writers. 40% freelance. Circ. 65K. Monthly. Pays on publication. Publishes ms 4-6 weeks after acceptance. Buys "First North American serial rights to the article, photograph, graphic illustration, or other work that freelancer submits to company, as well as the non-exclusive perpetual electronic rights in any existing or new formats, media or technology, whether edited or adapted, in whatever manner the work is displayed or accessed." Responds within one week.
Guidelines by email.


Pays $75-$1000 for 150-4000 words.
"Since our first anthology, Workers
Write! has become an important voice in working class literature. We are collecting the stories and poems about jobs that define who we are as individuals and communities." Welcomes new writers. Circ. 500. Annual. Pays on acceptance. Publishes ms 6-9 months after acceptance. Buys FNAS Rights. Accepts reprints. Responds within one week.


Pays flat fee of $25-$50/story up to 5,000 words (no minimum); $5-$20/poem.
"Since 1956, Westerly has been publishing lively fiction and poetry as well as intelligent articles. The magazine has always sought to provide a Western Australian-based voice, although its contributors and subject matter have never been geographically exclusive. It covers literature and culture throughout the world, but maintains a special emphasis on Australia, particularly Western Australia, and the Asian region." Welcomes new writers. Bi-annual. Pays on publication. Period between acceptance and publication varies. Buys non-exclusive rights (rights remain with each writer). No reprints. Responds within one to two days. "Writers can get a sample of our publication through our website: free download of online special issues, full digital archive."


Pays $180 to subscribers for stories ($135 + subscription for
non-subscribers); $180 to subscribers for essays ($135 + subscription
"Launched in March of 2000, Vestal Review is the world's oldest magazine dedicated exclusively to flash fiction." Welcomes new writers. Bi-annual. Pays on publication. Publishes ms 3-4 months after acceptance. Buys First N.A. serial rights. No reprints. Responds within 3 months.


Pays $25 flat fee for 10-500 words and $100 for the annual VERA award.
"A group of six travel offering travel inspiration and recommendations. As well as the main site, our specialist sites focus on honeymoons, singles holidays, family travel, short breaks and the USA." Works with new writers, "but they will typically be either experienced travel writers or enter through our internship program: (See website for details." Pays within 7 days of publication. Publishes ms approx. 7-14 days after acceptance. "We retain the right to publish the article on our website and third-party websites through syndication programmes. Copyright remains with the writer." No reprints. Response time varies.


NEED WRITERS, BLOGGERS, EDITORS, AUTHORS, OR OTHER CREATIVE FOLKS?? We'll post your ad on WritersWeekly FOR FREE. Please complete THIS FORM.
37 freelance jobs!
Freelance Retail Reporter
OTR Global


Freelance Feature/News Writer
Static Media


Freelance Script Editor
Static Media


Freelance Writers & Editors
METRO


Freelance Writers – Pays $20/post
Vivial Media LLC


Freelance Food Writers
Olive Oil Times


Freelance Content Copywriter and Blogger
FATJOE


Freelance Writer
CURTIS Digital


Freelance B2B Content Writer
Kalium


Freelance Writer – Pays $0.06/word
mOOnshot digital


Freelance Animal Rights News and Petitions Writer
Lady Freethinker


Freelance Travel Writer & Editor – Pays $20-$35/hour
Fairytrail


Freelance Copywriter
Family Publications Ltd


Freelance Content Writer
Outcrowd Group


Freelance Content Writer
Alliance Development Group (ADG)


Freelance Cannabis Writer – includes benefits
The Pen Is Mightier Content Creators, LLC


Junior Copywriter – includes benefits
Happy Grasshopper


Freelance Technical Writer
The Pen Is Mightier Content Creators, LLC


Freelance IJR Writer
Independent Journal Review


Content Writer & Social Media Manager – Pays $40K-$50K/year
ProNexis


Freelance Resume Writer
WisePoint Group, LLC


Freelance Technology and Business Journalists – includes benefits
Venture Public Relations


Freelance Content Writer – Pays $10-$20/hour
Content Campaigns


Freelance Copywriter – Pays $50-$70/article
Data Targeting, Inc.


Freelance Resume Writer
SoCalResumes


Freelance Disney Writer and Editor
Cambrick Yard


Freelance Copywriter – Pays $20-$24/hour
ZonGuru


Freelance Innovation Writer
Inverse


Freelance Marketing Copywriter
Krazy Coupon Lady


Freelance Copywriter
appear [here] (Yes, that's really the name of the company.)


Freelance Writer – Pays $150/article, needs 8 articles a month
Healthline.com


Freelance Consultant Copy Editor
UNDP


Freelance Video Game News Writer
Inverse/Bustle


Freelance Editor
The Daily Beast


Freelance Personal Finance Writer
First Quarter Finance


Freelance Proposal Writer
CyraCom International, Inc.


NEED WRITERS, BLOGGERS, EDITORS, AUTHORS, OR OTHER CREATIVE FOLKS?? We'll post your ad on WritersWeekly FOR FREE. Please complete

THIS FORM

.
Marketing Secrets
The return on investment after getting certified, or learning a new skill, can pay for itself over and over again in a number of different ways!