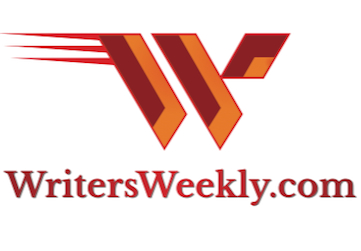 October17, 2019
Contents
This Week's Backstories! How did these authors get the ideas for their books?
Angela's Desk
I belong to a private discussion list comprised of publishers. We all share advice, as well as our frustrations about Amazon, of course. One exchange last week shared the fact that KDP (Amazon's print on demand publishing division) is having shipping delays of as long as three weeks. WHAT?!?!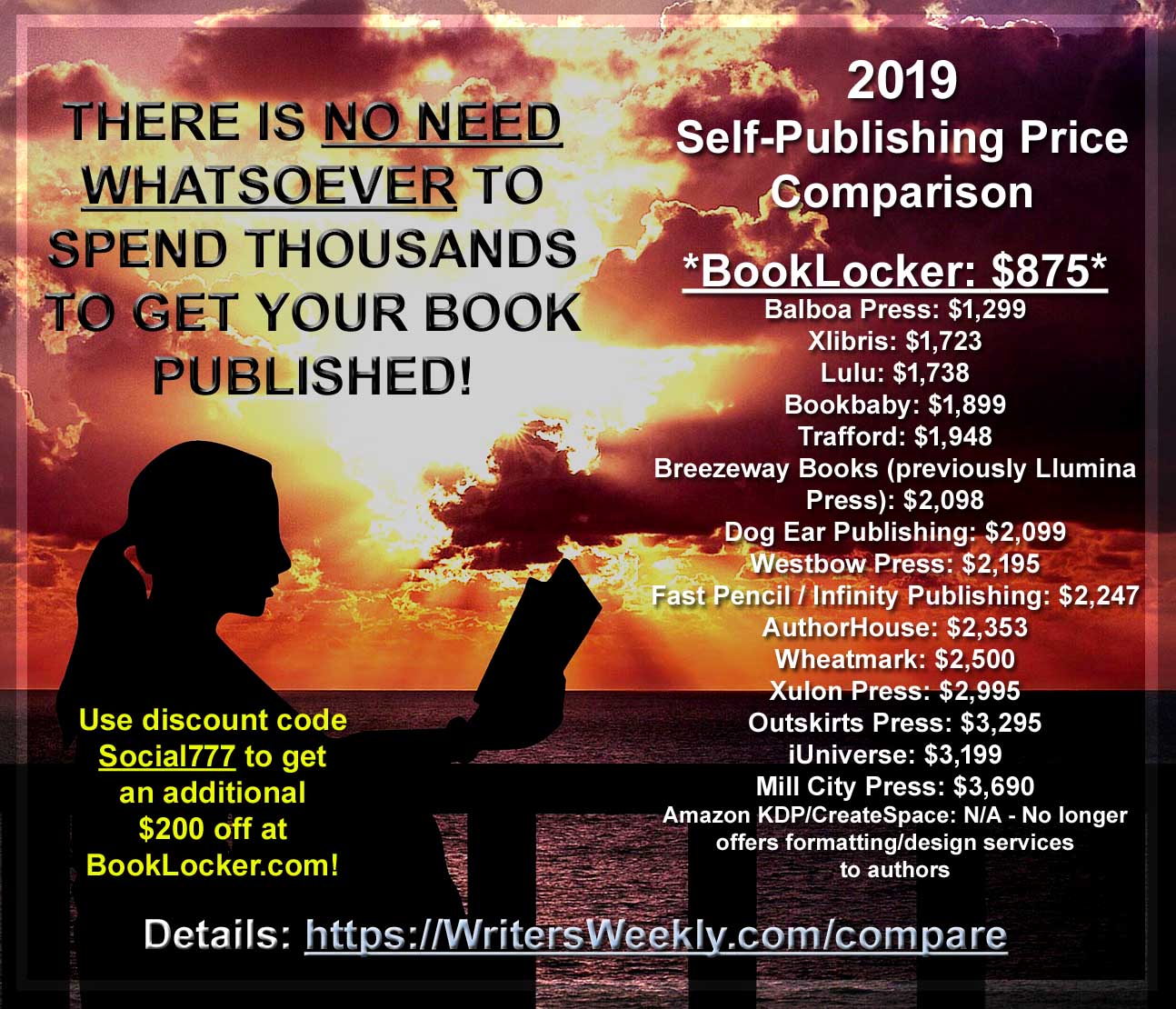 News From the Floating Home Office
I admit I've been avoiding Andrea since receiving this gift. I'm not sure whether I should make it into a necklace, or turn it into the cops...
(NEW COLUMN)

Marketing Secrets
After five successful books, and thousands of copies sold, I've embraced a few rules on how best to publicize and sell my work. Here they are...
I think I was an author beginning about age four but I never put anything down on paper until after retirement. I grew up in the country, which limited my number of friends and social activities. In fact, I only had one friend, Mickey. We were about the same age and our main difference was I had two legs while …
A seminary graduate receives his own "Revelation" during a dream and he shares what he discovered in this new book, Jesus Reveals Revelation.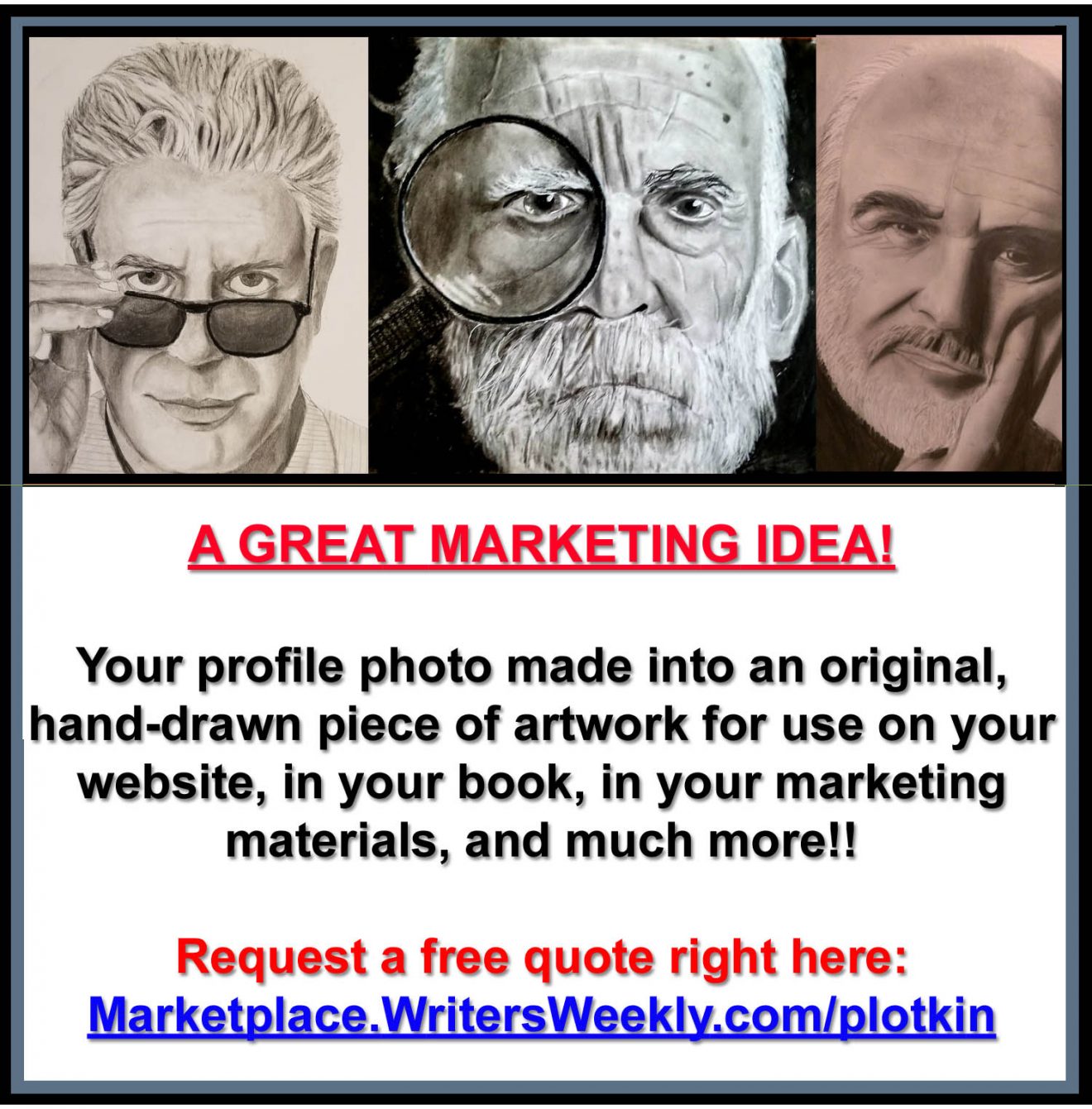 Feature Article
We genuinely care about our readers, and everyone who has helped BookLocker.com and WritersWeekly.com become successful all these years. We never want to be indirectly responsible for anyone suffering abuse at the hands of an editor...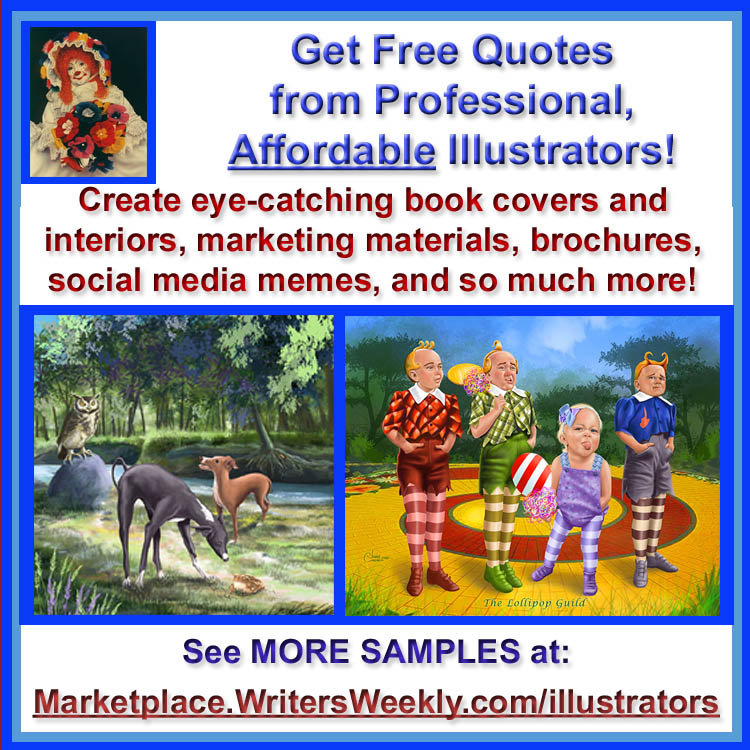 Ask the Expert
"My publisher charges $700 to design a professional cover. That's in addition to the $1500 they charged to publish my book. I wanted to avoid that expense to I found a cover designer on that cheap website, (name removed). The designer did a fantastic job. It looks GREAT! I uploaded it to my publisher and they rejected it for several reasons I don't understand..."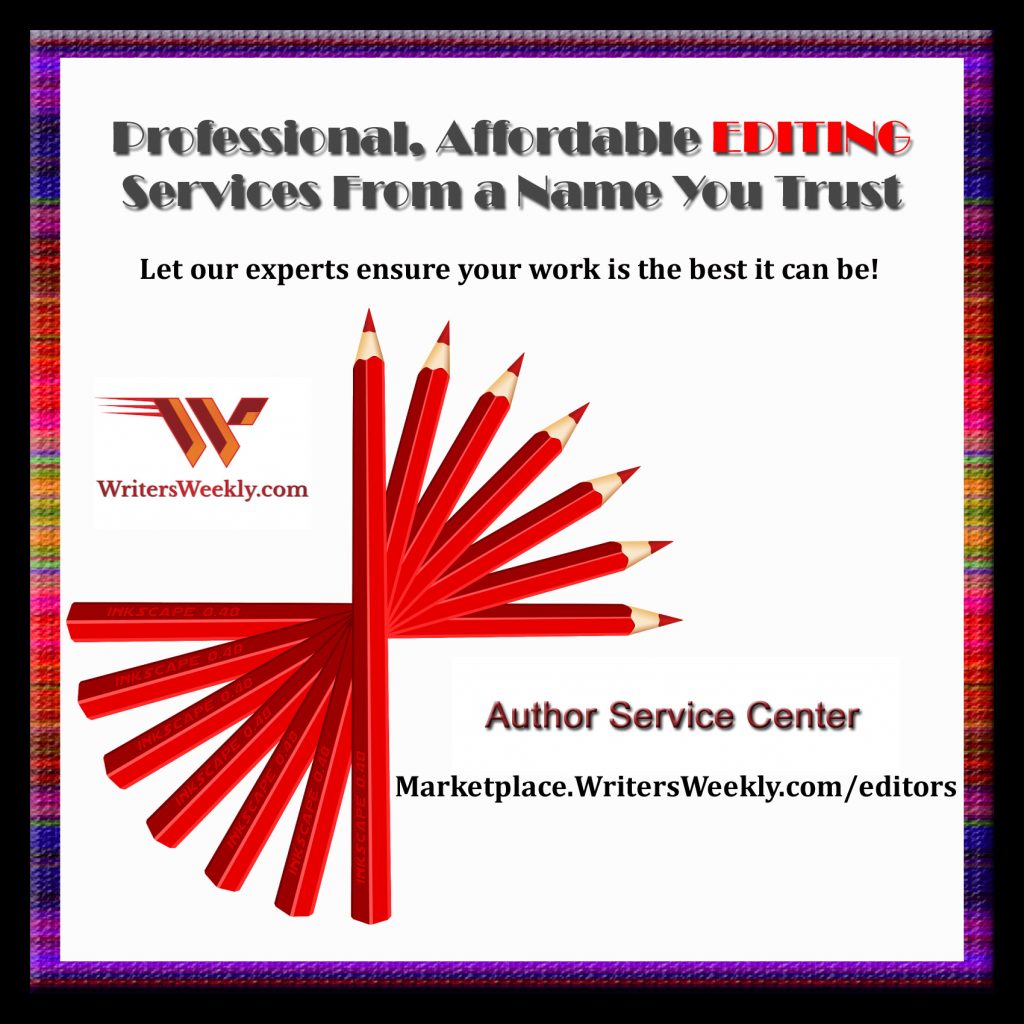 In The News ...
MORE! Firm is researching old books to determine when "the good old days" really were; New CA law may result in freelancers becoming employees...or may result in them losing valuable work; Author loses copyright infringement lawsuit; Woman sues city after losing job over Facebook posts; President of medical associated under investigation for plagiarism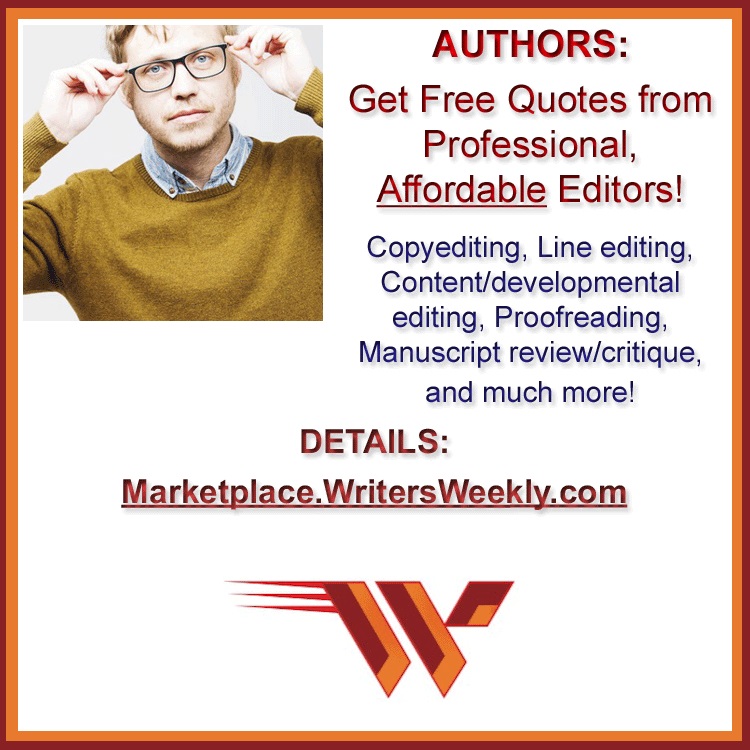 Paying Markets for Writers
J&M Global Solutions. CURRENT NEEDS: "J&M Global Solutions LLC (J&M) is looking for a part-time consultant to support our team with technical writing, editing, and formatting...


Cheat, Cheated, Cheaters. "I am a couple's therapist working on an anthology about infidelity." Buys all rights. No reprints. Responds within 72 hours. CURRENT NEEDS: "Short personal essays."


Pays $5 on acceptance + $10 when published (total of $15).
"Alaska Business Monthly's goal is to provide thorough and objective analysis of the issues and trends affecting Alaska's businesses, and to feature stories on the individuals, organizations, and companies that shape the Alaska Economy. Alaska Business Monthly explores the Alaska economy with a statewide and regional approach to business coverage." 80% freelance. Welcomes published authors from Alaska. Circ. 12-15K. Monthly. Pays month of publication. Buys all rights. Responds promptly to queries. Read archived issues and the "Current Issue" postings on website.


Pays $100-$500 for 500-2,500 words.
"A reader's travel magazine about Oregon." 50% freelance. Welcomes new writers. Bimonthly. Pays on publication. Period between acceptance and publication varies. Buys N.A. rights for one year. Response time varies.


"The Antioch Review, founded in 1941, is one of the oldest, continuously publishing literary magazines in America. We publish fiction, essays, and poetry from both emerging as well as established authors. Authors published in our pages are consistently included in Best American anthologies and Pushcart prizes. Finalist for National Magazine Award for essays in 2009 and 2011 and for fiction in 2010. We continue to serve our readers and our authors and to encourage others to publish the "best words in the best order." Welcomes new writers. Circ. 3K. Quarterly. Pays on publication. Publishes ms within six months. Buys all rights. Responds in 4-6 months.


Pays $20 per published page. "We don't publish pieces longer than 8000 words."
"The Ashtray Blog provides vaping and THR news, ecigarette guides, humour and special offers." Welcomes new writers. Circ. 50K. Weekly. Pays on publication. Publishes ms in 1-4 weeks after acceptance. Buys online and hard copy rights.


100% freelance. "Established in 1974 by graduate students in the University of Alabama MFA Program in Creative Writing, Black Warrior Review publishes fiction, nonfiction, poetry, comics, and art twice a year. Contributors include Pulitzer Prize and National Book Award winners alongside emerging writers. Work appearing in BWR has been reprinted in the Pushcart Prize series, Best American Short Stories, Best American Poetry, PEN/Robert J. Dau Short Story Prize, New Stories from the South, and other anthologies. The journal received a Whiting Literary Magazine Prize in 2019." Welcomes new writers.


$50-$500/article, depending on length
"Brew Your Own is the how-to homebrew beer magazine." Welcomes new writers. 85% freelance. Circ. 96,800. Publishes 8 issues/year. Pays on publication. Publishes ms 3-6 months after acceptance. Buys all rights.


Pays $25-$200 for 1000-2500 words
NEED WRITERS, BLOGGERS, EDITORS, AUTHORS, OR OTHER CREATIVE FOLKS?? We'll post your ad on WritersWeekly FOR FREE. Please complete THIS FORM.
30 freelance jobs!
Freelance Arkansas/Alabama Public Records Reporter – Pays $250/month
MuckRock


Freelance Content Strategist – Pays $65K/year
Inside.com


Freelance Associate Editor – Pays $33K-$35K/year
Baltimore Fishbowl


Freelance Roving/Relief Editor – includes benefits
Patch Media


Freelance Copywriter
The Sacred Science


Freelance Managing Editor
Contently


Freelance International Hemp Reporter
Marijuana Business Daily


Freelance Newsletter Writer
Price Benowitz


Freelance Real Estate Lesson Writer
Study.com


Freelance Finance Lesson Writer
Study.com


Freelance Digital Creative Copywriter – Pays $20/hour
blind ad


Freelance Editorial Associate
KWF Editorial


Freelance Automotive Product Writer
Auto Media Planet


Freelance Writer For Crafts Site
Found First Marketing Inc.


Freelance Sports News Writer – Pays $400/week
Generation Iron Fitness Network


Freelance Content Writer
Design Everest


Freelance Content Writer/Editor
Happen To Your Career


Freelance Marketing Copywriter
Coalmarch


Freelance Project Editor – Pays $20/hour
Global Treks and Adventures


Freelance Social Media Instagram Content Creator – Pays $20-$30/hour
AMR Digital Marketing


Freelance B2B Writer/Content Creator
DESIGNalytics


Freelance MedTech/Healthcare Sales Writer
RevenueZen


Freelance Aerospace/Aviation News Writer
Aero-News Network


Freelance Educational Writer for Middle School Science
AsylumText


Freelance Math Video Manuscript Writer
QBS Learning


Freelance Blog and Social Media Writer – Pays $10-$15/hour
Stay Balanced Travel


Freelance Editorial Associate
Longneck & Thunderfoot


Freelance Coffee Bloggers – Pays $20K-$60K/year
Ushta Te Consulting


Freelance Writer & Researcher – Pays $250-$350/project
WISECRACK/Omnia Media, Inc.


Freelance Transcriptionist – Pays $60/recorded hour
Home Row, Inc.


NEED WRITERS, BLOGGERS, EDITORS, AUTHORS, OR OTHER CREATIVE FOLKS?? We'll post your ad on WritersWeekly FOR FREE. Please complete

THIS FORM

.
Get QUALITY content for your blog, free up some time for yourself, and expand your reach by paying writers for their contributions!