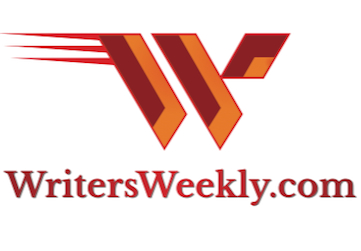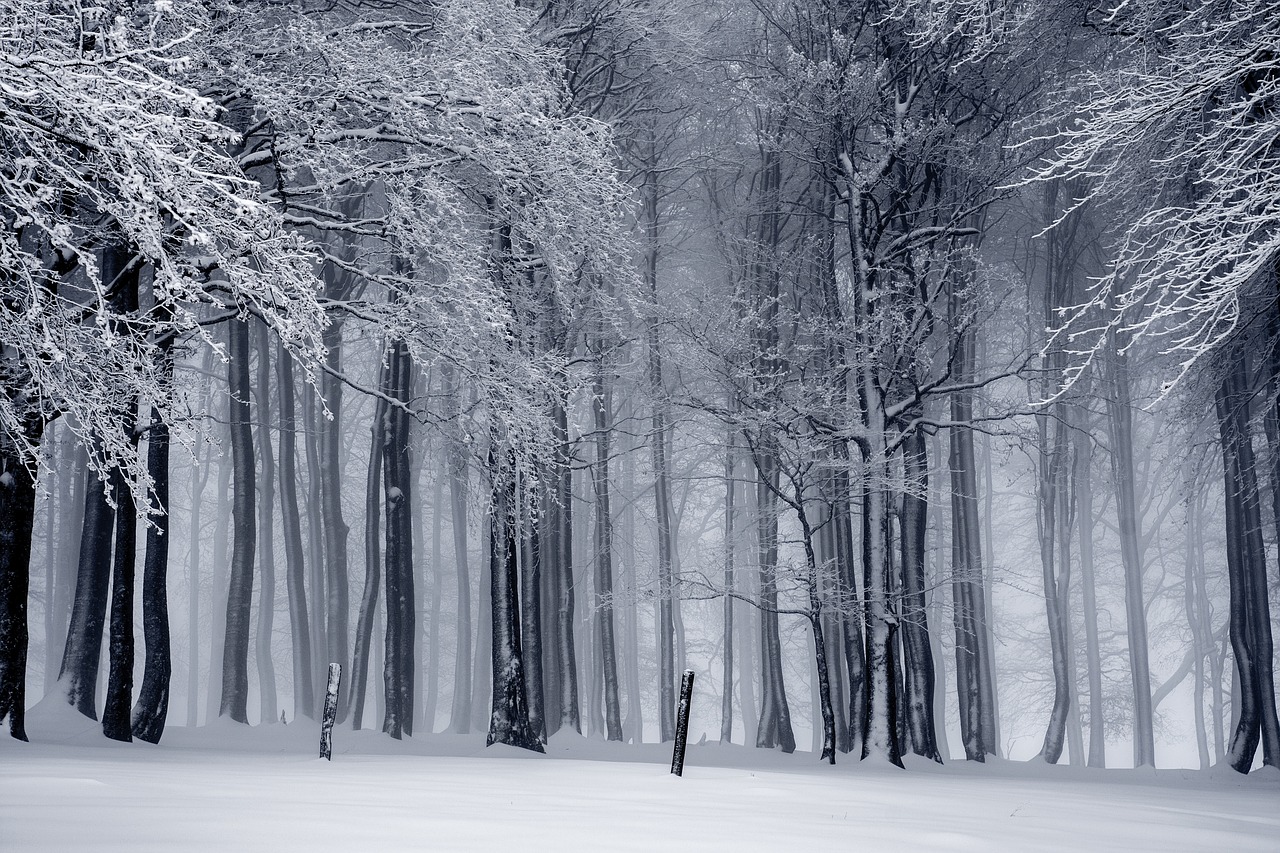 November 29, 2019
Contents
This Week's Backstories! How did these authors get the ideas for their books?
Paying Markets for Writers and Photographers for 11/21/19
Angela's Desk
Save $276 off BookLocker's already low price and be holding your book in your hands in less than a month!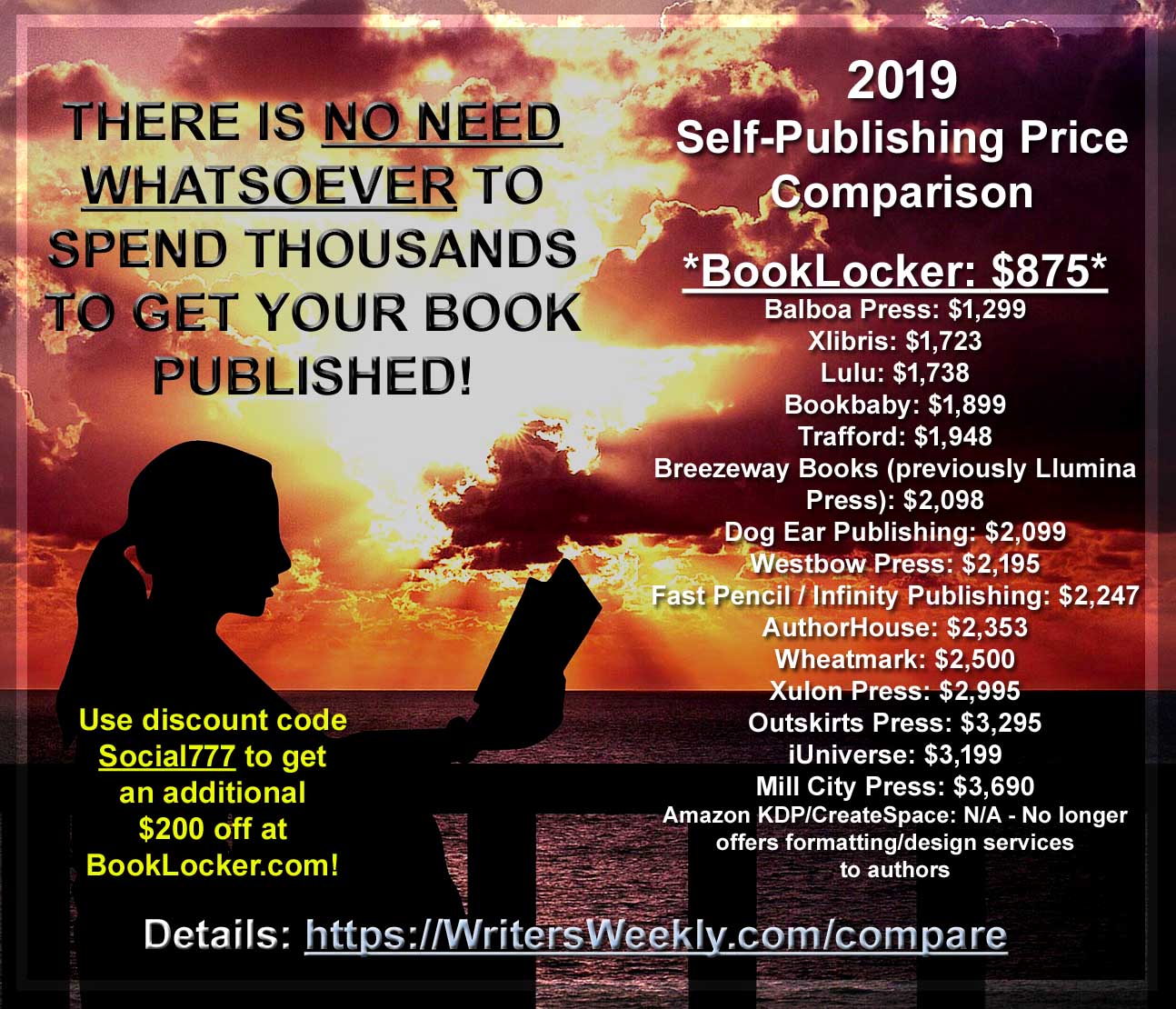 News From the Floating Home Office
Police were there and one woman was shouting...
The consistent manifestation of hope, scribbled across those abandoned pieces of paper on which the ink now weeps, afforded a valuable glimpse into the Italian sentiment during this horrific period. I deemed all this information to not be coincidence, but rather a sign that I was meant to continue with my novel...
Decade passed between this author's first rejection from Seventeen Magazine...and her published book. But, she never gave up on her dream of writing!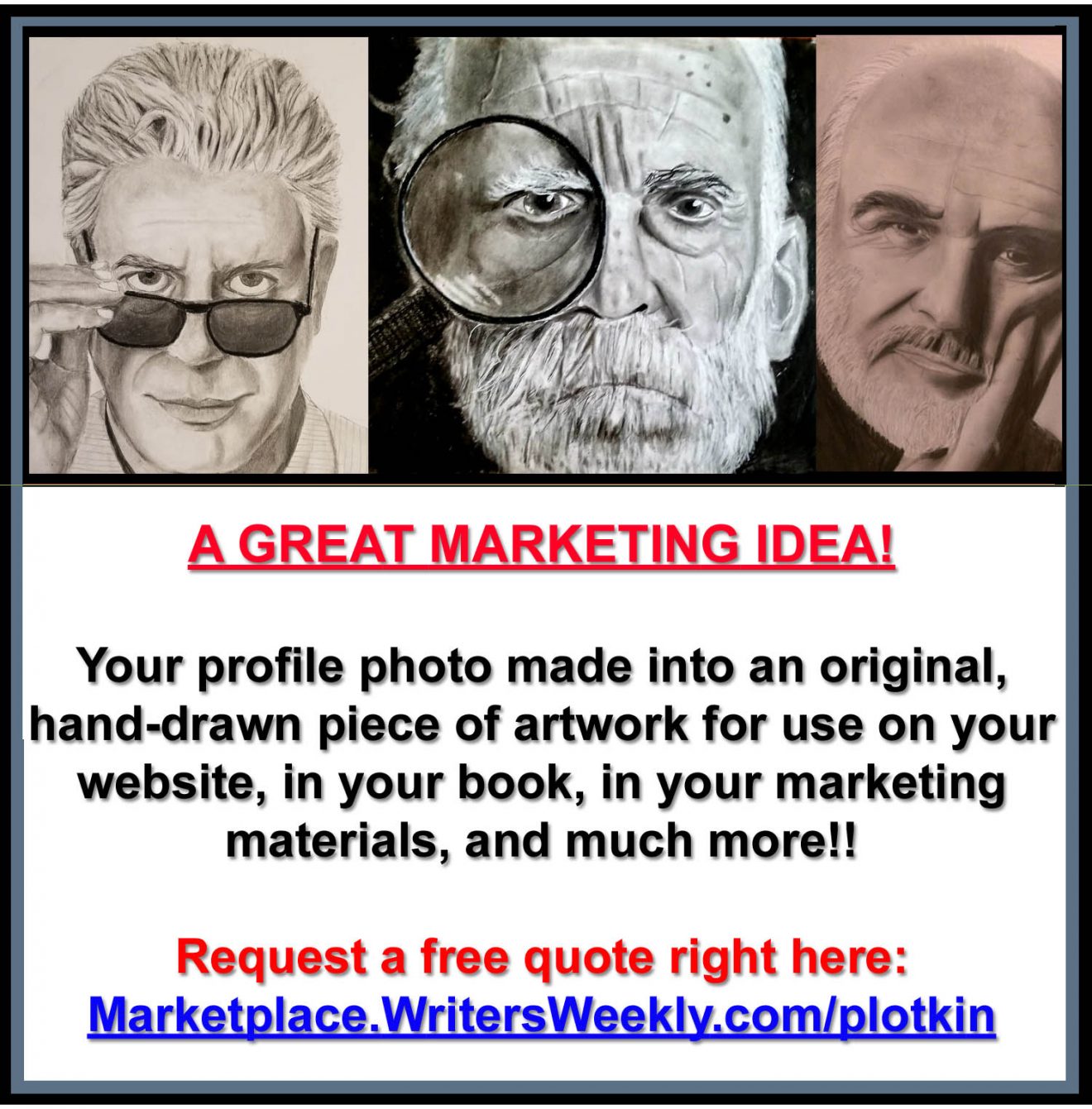 Feature Article
Do you ever feel like you're working at a frantic pace just putting out fires, and not actually getting anything accomplished? I used to feel like that, too!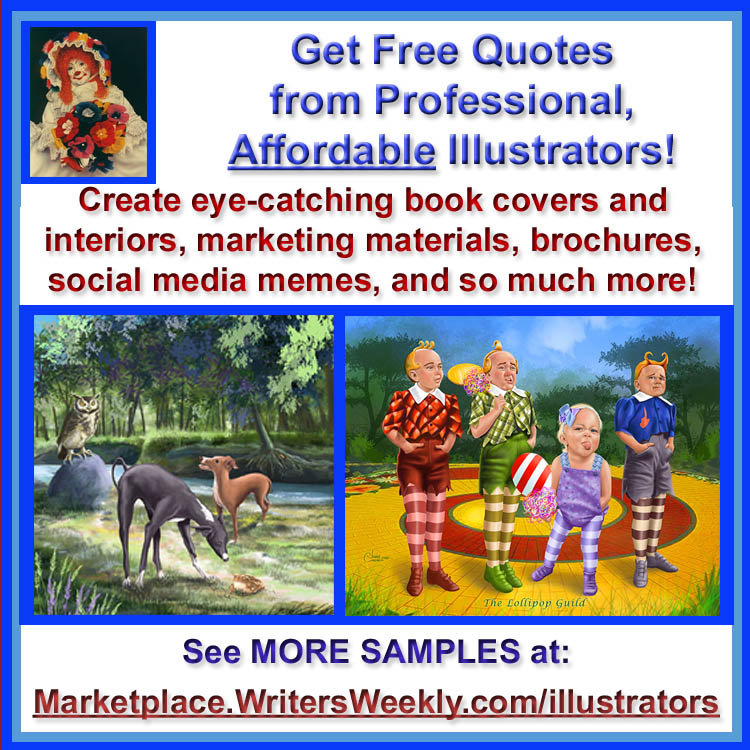 Ask the Expert
"I just published a new book and (this is embarrassing) I haven't told anyone in my family about it. I'm too nervous! What if my siblings make fun of me? Yes, they are those types of people..."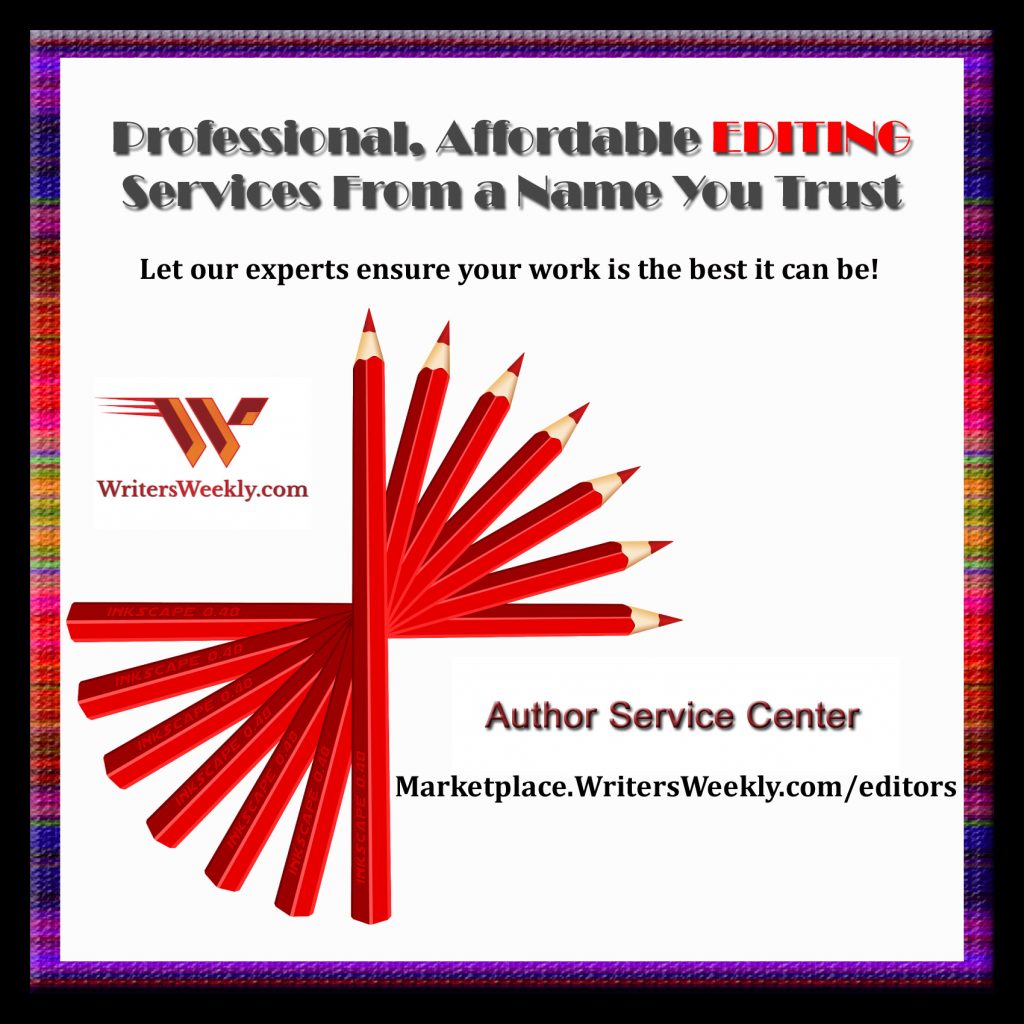 In The News ...
Amazon Injuries Double National Average (and, in some facilities, even higher!); Anti-Amazon Coalition; One Amazon Worker Dead; Amazon Delivery Drivers Who Didn't Pass Background Checks Have Access to Residential Access Codes? .... And Much More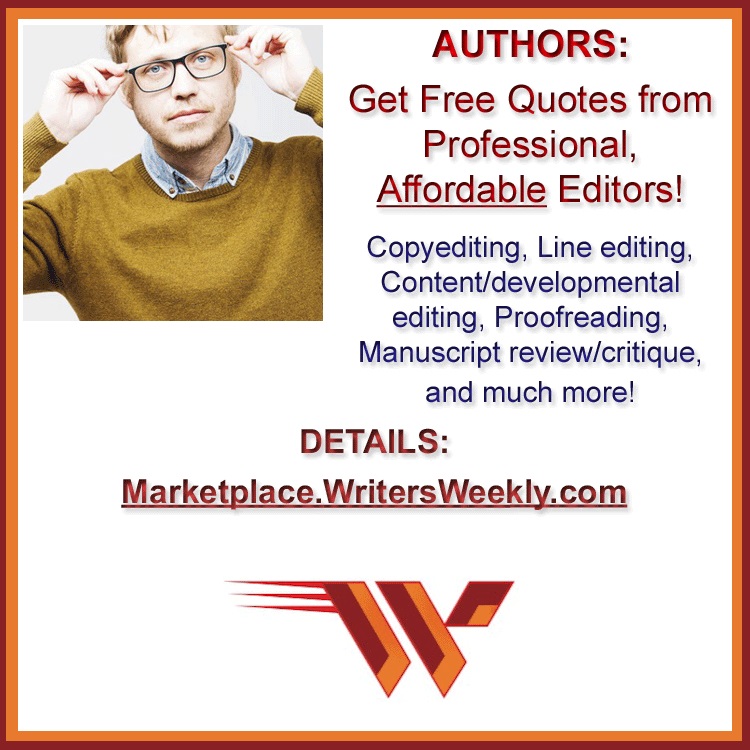 Paying Markets for Writers
"New Letters is an international quarterly magazine featuring fiction, essays, poetry, reviews, and interviews with writers and original art, published by the University of Missouri at Kansas City." Welcomes new writers. 90% freelance. Quarterly. Pays on publication. Publishes ms 3-9 months after acceptance. Buys First NA rights. No reprints. Responds in 3-6 months.


Pays $15 to $35 per poem; $35 book reviews; $65 to $200 short stories.
100% freelance. "GreenPrints is the "Weeder's Digest." We share the personal side of gardening, not the how-to: the heart, the humor, the inspiration, the significance, the healing, the warmth—through true stories of people's experiences." Welcomes new writers. Circ. 10K. Quarterly. Pays on acceptance. Buys First NA Serial rights. Accepts reprints. Responds quarterly in Feb., May, Aug., and Nov.


"Founded in 1913 by the Redemptorists Liguorian conveys a consistent joyful message of God's plentiful redemption. In its tone and selection of material, it communicates a timely pastoral message to Catholics on matters of the faith, practices, Christian living, and social justice. While not championing positions contrary to core Church belief, Liguorian exposes its readers to the best elements of Catholic spirituality and traditions to help them navigate the contemporary world assisted by their faith." 25-30% freelance. Welcomes new writers.


Pays $0.14-$0.20/word for 1200-2000 words.
"Mystery Weekly Magazine presents crime and mystery short stories by some of the world's best established and emerging mystery writers. The original stories we select for each issue run the gamut from cozy to hardboiled fiction. Available in print on Amazon and on Kindle Newsstand with a 30 day trial. 100% freelance. Welcomes new writers. Monthly. Pays on acceptance. Publishes ms 1-2 months after acceptance.


Pays $0.01/word for 2500-7500 words.
"Lake Superior Magazine covers the watershed and extended neighborhood of Lake Superior - including the shores of Minnesota, Wisconsin, Michigan and Ontario. All stories must have a regional focus. We are more in the style of the old Look and Life magazines, with solid journalism as well as lifestyle stories and fantastic photography (for which we are noted)." Welcomes new writers. 50% freelance. Circ. 20K. Bimonthly. Pays on publication. Publishes ms 2-12 months after acceptance. Buys first NA rights. Accepts some reprints. Responds within 3-6 months.


Pays $100-$400 for 600-2500 words.
"International Living has been helping people discover the world's best places to live, travel and retire since 1979. We know from experience that there are a host of places around the world that are heaper...healthier...safer...freer...to live and retire in. In our monthly publication, International Living magazine, we share with our readers details of the those overseas destinations where they can improve their quality of life, lower their cost of living, and make money while living overseas. Discover everything from adventures in Panama to the best buys on the South of France property market...from how to open a bank account in your new country of residence to how to get the best deal on your next airfare...from the world's best beachfront property bargains to the most reliable local attorneys to help you buy your new dream home...from island-hopping adventures in the Mediterranean to the best summer fiestas in Mexico." Welcomes new writers. Pays on publication. Publishes approximately two months after acceptance.


NEED WRITERS, BLOGGERS, EDITORS, AUTHORS, OR OTHER CREATIVE FOLKS?? We'll post your ad on WritersWeekly FOR FREE. Please complete THIS FORM.
24 freelance jobs!
Freelance Digital Journalist
Compass Media Limited


Freelance Reporters – dogs (the content, not the writers!)
The Canine Review


Freelance Health Content Fact Checker
.dash


Senior National Coordinator Of Communications And Media – location is "geo-flexible"
Teach Plus


Freelance Personal Finance and Investing Content Fact Checker
.dash


Freelance Newsletter Writer – Pays $45K-$60K/year
Inside.com


Freelance Writer – Pays $50 each for blog posts, articles, and web content
Intl. Association of Professional Writers & Editors


Freelance Digital Copywriter
marketing website


Freelance Insurance SEO Writers – Pays $15-$30/hour
website on the US insurance industry


Freelance Legal Writer
BlueShark Digital LLC


Freelance Health & Nutrition Writer
mindbodygreen


Freelance Script Writer
mindbodygreen


Freelance Editor – hourly work
digidom


Freelance Writer – craft website
Makers Nook


Freelance Relationship and Online Dating Experts
LoveJournal


Freelance Writers – investments and trading
Paradox Marketing


Freelance Technical Writers
HotGhostWriter Ltd.


Freelance Nutrition Article Writers
Crazy Fox Creations


Freelance Medical Writers
Crimson Interactive


Freelance Legal Writer
Lighty Communications Group


Freelance B2B Copywriter
Freeport Metrics


Freelance Health Editor
mindbodygreen


Freelance News Editor
Insider Inc


NEED WRITERS, BLOGGERS, EDITORS, AUTHORS, OR OTHER CREATIVE FOLKS?? We'll post your ad on WritersWeekly FOR FREE. Please complete

THIS FORM

.
Marketing Secrets
The 3 Do's and 1 Don't of craft fair bookselling!