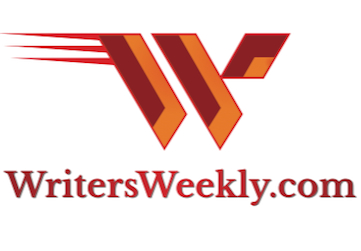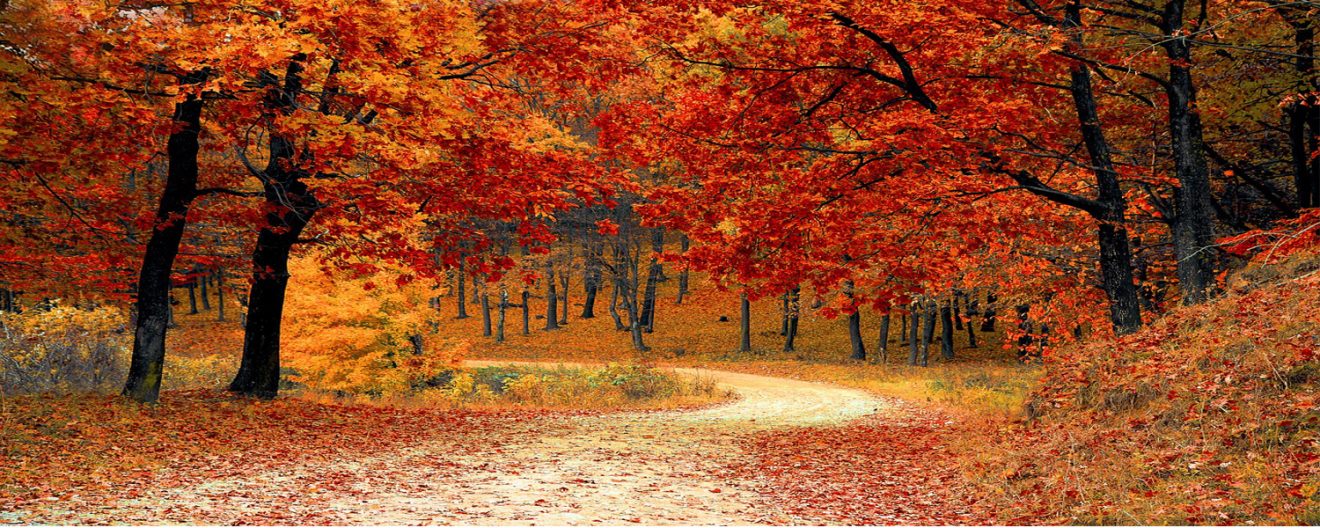 November 08, 2019
Contents
This Week's Backstories! How did these authors get the ideas for their books?
Oh, yes! We know you're excited!! Today, we're going to share another installment of our popular column. Get ready to chuckle!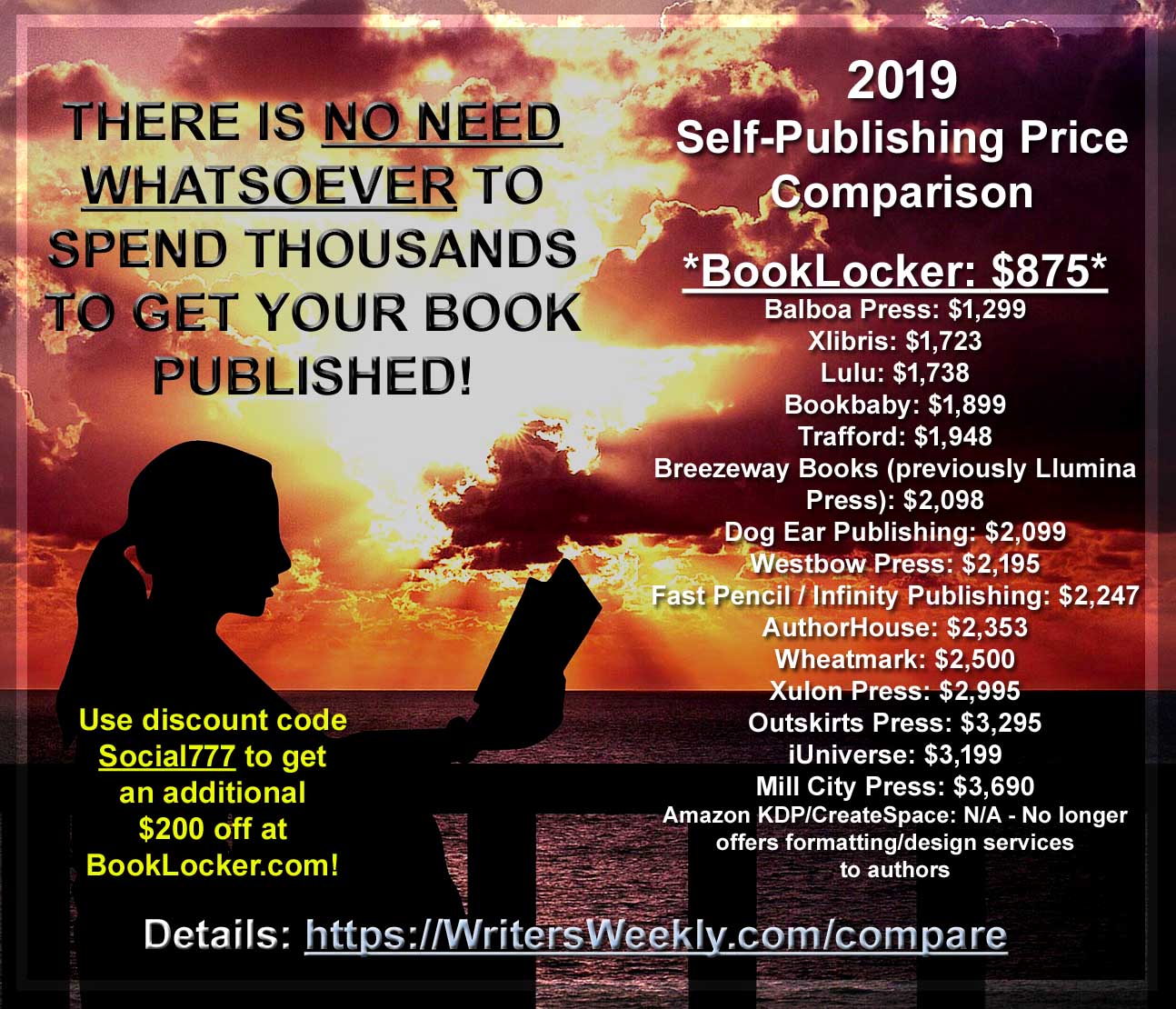 News From the Floating Home Office
I opened the door, and whined to our Managing Editor, "Briiiiiiian! The toilet is broken AGAIN!"


After a slew of profanity punctuated the atmosphere of the floating home office, Brian came up behind me to look.


I said, "I think it was a cotton ball."


He replied, "A cotton ball?! Why were you wiping with a COTTON BALL?!"
My book, The DNA of Jesus Christ, came about in Fredricksburg, VA. Some congressmen, key people in Washington D.C., along with my wife and I had met for a weekend of prayer when a congressman asked me, "Sonny, what happened when Adam and Eve ate the apple in the Garden of Eden? First of all, my mind went to the …
When I asked my spiritual guides about my soul's purpose for this incarnation, they answered: Writer, healer, teacher. Well, healing and teaching I did but, except for in my journals, I didn't write!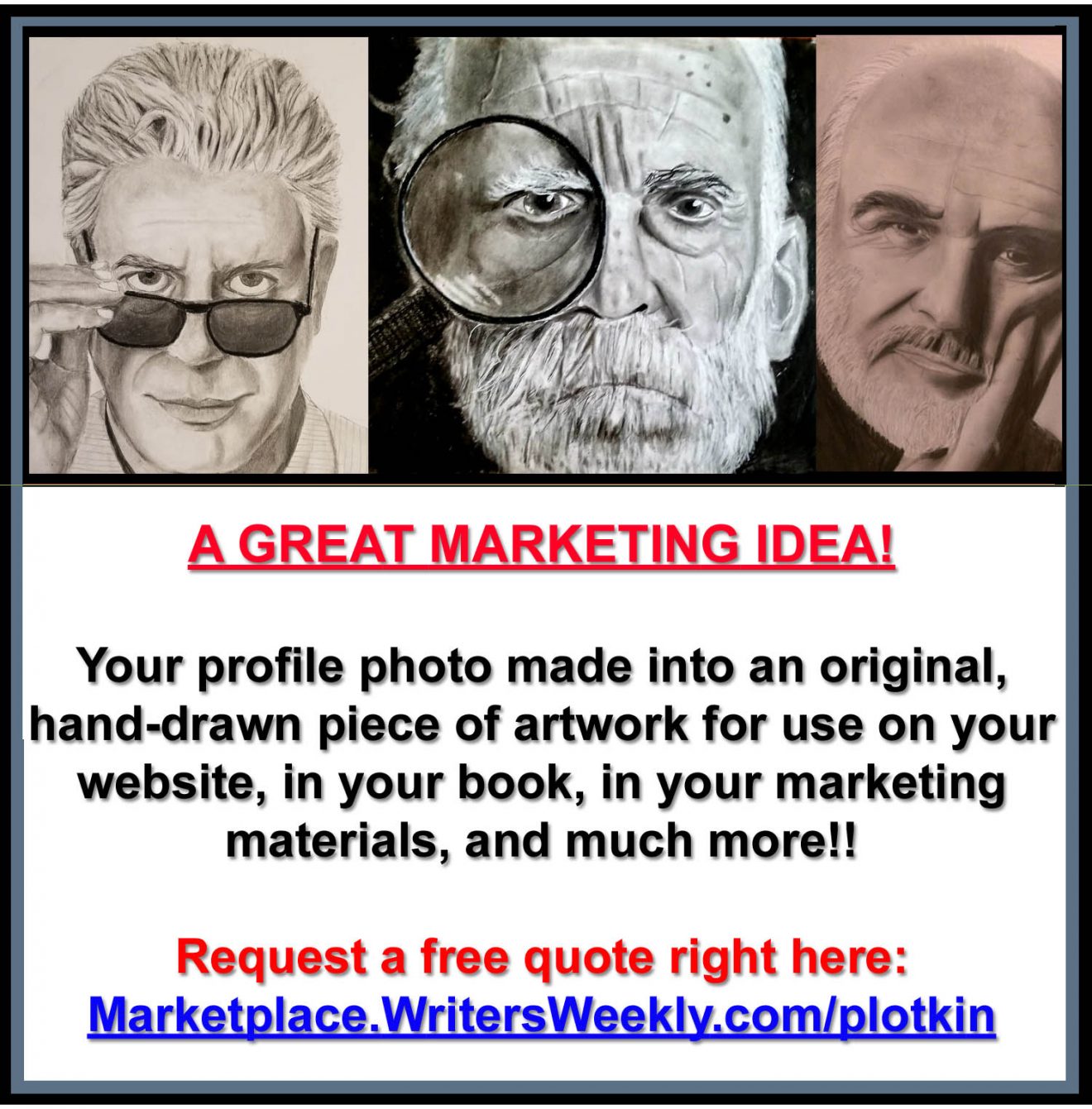 Feature Article
Did you know there are more Spanish speaking folks around the globe than English speakers? And, they buy books, too!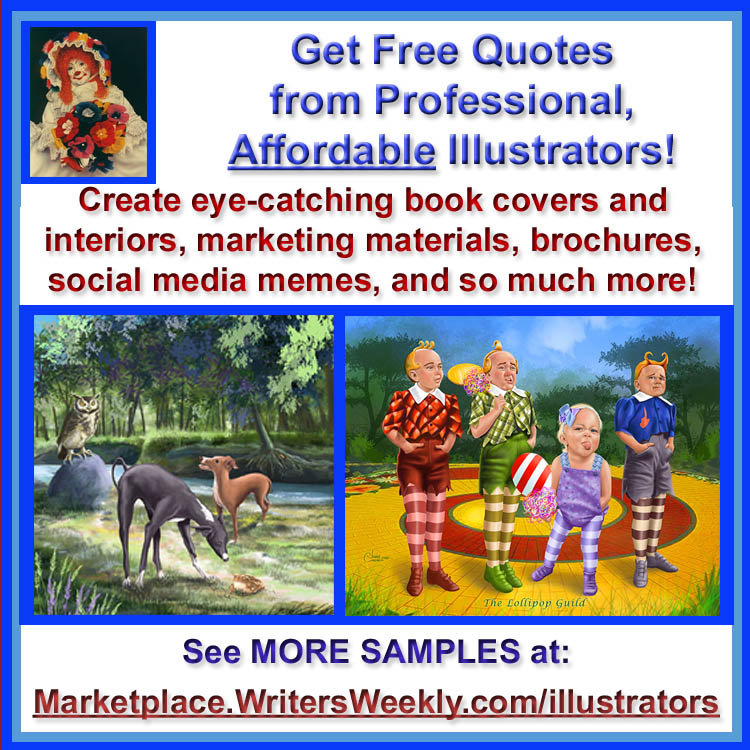 Ask the Expert
"I'm getting a lot emails from book promotion sites. Are these legitimate sites? Do they really help sell books? Are they worth the money?"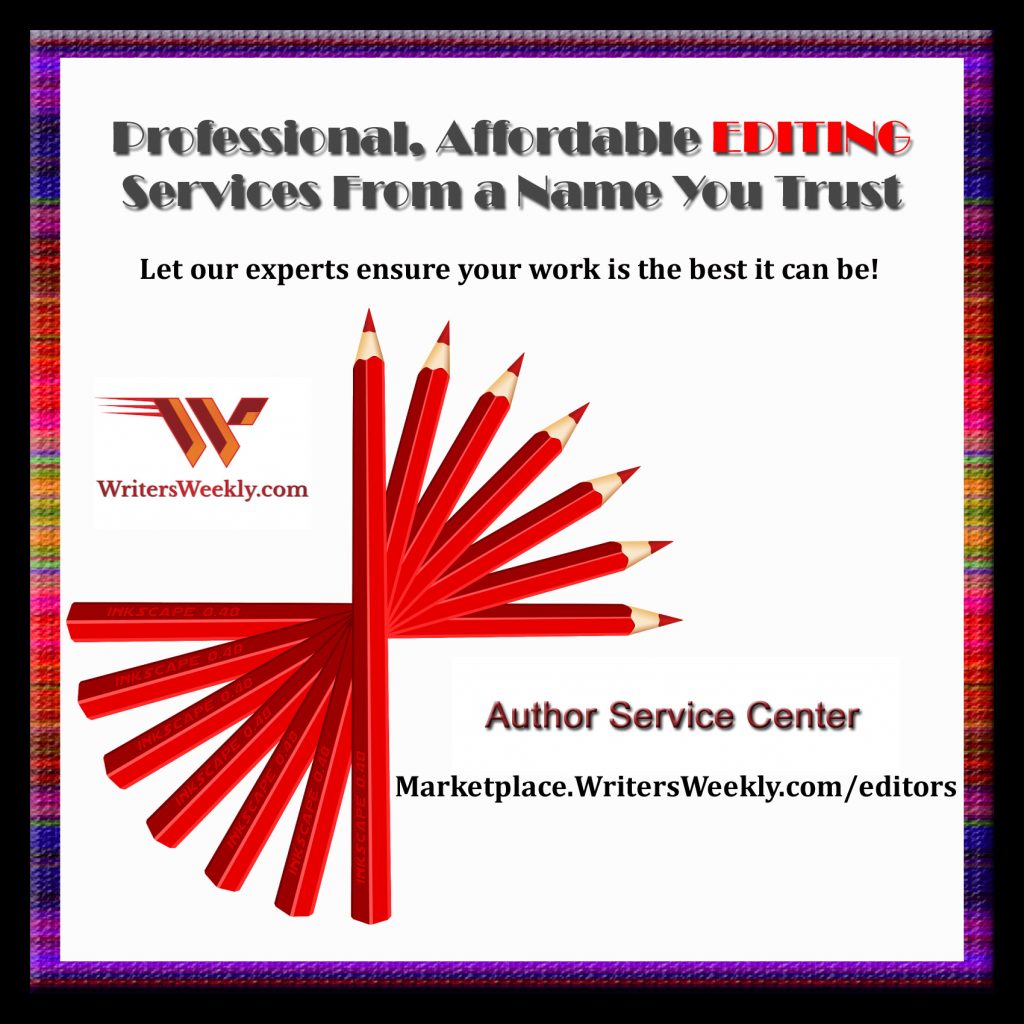 In The News ...
MORE: B&N CEO $70M Firing Lawsuit Continues; Journalism Students Losing Hope in Their Futures; Amazon Wins Discrimination Suit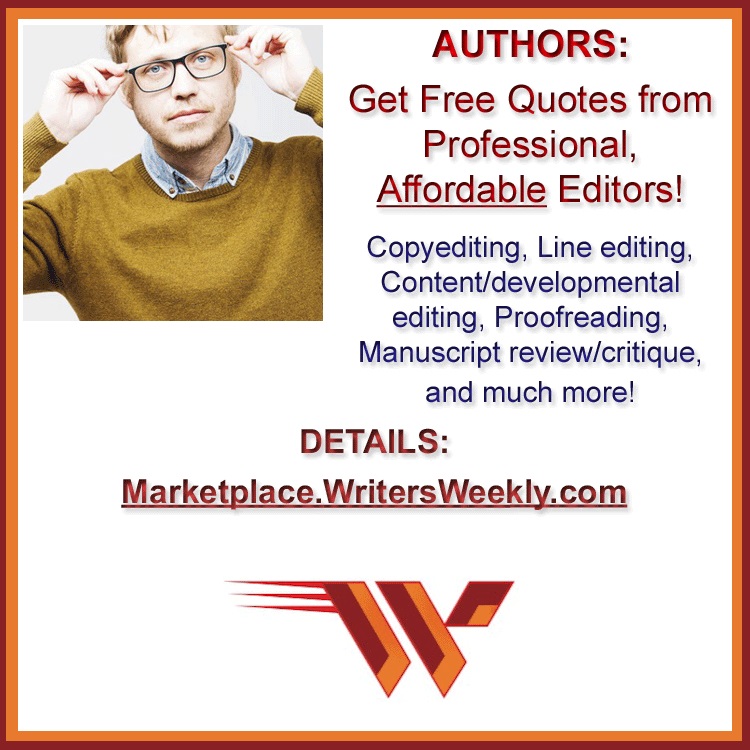 Paying Markets for Writers
"A bimonthly magazine on Russian culture, history, travel and life." 70%-80% freelance. Welcomes new writers. Pays 30 days after publication. Publishes ms 1-6 months after acceptance. Buys either first serial, second serial or all rights. Accepts reprints. Responds within one month.


Pays $300 per article for 2000-4000 words.
"A group of six travel offering travel inspiration and recommendations. As well as the main site, our specialist sites focus on honeymoons, singles holidays, family travel, short breaks and the USA." Works with new writers, "but they will typically be either experienced travel writers or enter through our internship program, found on our website. Pays within 7 days of publication. Publishes ms approx. 7-14 days after acceptance. "We retain the right to publish the article on our website and third-party websites through syndication programmes. Copyright remains with the writer." No reprints. Response time varies.


"A well-established US-based freelance company is opening its doors to writers from all over the world. After years of successful cooperation with freelancers, we have created the best online platform with 24/7 Support. We have gained significant weight and an immaculate reputation in the writing world thanks to the professionalism of our team and high-quality products. Since we know what it takes to meet a high demand of our clients, we offer high rates and special bonuses for technical orders and assignments with short deadlines. We look forward to welcoming new members to our global team and invite specialists with different majors and educational backgrounds. So far we have managed to build long-term relations with freelancers from over 17 countries, including the Philippines, China, Germany, UK, the Netherlands, Sweden, etc." Pays every 2 weeks.


"Adventure Travel Online Magazine. Sharing stories, trips, reviews and topics about adventure travel in North America." Circ. online. Publishes stories daily. Buys all rights. No reprints. Responds within 24 hours Monday through Friday.


Pays $0.07/word and up or $45-$75 a piece.
"Women's lifestyle monthly publication distributed free to readers along the northeastern coast of SC, and the southeastern coast of NC, plus a monthly digital issue." Welcomes new writers. Pays 90 days after publication. Publishes ms about a month after acceptance. Buys first time rights, reverts back to writer upon publication. Occasionally accepts reprints. Responds in less than a week.


NEED WRITERS, BLOGGERS, EDITORS, AUTHORS, OR OTHER CREATIVE FOLKS?? We'll post your ad on WritersWeekly FOR FREE. Please complete THIS FORM.
34 freelance jobs!
Freelance Technical Sales Writer
Fit Small Business


Freelance B2B Sales Staff Writer
Fit Small Business


Freelance Managing Editor – Pays $60K/year
Inside.com


Freelance Retail/Footwear/Apparel Reporter
OTR Global


Freelance Marketing Editor
Fit Small Business


Freelance Journalist/Reporter
AmeriForce Media


Freelance Veterinary Writer
The Spruce Pets


Freelance Gardening Review Writers – Pays $100/project
The Spruce


Freelance Home Reno Writers – Pays $100/project
The Spruce


Freelance Content Marketing Manager – includes benefits
Muck Rack


Freelance Content Update Editors And Producers – Pays $15-$25/hour
Brides.Com


Freelance Writers & Editors
METRO, A CNET Content Solutions Platform


Freelance Managing Editor – Pays $60K/year, with benefits
Inside.com


Freelance Writers
blind ad


Freelance Legal Writer
BluShark Digital LLC


Freelance Technical Writer – Pays $250/article
blind ad


Freelance Writer – Pays $0.06/word
Cube Digital


Freelance Finance/Fintech Writers
Fortis Agency


Freelance Windows & Software Writer/Editor
WindowsReport.com


Freelance Writer – Pays $0.06/word
Alpha Investors


Freelance Writer – Pays $18-$35/hour
ShoutVox


Freelance Creative Content Writer – includes benefits
Thinkful


Freelance Writer
Audience Ops


Freelance Copywriter
MCD Partners


Freelance SEO Content Writer/Editor
Winn.Solutions


Freelance Copywriter – includes benefits
Nexford University


Freelance Technical Marketing Writer
Steyer


Freelance Creative Journalist and Content Writer – Pays $100K-$150K/year
ABG


Freelance Bloggers
COED MEDIA GROUP


Freelance Nights and Weekends Editor
BGR


Freelance Journalist – Pays $31/hour
FLTRD


Freelance Copywriter & Content Generator
Make Directory Developers


Freelance Technical Editor
Design Everest, Inc.


Freelance Copywriter
Ironside Press


NEED WRITERS, BLOGGERS, EDITORS, AUTHORS, OR OTHER CREATIVE FOLKS?? We'll post your ad on WritersWeekly FOR FREE. Please complete

THIS FORM

.
An EXTREMELY lucrative way to sell LOTS of books, get free, viral marketing, AND connect with new readers!