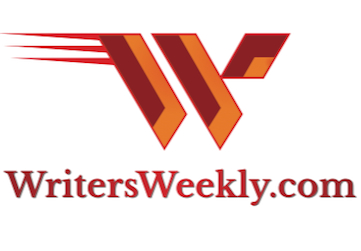 May 31, 2019
We are often asked why we can't offer our publishing services for free. After all, the publisher gets some money each time a book sells, right?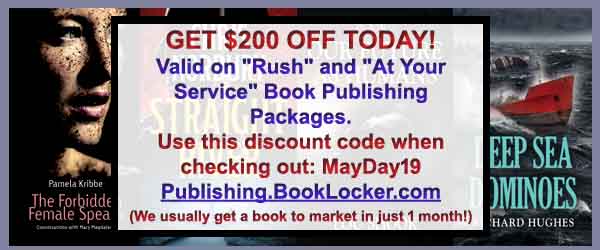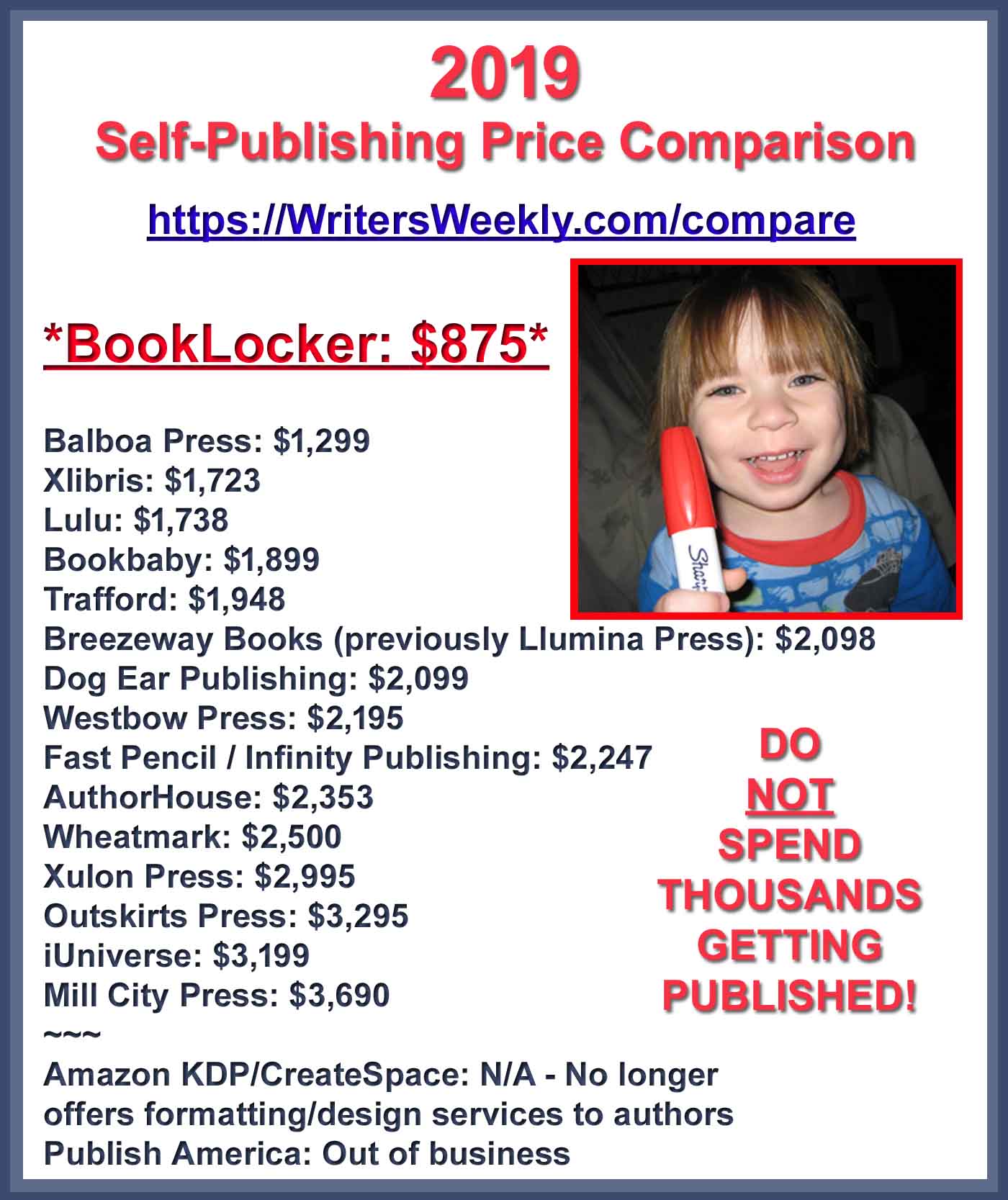 News From The Floating Home Office
Boy, I tell ya, this waiting-for-labor stuff is exhausting! I am constantly trying to keep right up to date with my work AND keep all the laundry caught up, too. I've had a bag packed for the big day for two weeks now but I keep digging into it for my favorite dress, my favorite nightie, clean undies, etc. I just now...
Vetting an editor is basically the same thing as choosing your next car or deciding which school your children should attend. You need to do your homework.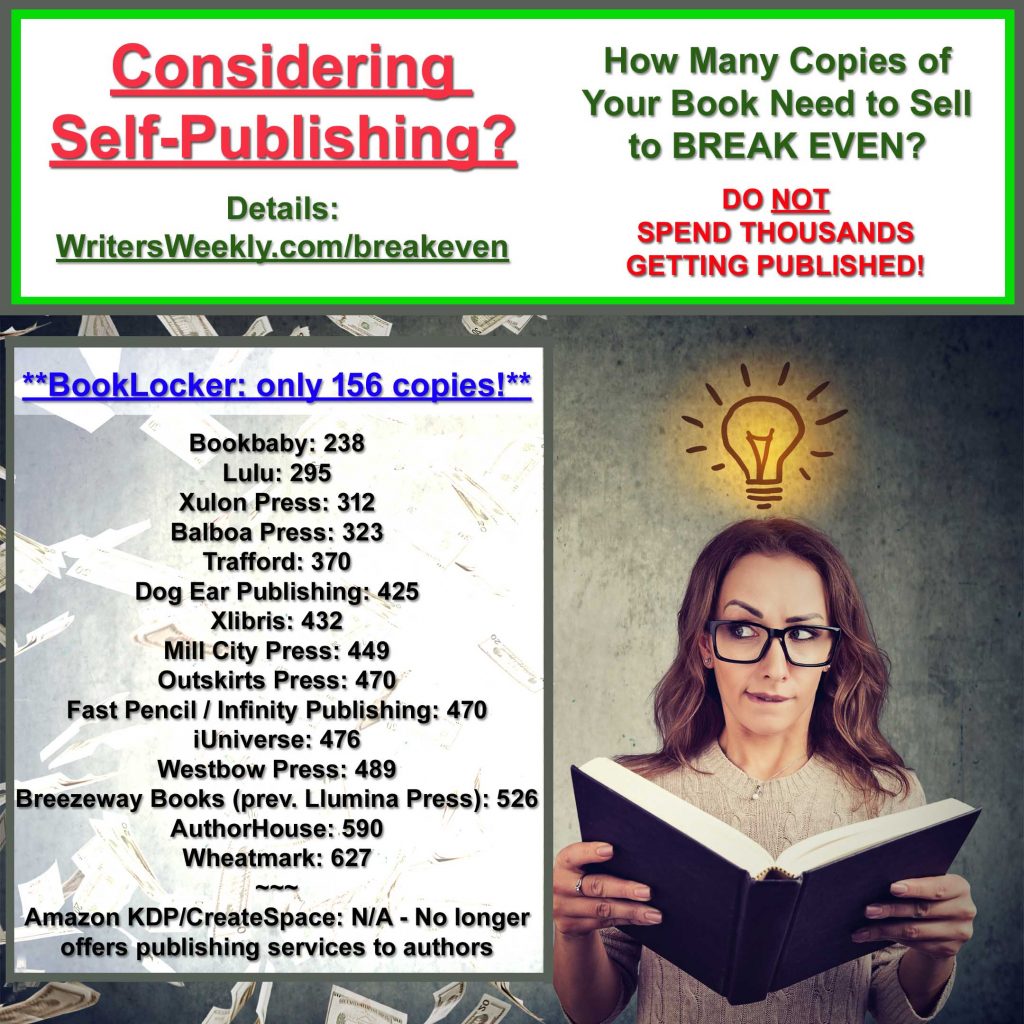 Ask the Expert
If you follow all of these rules, your writing career has a FAR greater chance of being a success.

Whispers and Warnings!
ALSO: Barnes and Noble removed as college bookstore; Moby cancels book tour after star disputes what he wrote about her; Historians attack professor over MLK claims in his new book; Tony Robbins' book cancelled by Simon and Schuster after allegations; Turkish author and publisher arrested over pedophilia scene in book.
60% freelance. "ALLEGORY is a biannual publication of science fiction, fantasy, and horror. Founded in 1998, we are one of the oldest continually running ezines in the world. We publish quality original fiction by new and established authors from all around the globe." Welcomes new writers. Circ. 400K. Biannual. Pays on acceptance. Publishes ms approximately two months after acceptance. Buys first rights for six months. Accepts reprints. Responds in one to two months.
"The Bear Deluxe Magazine is a semiannual publication looking at place-based themes through a magazine format of journalism, creative nonfiction, essays, interviews, poetry, fiction and reviews." Welcomes new writers. 50% freelance. Circ. 44K. Biannually. Pays on publication. Publishes ms within three months of acceptance. Buys first rights and online rights for one year. Accepts some reprints. Responds within three months.
Pays $0.15/word; $75-$400 for fiction and nonfiction; $40 per poem.
"Bookmarks magazine introduces readers to the "best in books" through consensus-oriented reviews of new books in all genres, classic and contemporary author profiles and interviews, book group and reader picks, and more." Welcomes new writers. 50% freelance. Circ. 40K. Bimonthly. Pay varies by article type and ranges from $30-$400. Publishes ms within one to two issues after acceptance. No reprints. Responds within one week.
"For more than two decades, Channel Partners has been the leader in providing news and analysis to indirect sales channels serving the communications industry." Welcomes new writers. Bimonthly. Pays on publication. Publishes ms within one month of acceptance. Buys all rights. No reprints. Responds one week.
"The Cincinnati Review is a literary magazine published biannually out of the University of Cincinnati. Prose and poetry from our pages has appeared in anthologies including Best American Poetry, Best American Short Stories, Best American Essays, and others." 100% Freelance. Welcomes new writers. Circ. 1000. Biannual. Pays on publication. Publishes ms 3-6 months after acceptance.
Pays $30/page for poetry; $25/page for prose.
"America's leading magazine on the art and politics of the cinema" 30% freelance. Welcomes new writers. Circ. 10K. Quarterly. Pays on publication. Publishes ms 2-3 months after acceptance. Buys First serial rights. Rarely accepts reprints. Responds 3-4 weeks.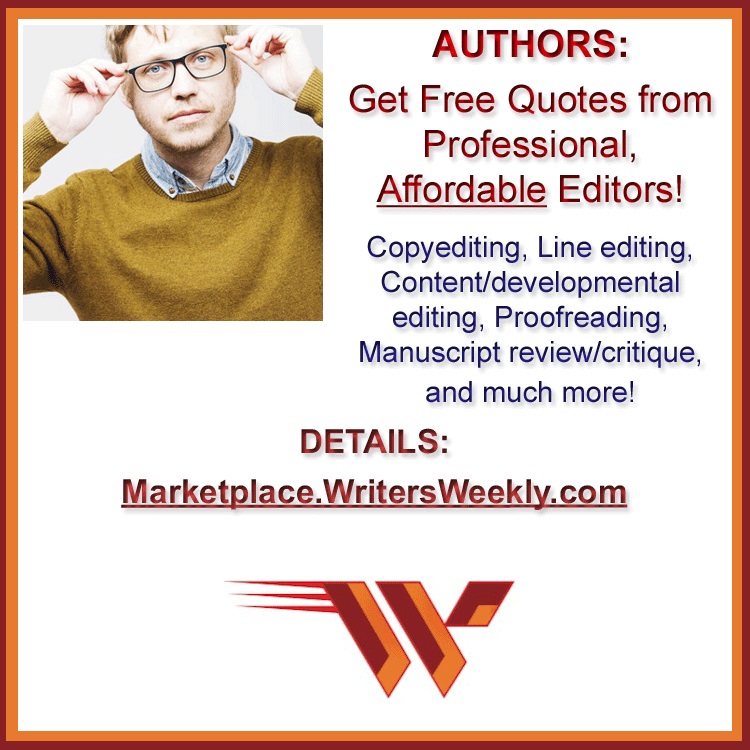 29 freelance jobs!
Freelance Insurance Writer
Freelance Legal Marketing Copywriter
Freelance Credit Cards Writer
Freelance Real Estate Investment Writer

– Pays $150-$750/article
Freelance Personal Finance Writer

– Pays $150-$450/article
Freelance Science Writers
Freelance Investment & Economics Writers

– Pays $5K/month
Freelance Business & Marketing Writer
Screw The Nine To Five Marketing Incorporated


Freelance Online Marketing Writer
Freelance Writer

– with dental/medical background
Freelance Technology Content Writer

– Pays $160-$180/week
Freelance QuickBooks Technical Writer
Technical Learning Resources, Inc.


Freelance Weekend News Writer
Freelance Associate Editor
Freelance Medical Coding Curriculum Proofreader/Quality Control
Freelance Digital Marketing, SEM & Content Specialist
Freelance Creative Writer

– for upcoming software engineering magazine
Freelance Game Copywriter

– Pays $20-$40/hour
Freelance Social Media Copywriter

– Pays $1K-$5K/month
Freelance Physics Copy Editor
Freelance Marketing Copywriter
Freelance Mobile Games Writer
Freelance Editor

– Pays $25/hour
Freelance Finance Writer

– Pays $0.10-$0.12/word
NEED WRITERS, BLOGGERS, EDITORS, AUTHORS, OR OTHER CREATIVE FOLKS?? We'll post your ad on WritersWeekly FOR FREE. Please complete

THIS FORM

.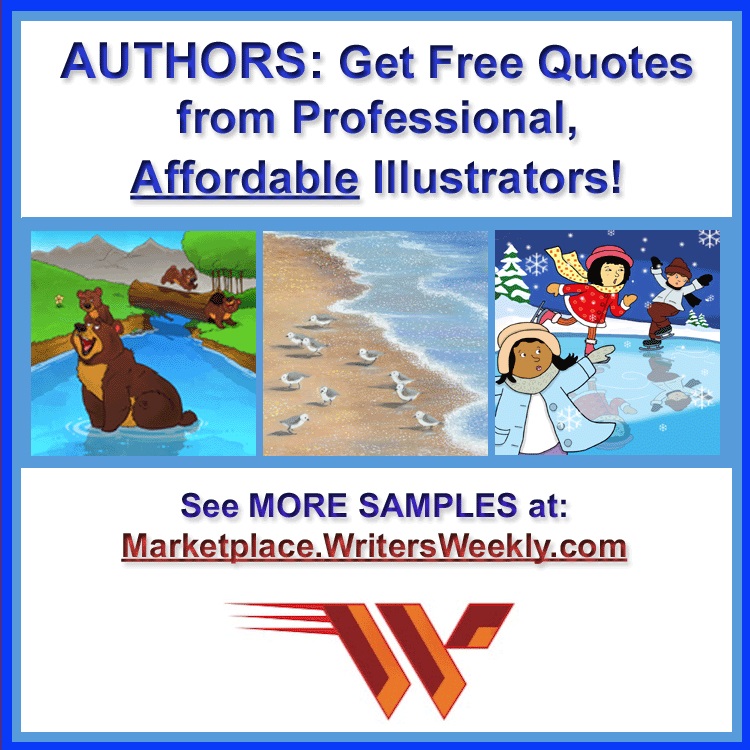 Freelance Success Story
I'd start with a piece of news or a small story idea. Then, I'd look for a new angle on it - one that hadn't already been covered by mainstream media. Then, I'd...