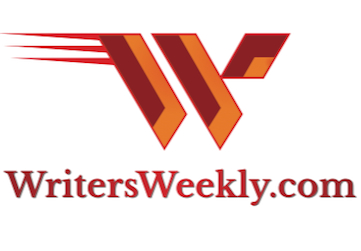 April 19, 2019
Contents
This Week's Trivia Question! Win a free book of your choice from BookLocker.com! Thousands to choose from!
From the Publisher's Desk
Oh, yes! We know you're excited!! Today, we're going to share another installment of our popular column, World's Worst Query Letters and Book Proposals. Pull up a chair and prepare for some belly laughs!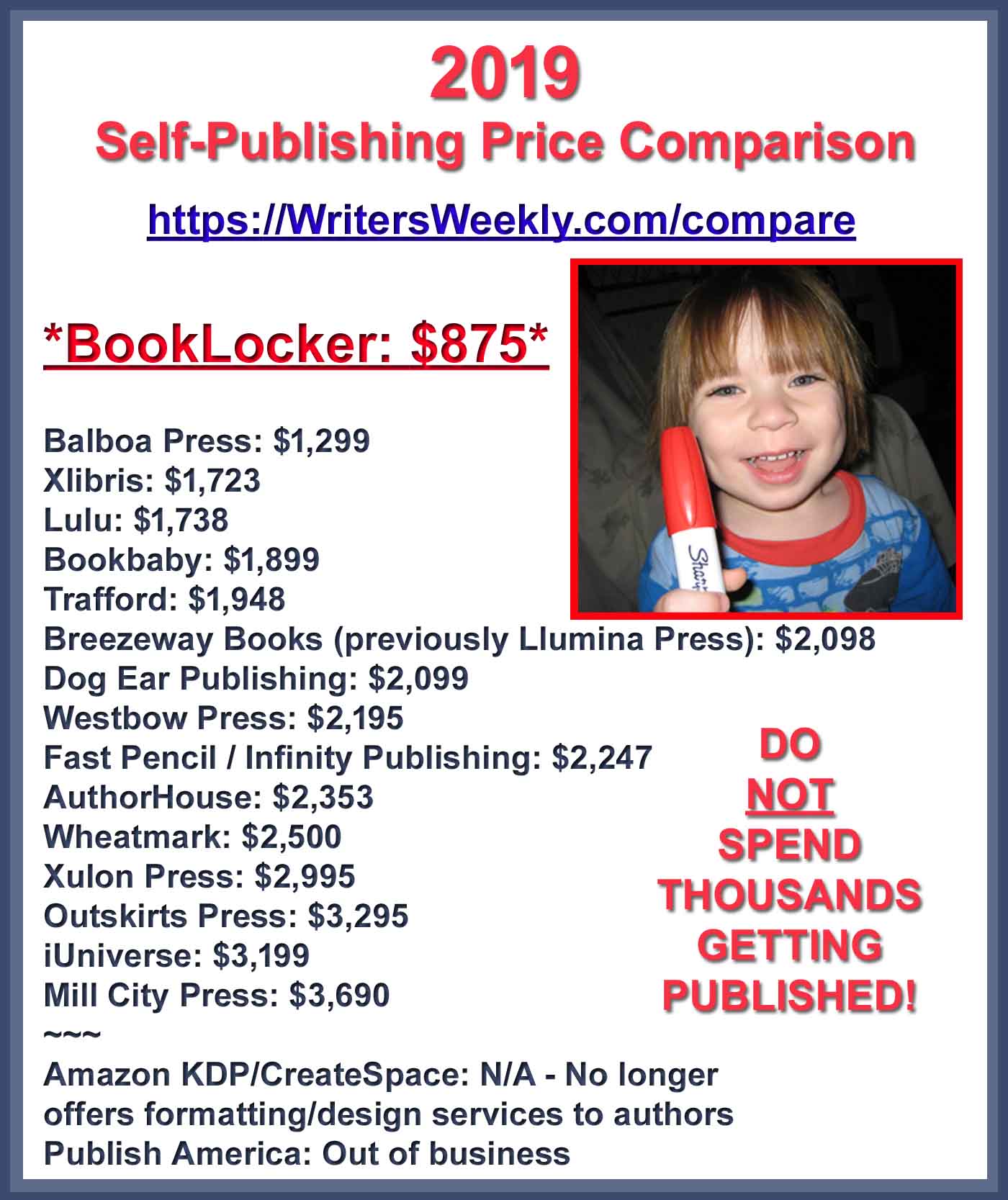 News From The Floating Home Office
The only "treatment" was to tape up his eye to keep it shut while it heals. After that, he was raring to go have more fun so he raced to the truck for his airsoft rifle. And, that's when this happened...
Book sales in a slump? Here are some ideas to drum up NEW interest in your old book!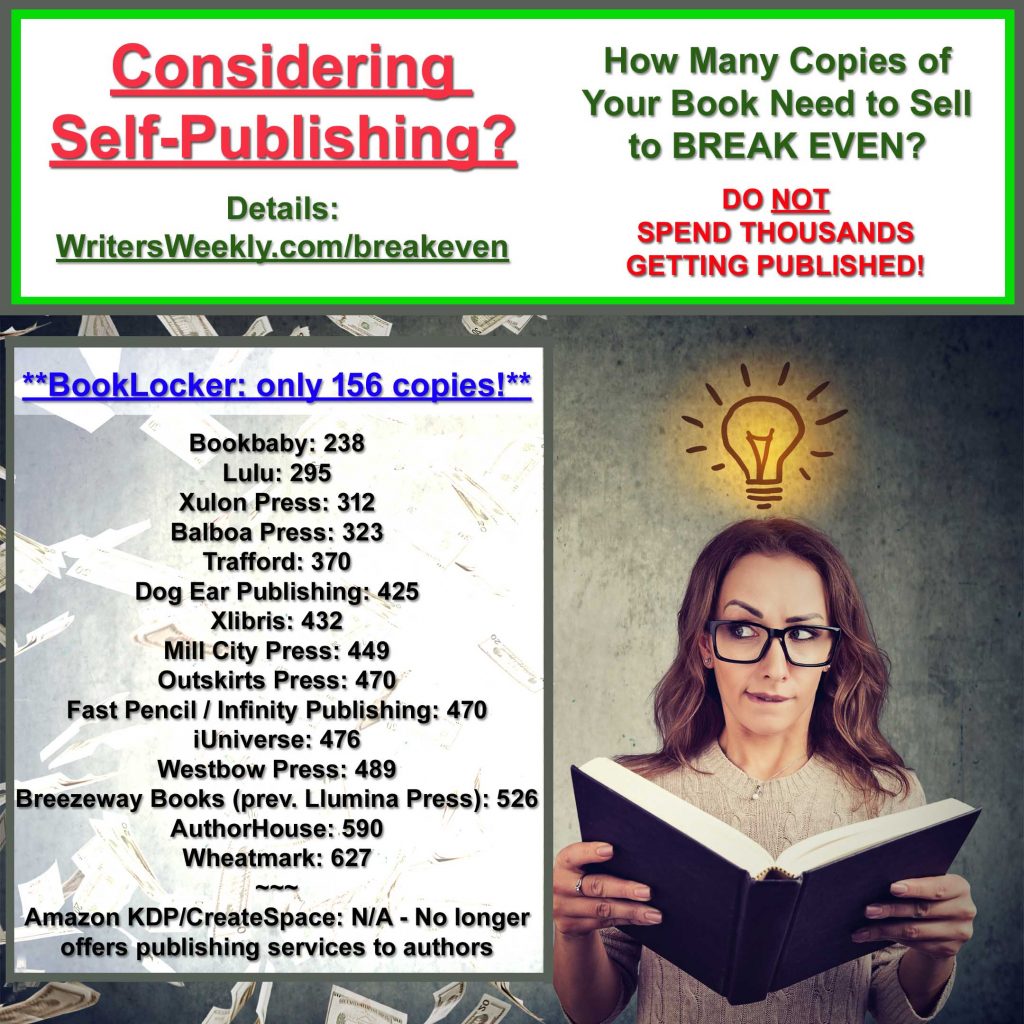 Ask the Expert
"I googled him and he seems legit. They want me to call in, and discuss my books with them. Have you heard of anything like this being of benefit to any of your authors?"
MORE: Easy to rig NYT best seller list?; Amazon "flooded" with fake 5-star reviews?; Historic publisher files for bankruptcy; Publishers of Hunchback of Notre Dame urged to donate; National Enquirer sold for $100M; Publishers quickly releasing Mueller Report in book form.
"The Rialto is a poetry magazine. We welcome excellent new poetry, but do not publish reviews and the small amount of prose in the magazine is commissioned by the editors. Unsolicited prose will be junked."


Pays "flat fee of £20 per poem (pounds sterling)
THEMA is a theme-generated journal of short stories, poetry, art and photography, each issue a stand-alone anthology based on a unique theme. The journal is designed to provide a stimulating forum for established and emerging literary artists, to serve as source material and inspiration for teachers of creative writing, and to provide readers with a unique collection of creative work."


PAYS: "$25.00 - Short story (over 1,000 words), $10.00- Short-short story (under 1,000 words), Poem: $10.00
"We are the most widely read trade publication serving brick-and-mortar musical instrument stores and their owners, managers and buyers." Welcomes new writers.


Pays $200 and up. Pays $300 for secret-shopper column.
"Annual, 224pp, perfect bound; publishes the best fiction, CNF, and poetry available; features an author interview in each issue; currently in 14th year of publication." Fiction and Creative Nonfiction almost 100% freelance; Poetry by invitation only. Welcomes new writers.


Pays $50-$250 for per story/essay.
"The Upper Room is the spiritual companion of more than 3 million people worldwide. Each of the
reader-written meditations encourages believers to open their hearts to God. Today The Upper Room is translated into 33 languages and reaches over 80 countries." 95-100% freelance. Welcomes new writers.


Pays $30 for 250-300 words. Submit query by email or by mail with SASE.
29 freelance jobs!
Freelance Social Media Editor
Task & Purpose


Freelance Personal Finance Writer – includes benefits
FinanceBuzz


Freelance Contract Resume Writer or Editor
Your Edge for Success YES LLC


Freelance Travel Photographers
TripSavvy.com


Freelance Instructional Writer/Designer – Pays $25/hour
Handcrafted Learning


Freelance Associate Content Manager – Pays $21/hour
blind ad


Freelance Wine & Spirits Blogger
Vine.ly


Freelance Content Writer
System1


Freelance Legal Writers
Compose.ly


Freelance Technical Writers
Compose.ly


Freelance Online Football/Soccer Writers
Soccer International


Freelance Podcast Writers
WhatPods


Freelance Children's Events & Entertainment Bloggers
Superheroes Pty Ltd


Freelance Personal Finance Writer
FinancialMentor.com


Freelance Book Editor – Pays $20-$21/hour
Global Pavilion Ltd


Freelance Writer
Gefen Marketing


Freelance Proofreader/Editor – includes benefits
Morley Companies, Inc.


Freelance Copy Editor
Development Gateway


Freelance Writer – must be based in the Baltimore area
The Beacon Newspapers


Freelance Deals/Couponing Copywriter
Lola Digital Media


Freelance Creative Psychology Writer – Pays $15-$25/hour
Golgi Productions


Freelance SEO Content Writer
Content Motive


Freelance Content Writer
Break Ground Social


Freelance Staff Writer – includes benefits
Gannett


Freelance Men's Fashion, Grooming, and Design Writer
The Manual


Freelance Contract Legal Content Writer – Pays $25/article
LegalMatch


Freelance Technical Writer with Pharmaceutical Experience – Pays $38-$42/hour
Docstrats


Freelance Spanish Transcriber – Pays $60/recorded hour
Home Row, Inc.


Freelance Transcriptionist – Pays $60/recorded hour
blind ad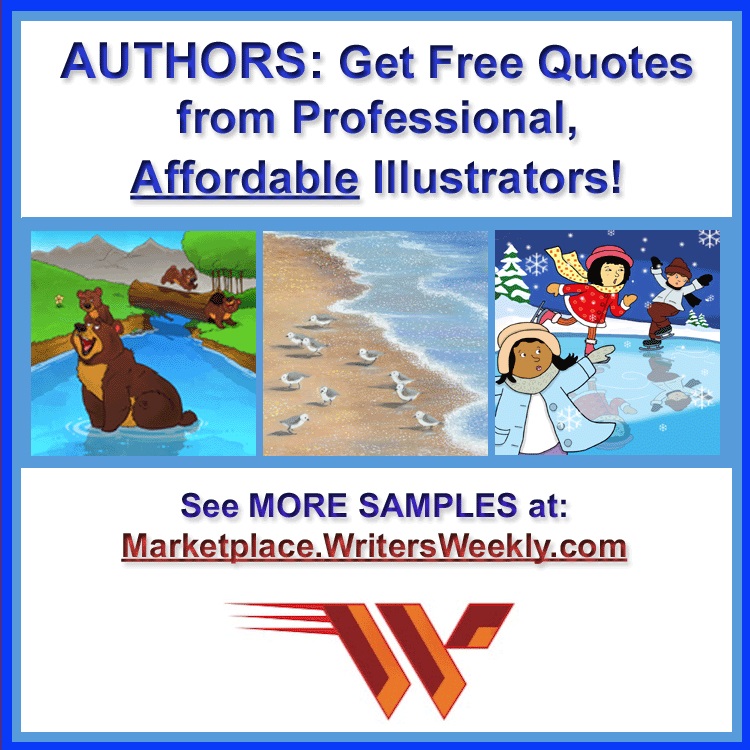 Freelance Success Story
Don't overlook short story writing as a viable source of income, ideas, and exposure! Read how this novelist found profits in writing shorter pieces.