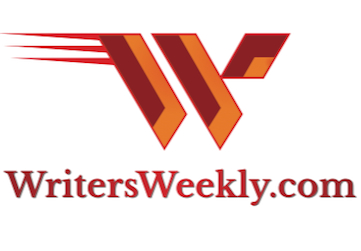 October 29, 2020
Who can still get your book published by Christmas?
BOOKLOCKER CAN!!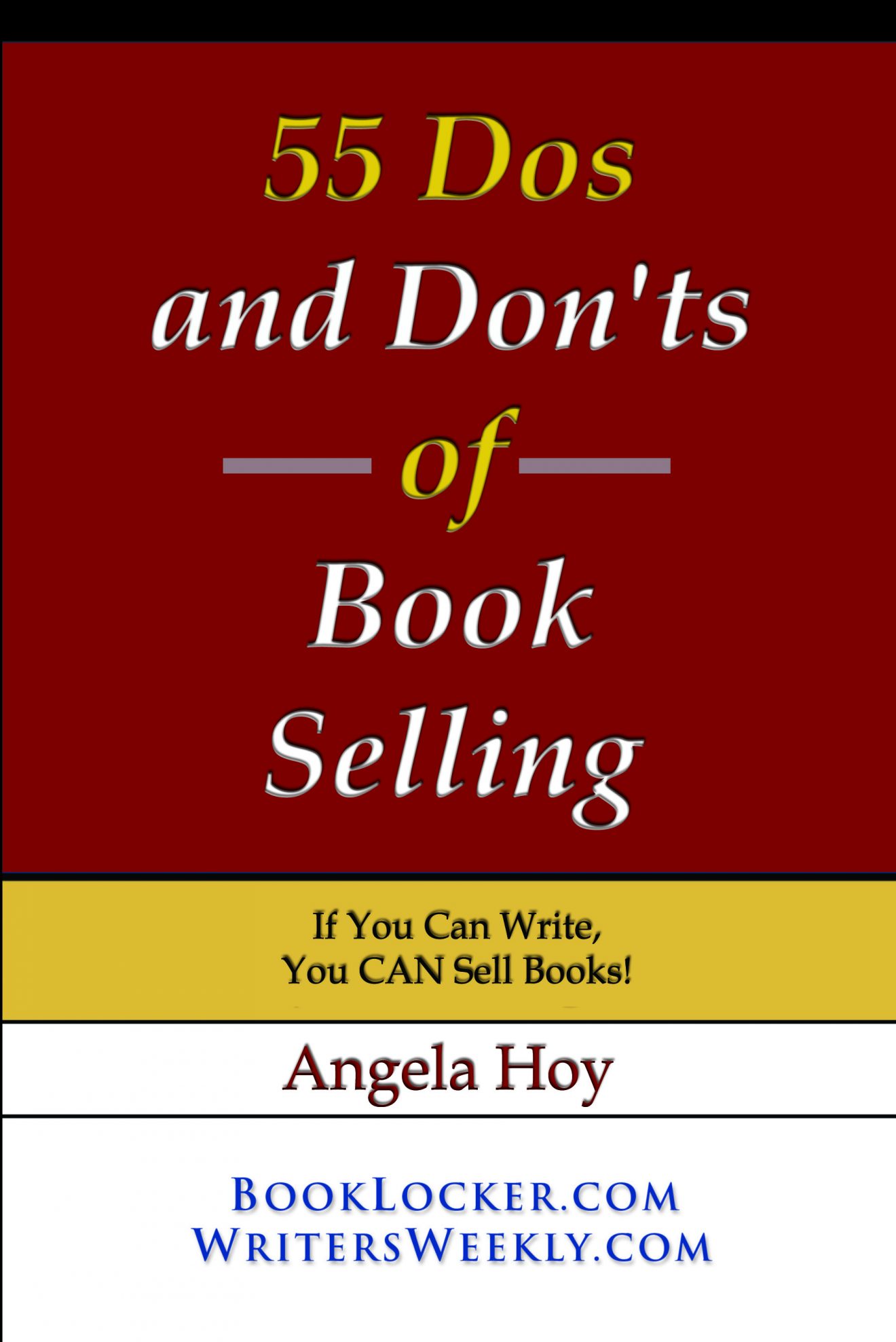 Contents
Paying Markets for Writers and Photographers for 10/29/20


From the Publisher's Desk
It's our FAVORITE contest of the year and you do NOT want to miss the top three winning stories! Are you scared? You should be!! ;)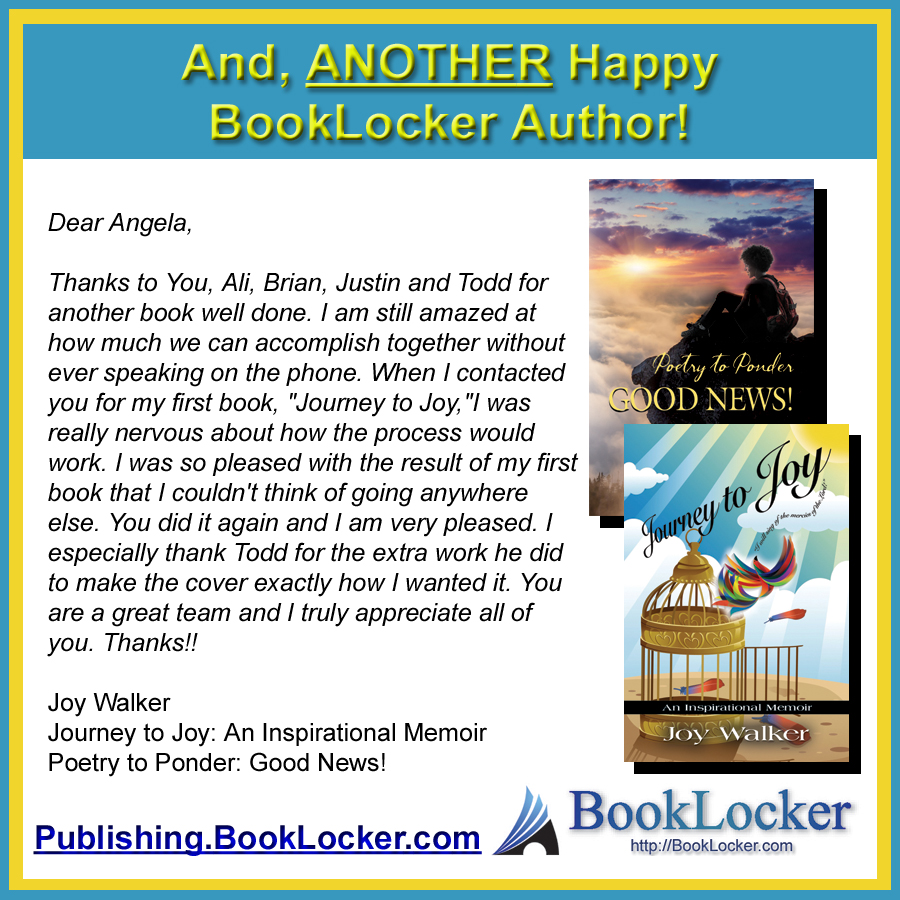 News From the Home Office
I made two batches of jerky in the dehydrator last week and they came out like black tree bark. Sure, they taste good but I'm not sure they're worth getting a broken tooth or two...


If you haven't encountered a snarly rejection that momentarily stabs you in the heart, I submit that you're not working hard enough as an artist!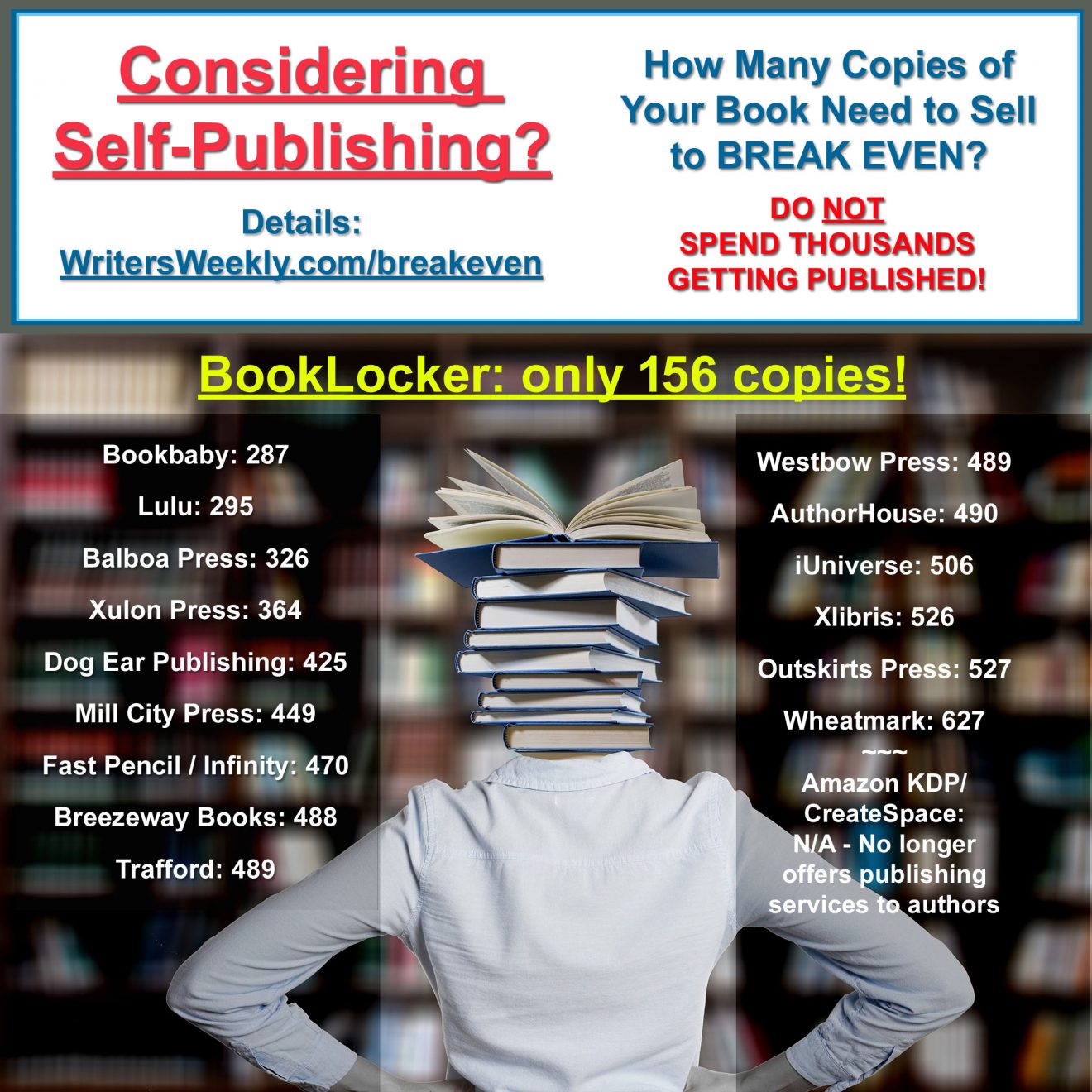 Ask the Expert
"I was able to break the contract before they went out of business. However, my book is still advertised on Amazon Children's Books, with all of the previous information, pricing, etc..."


MORE: Book sales higher than in the past decade?; "Wealthy" bookstore owner asks customers to save her own store?; Author shares her story about BookWhip Marketing, LLC; Victoria Strauss does NOT recommend EMP Entertainment, A&D Entertainment, nor T.A. Barron's Once Upon a Villain Flash Fiction Contest; Consumer review of Write Your Best Book / Christina Kaye; Indie bookstores are still struggling and here's how you can help!; 149-year old Salt Lake Tribune moving from daily to weekly + massive layoffs; and Pay for an ebook from Amazon...but you might lose it later!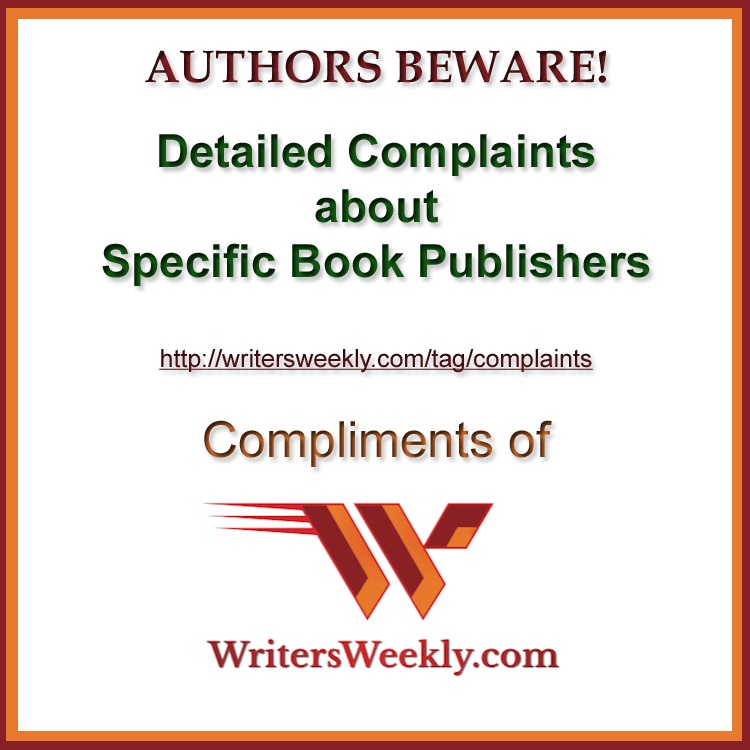 Paying Markets for Writers
"Canada's only international adventure-travel magazine." Warmly welcomes new writers. Bi-monthly print; weekly online. Pays on publication. Publishes manuscript within a month of acceptance if publishing online; longer for print."


100% freelance. "Overtime, a series of one-story chapbooks, was created to showcase some of the stories we receive that are a little too long for our Workers Write! series, but are worthy of publication. We are looking for stories between 5,000 - 12,000 words, where work is a central theme. (We also will consider serializing novels about the workplace. Please query first.)" Welcomes new writers. Circ. 500. Quarterly. Pays on acceptance. Publishes ms 6-12 months after acceptance. Rights purchased varies. Accepts reprints. Responds 1 week to queries; 1 month to stories. Samples at website.


"PRISM International is a quarterly magazine out of Vancouver, British Columbia, whose mandate is to publish the best in contemporary writing and translation from Canada and around the world. Writing from PRISM has been featured in Best American Stories, Best American Essays and The Journey Prize Stories, amongst other noted publications." Welcomes new writers. Circ. 1K. Quarterly. Pays right before or right after publication. Publishes ms 1-6 months after acceptance. Buys First North American rights. No reprints. Responds within 1-6 months.


Pays: $40 per page for poetry, $30 per page for prose
"Raleigh Review is a nonprofit magazine of poetry, short fiction, and art, offering accessible works of experience that are emotionally and intellectually complex. At Raleigh Review we believe that great literature inspires empathy by allowing us to see the world through the eyes of our neighbors, whether across the street or across the globe. Our mission is to foster the creation and availability of accessible yet provocative contemporary literature through our biannual magazine as well as through workshops, readings, and other community events. Further Guidance on Submissions: Please note, we do not accept submissions to Raleigh Review via email or US postal service in most cases. They must go through Submittable. See Submission Guidelines for details.


NEED WRITERS, BLOGGERS, EDITORS, AUTHORS, OR OTHER CREATIVE FOLKS?? We'll post your ad on WritersWeekly FOR FREE. Please complete THIS FORM.
30 freelance writing jobs!
Freelance Fact Checking Reporter
Newsweek


Freelance Investigative Reporters
On Point Investigations


Freelance Legal Marketing Copywriter
Martindale-Hubbell


Freelance Copy Editor
Civilization Research Institute


Freelance Science Writer/Editor/Storyteller
OK Play


Freelance Associate Editor
Verywell


Freelance Content Writer
QNY Creative


Freelance Commerce Editor
Treehugger


Freelance Content Editor

– Pays $30-$35/hour
The Sacred Science


Freelance Health and Wellness Feature Writer
Health Digest


Freelance Women's Lifestyle News Writer

– Pays $20/hour
The List


Freelance Food News Writer

– Pays $20/hour
Mashed


Freelance Celebrity Entertainment News Writer

– Pays $20/hour
Nicki Swift


Freelance Movie and TV News Writer

– Pays $20/hour
Looper


Freelance Finance News Writers
Investopedia


Freelance Writer
Sustainable Media


Freelance Project Management Writers
Codeless


Freelance Finance, Trading, FinTech, Impact/Sustainable Investing Professional Writers
Fractal Digital Pte. Ltd.


Freelance Global Creative Copywriter
Spacehuntr


Freelance Home and Garden Tips Writer
Waconsult


Freelance Writer

– Pays $0.06/word
The Ways To Wealth LLC


Contract Development Writer

– Pays $50/hour
FoodCorps


Freelance Content Writer
One Firefly


Freelance Home Writer

– Pays $100-$250/story
BobVila.com


Freelance Writer
Audience Ops


Freelance Editor/Writer
Cella


Freelance Content Copywriter
Aquent


NEED WRITERS, BLOGGERS, EDITORS, AUTHORS, OR OTHER CREATIVE FOLKS?? We'll post your ad on WritersWeekly FOR FREE. Please complete

THIS FORM

.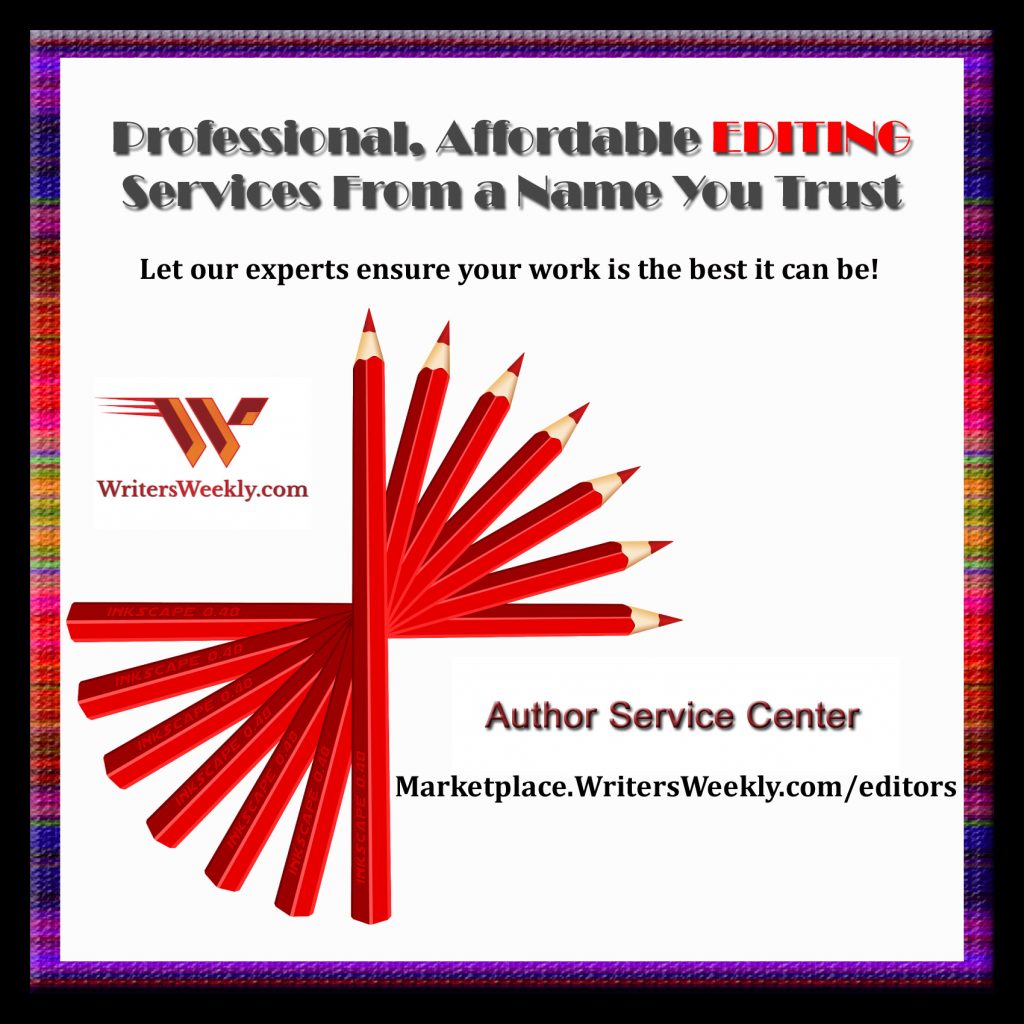 Marketing Secrets
Seven markets that pay SFWA professional rates of 8c/word, or more!