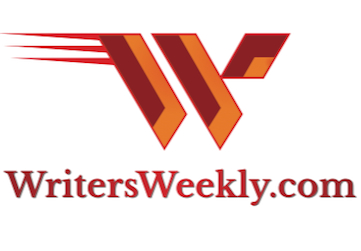 April 4, 2019
Contents
Paying Markets for Writers and Photographers for 04/04/19
This Week's Trivia Question! Win a free book of your choice from BookLocker.com! Thousands to choose from!
From the Publisher's Desk
From Chatty Charles to Indecisive Ian, which clients are you justified in charging more for your services?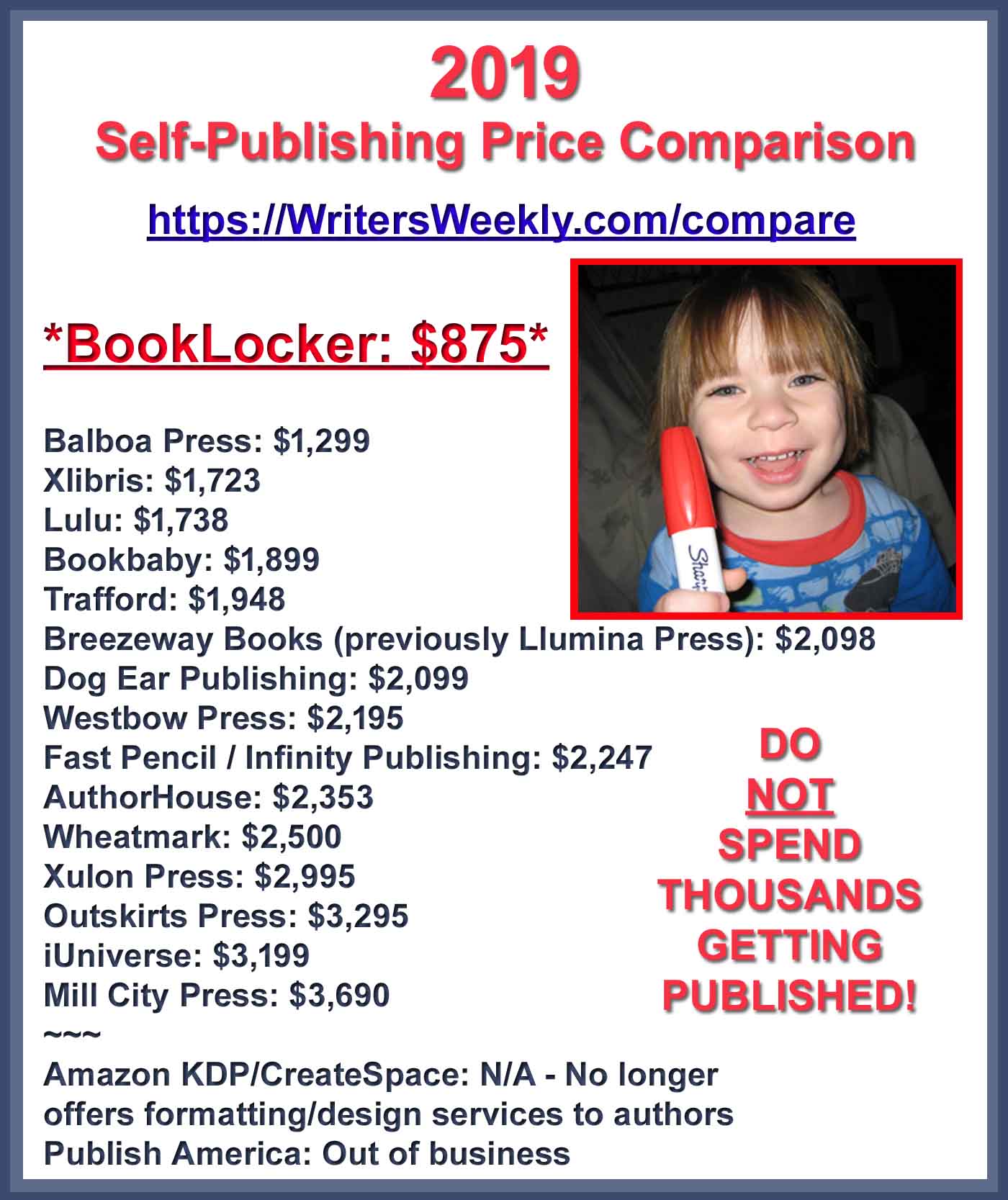 News From The Floating Home Office
I'd previously used that toilet several times without incident. However, last weekend, due to warm weather, high humidity, Mercury in retrograde, movement of the Earth's magnetic pole, or just plain karma for something I naughty did or said, I found myself on the receiving end of...
Are you trying to cut down the time you spend researching for your next article or book? Getting bogged down with Internet searches and documents? This is a common problem for writers. The good news is...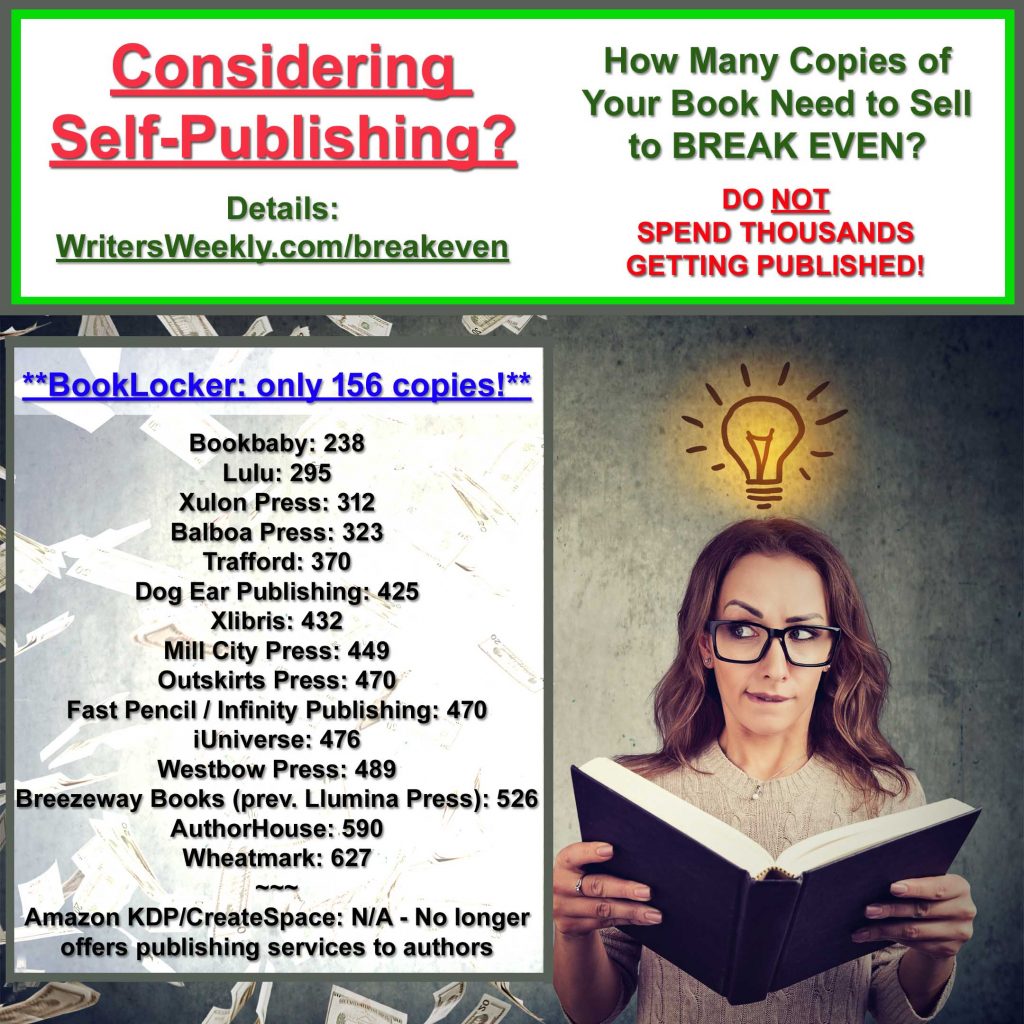 Ask the Expert
"I'm involved in a lawsuit against my previous employer and I'm about to sign a non-disclosure agreement. I want to write a book about the case using a pseudonym. I can do that, right?"
Also: Bob Ross' son gets zilch in rights lawsuit; More inhumane behavior by Amazon; Blogger libel lawsuits; Classifying employees as "freelancers," and $50M fine against publisher.
A hybrid publisher charging no setup/design fees to authors. "Abuzz Press pays the design and publication fees, which include: interior formatting assistance, professional cover design (no boring templates), ISBN and barcode, printer setup, and print proof (the first printed/bound copy of your book, which will ship directly to you for approval). Also includes ebook formatting/conversion. Distribution - Print Edition – We will list the book with Ingram, the world's largest book distributor. Our print books are listed in Amazon.com, BarnesandNoble.com, BooksAMillion.com, Chapters.ca and many other online bookstores, both domestic and foreign. Our ebooks are listed on Amazon.com (for the Kindle), BarnesandNoble.com (for the Nook), Apple (for iPads, iPods and iPhones), and Kobo (Canada's popular ebook retailer) and Overdrive." Welcomes new writers. Publishes up to 10 titles/year. Pays royalties. Three-year exclusive contract required.


Pays royalties.
"Send a submission to me personally and my staff will check it before passing it on if it might be suitable. I am a well known International psychic medium, more than forty years of experience of helping people with email and phone readings. I'm also a relationship expert, life coach, advisor, agony aunt, therapist and healer. Am always on the lookout for articles to add to my site if they are well written, informative, long, with many keyword phrases. Not the run of the mill rubbish I see on other sites or cobbled together by people who know very little about the subject. Must be unique, fresh, one-off pieces." No reprints.
Pays £25 per article.
"Boulevard's mission is to publish the finest in contemporary fiction and poetry as well as definitive essays on the arts and culture, and to publish a diversity of writers who exhibit an original sensibility. It is our conviction that creative and critical work should be presented in a variegated yet coherent ensemble—as a boulevard, which contains in one place the best a community has to offer." Biannual. Pays on publication. Publishes ms 4-8 months after acceptance. Buys First North American rights. No reprints.
Pays $25-$300.
"Button comes out once a year or so, and Button contributors have also published in venues like the New Yorker, the Atlantic Monthly, Paris Review, The New York Times, Washington Post, and Harpers, as well as publishing plenty of books. 20-40% freelance. Circ. 500+. Annual (to the best of our ability, and the quality of work we receive). Pays on publication. Period between acceptance and publication varies. Buys first NA Serial rights. No reprints. Responds 1-5 months.
Pays small honorarium.
"CMR is looking for freelance bloggers! A globally reputed academic business journal, California Management Review serves as a vehicle of communication between those who study management and those who practice it. The freelance blogging program is intended to expand CMR's audience, scope, and reach by inviting outside writers to contribute to our blog. Our strategy focuses on using our blog as a critical point of connection between our social medial channels and our formal journal content. Our bloggers explore and analyze the fascinating, complex challenges of modern management theory and practice." Usually publishes ms within 2 weeks of the final revisions. Buys one-time rights. No reprints.
Pays $150 - $300.
"A real estate industry trade magazine delivered to 160,000 REALTORS in the state of California, which covers issues related to the housing industry, the economy and real estate." 50% freelance. Welcomes new writers. Circ. 160K. Publishes 8 issues/year. Pays on acceptance. Publishes ms three months after acceptance. Buys all rights.
Pays $800.
"Colorado Homes & Lifestyles is your premier source for the best in Colorado architecture, interior design and real estate, as well as the latest home products, events and word on some of the state's most fascinating people." 80% freelance. Welcomes new writers. Circ. 32.5K. Publishes 8 issues/year. Pays on acceptance. Publishes ms within three months. Buys one-time print/online rights. No reprints. Responds within six weeks.
Pays $300-$450.
"Diabetes Self-Management is a consumer health publication that aims to help people with diabetes control their condition. We cover nutrition, exercise, pharmacology, medical and technological advances, and mental health issues. We do not publish personal experiences, celebrity profiles, or research breakthroughs." 95% freelance. Welcomes new writers. Circ. 410K. Bimonthly. Pays on publication. Publishes ms 4-12 months after acceptance. Buys all rights. No reprints. Responds within 6 weeks.
Pays up to $700.
Freelance Retail/Footwear/Apparel Industry Reporter
Freelance Writer/Researcher - Pays $10-$12/hour
Freelance Product Description Copywriters
Freelance Content Writer for Travel Company
Freelance Business Writers
Freelance Bloggers - Pays $15/blog post, plus $5/photo
Freelance Content Writers and Editors - Pays $100/article
Freelance Literature Review Writers and Qualitative Analysts - Pays $100-$500/project
Freelance Senior UX Writer - includes benefits
Freelance Health and Fitness Contributor
Real Mattress Reviews LLC


Freelance Interactive Writer
Freelance Science Writers
Freelance Automotive Writers
Freelance Writer - for scientifically researched hair loss articles
Freelance Operations/Security Plan Writer - Pays $40-$60/hour
Freelance Scriptwriter - Pays $0.10/word
Mometrix Test Preparation


Freelance Video Game Reviewer & Listicle Writer
These days, SEO is almost a prerequisite for many writing jobs. You have a MUCH better chance of getting hired if you're proficient in SEO best practices. In a nutshell...