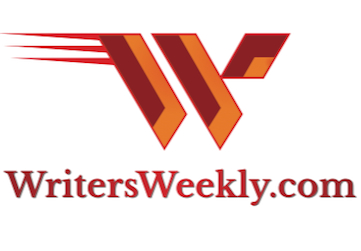 March 28, 2019
Contents
Paying Markets for Writers and Photographers for 03/28/19
This Week's Trivia Question! Win a free book of your choice from BookLocker.com! Thousands to choose from!
From the Publisher's Desk
A writer asks, "Can I get sued for writing scathing articles on televangelists?"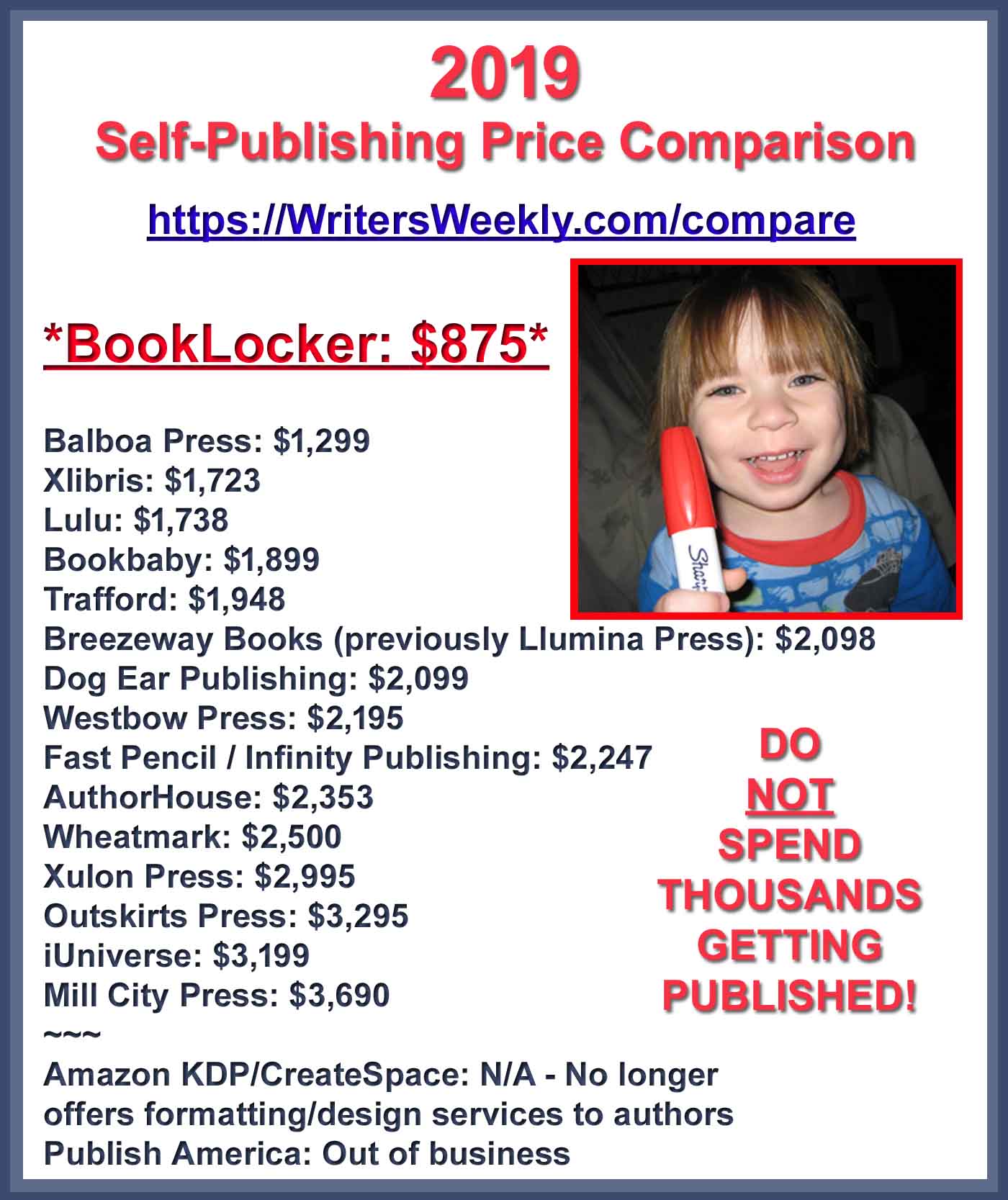 News From The Floating Home Office
Hmmm... When will my next hot shower be?
Australia has a small but diverse selection of literary journals and magazines. All pay rates quoted below are in Australian Dollars...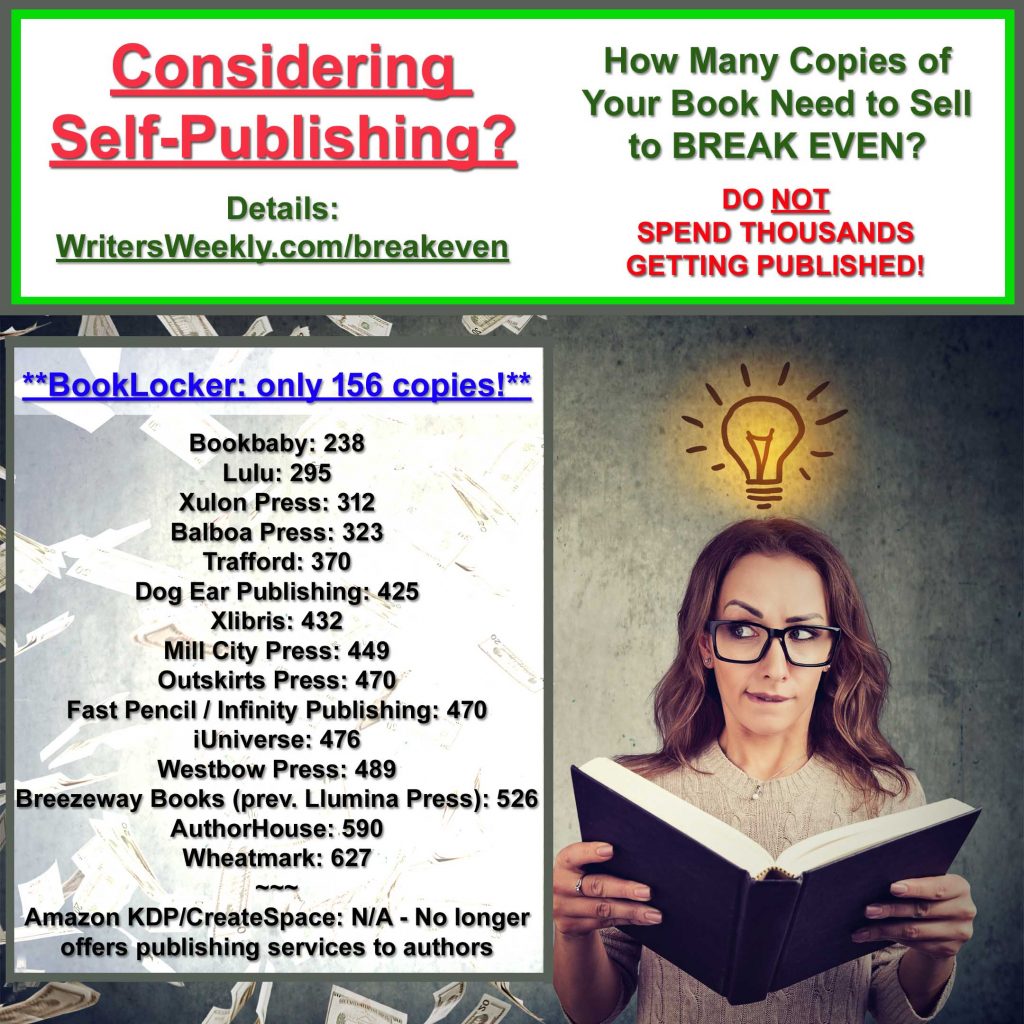 Ask the Expert
I was called by a "publicist" about republishing my book that they saw on Amazon. (It's not supposed to be there because my lawyer was supposed to give them a cease and desist order since it was from Tate Publishing...)"
Also: Univ. of California cancels $10 million/year subscription to academic journals; The rise of robot authors; and Mockingbird play publisher claims infliction of monetary losses.
"An easy-reading, homespun magazine featuring coal people and coal towns, with special sections on news and product development." 40% freelance. Welcomes new writers. Circ. 14.2K. Monthly. Pays on publication. Publishes ms one month after acceptance. Buys all rights. No reprints. Responds within one week.
Pays flat fee of $250 for up to 2500 words.
"Moment Magazine, North America's premier Jewish magazine, was founded in 1975 by Nobel Prize laureate Elie Wiesel and acclaimed writer Leonard Fein. Fiercely independent, Moment is not tied to any organization, denomination or point of view and offers a balanced accounting of the Jewish experience in America, focusing on political, lifestyle, cultural and arts coverage." Welcomes new writers. Bimonthly. Pays on publication.
"St. Anthony Messenger is a Catholic family magazine that aims to help its readers lead more fully human and Christian lives. Our mission is to spread the Gospel in the spirit of St. Francis. We publish articles that report on a changing church and world, opinion pieces written from the perspective of Christian faith and values, personality profiles, and fiction which entertains and informs." Circ. 70,000. Monthly. Pays "upon signed contract." Publishes ms within a year of acceptance. Buys first worldwide serial rights. No reprints. Responds one month.
Pays $0.20/word for articles up to 2,000 words.
"This Magazine is Canada's source for progressive politics, ideas, and culture. It provides award-winning investigative journalism, provocative commentary, and great writing from emerging journalists, artists, and writers. Most of our work in contributed by freelancers." Welcomes new writers. Bi-monthly. Buys first rights. Accepts reprints. Responds in 1-2 months.
Trapper & Predator Caller is the leading source of practical, comprehensive information for North American fur harvesters. Each issue is packed with feature articles by North America's most knowledgeable trappers and predator callers. /T&PC/ provides the most thorough wild fur market report in North America and informs readers about vital industry trends. Published 10 times each year — January, February, March, April-May, June-July, Augus t, September, October, November and December — T&PC provides current, practical information for fur trappers, animal-control workers and predator callers. Each issue also contains up-to-date reports from state trapping association partners across the country." 75% Freelance. Welcomes new writers. Circ. 38K. Publishes 10 issues/year. Pays 45 days after publication. Publishes ms one year after acceptance. Buys all rights. Responds 2-5 weeks.
"Unlocked is a devotional with daily readings for teens that challenge readers to live out their faith in today's world." Quarterly. Pays on acceptance. Publishes 6-9 months after acceptance. Buys all rights. No reprints. Responds within 12 weeks. Guidelines online at https://unlocked.org/teen-devotional-guidelines.
Pays $30 for 300-350 words.
I'd found the best of both worlds, allowing me to use my gift of creative communication to write grant and fundraising letters, and to create special events. For example, I tried to set the Guinness Book of World Records by having the largest number of people dance the twist with Chubby Checker...
"I spend far too much time reading text on a computer screen for work to want to read more of it from a pleasure book. Frankly, when I travel by air, I almost never see an E-reader in anyone's lap — I see both hard copy and paperback books..."
NEED WRITERS, BLOGGERS, EDITORS, AUTHORS, PHOTOGRAPHERS, OR OTHER CREATIVE FOLKS?? We'll post your ad on WritersWeekly FOR FREE. Please complete THIS FORM.


See the links to these jobs RIGHT HERE.
Freelance Writer/Editor - Pays $35-$65/hour
Rosebud Communications


Freelance Writer
NerdWallet


Freelance Editors
Mingtiandi


Freelance Startup Writer
Fit Small Business


Freelance Reporter
MLive/Kalamazoo Gazette


Freelance Blockchain and AI Journalists
MIT Horizon


Freelance Staff Writer - includes benefits
Marc Waring Ventures LLC


Freelance Expert Content Writer - Pays $45K-$55K/year
PrepScholar


Freelance Legal Marketing Copywriter
Martindale-Hubbell


Freelance Legal Writer
BluShark Digital


Freelance Blog Post Writers - Pays $0.023-$0.032/word
blind ad


Freelance Copy Editor
GeekTek


Freelance Technology Writer
Lifewire


Freelance Science Curriculum Writer
Great Minds


Freelance Science Content Editor
Great Minds


Freelance SEO Copywriter
Spotzer


Freelance German Copywriter
Spotzer


Freelance US Copywriter
Spotzer


Freelance Assistant Social Media Editor
The Daily Beast


Freelance Commodities/Investment Writer
Commodity.com LLC


Freelance Guitar Writers
Almac Media


Freelance Technology Writers
Tech Bytes


Freelance Marketing Writers
AdamEnfroy.com


Freelance Bodybuilding/Fitness Writers
Inventive Digital


Freelance Beauty Writer
Collective Press


Freelance Copywriter
LowCostWebDesignFirm.com


Freelance Marketing Content Writer - Pays $80K/year, some travel required
EOS Worldwide


Freelance Medical Editor
CW


Freelance Educational Content Writer - Pays $80K/year, includes benefits
EOS Worldwide


Freelance Content Writer
Integrity Express Logistics


Freelance Writer
TheList.com


Freelance Science Writer for EL Content (6-12)
Education Technology Company


Freelance Content Writer
Integrity Express Logistics


Freelance Content Writer - Pays $30/hour
TC Marketing


See the links to these jobs RIGHT HERE.