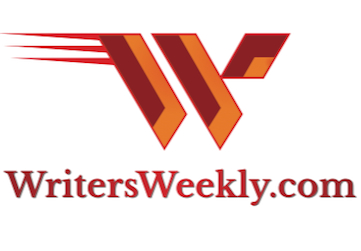 March 21, 2019
Contents
Paying Markets for Writers and Photographers for 03/21/19
This Week's Trivia Question! Win a free book of your choice from BookLocker.com! Thousands to choose from!
From the Publisher's Desk
One major problem with ebooks is the difficulty in giving them away as gifts. Books have long been a beloved gift, both for the gift giver and the recipient. Amazon is the #1 seller of ebooks (of course). If an author (or anyone) "gifts" an ebook to someone (a friend or relative, or even a book reviewer), that person can use that "gift' to purchase whatever they want on Amazon. Here's proof...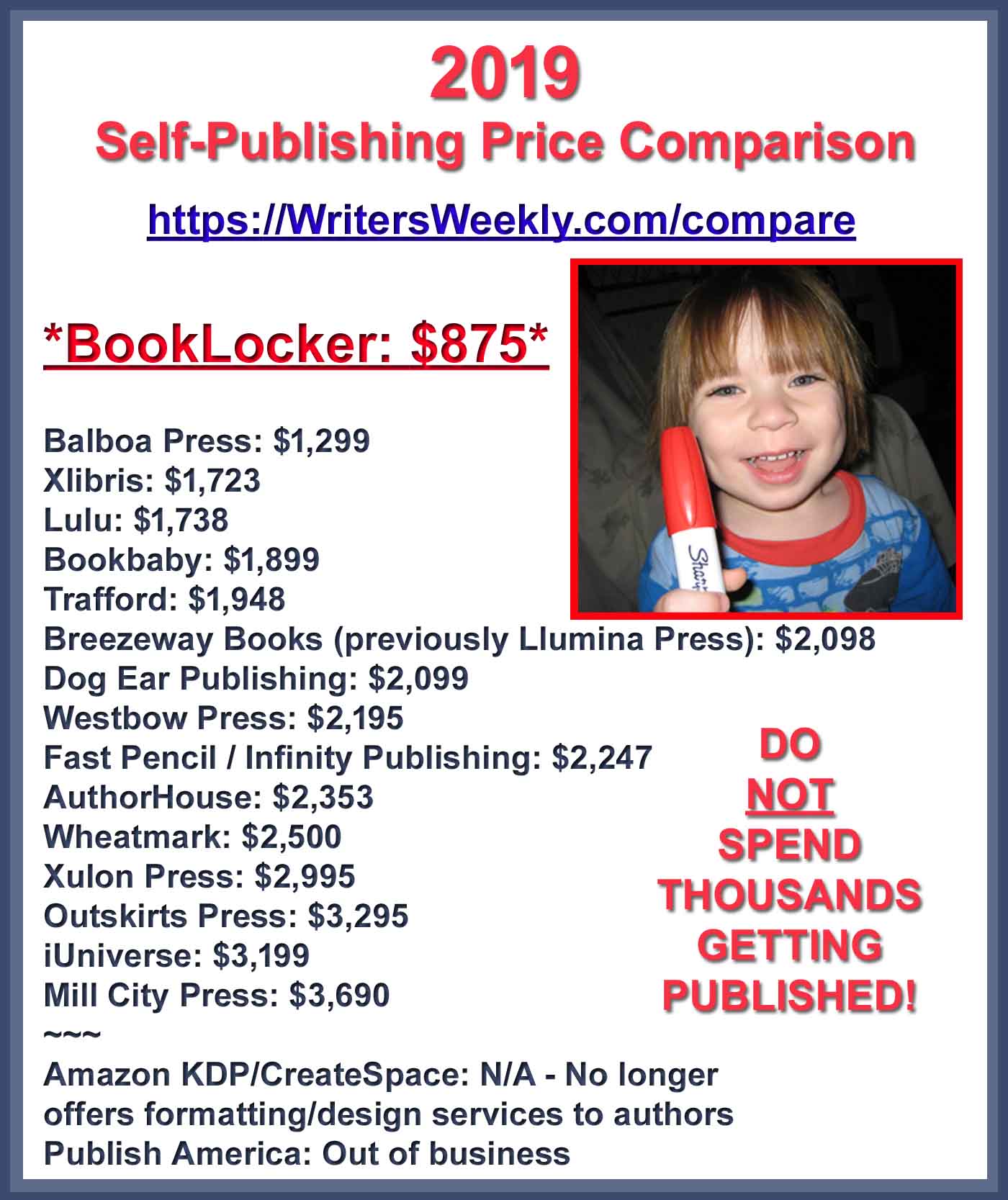 News From The Floating Home Office
Several readers have written in asking for an update on "pancake," my gelatinized blood clot that is still in my leg following my falling-off-the-boat accident last November. Yes, sadly, Pancake is still hanging on. She stopped shrinking about 6 weeks ago, and is remaining steadfast at 2 1/2" x 2 1/4". However, the worst part is that the nerve damage did …
I primarily write about sex and gender politics for men's magazines and newspapers. The reason I have sold nearly 1000 articles in 7 years is because I know MY onions...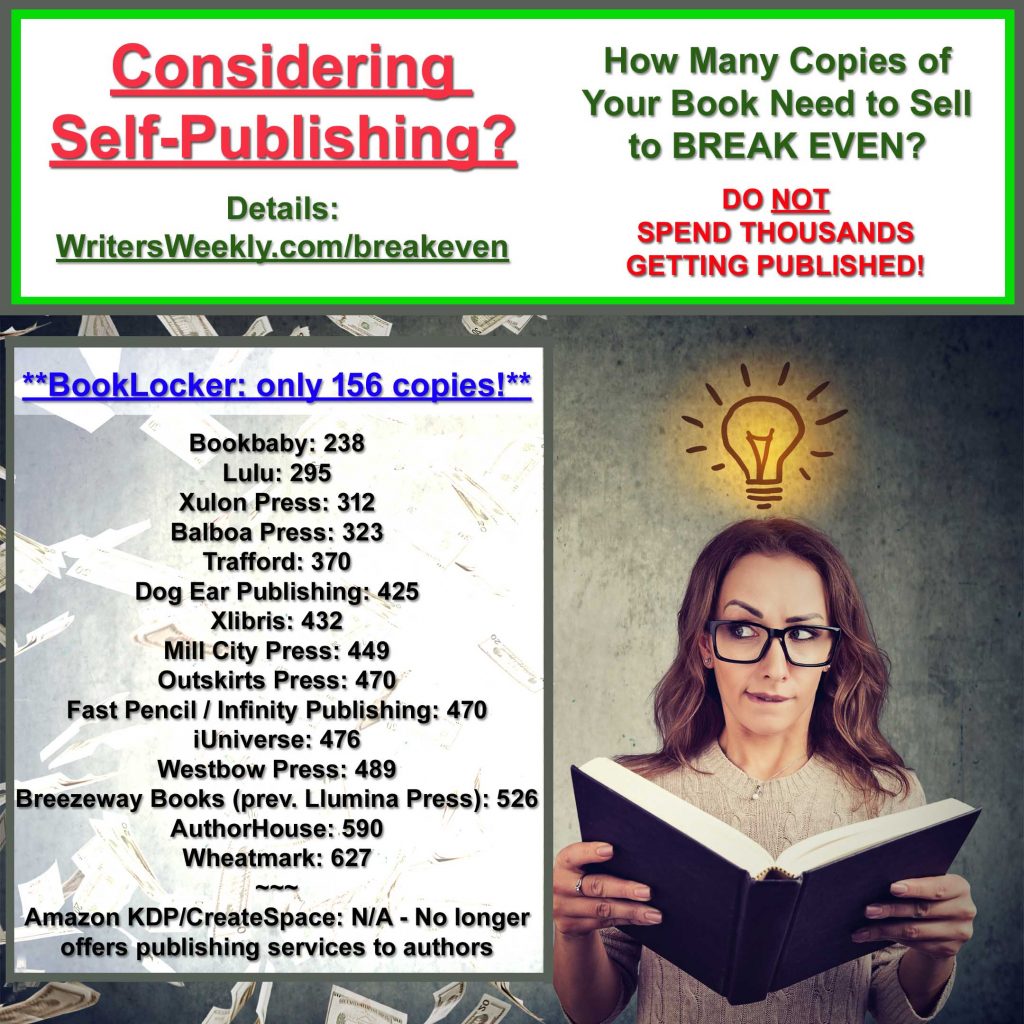 Ask the Expert
Movie deals are exceedingly rare yet so many authors pay thousands to these types of firms each year. I'm willing to bet this firm makes the vast majority (if not ALL!) of their income from hopeful authors, NOT from movie deals...
Also: Harvard sued by a family over use of photograph of slave who they claim is their ancestor.
"We carry stories and photos of Lions' service projects and Lions' activities." 30% freelance. Welcomes new authors. Circ. 350K. Monthly. Pays 30 days after publication. Publishes ms after four months. Buys all rights. Accepts reprints. Responds after 2 weeks to queries.


"FreeFall encourages the voices of new, emerging, and established Canadian writers while providing a platform to be proud of for their quality work." 100% freelance. Welcomes new writers. Circ. 1k. Publishes 3 issues/year, January, May, and September. Buys first rights for 3 months. No reprints. Responds within 3-6 months.


Pays $10 per page for fiction/non-fiction and $25 for poems." 4000 word maximum.
"Literary journal with a lead essay on the work of a contemporary writer; poetry; and book reviews." 100% freelance. Welcomes new writers. Circ. 350. Publishes issues in February, April, June, October, December. Pays on publication. Publishes ms within one year. Buys first serial rights. Responds 2-3 months.


"Information for the kosher consumer." 25% freelance. Welcomes new writers. Circ. 8K. Bimonthly. Pays on publication. Publishes ms two weeks to two months after acceptance. Buys first rights. No reprints. Responds within 24 hours.


Pays $125-$200 for 700-1200 words.
NEED WRITERS, BLOGGERS, EDITORS, AUTHORS, PHOTOGRAPHERS, OR OTHER CREATIVE FOLKS?? We'll post your ad on WritersWeekly FOR FREE. Please complete THIS FORM.


See the links to these jobs RIGHT HERE.
Freelance Real Estate Investing Writer
Fit Small Business


Freelance Managing Editor – Pays $80K/year
Progressive Media Outlet


Freelance News/Feature Writer
OZY Media


Freelance Healthcare and Environmental Investigators
On Point Investigations


Freelance Content Writer For Educational Guides – Pays $45K-$55K/year
PrepScholar


Freelance Legal Marketing Copywriter
Martindale-Hubbell


Freelance Literature Study Guide Writer – Pays $400-$450/guide
BookRags.com


Freelance Writer – Pays $25-$35/hour
blind ad


Freelance Copywriter
Plato Design


Freelance Copy Editor – Pays $15-$18/hour
WebFX


Freelance Consumer Rights Writer
Flight Delay Claims Team


Freelance Travel Rewards Expert and Writer
NerdWallet


Freelance Assistant Assigning Editor
NerdWallet


Freelance Automotive Technical Writer
Ardent Learning, Inc.


Freelance Medical Writers
Regulatory and Quality Solutions Inc.


Freelance News Writer
Mobile Nations


Freelance Legal Content Writer – Pays $20-$25/hour
Custom Legal Marketing, An Adviatech Company


Freelance Copy/Writing Editors
WebFX


Freelance Contract Writer – Pays $0.04-$0.09/word
Tempesta Media


Freelance TV Writer
Bustle


Freelance Copy Editor
Steyer


Freelance Contract Writer
Instructure


Freelance Smartphone & App Obsessed Contract Writer
WonderHowTo


Freelance Copywriter/Content Strategist
Voom


Freelance Business Plan Writer – Pays $25-$30/hour
Sugaer


Freelance Marketing Copy Writer
University of Rochester


Freelance Content Marketing Editor – Pays $55K-$60K/year
Propecta


Freelance Staff Writer – includes benefits
Gannett


Freelance Editor
Travel Noire


See the links to these jobs RIGHT HERE.
4 success strategies for greater writing longevity, regardless of your level and genre.