March 06, 2013
Don't Pull the Cap Off a Hot Radiator...and Other Life Lessons We May Have Forgotten to Teach Our Children | printable version

Somebody should really write a book about things you may have forgotten to teach your kids along the way.
My phone rang the other day. It was Frank. He said, "I'm on my way to work, and stuck in traffic at the drawbridge. There's smoke coming out of my hood. My gauge is on hot. There's no place to pull over."
I said, "Turn off your engine while you wait because it's only going to get hotter. When the traffic moves again, turn on your heater to draw hot air off the engine, get over the bridge, and then pull over. Dad will be right there." I hung up and Richard raced off to help Frank. Thankfully, he was only five minutes away.
Frank called me a few seconds later and said, "Traffic is moving and the car is cooling off now. I'm going to stop at the next gas station and open the radiator to see how much water is in there."
I yelled, "WHAT?!?! NO, YOU CAN'T DO THAT!! DON'T YOU KNOW IT COULD ERUPT AND SPRAY BOILING WATER AND COOLANT ALL OVER YOU?!"
Seriously?? We remembered to teach the kids about drugs and alcohol, bullies, looking before you cross the street, not to dive into shallow water, not to handle saltwater catfish with your bare hands, to never eat expired ham, and a million other things but the radiator cap lesson just got forgotten altogether?! How did that happen?!
Luckily, it looks like the radiator only has a slow leak so Frank and Richard will be taking it to the mechanic this week. All's well that ends well, right? Yes, except ever since that day, I've been wondering what other vital life lessons we've forgotten to teach our children... ;)
Postscript - I found one such book for sale on Amazon but it's only in Kindle format and, according to one review, the ebook formatting is mucked up. Not surprising that Amazon has once again failed to vet a file before putting it up for sale online. At BookLocker.com, we format and check every page before putting each ebook on the market. Unlike the "other guys", we take pride in what we publish.
I have a Maxism for you this week.
One day last week, Max (age 11) was in his room and I kept hearing him coughing off and on. He'd cough a few times and then stop and then start again. After several minutes of this, I got up to investigate. I went in his room and said, "Are you okay? Are you coming down with something?"
He looked up from his Legos and replied, "Nope. I'm just trying to cough the ABCs."
Angela
P.S. I want to "follow" you!
ANGELA ON TWITTER
@AngelaHoy

ADVERTISEMENT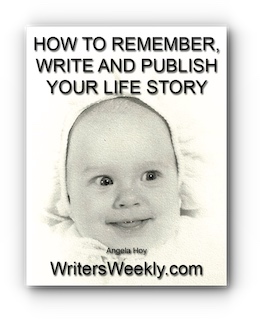 WRITE YOUR MEMOIRS IN 2013! WE'LL SHOW YOU HOW!HOW TO REMEMBER, WRITE AND PUBLISH YOUR LIFE STORY! by Angela Hoy
Using Angela's MEMORY TRIGGERS, recall memories that have been dormant for years, and record those memories in chronological order in your memory notebook. Using the memory notebook as your outline, write your autobiography! **Also works for biographies and memoirs.**